Nicole Richie debuted her purple locks at the Lakers vs. Blazers game early this month. However, she hasn't really attended a lot of events since then, except for the Lucky FABB Conference on April 4.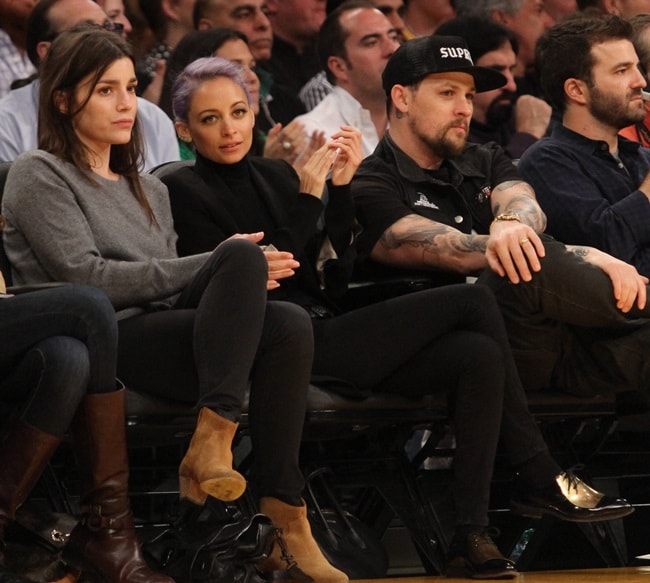 Nicole Richie wearing Celine metal plate oxfords to the Lakers vs. Blazers game in Los Angeles on April 1, 2014
Metal plate oxfords from Celine's Pre-Fall 2013 Collection

Fortunately, the past few days gave us an opportunity to see more of her new look. Aside from the release of Paper magazine's May issue, which has Nicole on the cover, there were a number of events that she attended, such as the Baby2Baby Mother's Day party in LA and the 2014 AOL Newfronts event in NYC.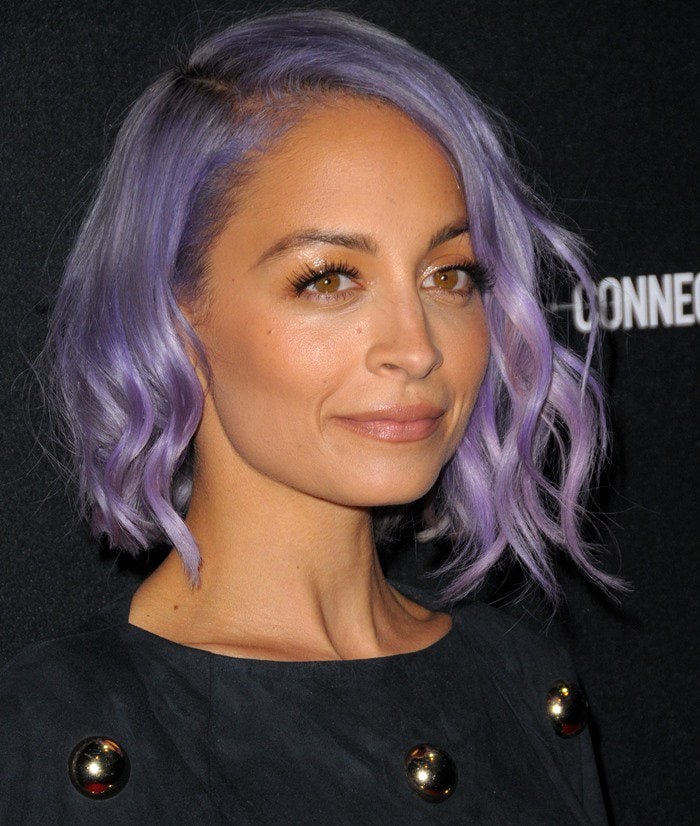 Nicole Richie showing off her purple hair
For the 2014 AOL Newfronts Presentation, Nicole slipped into a short black studded shift dress by Anthony Vaccarello with side cutouts and a pair of strappy sandals from Jimmy Choo.
Nicole Richie slipped into a short black studded shift with side cutouts
No jewelry or purse was required to finish her look because the colorful hair, edgy dress, and textured heels were enough to create a statement.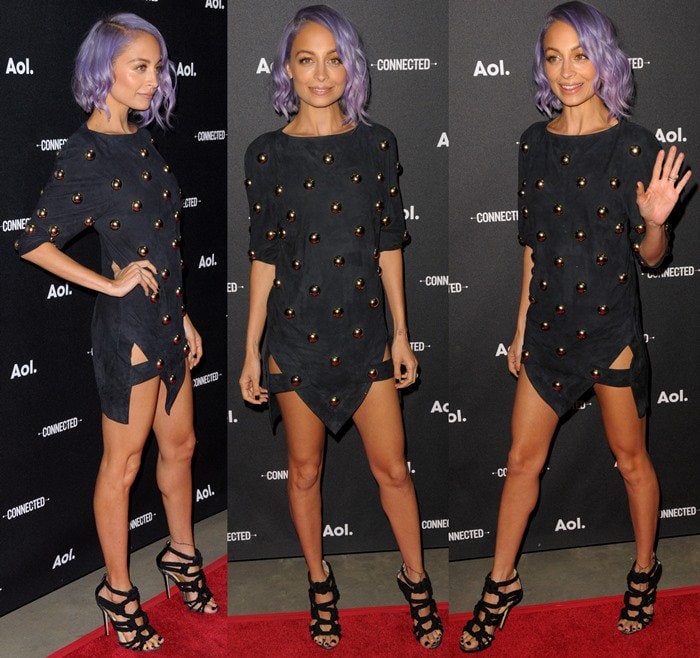 Nicole Richie wears an Anthony Vaccarello Spring 2014 dress at the 2014 AOL NewFronts event held at Duggal Greenhouse in New York City on April 29, 2014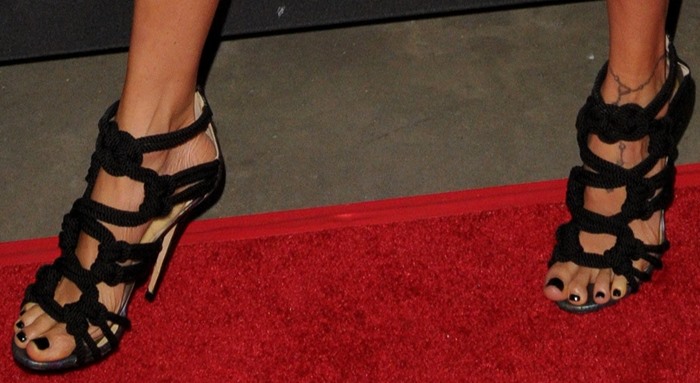 Nicole Richie's feet in Jimmy Choo 'Kalmar' rope sandals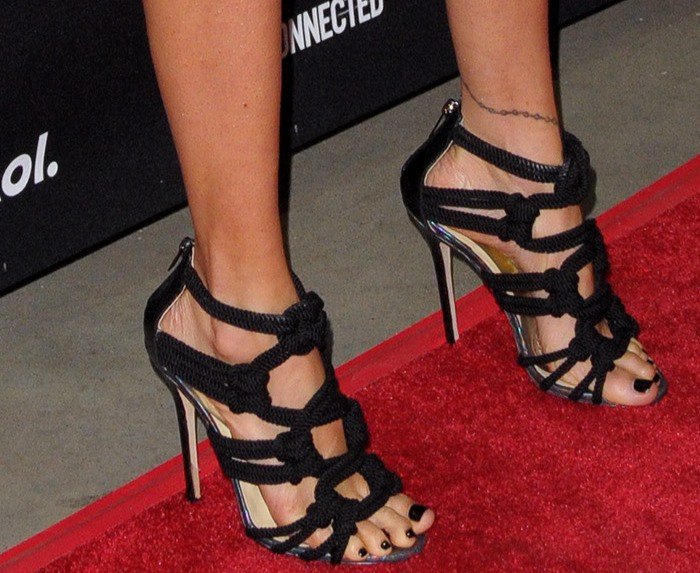 Nicole Richie in edgy Jimmy Choo 'Kalmar' rope sandals

What do you think of Nicole's latest red carpet style? Do you like her purple hair?
She looks amazing in the above photos — very fierce and completely stunning despite seemingly having lost some weight. Her heels, in particular, are to die for. They are very interesting — textured and strappy, yet with a hint of something organic about them, which reminds us of native elements.
We looked up Nicole's sandals and found out that they're called the 'Kalmar.' They feature snake stamp leather and braided rope straps.
Jimmy Choo Kalmar Braided Rope Sandals, $1,395 at Nordstrom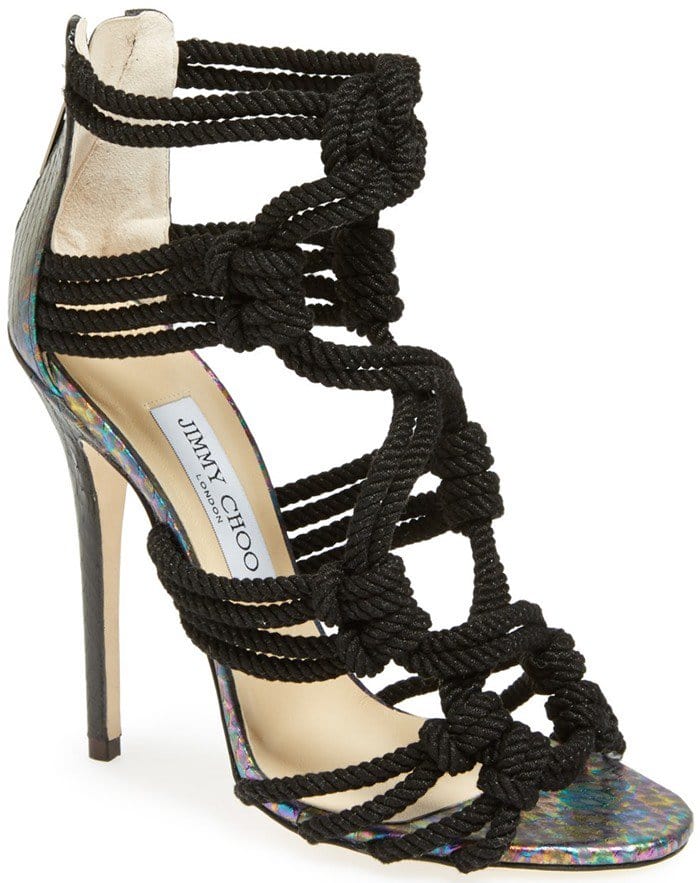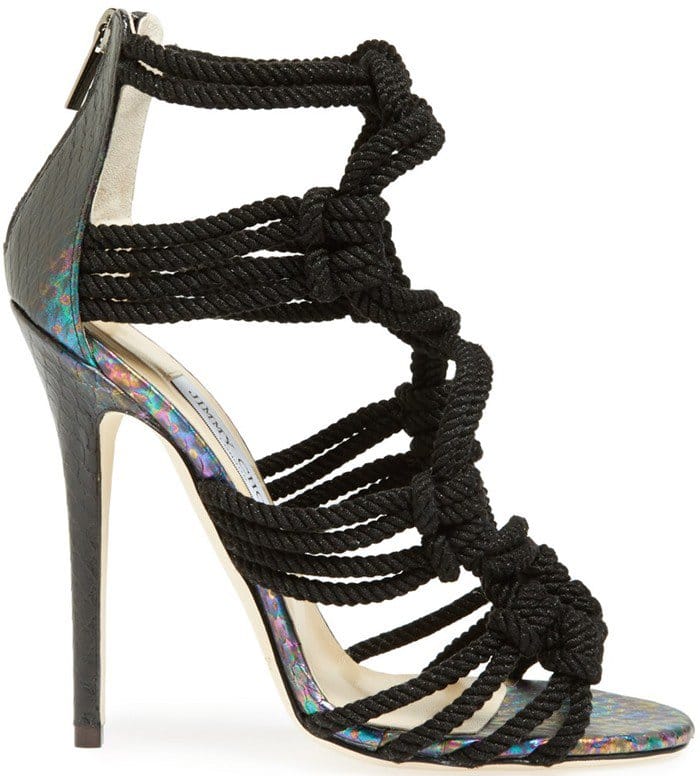 Do you approve of this shoe choice?
The heels on the Kalmar are 5 inches tall, so they can be a little difficult to walk in. However, if you are accustomed to sky-high stilettos, we have no doubt that you'll manage. You can find Nicole's Jimmy Choo sandals at Nordstrom.
We've also spotted Kim Kardashian in the Jimmy Choo 'Kalmar' sandals. Who do you think looked best in them?
Kim Kardashian shopping at Fred Segal and Resurrection boutiques in Los Angeles on July 16, 2015
Credit: Ivan Nikolov / WENN / Michael Wright