Hollywood heartthrob Jon Hamm is officially off the market!
According to People, the Mad Men star has popped the question to his girlfriend of two years, Anna Osceola, and the couple is now engaged. Born in 1988, she is 17 years younger than Jon Hamm, who was born in 1971.
Jon Hamm and Anna Osceola, who met on the set of Mad Men, are engaged after two years of dating (Credit: Xavier Collin / ABACA / INSTARimages / Cover Images)
While the duo has kept chiefly their romance under wraps, it's believed that they first met on the set of the hit TV series Mad Men, where Osceola had a small but memorable role in the final episode.
In the episode, the 34-year-old actress played the front desk clerk at Esalen, a spiritual retreat in California that Hamm's character, Don Draper, visited.
Jon Hamm, who is 51 years old, is said to have met Anna Osceola, who is 34, when she appeared in the final episode of "Mad Men" in 2015 when she portrayed a receptionist at a retreat in California where Hamm's character, Don Draper, was staying (Credit: AMC)
Hamm was in a long-term relationship with Jennifer Westfeldt at the time but split from his partner several months later after 18 years of being together in 2015.
The couple had expressed a desire to avoid marriage numerous times before the breakup.
"I don't have the marriage chip, and neither of us have the greatest examples of marriage in our families. But Jen is the love of my life, and we've already been together four times longer than my parents were married," Hamm told Parade in 2014.
In September 2015, Jon Hamm and Jennifer Westfeldt ended their relationship after being together for 18 years (Credit: INFphoto)
Osceola was first photographed with the 51-year-old Progressive Insurance actor in 2017, and they were romantically linked in 2020. Since then, they've been out and about together, enjoying meals, playing tennis, and vacationing in Italy in September 2021.
They made their red carpet debut at an Oscars afterparty in March 2022 and have attended several other events together since then.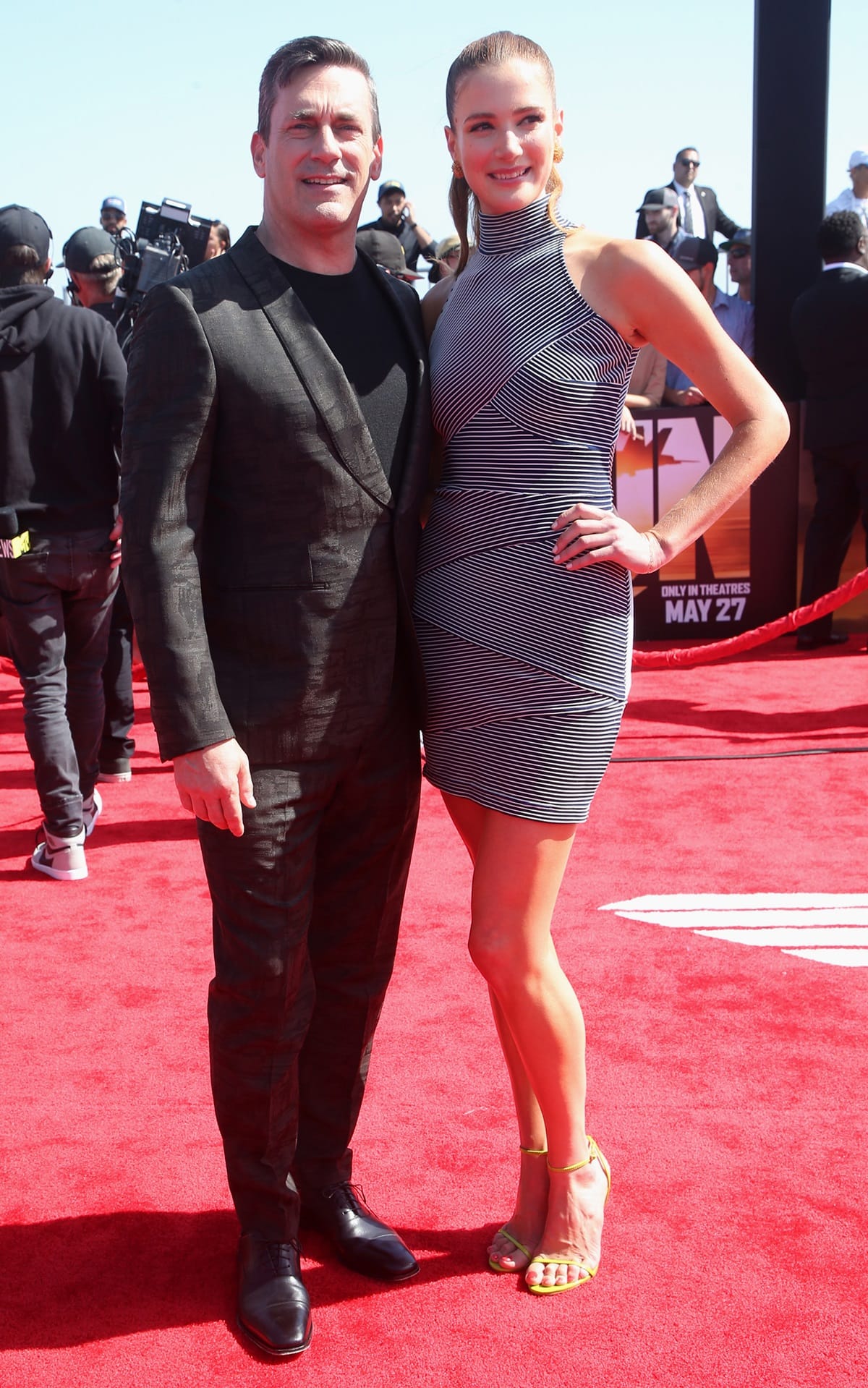 Jon Hamm, who measures 6ft ¾ in (184.8 cm), appears to be the same height as Anna Osceola when she's wearing high heels (Credit: Fayes Vision / Startraksphoto)
In May, they were spotted on the red carpet at Sarah Silverman's musical Bedwetter. In July, they participated in the 2022 ESPY Awards, and in September, they attended a screening of their film Confess, Fletch.
Hamm opened up about his relationship with Osceola and that he may see himself getting married in an interview with Howard Stern in September 2022.
The Emmy Award winner said, "This is all part of what I'm saying. This is another place in my life that I feel very settled and comfortable. I'm in a relationship right now, and it's comfortable. It's a feeling of taking care of someone else and being taken care of."
He was candid in saying that he's been seeing a therapist for the past few years and that a significant portion of his trauma stemmed from the death of his mother from colon cancer when he was ten years old.
Hamm said, "And it's also been a process of working on myself, my mental health, and unpacking all of that trauma, my realizing that, you know, when you lose somebody that's so important to you, like a mother so early, that creates a wound that blocks a lot of that emotional accessibility, that blocks a lot of that availability, and vulnerability."
He stated, "It's only been in the last couple of years of me kind of sitting down and really thinking about it," when asked about his thoughts on marriage.
Hamm added, "That's made the relationship that I'm in now even more meaningful and opened up the possibility of things like being married, having kids, defining a new version of happiness, life, wellness. All that stuff that sounds hokey and whatever, but it's real, and it's what I'm working for. What else is there other than that?"
Jon Hamm and Anna Osceola made their first public appearance as a couple at Vanity Fair's Oscars Party on March 27, 2022, at the Four Seasons Hotel in Los Angeles (Credit: PA Images / INSTARimages)
The newly engaged couple recently appeared together in the movie Fletch, Confess, the third installment in the Fletch series. In it, Hamm portrayed the semi-retired journalist Irwin M. Fletcher, a role previously played by Chevy Chase in 1985 and 1989. Meanwhile, Osceola also appeared in the film as Larry.
Osceola had previously been on several hit television episodes as a guest star before meeting Hamm on the set of Mad Men. These shows include Saving Grace, Greek, Rizzoli & Isles, and NCIS. Osceola debuted on television in the 2007 film Not Another High School Show.
Her acting resume now includes roles on Law & Order: Special Victims Unit and Law & Order: True Crime, in addition to the Mad Men episode she appeared in.
The actor and his fiancée don't use social media and keep their personal affairs private, with Hamm telling InStyle in 2017, "The point of life is not to put dog ears on yourself and post it online for everyone to see."