In June 2016, The Faculty actress Jordana Brewster took a break from filming Fox's buddy cop action comedy-drama television series "Lethal Weapon" to go shopping in Santa Monica.
Showing how to wear a striped jumpsuit, Jordana Brewster wears her hair down as she shops in Santa Monica on June 5, 2016 (Credit: WENN)
The then-36-year-old actress looked summery chic in a striped jumpsuit by Madewell. Eighteen years earlier, she made her feature film debut in Robert Rodriguez's horror science fiction The Faculty.
Written by Kevin Williamson, the movie also stars Clea DuVall, Laura Harris, Josh Hartnett, Shawn Hatosy, Famke Janssen, Piper Laurie, Bebe Neuwirth, Robert Patrick, Usher Raymond, Jon Stewart, and Elijah Wood.
Jordana Brewster as Delilah Profitt and Elijah Wood as Casey Connor in the 1998 American science fiction horror film The Faculty (Credit: Miramax Films)
Starring as Delilah Profitt, a popular vindictive cheerleading captain and editor of the student paper, Jordana Brewster was 18 years old when the film was theatrically released on December 25, 1998. She celebrated her 18th birthday on April 26, 1998.
Does Jordana Brewster speak Portuguese?
In the film, Jordana Brewster's character Delilah says, "Yeah, and I'm Portuguese." In real life, she is the daughter of a former Brazillian swimsuit model and can speak fluent Portuguese. She has also done her best to teach her children the language.
"They were born in the US, but I'm doing everything I can to infuse my Brazilian culture into them'" she told PopSugar in 2016 about her sons, Rowan Brewster-Form and Julian Form-Brewster.
"I'm creating a mini Rio in Los Angeles for my boys. I speak Portuguese to Julian. Every weekend, we have a feijoada, or Brazilian barbecue, with goiabada tarts and brigadeiro. I want them to enjoy the same things I relished growing up."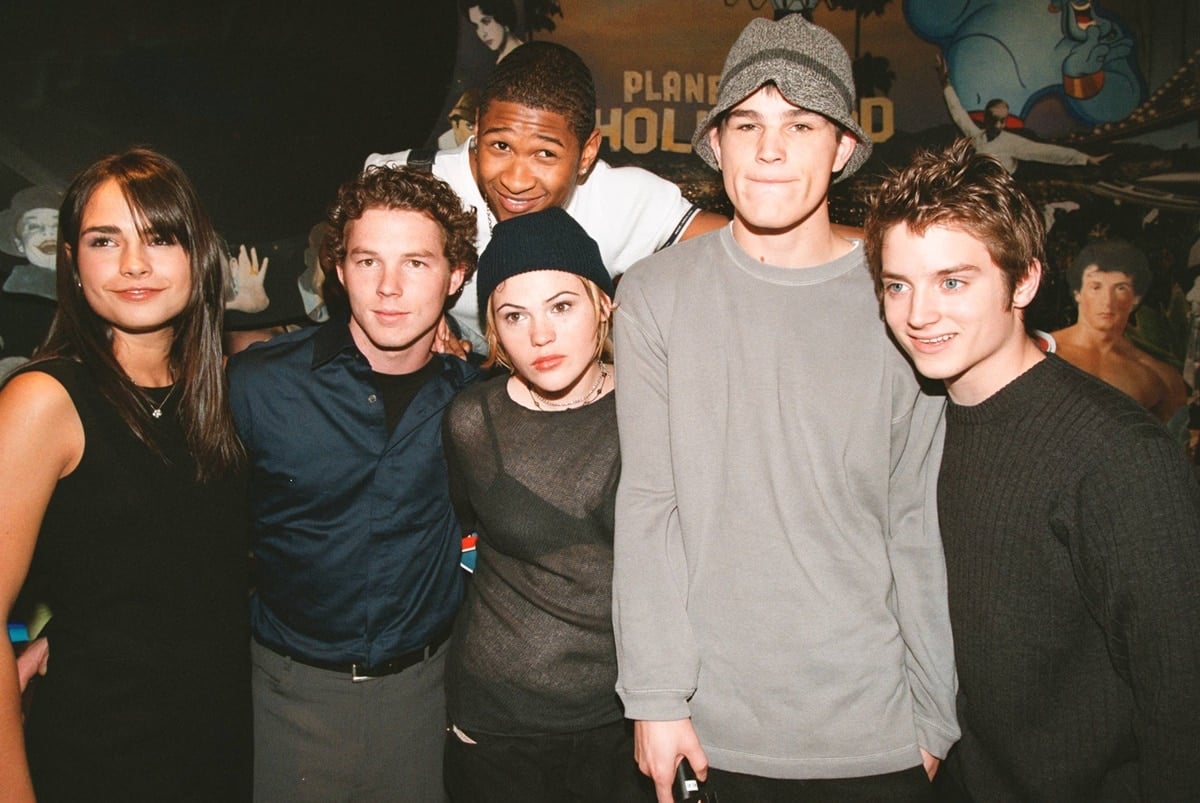 The Cast of The Faculty: Jordana Brewster, Shawn Hatosy, Usher Raymond, Clea Duvall, Josh Hartnett, and Elijah Wood at Planet Hollywood in New York City on November 13, 2018 (Credit: Startraksphoto)
"My mom is Brazilian and I lived in Brazil from the age of six to 10. I consider it a huge part of myself, because those were formative years growing up. And as a kid, it was funny, because when I came to New York at the age of 10, I always felt very Brazilian, and then in Brazil, I always felt very American—so I always felt a little bit out of place," she told HuffPost in 2012.
How to Wear a Striped Jumpsuit
Jordana Brewster's one-piece garment featured a plunging v-neckline secured by a front-tie closure. The jumpsuit had culotte-style legs that ended just above the ankle and cinched in at the low ribs with an elastic waistband.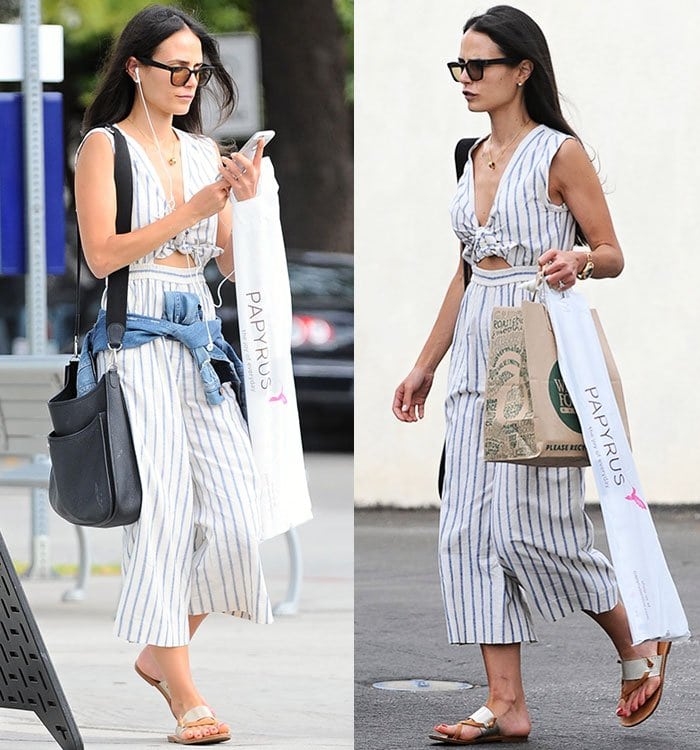 Jordana Brewster goes shopping in a striped Madewell jumpsuit (Credit: WENN)
The "Fast & Furious" star glammed up the casual look a bit by accessorizing with a few pieces of gold jewelry, including a pendant necklace, a pair of earrings, and a watch.
She hid her eyes behind a pair of Celine sunglasses, wore her dark tresses down, and sported minimal makeup to keep her look low-key.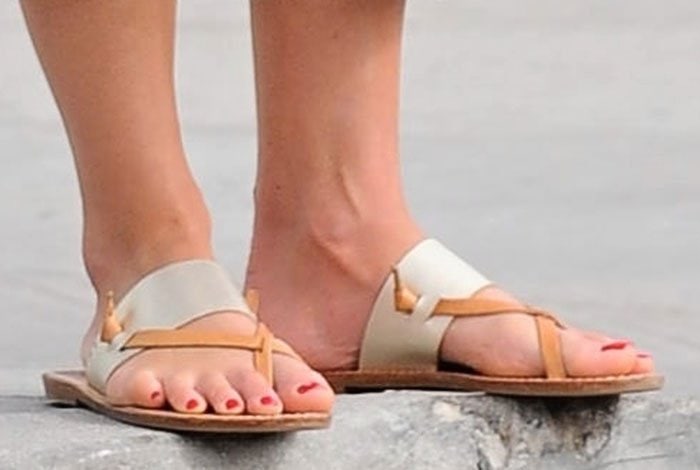 Jordana Brewster's feet in leather Soludos sandals (Credit: WENN)
Jordana rounded out her look with a pair of "Slotted" sandals by Soludos.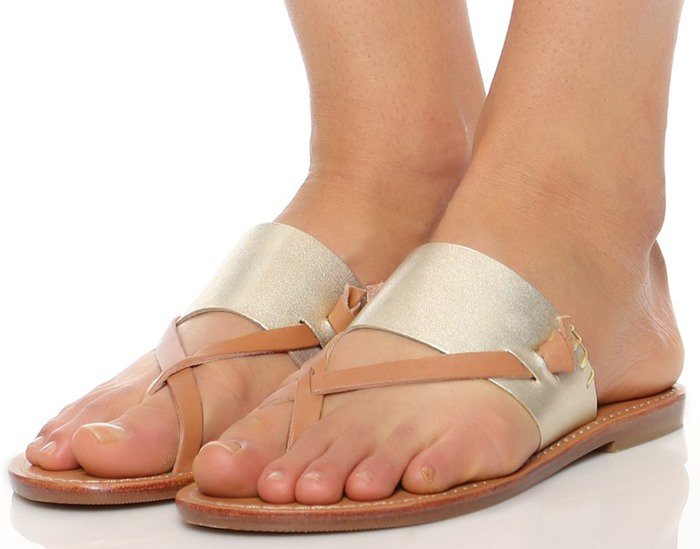 Inspired by classic Greek sandals, this thong sandal is designed for an effortless getaway style
These understated flip-flops are made of two-tone leather in tan and metallic platinum. Available on Amazon, they also feature crisscross straps and wide instep straps.
Crisscross sandals crafted from two-tone leather sandals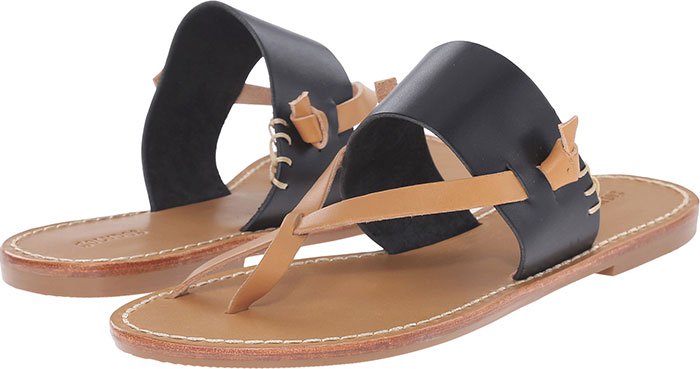 Black Soludos "Slotted" Thong Sandals, $89