Good news just keeps rolling in for Julianne Hough – first, she shared the exciting news of her engagement and now she celebrated another major milestone in her life: an Emmy. The 27-year-old proved that faithfulness to your passion can really take you to places, earning her and brother Derek their first Creative Arts Emmy.
Julianne arrived on the red carpet of the 2015 Creative Arts Emmy Awards in Los Angeles alongside fiancé Brooks Laich.
Julianne accepted her first Emmy for the brilliantly choreographed 'Dancing With the Stars' number, Sia's "Elastic Heart", which she worked on with her brother Derek. The dancer later took to her Instagram to share a heartfelt message to thank the people behind the family-themed dance.
The 27-year-old wore an embellished dress by Jenny Packham, which she wore with a golden, triple-strapped pair by Giuseppe Zanotti.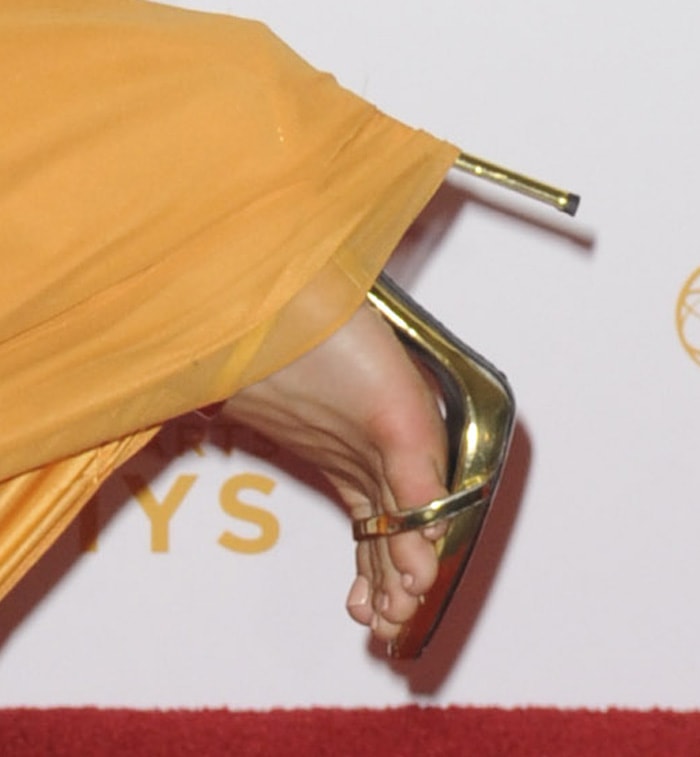 Julianne Hough takes home an award alongside brother Derek at the 2015 Primetime Creative Emmy Awards in Los Angeles on September 12, 2015
Julianne Hough and brother Derek perform their Emmy Award-winning choreography to Sia's "Elastic Heart"
Feel like a million bucks (or like an Emmy Award winner) in these golden sandal heels by Giuseppe Zanotti. To grab a pair, head on over to Intermix Online.
Giuseppe Zanotti Mirrored Leather Triple Strap Hi Sandal, $845
Credit: Julianne Hough Instagram / Apega / Brian To / WENN