After a very public break up with her boyfriend of almost three years, Ryan Seacrest, Julianne Hough is finally getting her happy ending. After breaking things off with radio host and TV personality Ryan Seacrest in 2013, the Dancing with the Stars champion is finally engaged to hockey player Brooks Laich.
Julianne Hough dated Ryan Seacrest for three years from April 2010 to March 2013
The 27-year-old uploaded a photo of her engagement on her Instagram and gave us the details on her own personal blog.
Julianne Hough shared her engagement photo with the caption "We are overwhelmed with joy and excitement to share with you our recent engagement! #fiancé #love
Julianne shares, "We stood on the deck, watching the sun set over the lake and listening to our favorite songs. Not even for a second did I expect that beautiful, serene scene was about to become one of the most meaningful moments of our lives."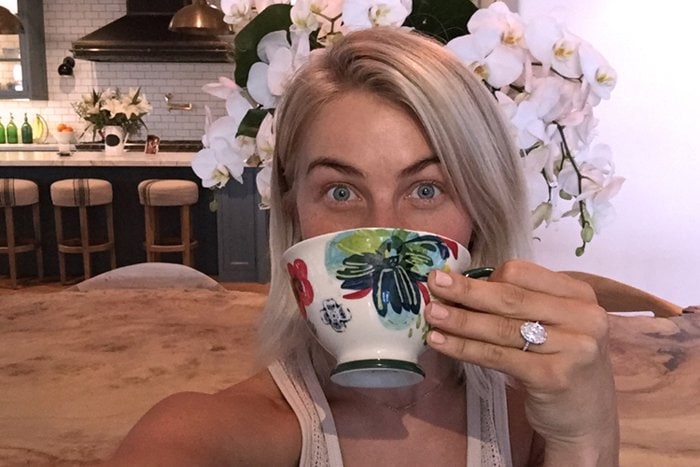 Julianne Hough shows off her enormous engagement ring
The dancer-turned-actress continued, "I didn't have any words at first (me! no words!). All I could do was explode into his arms and experience pure joy from head to toe."
Laich proposed in Coeur d'Alene, Idaho, where Hough's grandparents live. One year earlier, Hough told Redbook how she knew Laich was her soulmate.
"Every relationship, there was nothing wrong or bad, but there was nothing right. I had one foot out because I didn't want to get hurt," she said.
"And I didn't say what was on my mind because I didn't want to ruffle any feathers. I needed to be perfect. Now I'm not holding anything back because I'd rather get my heart broken than never know what it is to be completely, madly in love. If I had been this open in my last relationship [with Ryan Seacrest], who knows?"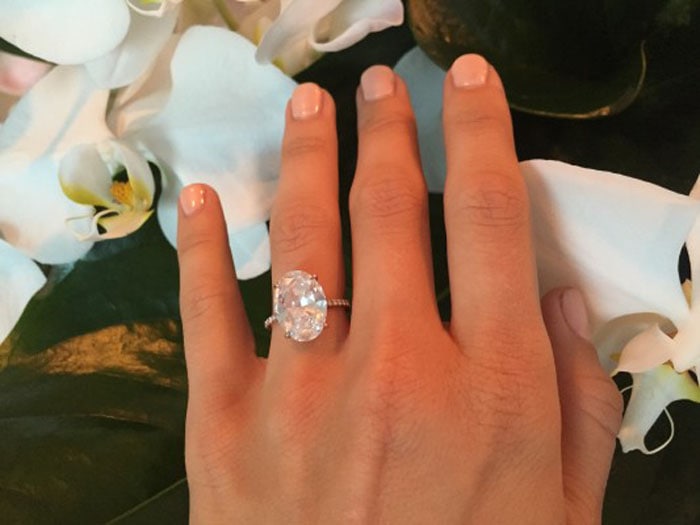 Julianne Hough's 6-carat oval diamond ring by Lorraine Schwartz
A week later, Julianne was spotted sharing a few laughs with her brother Derek on the red carpet of the TV Academy Choreography Peer Reception – with her diamond on her finger, of course.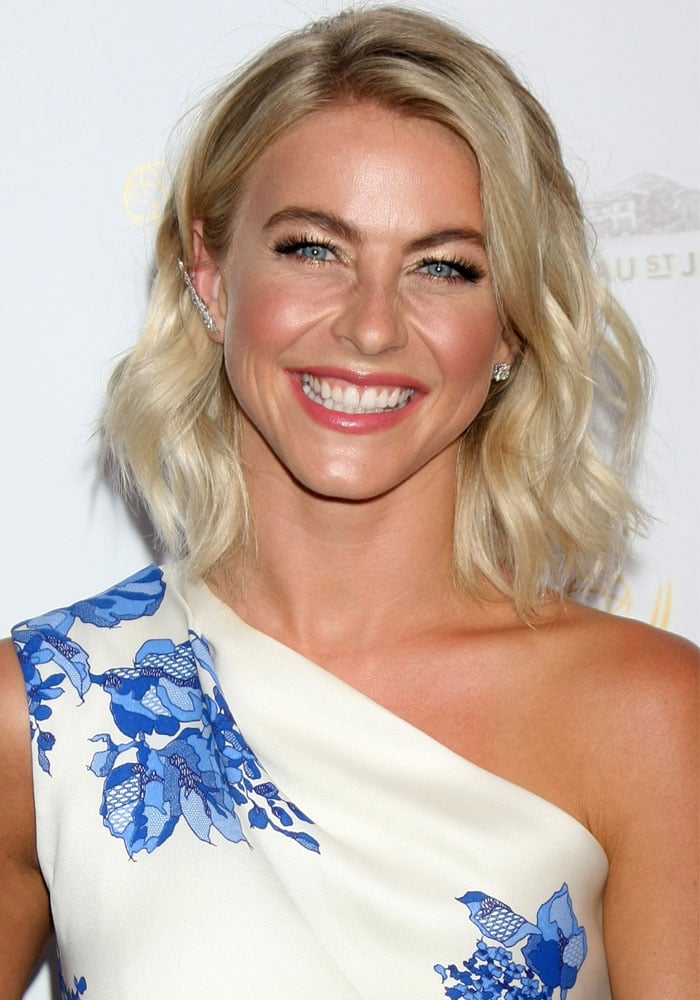 Julianne Hough's one-shoulder dress is rendered in a rose print gazar
Julianne Hough wore a Monique Lhuillier dress featuring a one-shoulder design, a fitted wraparound bodice with pleating at the waist, and a mini length a-line skirt
Julianne wore a floral dress by Monique Lhuillier, which she dressed up with a white clutch and a Stuart Weitzman "Nudistsong" pair in blue that you can buy at Zappos and Nordstrom.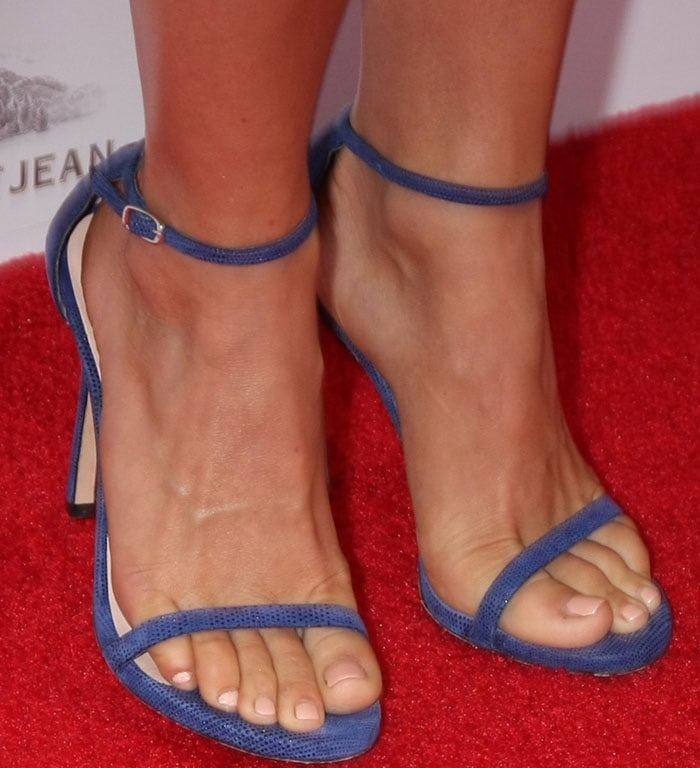 Julianne Hough shows off her feet in blue Stuart Weitzman Nudist sandals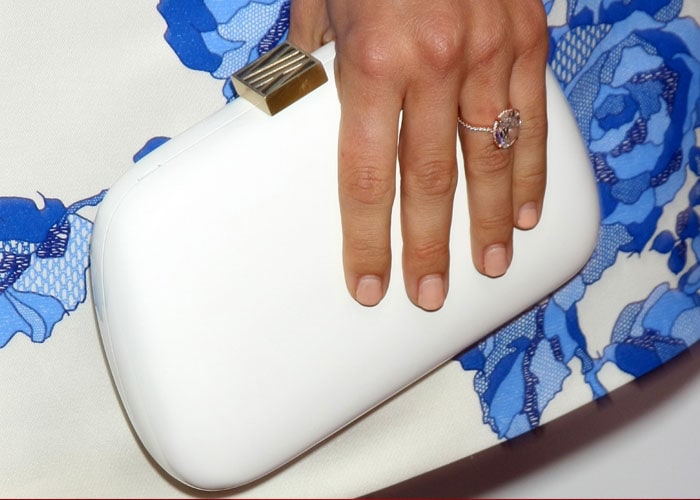 Julianne Hough toting a white clutch while revealing her engagement ring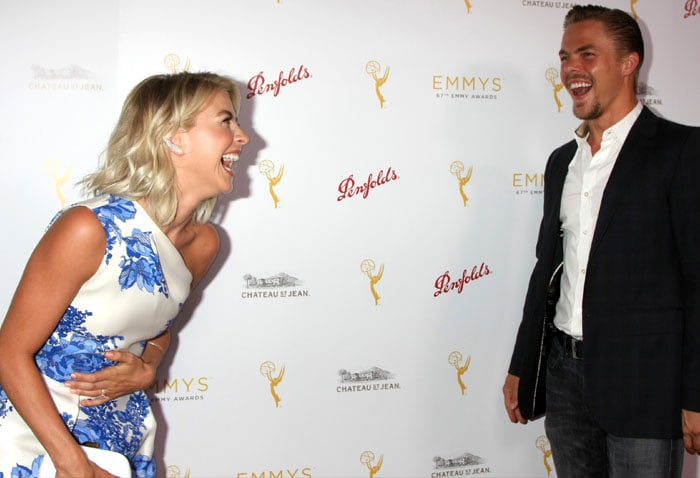 Julianne Hough goofing off with brother Derek Hough at the TV Academy Choreography Peer Reception at the Montage in Beverly Hills, California on August 31, 2015
Julianne's blue "Nudistsong" pair is no longer available, but we found some equally scrumptious pairs in patent and suede.
Nudistsong Patent Leather Sandal in Jet Blue, $398 at Zappos and Nordstrom
Nudistsong Ankle Strap Sandals in Sapphire, $425 at Zappos and Nordstrom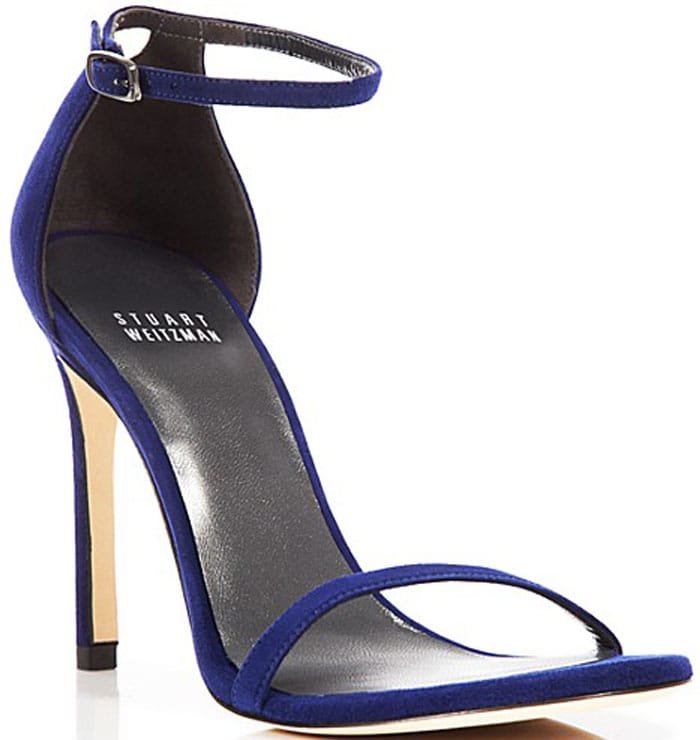 Credit: Julianne Hough's Instagram and Blog / Nicky Nelson / WENN / FayesVision