There are a few perks that come with being married to a bigtime artist and fashion designer — namely front row tickets and access to the latest fashion designs before they're released.
Understandably, Kayne West's wife Kim Kardashian takes advantage of both. Since her husband, Kanye West, plans to run for president in 2020, she may even end up becoming First Lady of the United States.
A heavily pregnant Kim Kardashian strolls through Sherman Oaks, Los Angeles on September 28, 2015
The socialite was recently spotted stepping out in Sherman Oaks wearing the plexiglass and PVC heels from her husband Kanye West's Yeezy Spring/Summer 2016 collection.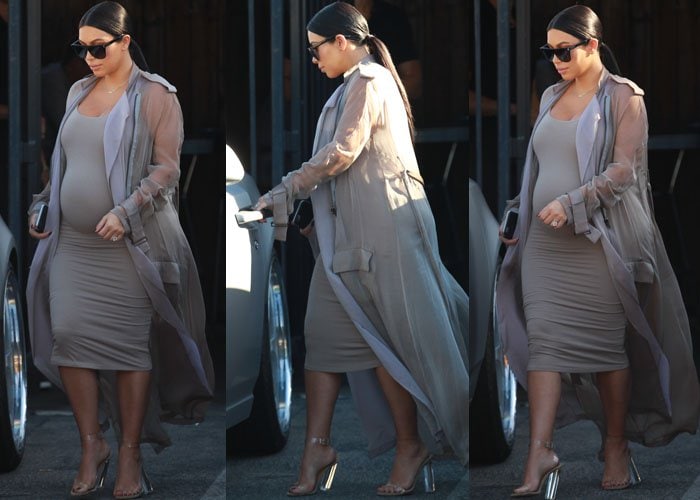 Kim Kardashian wears a Naked Wardrobe dress and a sheer Haider Ackermann trenchcoat out in Sherman Oaks
Not only did Kim show her support for her hubby's fashion line, but it seems she supports his decision to run for president in 2020 as well.
Kim Kardashian finishes her ensemble with an unreleased pair of Yeezy heels on her feet
In an interview on "Ellen," the reality television star finally opened up about Kanye's VMA appearance, where he announced his intent to run for president.
Kim Kardashian's Rolls Royce waits for Kim and Kanye
Kim said that, while she originally didn't know Kanye would make that announcement, he was serious about his intent to run for office, and that the rapper is the type who can achieve anything he puts his mind to.
For her Sherman Oaks trip, Kim wore a dress by Naked Wardrobe under a Haider Ackermann sheer trenchcoat. She polished her look with the Yeezy S/S 2016 plexiglass and PVC heels, and sunglasses from Saint Laurent.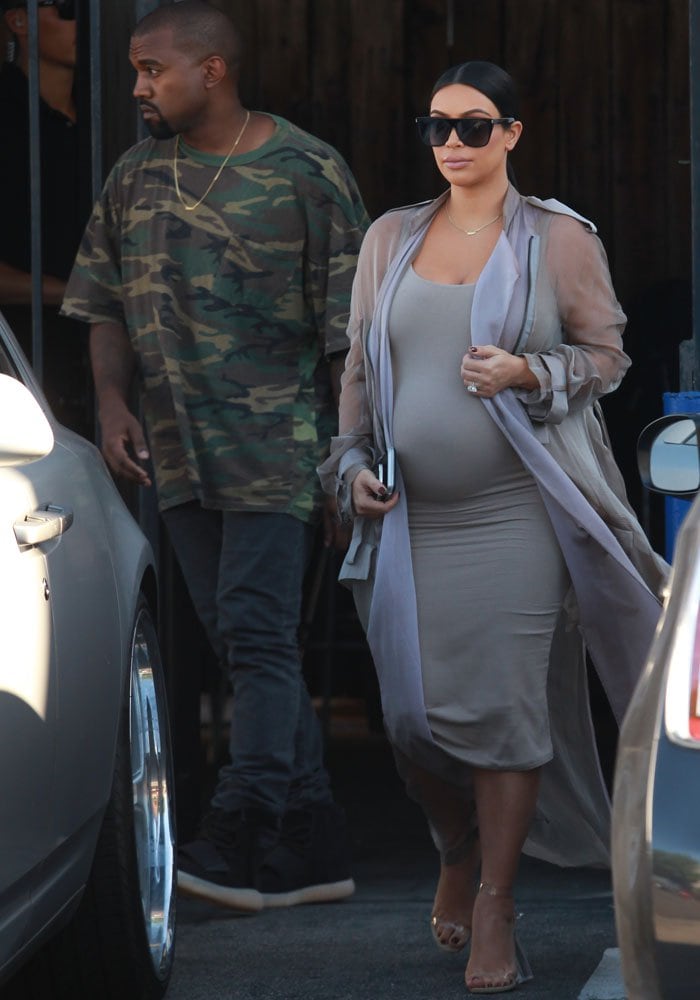 Kim Kardashian and Kanye West walk toward their Rolls Royce
Kanye and Kim were spotted driving away in Kim's Rolls Royce, with the heavily pregnant Kim behind the wheel.
"That was news to me," she said about Kanye's plans to run for president, explaining that it "wasn't a discussion in our household."
"I believe he is serious and I know that if he puts his mind to something he'll do his best. And he will. It's been fascinating just hearing all of the conversations that have gone on since that announcement. I don't know if that was planned and I just didn't know about it or if he came up with that idea right then and there…That was a fun night and I'm looking forward to what's to come."
"That's a big thing to not talk to your wife about, but I think that would be so much fun to be in the White House," she added.
"I was joking with him. I was like, 'You're going to have to make it to a second term,' because he loves redecorating. I was like, 'You're going to want to redo the whole White House and we're not going to be able to enjoy it. So we're going to have to just go with the flow.'"
Kim Kardashian talks about Kanye West's presidency on Ellen
Since these Yeezy heels won't be out 'til next year, you can check out our other PVC picks from Farfetch and Nordstrom:
Yeezy Spring/Summer 2016 Collection
Gianvito Rossi "Natalie" Suede and PVC Sandals, £545
Alexander Wang "Erika" Naked Wedge Sandal in Sandstorm, $575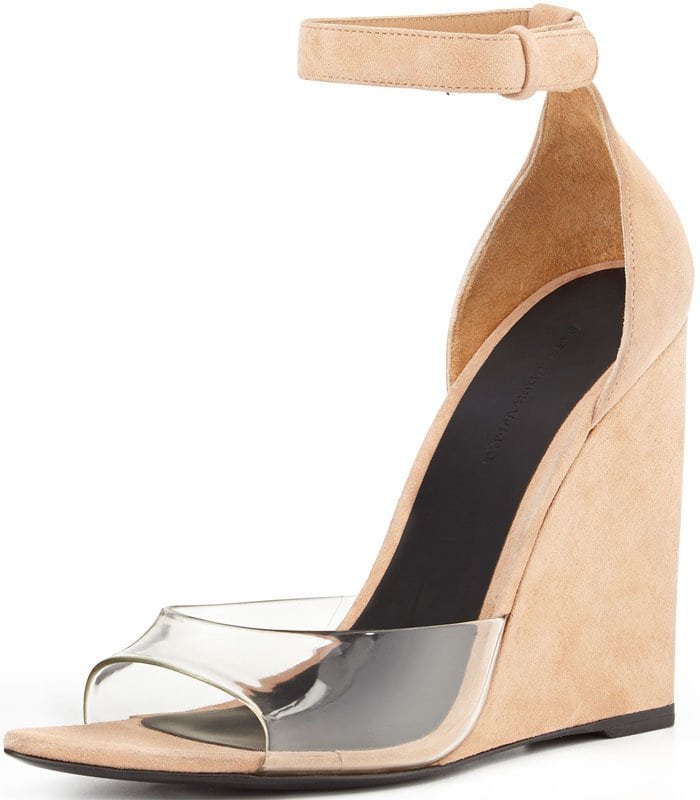 Credit: WENN