Could these ladies be plotting something top secret again against Katy Perry? We spotted Lena Dunham, Gigi Hadid and Karlie Kloss make a not-so-secret entrance into Taylor Swift's apartment, which led us to believe that the ladies may be having a harmless little get-together. That is, however, until we realized that no photos were uploaded on any of their social media accounts. Did the four decide to spend some time together away from their phones or is Tay-Tay up to no good again?
Either way, we do have to agree that Karlie looked absolutely amazing. The Victoria's Secret model is definitely not letting herself slip despite hanging up her wings temporarily to focus on her studies at the prestigious New York University. Did we mention that she's taking up computer coding?
The 22-year-old looked all summery and well put together in a crop top paired with a sexy high-slit skirt. She finished her summer look with a pair of cutout sandals from Tamara Mellon, Ray-Bans and a Dolce & Gabbana black grained leather "Rosalia" mini trunk crossbody bag.
Karlie Kloss visited Taylor Swift at her apartment in New York on May 29, 2015
As with all things cheap and pretty, these gorgeous babies from the former brainchild behind Jimmy Choo sold out quite quickly. You can check out a similar style from the same designer below. We advise you to pick up your pace, though, because we're pretty sure that it won't be around for much longer either.
Tamara Mellon Scandal Cutout Sandals, $595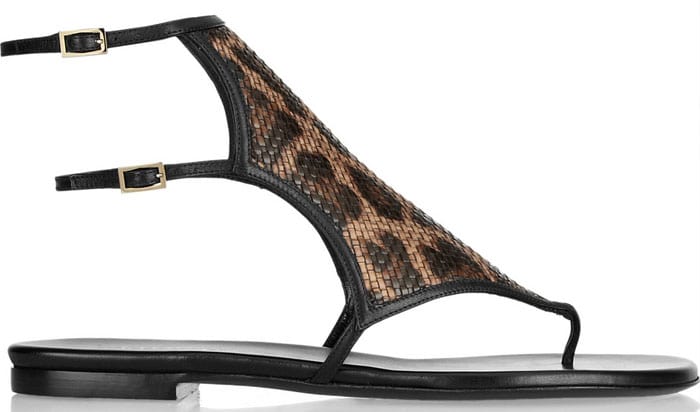 Tamara Mellon Jungle Fever Leopard-Print Leather Sandals, £272.25 (before: £605)
Credit: C.Smith / WENN