Karol G set the 2023 MTV Video Music Awards ablaze with her electrifying performance and daring and dazzling fashion choices.
As she graced the pink carpet at the Prudential Center in Newark, New Jersey, on September 12, all eyes were irresistibly drawn to her show-stopping ensembles and breathtaking style.
The 32-year-old Colombian singer left nothing to the imagination as she donned a sheer nude lace Ashi Studio gown from the luxury fashion house's Fall 2023 couture collection.
Karol G making a head-turning entrance in a sheer nude lace gown from Ashi Studio's Fall 2023 couture collection at the 2023 MTV Video Music Awards held at the Prudential Center in Newark, New Jersey on September 12, 2023 (Credit: Roger Wong / INSTARimages)
This ethereal outfit featured a sleeveless mermaid dress in a shimmering pearl tone, adorned with a captivating round neckline that only added to the allure.
But it wasn't just the see-through dress that turned heads. Karol G added a dramatic twist to her ensemble by layering it with a matching floor-length distressed coat, creating a mesmerizing effect.
Karol G wearing a floor-length distressed coat to add a dramatic twist to her sleeveless mermaid dress (Credit: PA Images / INSTARimages)
Her choice of silver-toned Jacob & Co. jewelry, featuring statement rings and sparkling dangle earrings, perfectly complemented the look.
Karol G's sense of style extended to her hair and makeup, where she sported a wet, wavy look, elegantly matching her light bubblegum pink hair with glossy makeup that highlighted her radiant complexion.
And let's not forget her footwear, which was as on-point as the rest of her ensemble.
She slipped into a pair of clear Amina Muaddi shoes with a backless design and an angled toe strap, adding height to her look with a thin block heel.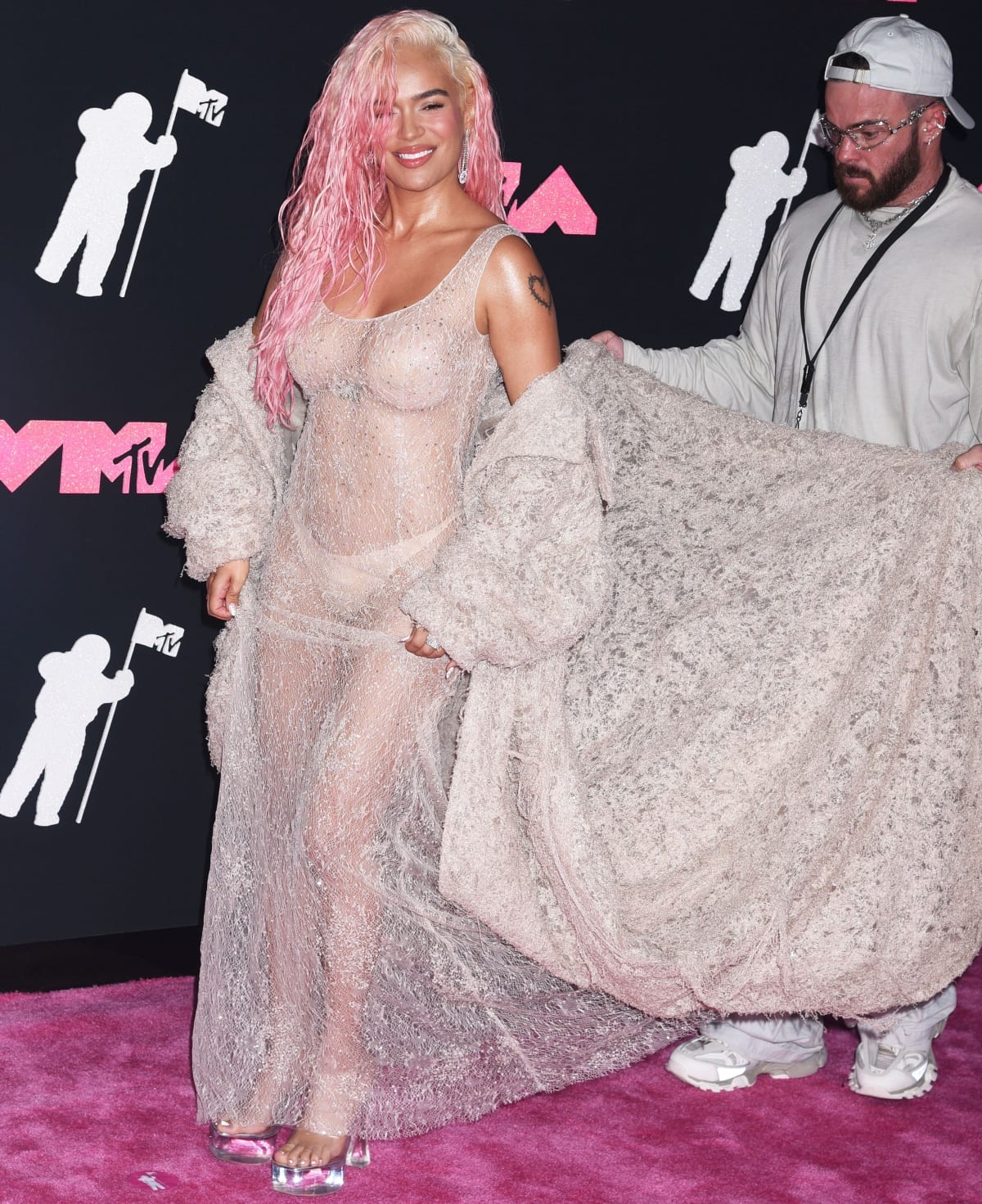 Karol G wearing Amina Muaddi clear shoes for a stylish boost to her frame (Credit: Darla Khazei / INSTARimages)
But Karol G's dazzling presence wasn't limited to the pink carpet. She also graced the stage for the first time with a captivating performance. Her neon-lit, video game-inspired set in pink and green transformed the MTV stage into a mesmerizing universe.
Taking center stage on a heart-shaped platform, she flawlessly kicked off her set with one of her 2023 chart-toppers, "OKI DOKI," a track featured on her latest sophomore album, "Mañana Será Bonito (Bichota Season)," while being joined by a crew of talented male dancers.
For this performance, Karol G chose to wear a vibrant fuchsia bikini top and matching bodysuit, which she stylishly combined with a plaid mini skirt and coordinating leg warmers.
Meanwhile, her ensemble was beautifully complemented by her dancers, who rocked faux fur jackets and pants adorned in the same captivating checkered print.
Karol G also wowed the crowd with her verse from Brazilian artists DJ Dennis and Kevin O Chris' track "Tá OK," for which she appeared on the remix alongside Colombian rapper Maluma in early August.
View this post on Instagram
She took to Instagram to share her VMA performance with her devoted followers and expressed gratitude to her team and production crew for making it all possible.
In her caption, she wrote, "OKI DOKI / TA OK RmX 💚💗 @VMAs. We did this mamiii @parrisgoebel 💮 Thanks to the dancers, the assistants team and the whole production team that made this possible… loved every moment of this performance 🎀 🎾💗🔫."
But Karol G's glamorous night didn't stop there. She was nominated for four prestigious awards, including Artist of the Year, Show of the Summer, and Best Latin Video.
She ultimately secured the Best Collaboration Award for her remarkable song "TQG" with Shakira. The duo triumphed over the formidable competition, including Post Malone and Doja Cat's "I Like You (A Happier Song)" and David Guetta and Bebe Rexha's "I'm Good (Blue)."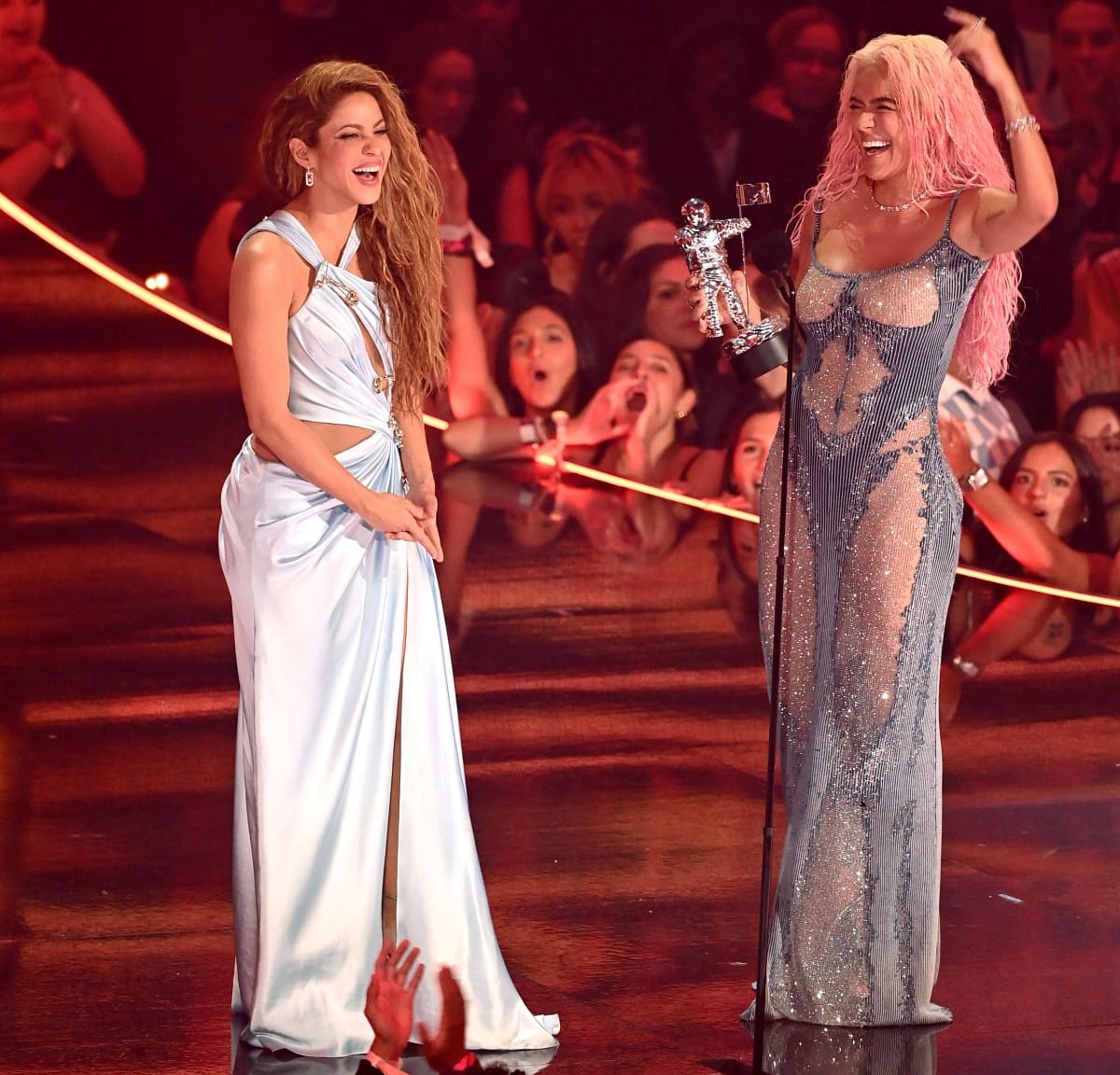 Shakira and Karol G on stage after winning the award for Best Collaboration for their song TQG (Credit: PA Images / INSTARimages)
Their on-stage appearance was a show-stopper, with Karol G dazzling the audience in a transparent blue outfit. The slip dress was adorned with thousands of jewels, creating a magical spectacle when bathed in the spotlight's glow.
Karol G was accessorized with a necklace, bracelets, a heart-shaped ring, and earrings, all exquisitely crafted with diamonds to complete her look.
View this post on Instagram
After the awards show, she generously shared photographs of her three extraordinary outfits, encapsulating a night filled with dreams come true.
Her caption summed it up perfectly: "There are a lot of dreams fulfilled in these 10 photos 🤍🤍🤍✨ WHAT A NIGHT!!!!"