In a breathtaking display of elegance and glamour, Shakira effortlessly stole the spotlight at the 2023 MTV Video Music Awards hosted at the Prudential Center in Newark, New Jersey.
The 46-year-old Colombian singer-songwriter made a memorable entrance, accompanied by her two sons, Sasha and Milan, who added an endearing touch to the evening's festivities.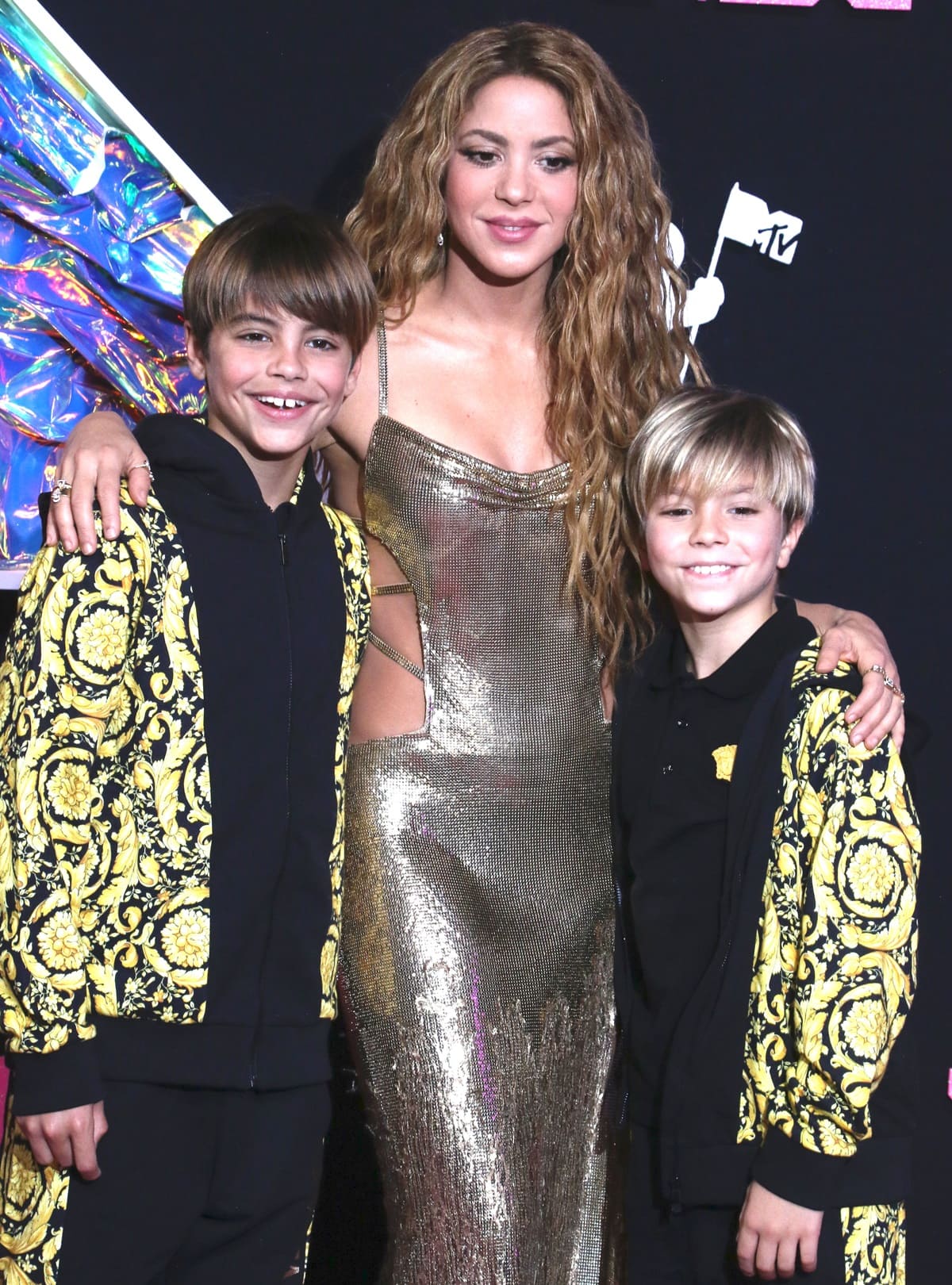 Milan Pique Mebarak and Sasha Pique Mebarak are the two sons of Colombian singer Shakira and Spanish soccer player Gerard Piqué (Credit: Roger Wong / INSTARimages)
As she graced the illustrious pink carpet, Shakira wowed onlookers with her choice of attire – a form-fitting Versace masterpiece that sparkled with metallic allure.
The sexy musician's floor-length gold gown, crafted from a shiny reflective fabric reminiscent of chainmail, served as a testament to her eternal beauty and undeniable style.
This extraordinary dress was an artful fusion of sophistication and allure, featuring a slouchy strappy neckline and a daring low back that cascaded gracefully into a sweeping skirt.
Strategically placed cut-outs along the waist and a subtle thigh-high side slit accentuated her curves, infusing a dash of sensuality into her overall look.
Shakira dazzled in a shimmering, backless golden Versace gown that perfectly accentuated her silhouette at the 2023 MTV Video Music Awards held at the Prudential Center on September 12, 2023, in Newark, New Jersey (Credit: Roger Wong / INSTARimages)
To elevate her already stunning appearance, Shakira adorned herself with an array of exquisite rings. Her chestnut locks, styled in loose, enchanting ringlets, framed her radiant face, which boasted dramatic mascara, a delicate pink blush, and rosy lip tint.
While concealed beneath her gown, she accentuated her petite frame with Piferi sky-high platform sandals adorned with golden heels that bestowed an air of regal stature upon her.
The glossy metallic uppers and secure toe straps exuded luxury, while the thick platform soles and airy peep-toes ensured utmost comfort.
Shakira's two sons, Milan and Sasha, whom she shares with her ex-partner Gerard Piqué, joined her as adorable companions for the evening, mirroring her love for the Italian luxury fashion designer.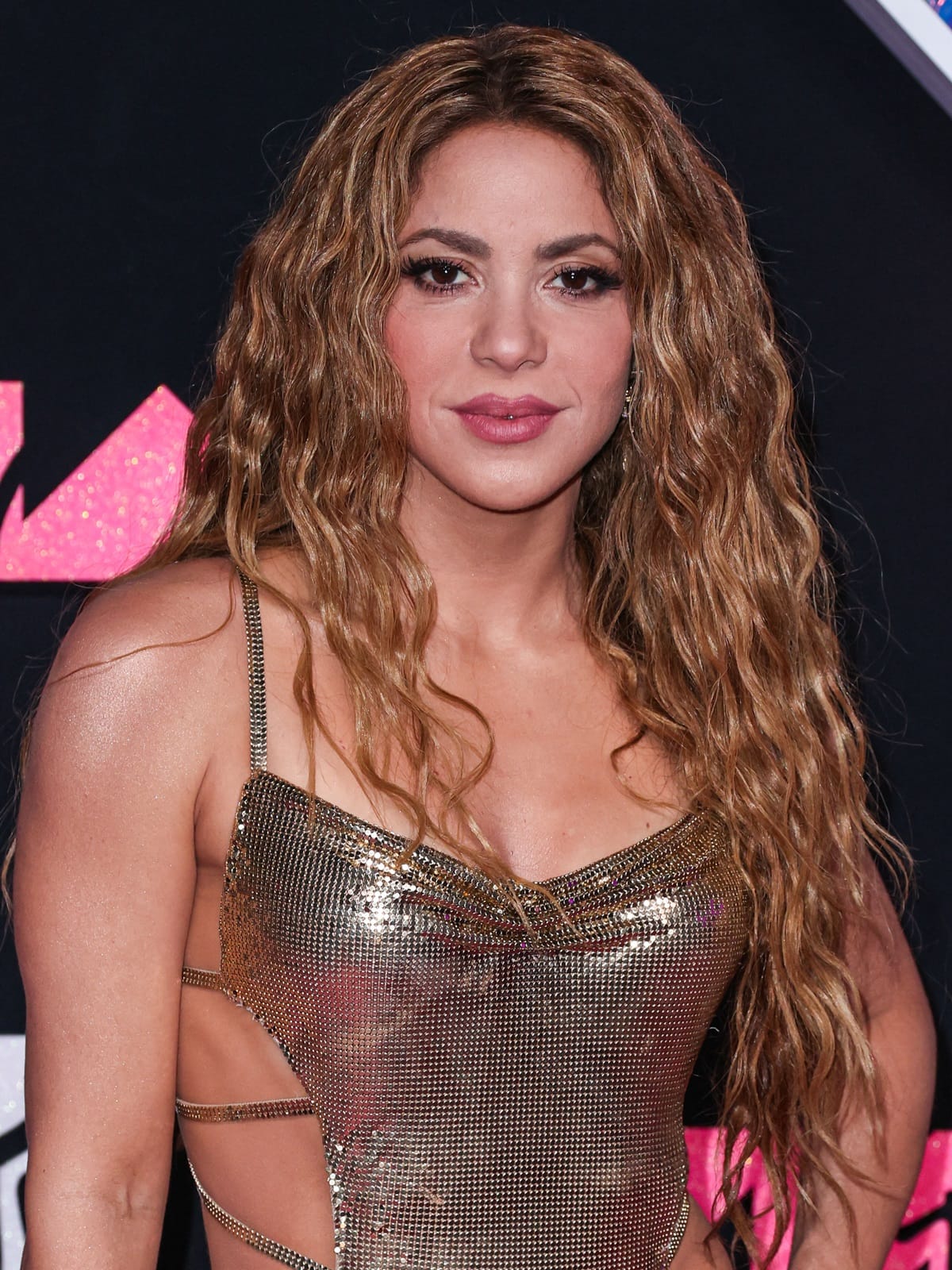 The thin straps of Shakira's gold gown delicately draped over her shoulders and back, adding a touch of elegance (Credit: Abaca Press / INSTARimages)
Clad in matching black-and-yellow tracksuits by Versace, paired with sneakers sporting the same eye-catching print, the young gentlemen added a heartwarming touch to the star-studded event as they proudly cheered on their superstar mother.
Later in the night, Shakira underwent a mesmerizing outfit change, donning a baby blue silk Versace dress adorned with the brand's iconic gold safety pins that held the ensemble in perfect harmony.
Shakira received the Michael Jackson Video Vanguard Award at the 2023 MTV Video Music Awards, making her the first South American artist ever to receive the award (Credit: Darla Khazei / INSTARimages)
Cutouts running across the middle and sides of her attire, along with a saucy side slit, amplified its allure. Dangling diamond earrings and a chic side-parted hairstyle completed her glamorous look.
During the show, Shakira graced the stage in an adorned nude ensemble as she delivered a captivating medley of her greatest hits, including chart-toppers such as "She Wolf," "Objection (Tango)," "Whenever, Wherever," "Hips Don't Lie," and other classics.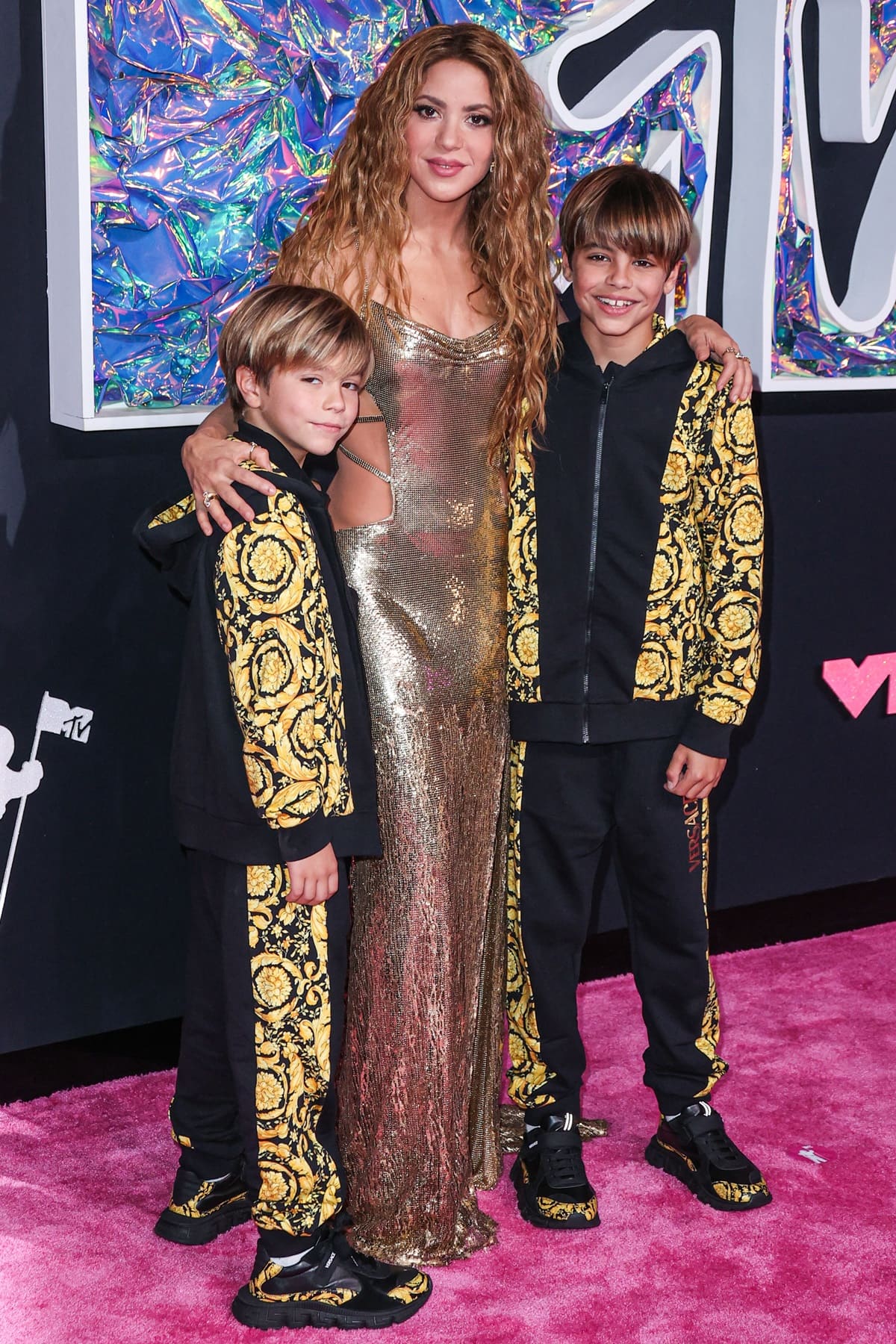 Shakira's two sons, Milan and Sasha, looked stylish and comfortable in their matching black-and-yellow Versace sweatsuits (Credit: Abaca Press / INSTARimages)
The highlight of the night was undoubtedly Shakira's well-deserved honor, the Michael Jackson Video Vanguard Award.
She became the first South American artist to receive this esteemed accolade, joining the ranks of fellow luminaries like Nicki Minaj, Beyoncé, Britney Spears, Missy Elliott, Jennifer Lopez, Pink, Rihanna, Kanye West, and Justin Timberlake.
As she ascended the stage alongside Karol G to collect the Best Collaboration award for "TQG," all eyes were on Shakira's striking Versace ensemble (Credit: PA Images / INSTARimages)
Adding to her accolades, Shakira also found herself in the spotlight with nominations for Artist of the Year, Best Collaboration, and Best Latin Artist.
Ultimately, she claimed her rightful place among the victors, taking home the trophy for Best Collaboration with fellow performer Karol G for their chart-topping hit "TQG."