Nicki Minaj, the undisputed "Queen of Rap" renowned for her fearless fashion, graced the 2023 MTV Video Music Awards with an entrance that will be etched in fashion history.
This year's extravaganza was held at the Prudential Center in Newark, New Jersey, where the 40-year-old sensation not only hosted and performed for the second consecutive year but also stole the limelight with her fashion prowess.
Maher Jridi, the mastermind behind Nicki's jaw-dropping looks, orchestrated a triumphant return to her iconic Barbiecore style with her first head-turning ensemble – a Dolce & Gabbana masterpiece, an ode to a Barbie bride.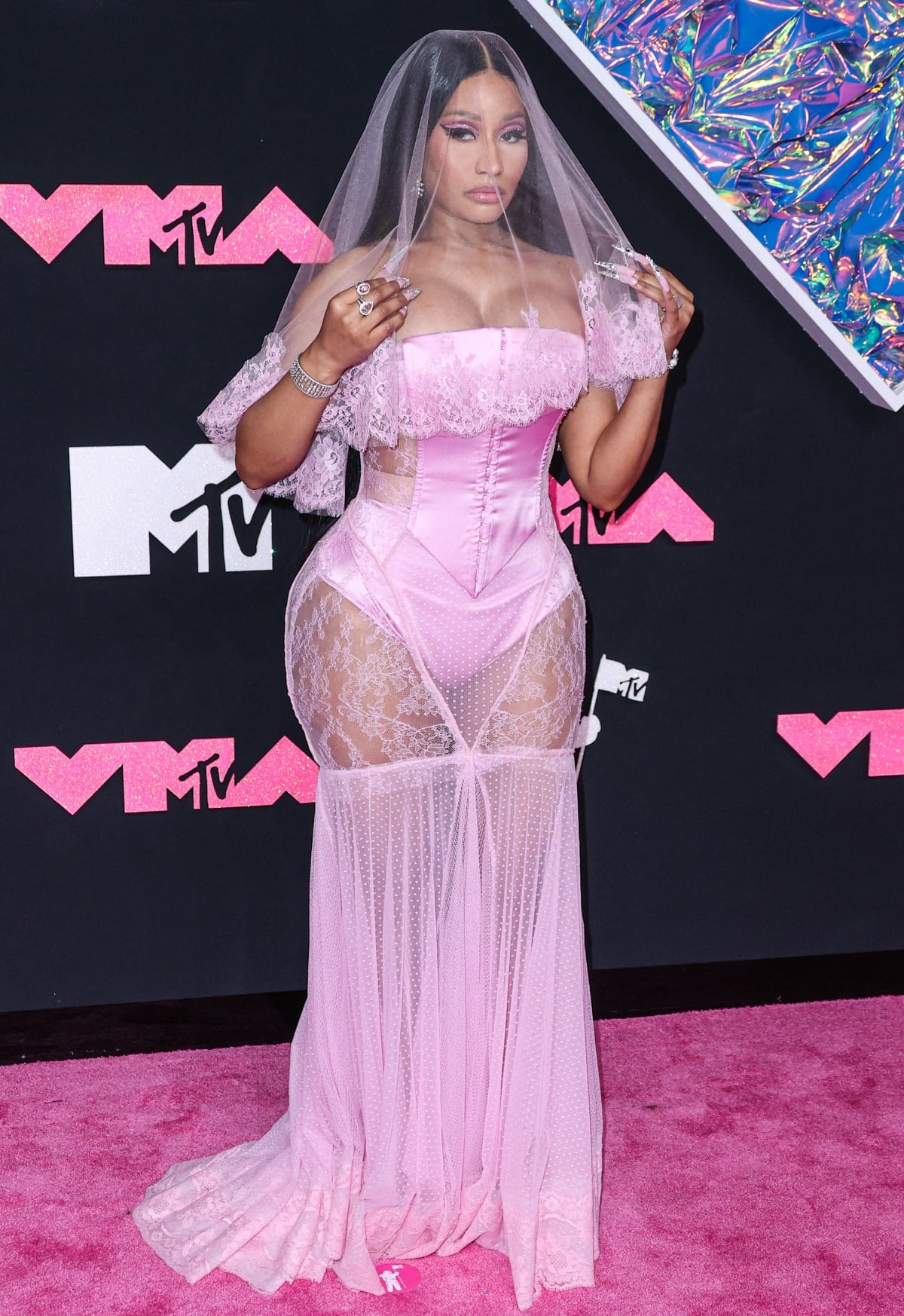 Nicki Minaj embodying a Barbie bride in a pale pink Dolce & Gabbana creation at the 2023 MTV Video Music Awards held at the Prudential Center in Newark, New Jersey on September 13, 2023 (Credit: Abaca Press / INSTARimages)
Adorned in a pale pink gown that redefined the art of lingerie dressing, she effortlessly flaunted a strapless satin bodysuit accompanied by lace sides.
Completing the ensemble, a matching see-through veil adorned with delicate lace trim perfectly complemented the transparent mermaid skirt, creating a breathtaking circular train.
In the accessories department, Nicki's game was impeccable, featuring floral-shaped earrings, a dazzling diamond tennis bracelet, and an assortment of sparkling diamond rings.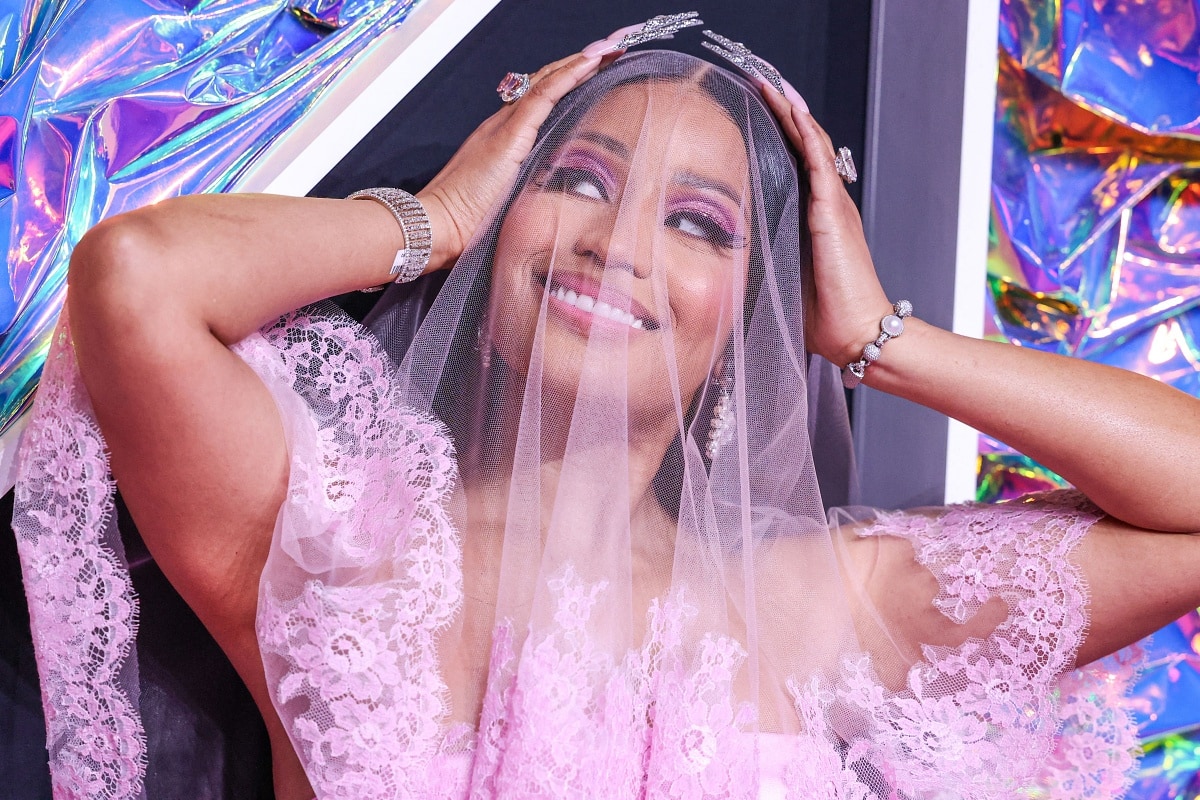 Nicki Minaj completed her look with a matching see-through veil and an assortment of diamond jewelry (Credit: Abaca Press / INSTARimages)
Her makeup was pure glam, characterized by pink eyeshadow, sharp cat-eye liner, nude lips, and exceptionally long bejeweled pink nails. To crown it all, her hair, parted down the middle, flowed in fierce, straightened locks.
The "Starships" hitmaker elevated her petite frame with a pair of platform pumps, adding just the right touch of drama.
Later in the evening, Nicki Minaj made a striking transformation into a red catsuit adorned with dangling silver jewelry and oversized sunglasses that exuded star power.
She switched up her hairstyle, opting for two chic space buns, allowing the rest of her voluminous hair to flow down her back in soft, textured waves.
To complete the look, Nicki elevated her style with daring black leather knee-high boots with stiletto heels, adding a touch of allure.
Nicki Minaj changed into a red catsuit styled with black leather knee-high boots (Credit: PA Images / INSTARimages)
The evening's highlight was her epic reunion with Lil Wayne on stage as they commemorated 50 years of hip-hop with a show-stopping performance.
Together with hip-hop legends like DMC, Doug E. Fresh, Grandmaster Flash and the Furious Five, and LL Cool J, they delivered a medley of rap classics.
Nicki captivated the audience with renditions of "Itty Bitty Piggy" and "Red Ruby Da Sleeze" before bringing Lil Wayne on stage for a memorable performance of "A Milli."
However, Nicki's mesmerizing show wasn't over yet, as she graced the stage once more for her solo performance of "Last Time I Saw You."
In another dramatic fashion statement, she donned a voluminous black puffy coat over a sultry slip dress, with her hair sleekly slicked back.
Nicki Minaj performed on stage in a voluminous black puffy coat over a black slip dress (Credit: PA Images / INSTARimages)
During her heartfelt and poignant performance, she pulled off the floor-length outer layer, revealing a stone-covered black dress with a bra-like bodice, teasing a hint of black thong underwear beneath the sheer fabric.
Nicki Minaj removed the puffy coat to reveal a sultry, stone-covered-black slip dress (Credit: PA Images / INSTARimages)
For her grand finale of the evening, Nicki continued to wow the audience in a monochrome brown Yves Saint Laurent ensemble.
This time, she rocked yet another sheer catsuit featuring a mock neck and long sleeves, topped with a stylish leather trench coat that accentuated her iconic curves.
Complementing the look were oversized deep brown-tinted shield sunglasses covering her dark eyes and a unique hairdo featuring two space buns adorned with chopsticks.
To complete her outfit, she effortlessly slid into knee-high caramel-colored boots adorned with sharp, pointed toes, adding the perfect finishing touch.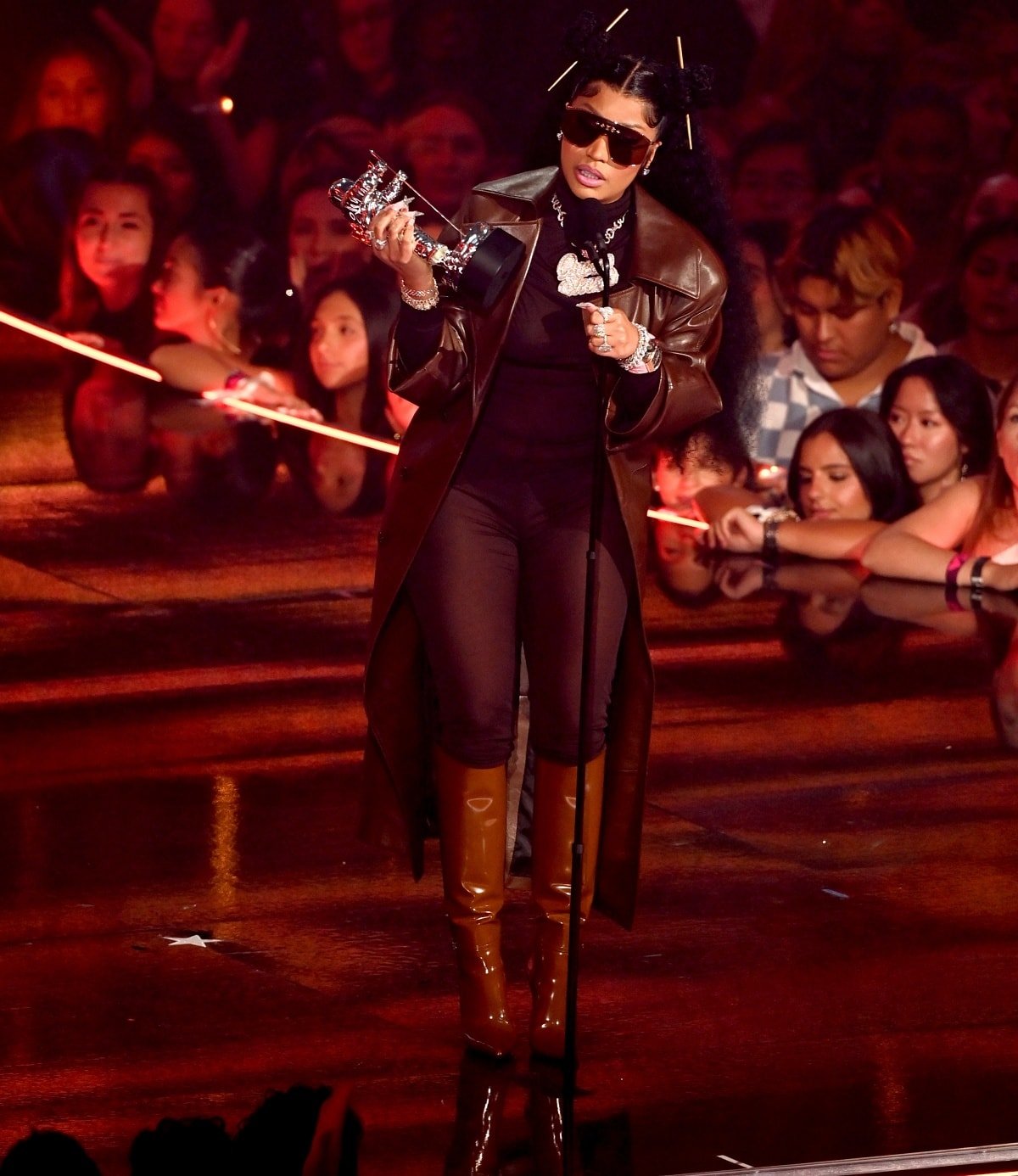 Nicki Minaj's final outfit of the day was a monochromatic Yves Saint Laurent ensemble complete with knee-high caramel-colored boots (Credit: PA Images / INSTARimages)
Nicki Minaj not only dominated the night with her cutting-edge fashion choices but also had her sights set on multiple awards.
She received nominations for Video of the Year, Best Hip Hop, and Best Visual Effects for "Super Freaky Girl." Additionally, she was nominated for Artist of the Year and Best R&B for "Love In The Way."
Unsurprisingly, Nicki clinched a record-breaking fifth award for Best Hip-Hop with "Super Freaky Girl." It marked her fifth win in the category, joining the ranks of her previous victories with "Super Bass" in 2011, "Anaconda" in 2015, "Chun-Li" in 2018, and "Do We Have a Problem" featuring American rapper Lil Baby in 2022.