Nicki Minaj turned 31 on December 8, 2013, but the Starships songstress made clear on Instagram that she was not ready to start toning down her daring and sizzling outfit choices any time soon.
Considering the rapper-turned-fashion-designer songstress is pretty well known for her eccentric and usually sexy outfits, her upload — a graffiti-themed fitted dress — wasn't a surprise.
Via Nicki Minaj's social media, captioned: "NickiMinajSpringCollection #SneakPeak"
Or, was it? The former American Idol judge was actually giving us a sneak peek on Instagram of her Spring 2014 Collection for Kmart.
In 2017, her apparel line was discontinued in stores. "Kmart is thrilled that we were the first retail partner to create a custom apparel line for Nicki Minaj," a representative for American big-box department store chain Kmart told Billboard.
"From the development of the line, to showcasing it in stores, to designing exclusive capsule collections, we have enjoyed a positive relationship with Nicki Minaj and her team over the last three years. As our partnership came to a close in 2016, we would like to thank Nicki Minaj for being a great partner and wish her continued success in her future endeavors."
Did Nicki Minaj write Starships?
"Starships," a song from her second studio album Pink Friday: Roman Reloaded, was written by Minaj, Nadir Khayat, Carl Falk, Rami Yacoub, and Wayne Hector.
It was released on February 14, 2012, when Nicki Minaj was 29-years-old. Born on December 8, 1982, in Saint James, Port of Spain, Trinidad and Tobago, she turned 30 on December 8, 2012.
Nicki Minaj suffered a nip-slip wardrobe malfunction while performing at the Capital FM Arena in Nottingham, England, on October 21, 2012
The opening scene of the music video for Starships is from the Nā Pali Coast on the island of Kauaʻi in Hawaii. Wearing a pink bikini and electric green-hair, Nicki Minaj is beamed down onto a beach from a starship.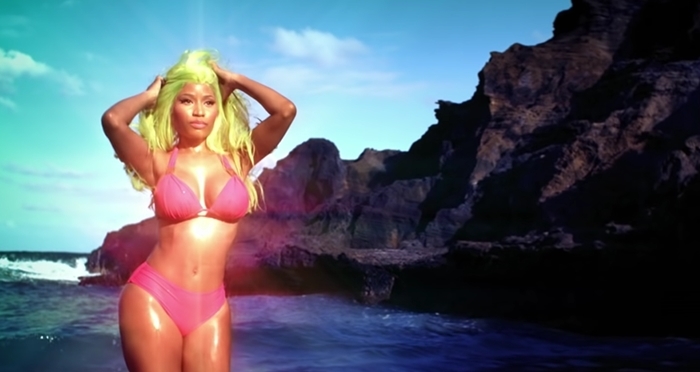 Pink bikini-clad electric green-haired Nicki Minaj in the opening scene of Starships filmed on the island of Kauaʻi in Hawaii
The rest of the "Starships" music video was shot on Kualoa Ranch, a private nature reserve on Oahu Island, Hawaii. Filmed in March 2020, the video directed by Anthony Mandle premiered on April 26, 2012, on MTV.
As of January 2021, the video has more than 394 million views on YouTube.
Nicki Minaj was 29-years-old when filming the music video for Starships in Hawaii
While Nicki created her first custom clothing line with Kmart, when it comes to her shoes, we all know she loves designer footwear. Promoting her affordable fashion line on Instagram, she chose a pair of booties by Giuseppe Zanotti.
The pop of purple was just striking! Moreover, the booties feature gold-tone zip fastening down the front with tasseled zipper pulls.
They may look a little chunky, but they're also incredibly feminine with peep toes and come complete with stiletto heels measuring about five inches.
We have also spotted Zendaya in these same zipped peep-toe booties. You can order them at Farfetch and Amazon.
Purple Giuseppe Zanotti Zip-Up Booties, $1,155.63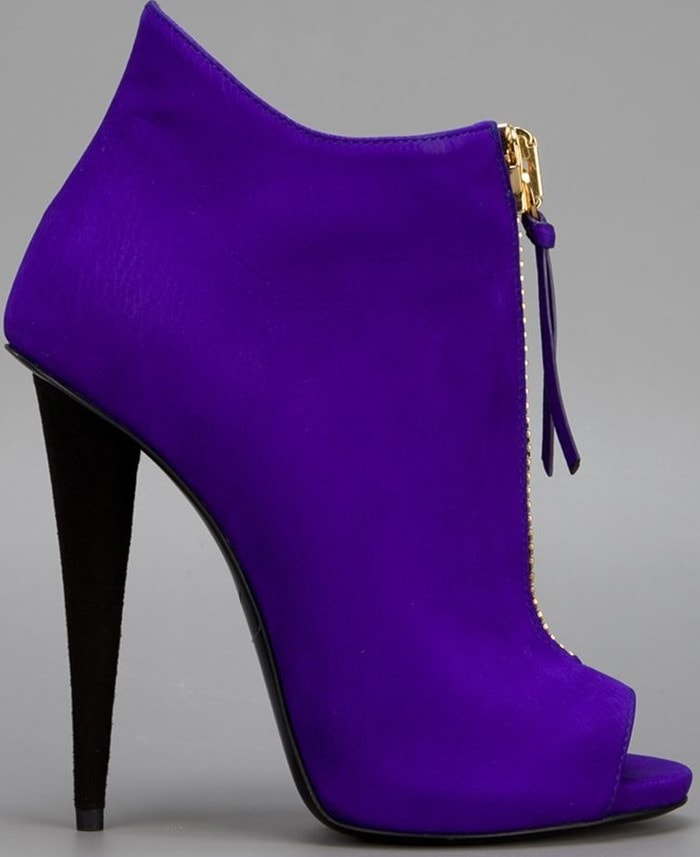 Credit: Nicki Minaj's Instagram