What words come to mind when you think of Karolina Kurkova? If you're like us, two of the first phrases are "Victoria's Secret," and "supermodel." The model has stayed a bit under the radar after giving birth to her second child, but that doesn't mean she has dropped off the map altogether. The model recently spent a little bit of time working on a phrase that means a lot to her, but doesn't often come to mind when you hear her name: "philanthropy."
Karolina was photographed showing her support for the newly established Ian Somerhalder Foundation at the charity's recent Chicago gala.
Karolina Kurkova at the Ian Somerhalder Foundation Benefit at Galleria Marchetti in Chicago on December 3, 2016
Since Karolina would be doing a fashion segment for the fundraiser, the supermodel made sure to look every bit convincing for the part. Karolina towered in an interesting perforated black dress by Johanna Ortiz that showed off her slender shoulders.
The mother-of-two finished her look with jewelry from Graziela Gems and a pair of the Aquazzura "Cayenne" sandals.
Talk about spice: Karolina turned heads in the sexy Aquazzura "Cayenne" sandals
Karolina poses with her longtime friend and co-philanthropis Ian Somerhalder
Karolina said she's been friends with celebrity philanthropists and husband-and-wife duo Ian Somerhalder and Nikki Reed for a long time now. The model said that when she met Ian, she thought his eyes were beautiful, but his heart was even more wonderful.
The 32-year-old also shared a snap with the lovely couple.
Karolina poses with her celebrity philanthropist friends Nikki Reed and Ian Somerhalder
Shop Karolina's sexy Aquazzura "Cayenne" sandals at Barneys New York, Farfetch, Harvey Nichols and Luisaviaroma.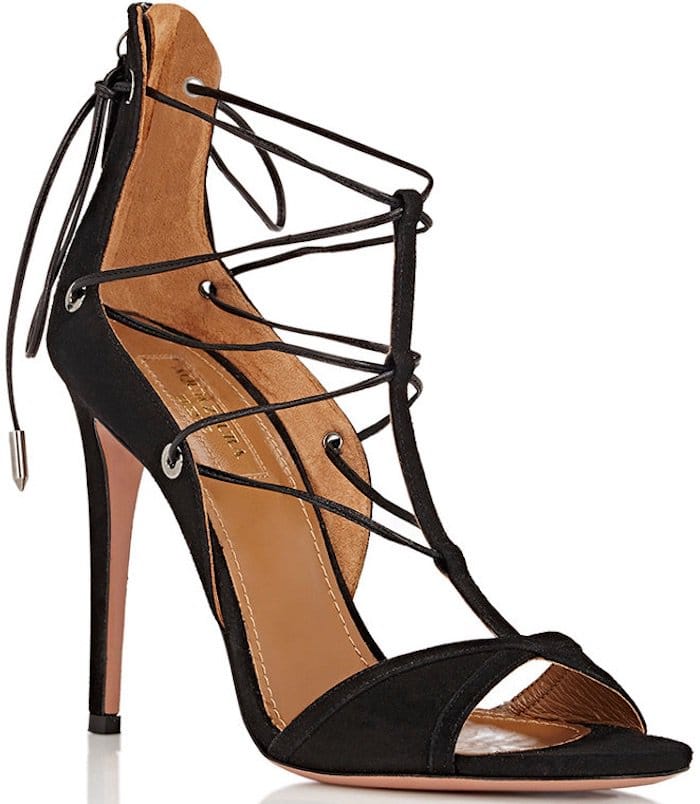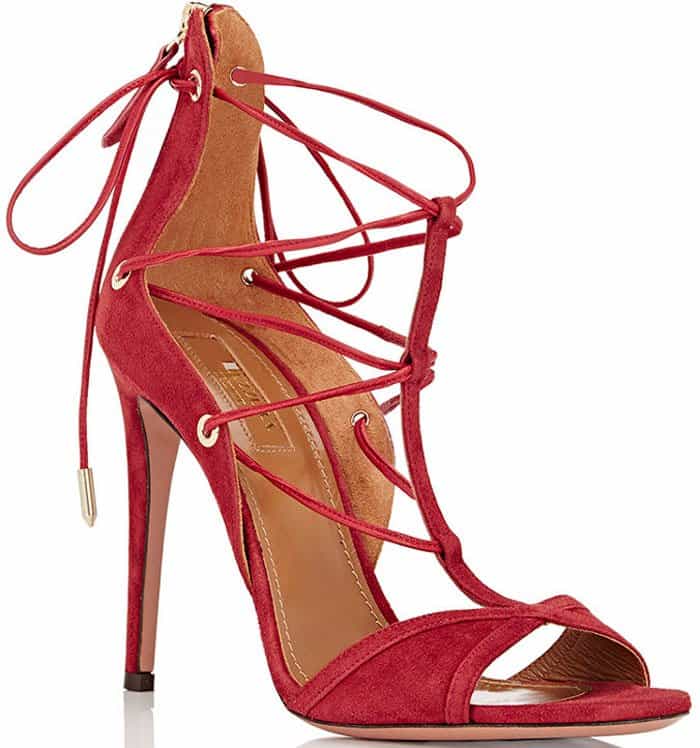 Aquazzura "Cayenne" Sandals, $509 – $850 at Barneys New York, Farfetch, Harvey Nichols and Luisaviaroma
Credit: Karolina Kurkova's Instagram / C.M. Wiggins / WENN