We had to check if it was TLC day yesterday because we spotted a couple of celebrities rocking the '90s R&B and hip-hop girl group's signature style. There's no mistaking the high ponytails, crop tops, and bright colors — it's the "CrazySexyCool" look.
Model Karrueche Tran wore her TLC-inspired outfit to the meet-and-greet launch of her limited-edition V/Sual tees at the PacSun Glendale Galleria store in California yesterday. Flaunting rock-hard abs in a cropped sweater that didn't cover the mesh bra top she was wearing underneath, Karrueche looked as chill as TLC's own Chilli. Ripped-knee skinny jeans added a contemporary touch to her look, while bright red nails and yellow patent pumps provided much-needed pops of color.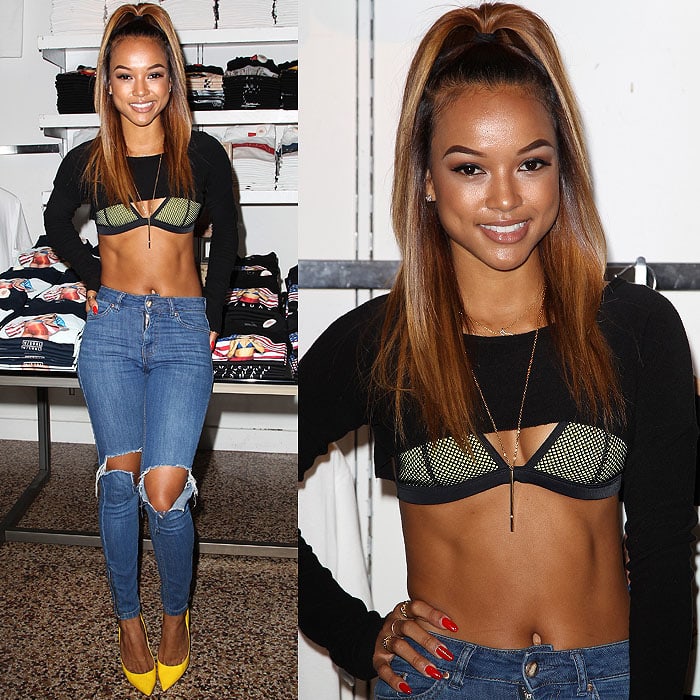 Karrueche Tran celebrating the launch of her new limited-edition V/Sual tee at the PacSun Glendale Galleria store in Glendale, California, on July 3, 2014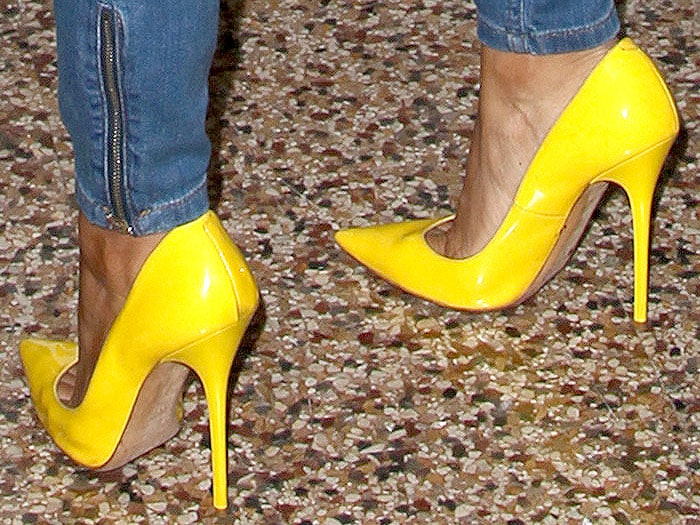 Closeup of Karrueche Tran's yellow patent pumps
Meanwhile, across the globe in Madrid, Rita Ora was also doing her best TLC impersonation at her gig at the Joy Eslava Club. What a strange coincidence that Rita also wore a high ponytail, a mesh sports bra, and ripped, ruffle-front Ashish jeans. She also added color through her fuchsia lipstick, dark pink nails, and pink suede booties.
Rita Ora arriving at the Joy Eslava Club in Madrid, Spain, on July 3, 2014
Rita Ora's pink suede booties up close
In her performance on stage later that evening, Rita wore a matching ruffled denim jacket. The getup looks strange in pictures, but we bet it moved really well when Rita did her high-energy dance steps.
Rita Ora performing live on stage at the Joy Eslava Club in Madrid, Spain, on July 3, 2014
Whose TLC-inspired look do you like more, Karrueche Tran's or Rita Ora's?
Highlight your getups with these similar-style pink suede booties and yellow pumps from Nine West: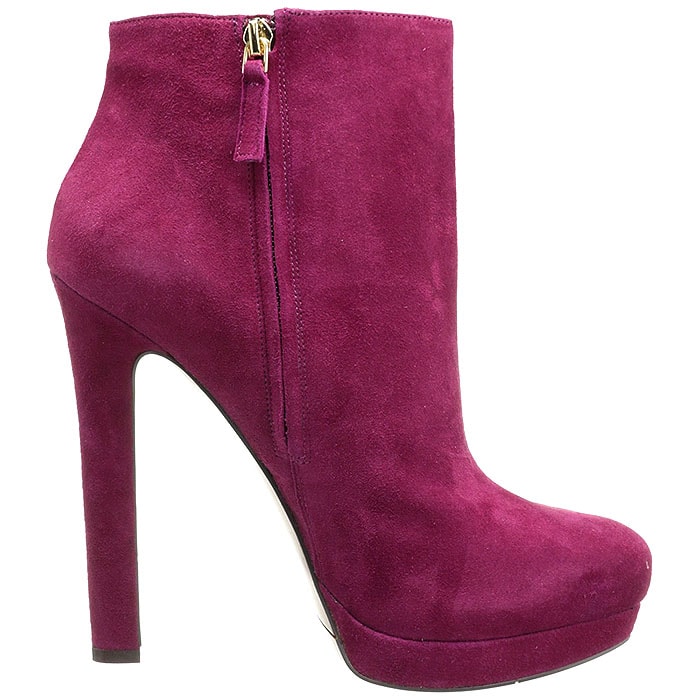 Nine West "Plumperfect" Booties, $51.99 – $67.99 at Amazon
Nine West "Martina" Pumps in Yellow Synthetic, $39.99–$79 at Nine West
Credit: Sean Thorton/FayesVision/WENN