Does Kate Middleton ever not look fabulous? The Duchess of Cambridge was spotted with her husband, Prince William, making the rounds in Paris. The duo visited the Les Invalides military hospital to spend time with the survivors of the Nice and Bataclan attacks, where they were met by several adorable children who presented them with flowers and handshakes.
Kate gave a respectful nod to the most popular French fashion house in a lovely Chanel ensemble. Her bespoke Chanel tweed coat dress was punctuated with a black Chanel belt and a Chanel handbag that featured some lovely carving details on its gold enamel handle and emblem. The gorgeous purse is from the brand's Fall/Winter 2016 Collection and has a retail price of around $4,600.
To finish the sophisticated look, Kate threw in a couple pieces of Cartier jewelry from the Trinity Collection. She also wore one of her favorite pairs of block-heeled shoes from Tod's, which looked to be practical and comfortable for walking. Prince William also looked dapper in his well-tailored navy suit and maroon tie, which matched Kate's purse.
The Duke and Duchess of Cambridge visit Les Invalides military hospital during their official visit to Paris on March 18, 2017.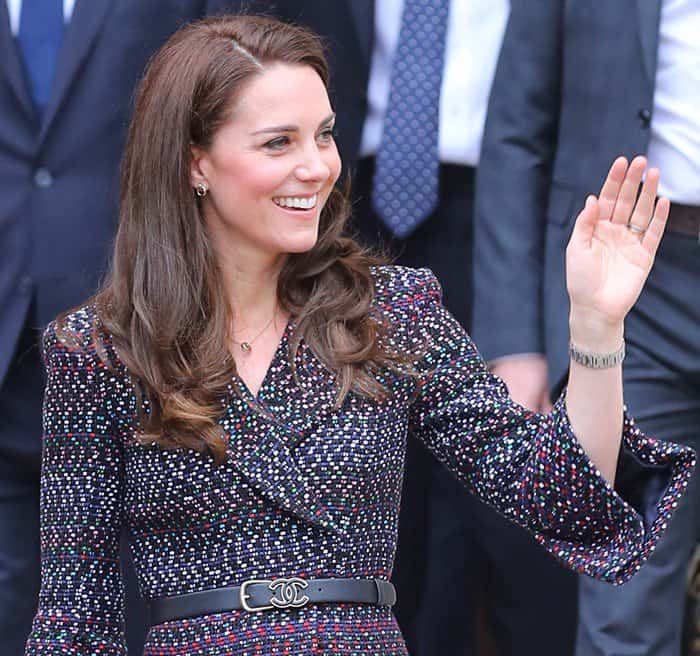 Credit: WENN