Keke Palmer's real name is Lauren Keyana Palmer. She changed her name to Keke when she was a child because her older sister had an imaginary friend named Keke.
Her manager at the time thought it was a cute name and suggested that she use it as her stage name. She has said that she doesn't mind being called Keke, but she would prefer to go by her real name, Lauren.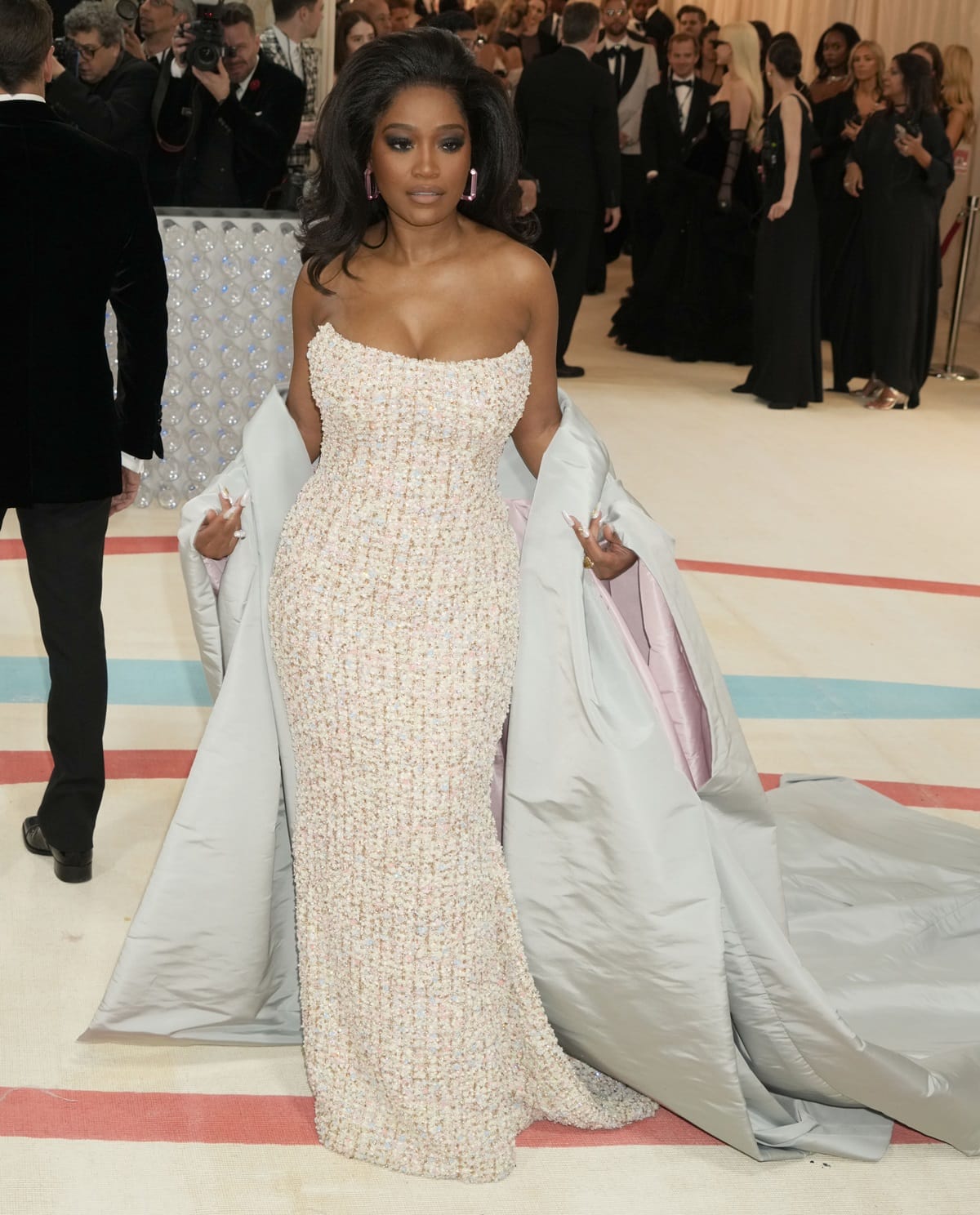 Keke Palmer exuded glamour in a strapless pastel tweed gown designed by Sergio Hudson adorned with over 12,000 Swarovski crystals and pearls at 2023 Met Gala Celebrating 'Karl Lagerfeld: A Line Of Beauty' at The Metropolitan Museum of Art on May 1, 2023, in New York City (Credit: Jennifer Graylock / INSTARimages)
"Actually Keke is my nickname. When I was little, my sister was about four years old, and she had an imaginary friend named Keke," Keke said on an episode of Jimmy Kimmel Live in 2012.
"And she wanted my name to be Keke. And first, my mom was like, 'You, know, I don't think that's a good idea because she may grow up and want a more professional-sounding name.' So she named me Lauren Keyana Palmer, but ever since then, everybody's called me Keke," she added.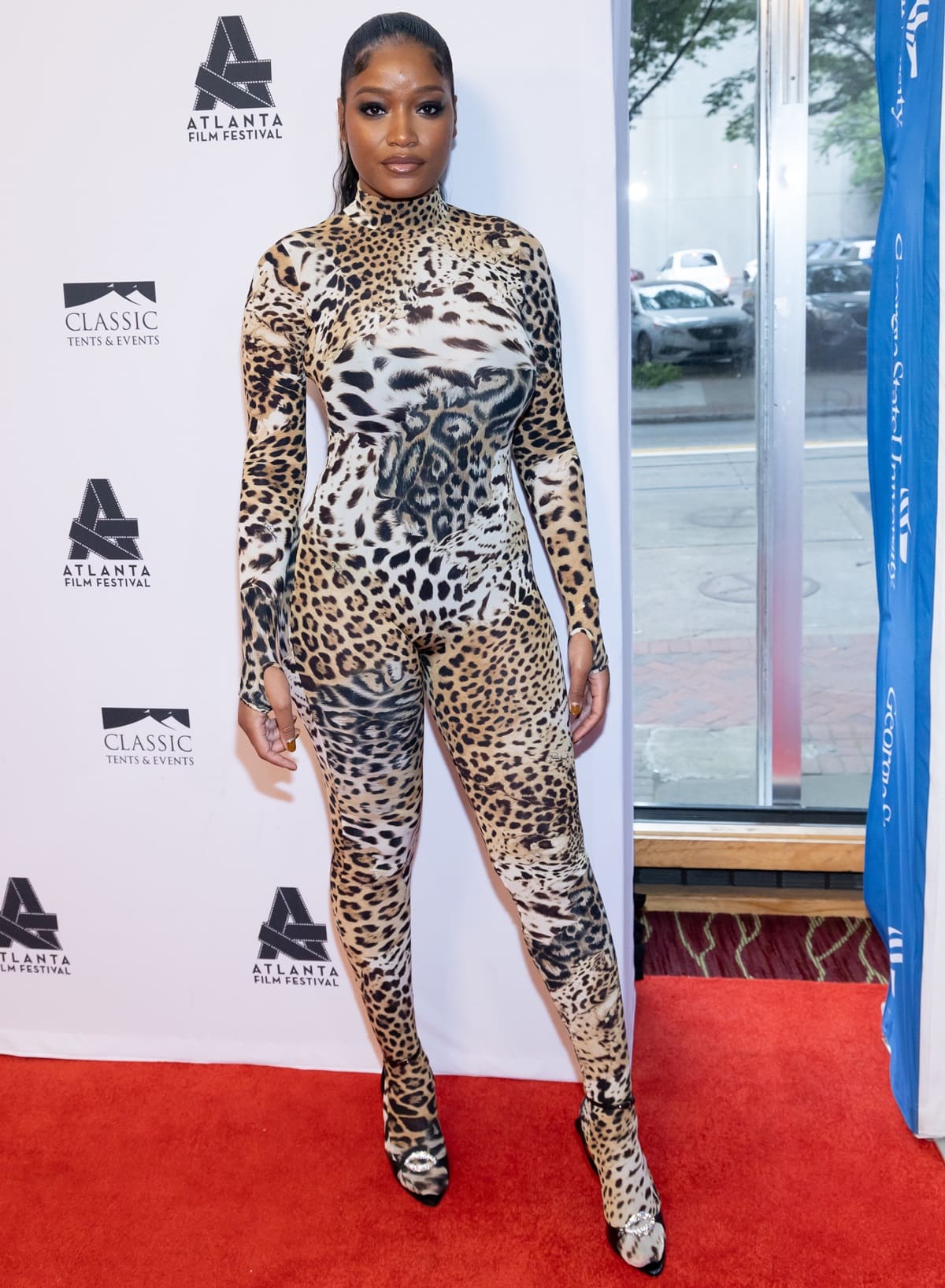 Keke Palmer turned heads in a long-sleeved cheetah print jumpsuit at the "Big Boss" Closing Night Screening during the 2023 Atlanta Film Festival at Rialto Center for the Arts at Georgia State University on April 29, 2023, in Atlanta, Georgia (Credit: Larry Cooper / Shutterstock)
In a 2022 interview with Glamour, Palmer said, "I actually don't prefer to go by Keke instead of Lauren. The only people that called me Keke were people in my family. Then one day, my manager at that time heard my mom call me Keke because I wasn't listening. He said, 'That should be your stage name.' So [Keke] went from being just something that my family called me, to being something that the whole world called me."
Keke Palmer, whose real name is Lauren Keyana Palmer, says her older sister had an imaginary friend named Keke when they were younger, and she wanted Keke to be her name as well (Credit: Larry Cooper / Shutterstock)
Palmer said she would love to return to using her real name, but she's not sure if that's possible at this point in her career. "I'm so known as Keke," she said. "I don't know if I could ever change it."
In August 2016, Keke Palmer attended the 2016 Fox Summer TCA Press Tour party held at Soho House in West Hollywood.
Keke Palmer radiated joy as she graced the FOX Summer TCA Press Tour in an eclectic Baja East Fall 2016 silk patterned pantsuit (Credit: FayesVision / WENN)
The then-22-year-old actress wore her signature tomboy-chic look, rocking an eclectic black pantsuit from Baja East's Fall 2016 collection.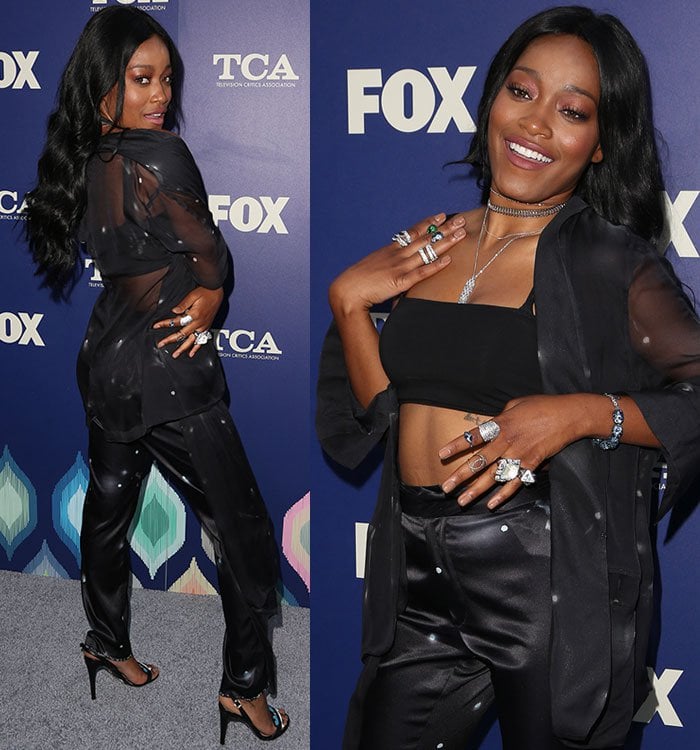 Keke Palmer's impeccable style made her presence unforgettable on the FOX Summer TCA Press Tour at Soho House in Los Angeles, California, on August 8, 2016 (Credit: FayesVision / WENN)
The Alice actress donned a pair of high-waisted spotted trousers and a matching sheer blazer, left open to expose her stomach.
She wore a black bandeau underneath and teamed the all-black ensemble with quirky heels.
Keke Palmer has a small tattoo on her upper rib cage that says, "Don't cast thy pearls before swine," a reference to a Bible verse, Matthew 7:6, which reads, "Do not give what is holy to the dogs; nor cast your pearls before swine, lest they trample them under their feet, and turn and tear you in pieces" (Credit: FayesVision / WENN)
Keke glammed up the pajama look with a selection of jewelry. She wore several statement rings, a Swarovski bracelet, and multi-strand choker necklaces.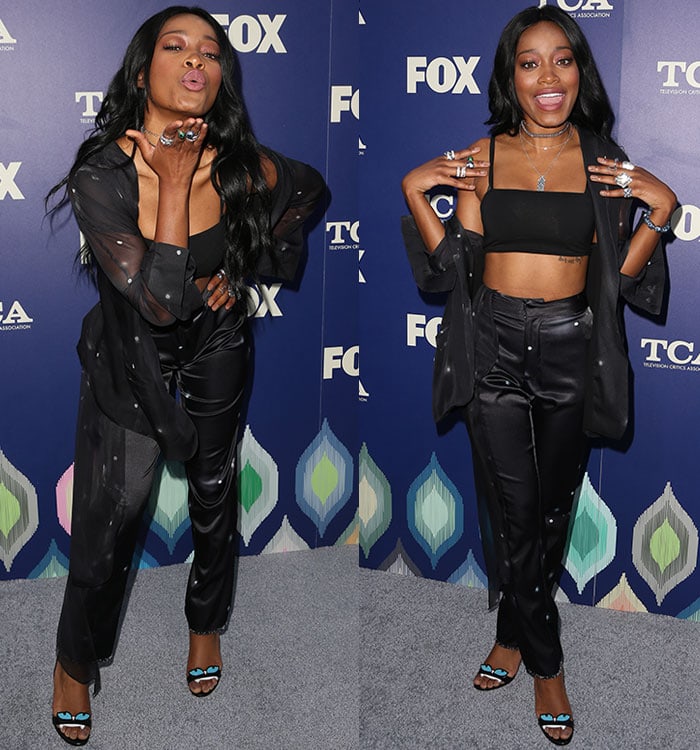 Keke Palmer made a striking statement in her ensemble at the event, donning a Baja East sheer top paired with matching satin pants (Credit: FayesVision / WENN)
The "True Jackson, VP" star wore her long, dark tresses in tousled waves and sported effortless makeup with a pink matte lipstick.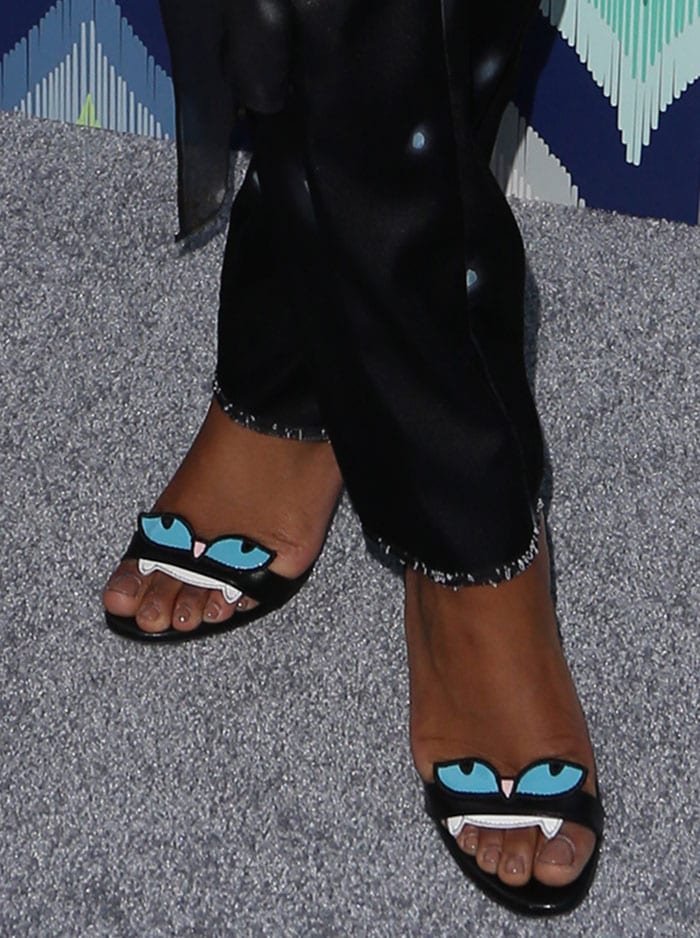 Keke Palmer shows off her feet in Chiara Ferragni "Amelia" sandals (Credit: FayesVision / WENN)
Keke topped off her look with Chiara Ferragni's "Amelia" sandals. These whimsical sandals have open toes, adjustable slingback straps, and four-inch heels.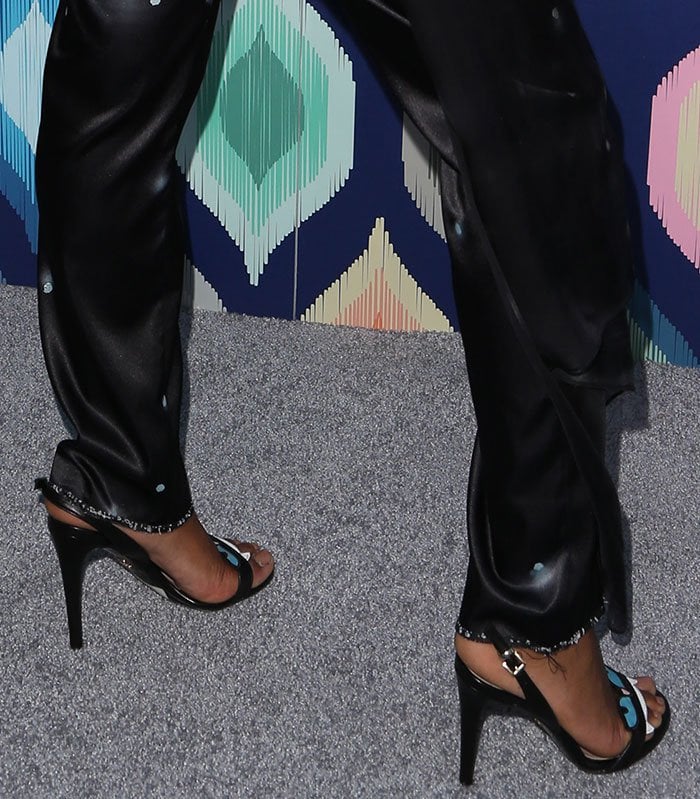 Keke Palmer opted for Chiara Ferragni velvet monster eye sandals, completing the look with a unique and playful twist (Credit: FayesVision / WENN)
Most notable were the monster eye embellishments on the toe straps.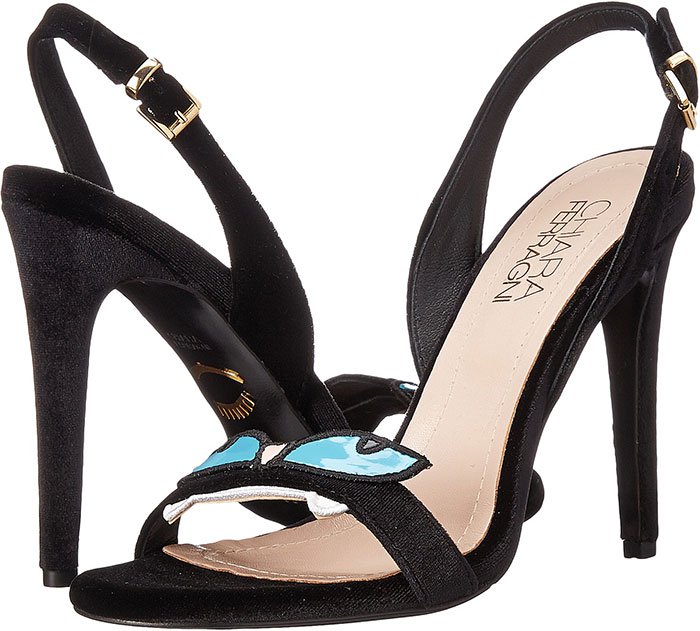 Chiara Ferragni "Amelia" Velvet Monster Eyes Heels, $499