On Wednesday, The Longshots star turned heads in a bright green suit on her way to Jimmy Kimmel Live!.
Keke Palmer stopped by the studio to promote her latest movie, Alice, which tells the story of a young woman trapped in slavery in an 1800s Georgia plantation.
Alice escapes into the woods after a violent confrontation with her brutal and disturbed owner Paul (Jonny Lee Miller), and comes across a highway, only to realize that she has been transported to the year 1973.
Is Keke Palmer's Alice based on a true story?
The crime thriller is inspired by real-life stories of black Americans who remained enslaved even after then-President Abraham Lincoln issued the Emancipation Proclamation in 1863.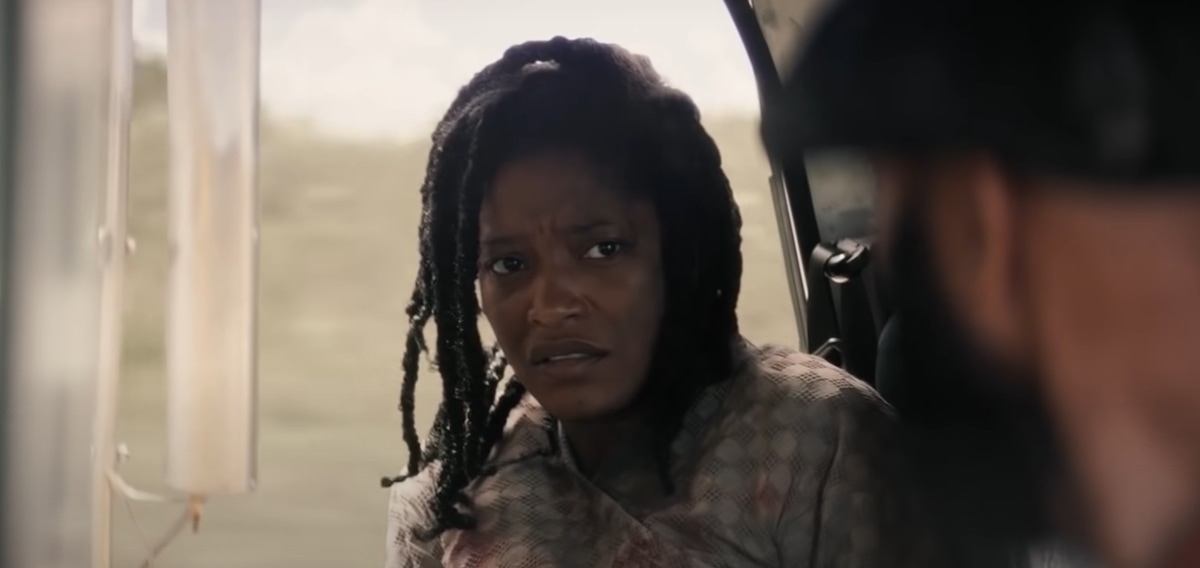 The background of Keke Palmer's 2022 American crime thriller film Alice isis loosely based on the true story of Mae Louise Miller, who fled slavery during the 1960s (Credit: Universal Pictures)
Mae Louise Walls Miller's life is the primary example on which the story is based. She remained in bondage until 1961, when she fled the plantation and was rescued by a kind family.
Miller and her family were unaware of the change in circumstances since they had no access to outside information and assumed that their situation was the norm for all black people.
The film sheds light on this dark period of American history and serves as a poignant reminder of the struggles faced by many African Americans.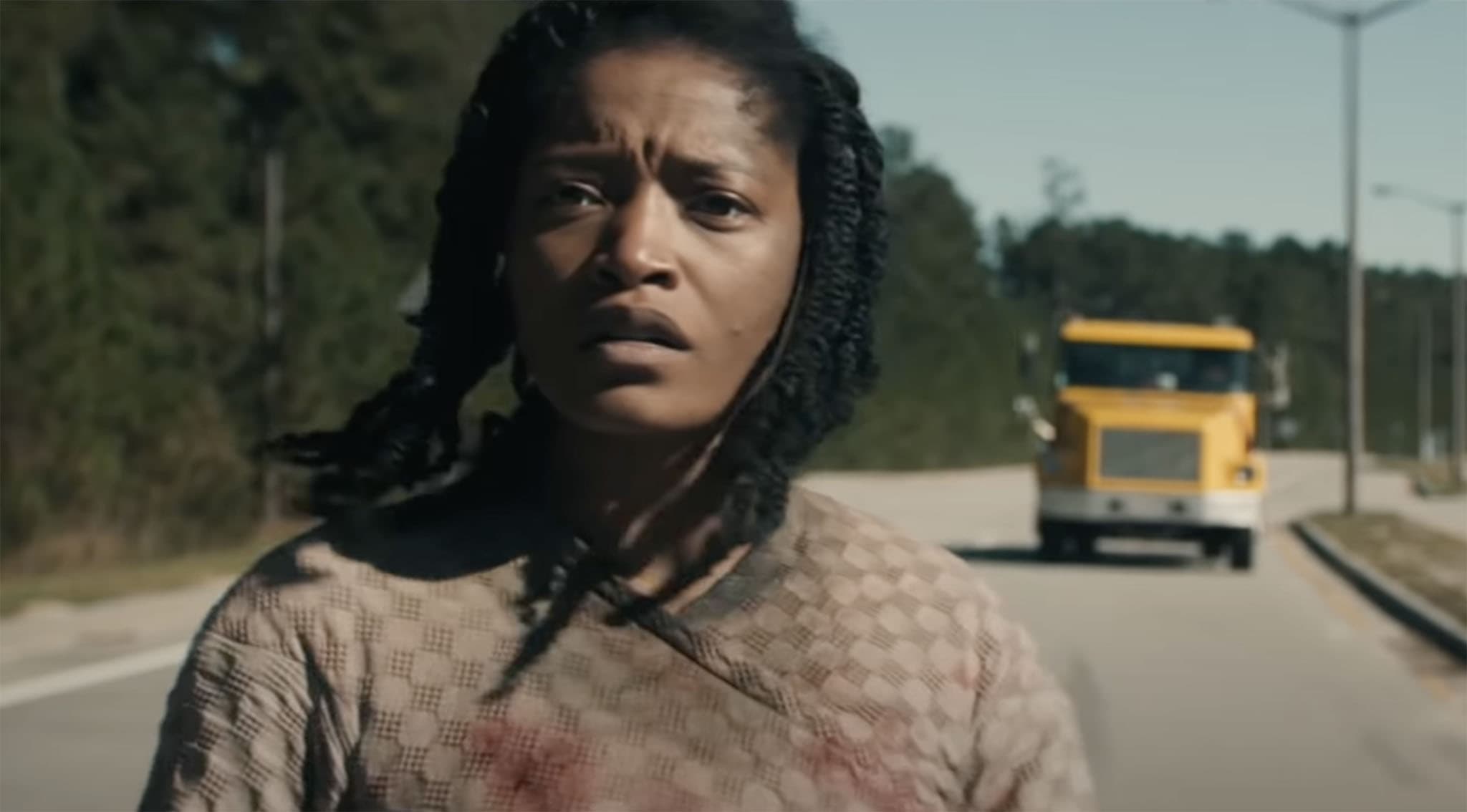 Keke Palmer stars as the titular character Alice in the crime thriller movie inspired by true events (Credit: Universal Pictures)
Keke Palmer told Jimmy Kimmel that she recently took her younger twin siblings, Lawrence and Lawrencia, to a strip club in Vegas.
"They just turned 21, and I took them to Vegas… I felt like it was fun," she said. "He had his girlfriend with him and started, like trying to check compatibility charts with the strippers, so that was a little weird."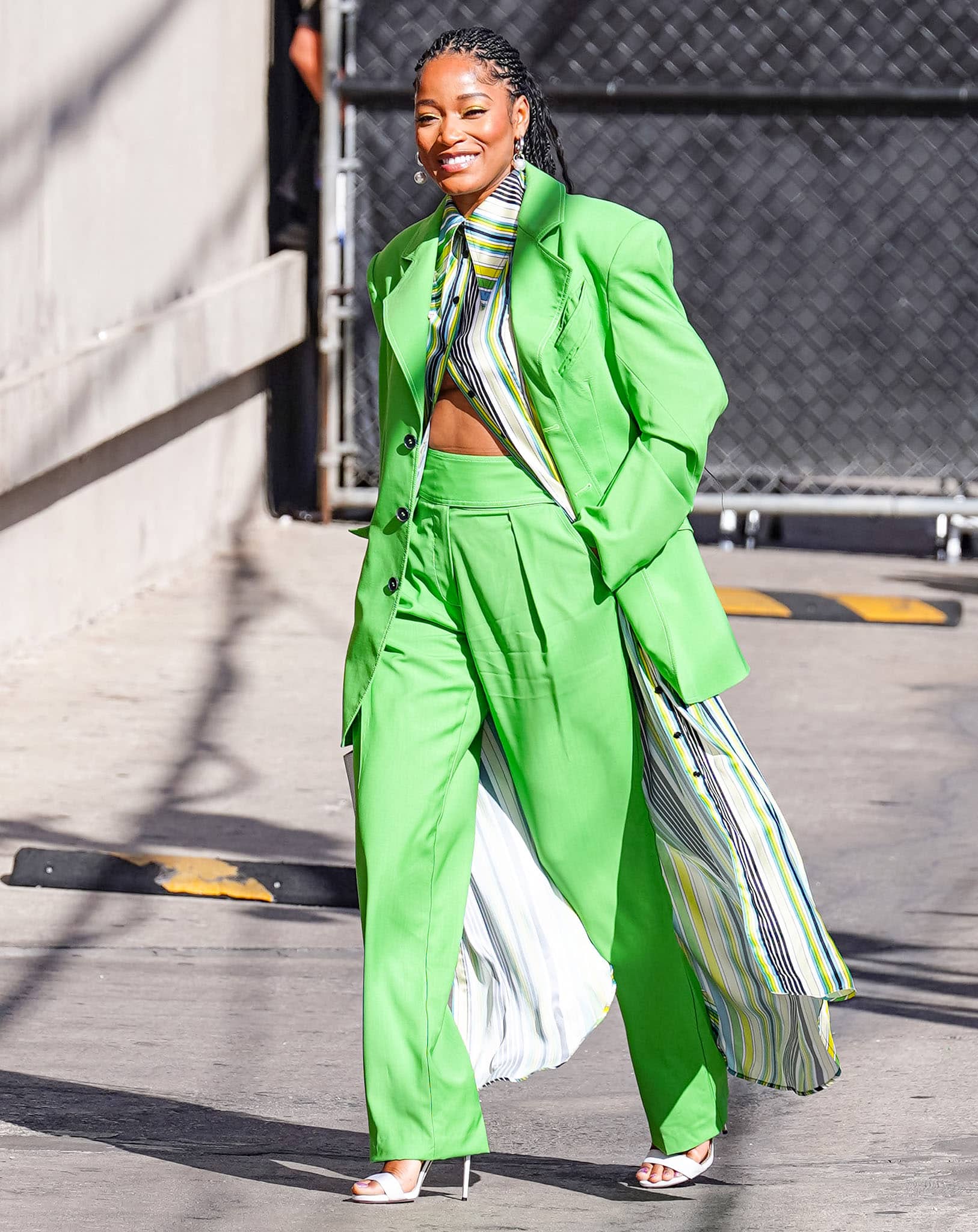 Keke Palmer couldn't be missed in a lime green Christopher John Rogers Resort 2022 suit for her Jimmy Kimmel Live! appearance on March 16, 2022 (Credit: BauerGriffin / INSTARimages)
For her TV appearance, the 28-year-old actress opted for a Christopher John Rogers Resort 2022 lime green suit composed of a pair of green pleated trousers with tapered cuffs and an oversized green wool blazer.
The single-breasted jacket boasts structured shoulder pads and contrasting white stitching that outlines the notched lapels and flap pockets.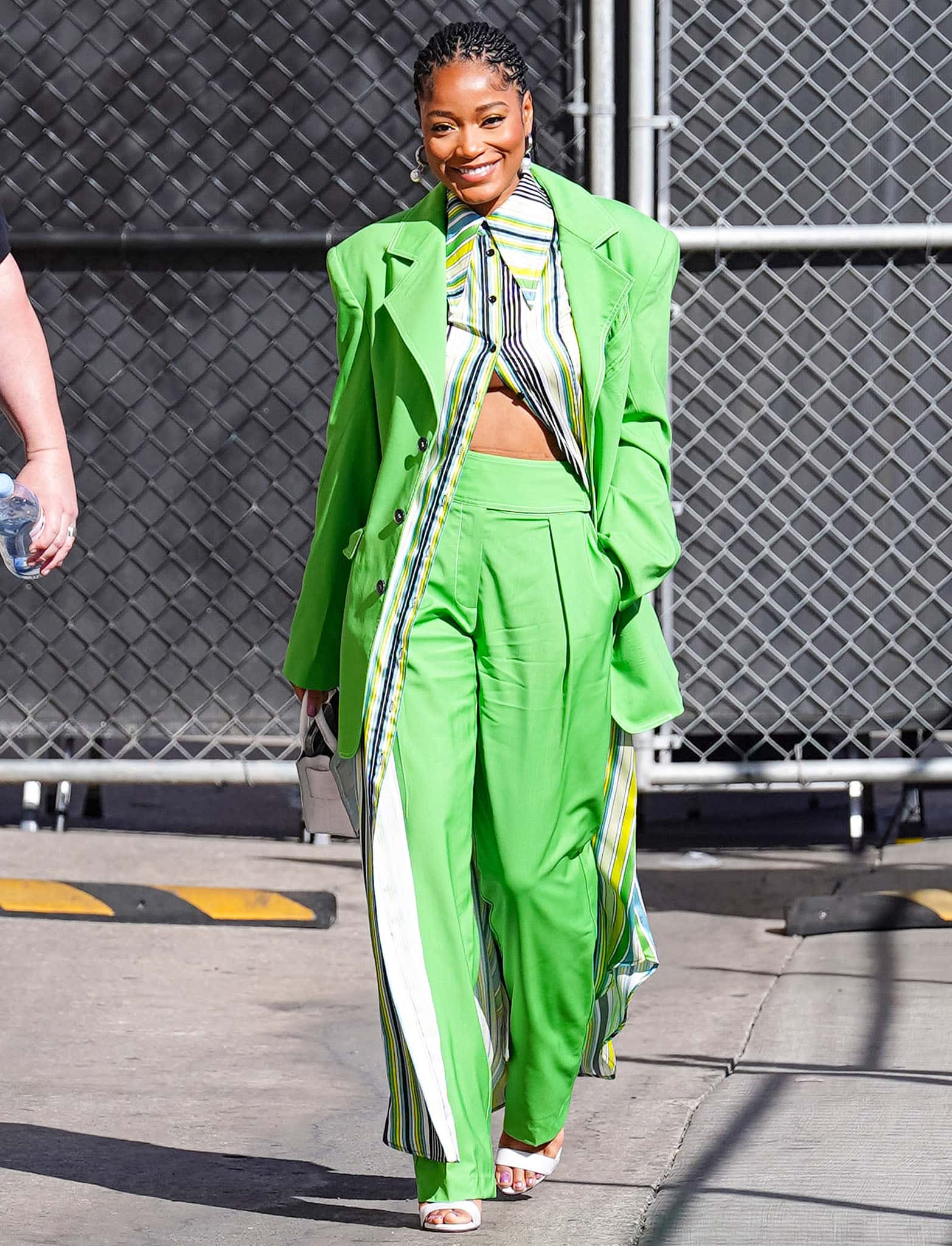 Keke Palmer pairs her green suit with a multicolored striped shirt dress and Dolce & Gabbana white heels (Credit: BauerGriffin / INSTARimages)
Underneath, Keke donned a longline multicolored striped satin shirt dress, also from the CFDA 2021 American Womenswear Designer of the Year.
The vibrant shirtdress features an exaggerated collar, a nipped-in waist, and front buttons. Keke wore hers as a shirt as she left the bottom buttons undone, showing a glimpse of her stomach.
Stylist Seth Chernoff accessorized the Hustler star's look with pearl drop hoop earrings, a white bag, and matching white heels from Dolce & Gabbana.
For her beauty look, makeup artist Jordana David applied coordinating green eyeshadow, a swipe of pink lip color, and a matching blush.
Meanwhile, hairstylist Ricardo Roberts pulled Keke's long tresses back into a tight dreadlock ponytail.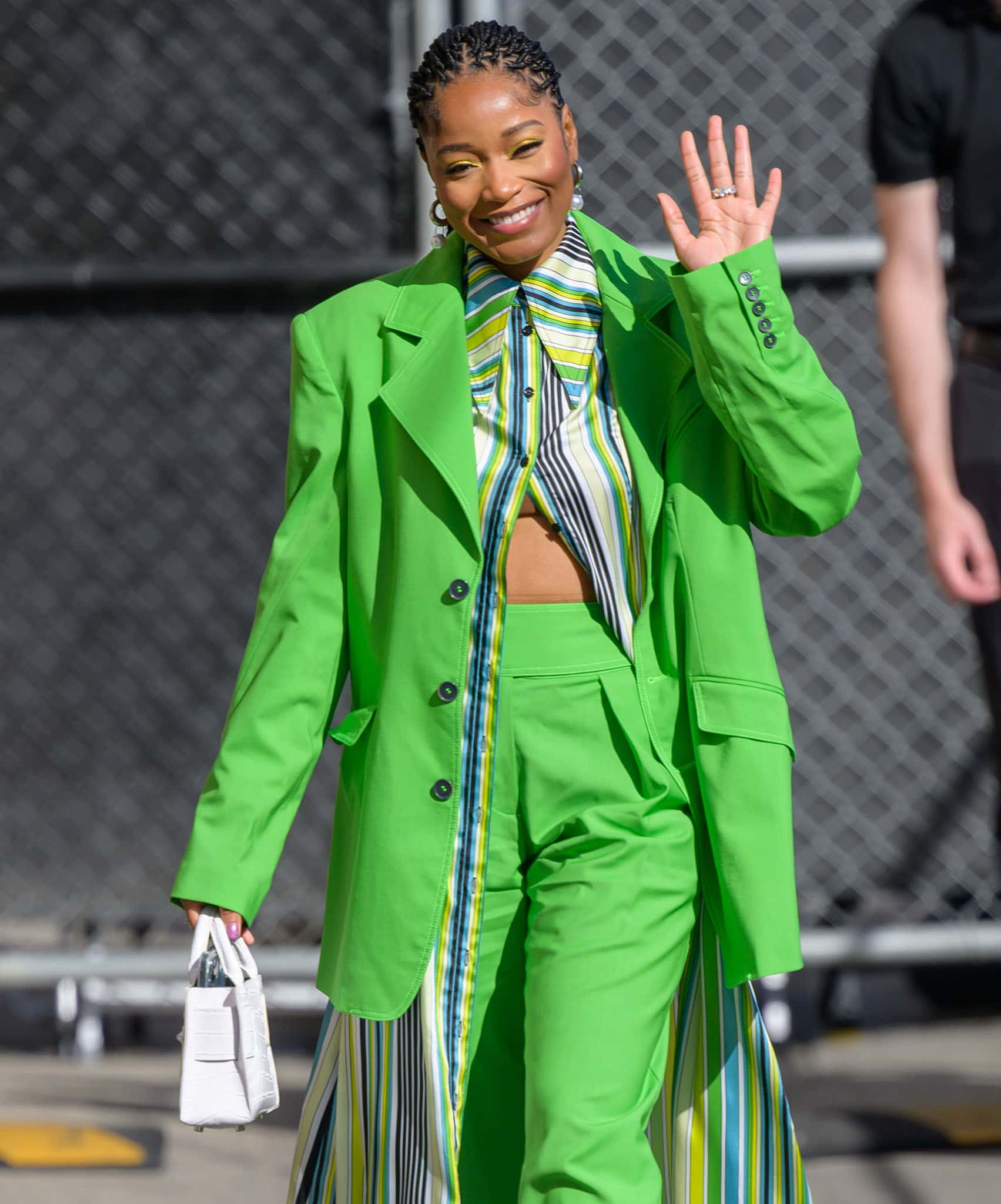 Keke Palmer styles her tresses into a tight dreadlock ponytail and wears coordinating green eyeshadow (Credit: BauerGriffin / INSTARimages)
Keke Palmer has already achieved what most of us could only dream of accomplishing.
Lauren Keyana "Keke" Palmer, who started acting at age nine, has many television shows, Broadway musicals, and original songs under her showbiz belt. As if those weren't enough, in January 2017, Keke hit another milestone: A book.
Keke Palmer wears a beautiful Africa necklace to promote her book "I Don't Belong to You: Quiet the Noise and Find Your Voice" at Barnes & Noble in New York on January 31, 2017 (Credit: WENN)
Wearing a gold Africa necklace, the singer-actress staged her first book signing session for "I Don't Belong to You: Quiet the Noise and Find Your Voice" at Barnes & Noble in New York City. Her book is also available on Amazon.
Keke Palmer rocks a white Philipp Plein Spring 2017 design (Credit: WENN)
Keke wore a head-to-toe look from Paris Hilton-approved designer Philipp Plein. Her all-white look — high-waisted pants, a tee, and a jacket — was pieced together from the brand's Spring-Summer 2017 collection.
The outfit was completed with golden grommets in both circle and star shapes.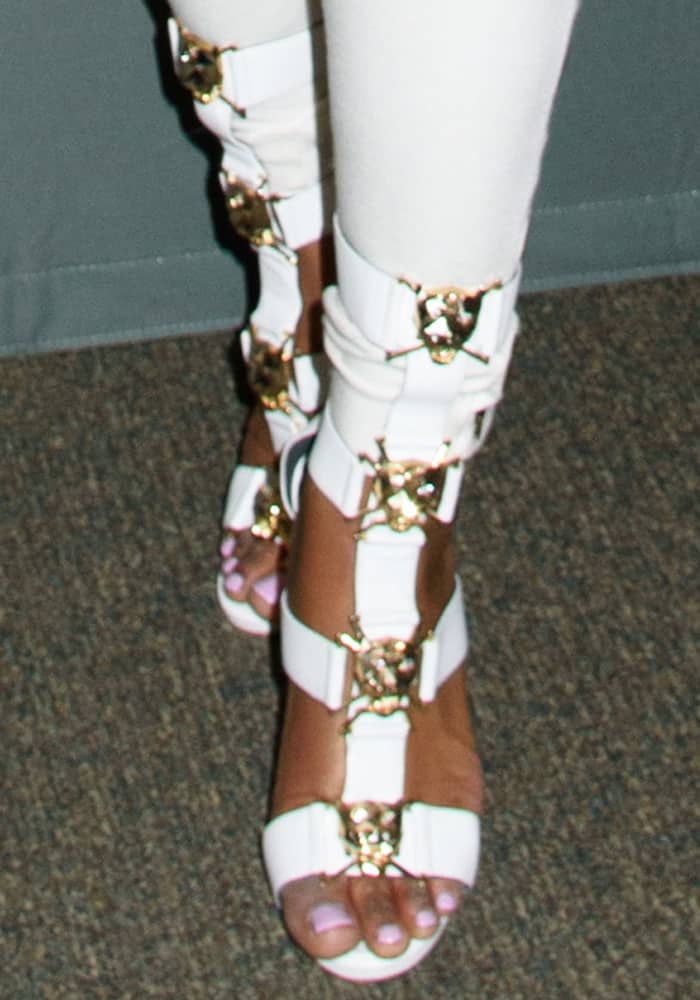 Keke Palmer shows off her feet in Philipp Plein white gladiator sandals (Credit: WENN)
The American actress, singer, songwriter, presenter, and television personality finished her look with Philipp Plein's white gladiator sandals.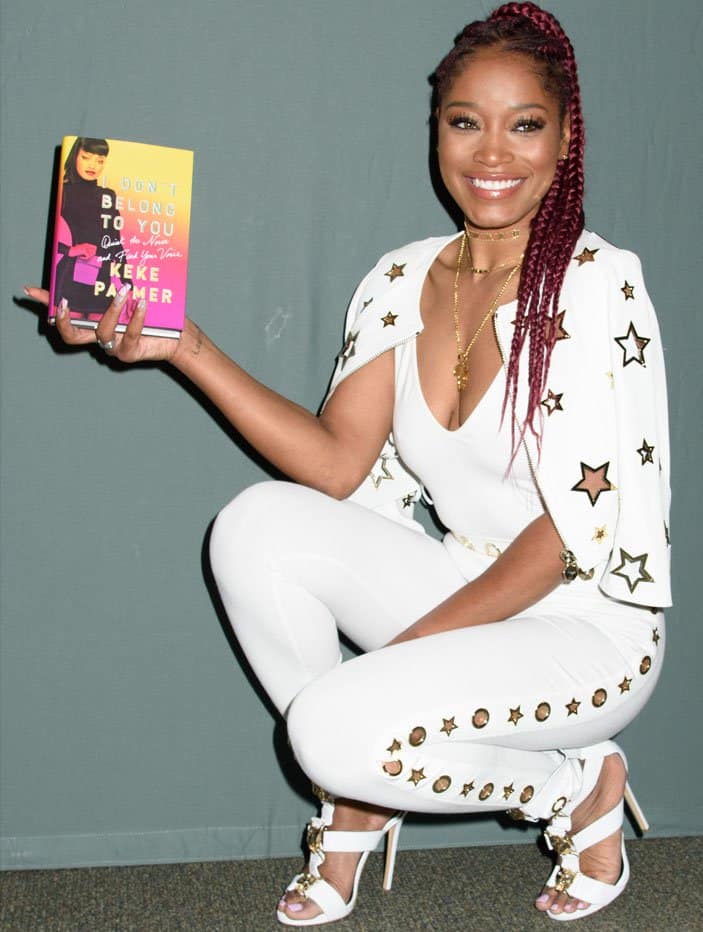 Keke Palmer poses with her book "I Don't Belong to You: Quiet the Noise and Find Your Voice" (Credit: WENN)
In the book, Keke tells her story but points out that her objective is to connect to people going through what she went through.
The actress opens up about the darkness of growing up in the industry, which included depression, anxiety, and even sexual abuse.
Keke wants to encourage people by proving they could succeed in life even if they've been given a rough start.