Like stilettos, sneakers can be sexy too – especially if you wear nothing else with them.
Kelly Brook unveiled her newest billboard for Reebok in the UK last August 4, showing the English model in all her naked glory, save for a pair of Reebok EasyTone sneakers: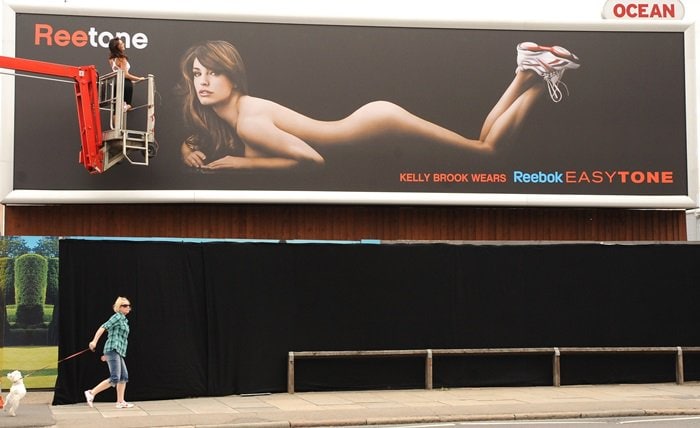 A deadly distraction? Another of the nude Kelly Brook for Reebok billboards placed at a traffic hotspot
A naked woman used in an ad to sell shoes? I say it's been there done that, but safety experts are having none of it. The Institute of Advanced Motorists (IAM) slammed Kelly Brook's latest endorsement, saying that the gigantic nude billboards will certainly be the cause of some serious or even fatal accidents.
Model Kelly Brook poses in front of her nude Reebok billboard outside Battersea Power Station in South London on August 4, 2010
The Daily Mail reports:
Safety campaigners have blasted a billboard campaign featuring stunning model Kelly Brook naked as a 'deadly distraction'.

The new adverts, which show the busty brunette in nothing but a pair of Reebok trainers, have been launched this week, at busy junctions and traffic hotspots across the UK.

But driving safety experts at the Institute of Advanced Motorists (IAM) have slammed the 40-foot billboards, claiming Kelly's 'killer curves' are certain to cause serious or possibly even fatal accidents as excited male drivers crane their necks for a close look.
It's nice that they're thinking about the men, but what about us women? Are we supposed to believe that we're all going to look like Kelly Brook naked once we start using the new line of Reebok sneakers?
Probably not but for physiological shoes, they do have some cute designs. Like these brown suede ones from the Reebok EasyTones line:
Reebok EasyTone Grace Sneakers at Amazon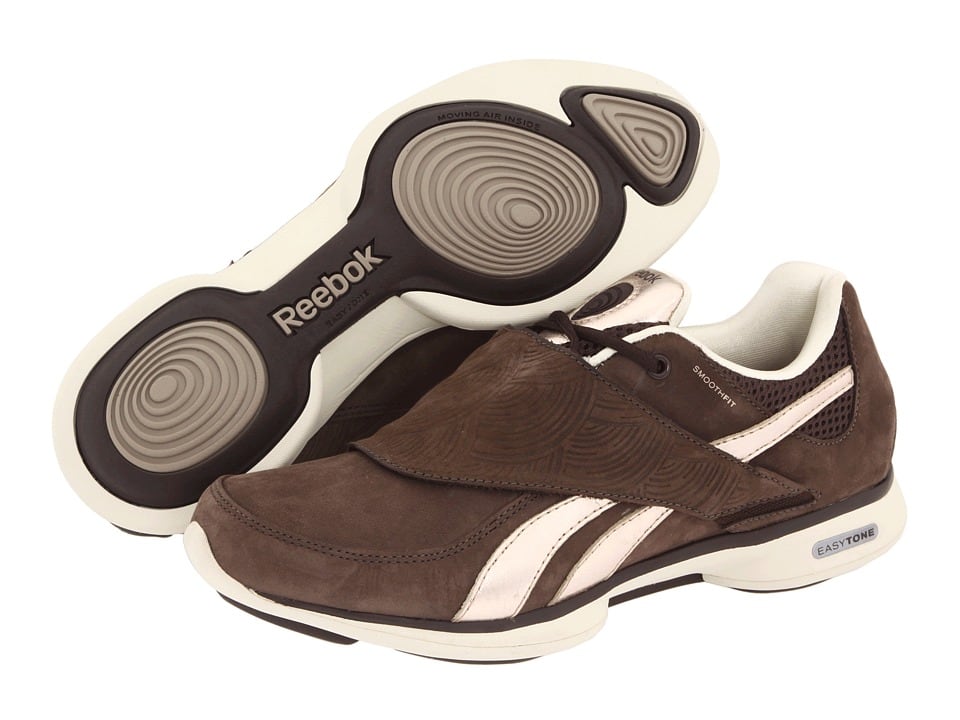 These are the clear standouts for me because (1) they're dressy, (2) they don't look like typical trainers and (3) they're not so bulky that wearing skinny jeans with them looks weird.
Cute design aside, the real feature is not what's outside but what is inside these new Reebok shoes. Reebok EasyTone sneakers use balance pods that create a "natural instability" which is much like "walking on a sandy beach". This challenges your body to walk in a different way than what it's used to and promises "an increase in muscle activation up to 28% more in your gluteus maximus, 11% in your hamstrings, and 11% in your calves".
Reebok isn't the first brand to offer physiological footwear but at least they do have those cool shoe designs going for them. The question is, will they work?
Credit: Olga / WENN / Benross