For those asking how to get their refund, all the details are available at Ftc.gov/Reebok. If you are eligible, you can also apply for a refund there.
*****************
So Reebok has been claiming for years that their line of toning shoes gives you a workout without y'know, actually working out. To be more specific, Reebok says that their EasyTone sneakers strengthen hamstrings and calves by up to 11 percent more and tone the buttocks by up to 28 percent more than regular sneakers.
The problem is, they don't really have any hard and factual evidence to back those statistics up. Their only proof? Only a few Reebok-funded studies, one of which was done on only five women on treadmills and none of which were ever published in any research journal of any kind.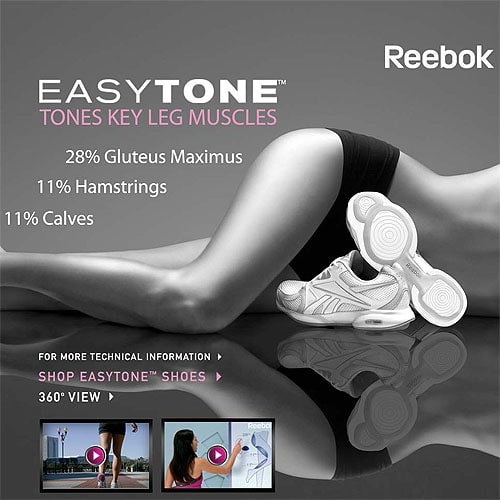 Reebok EasyTone ad with claims that are "outrageous" according to the FTC
There is some fat-trimming going on right now though and it's happening at the Reebok company itself. The Federal Trade Commission (FTC) has ordered Reebok to pay $25 million to customers who would like to get their money back.
Reebok has agreed to settle the charges but they say that doesn't mean that they don't believe in their product anymore. The company stated: "We stand behind our EasyTone technology — the first shoe in the toning category that was inspired by balance-ball training."
Well, we can't really blame Reebok for thinking that. As many people have reported injuries from using Reebok's wobbly shoes, there are as many people who say that the shoes have helped them in some way. Just read the reviews at Amazon or Zappos — many people like the shoes for actually toning their legs, for improving their posture and for just being comfortable, plain and simple.
But could it be just a placebo effect? Maybe the answer to whether these shoes really do or do not work is best left to the wearer.
Reebok EasyTone Reenew sneakers, the most popular toning sneaker style from Reebok's EasyTone line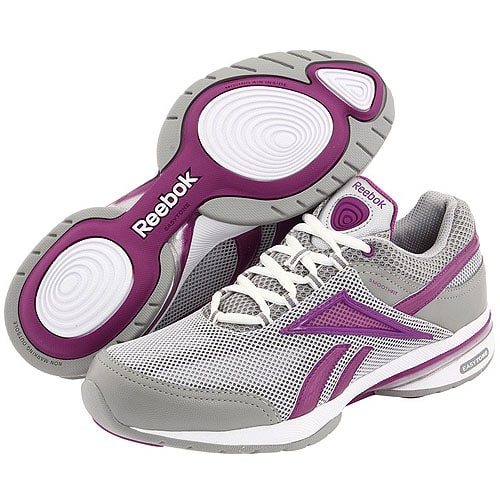 Now other falsely advertised toning shoes from other companies, namely New Balance and Skechers, are up next. Maybe those five-fingered "barefoot" shoes, which claim to increase stability, lessen injuries, improve range of motion AND strengthen muscles in the feet and legs, will go up on the chopping block too.
If you ask us, those five-fingered shoes should be fined simply for being ugly! And we're not really going out of line here — the US Army has already banned soldiers from wearing the shoes for training, citing that it "detracts from a professional military image" as the reason (which to us translates to: "AKA, they're ugly").
Fashion has been drawing inspiration from the military ever since. Maybe this time they're really on to something here!