She just revealed kissing the same guy as her best friend Hailey Bieber in the 24-year-old model's Who's in My Bathroom? YouTube episode last week.
Just a few days later, Kendall Jenner appeared on her sister Kylie Jenner's Drunk Get Ready with Me YouTube video, where she opened up about her struggles with acne.
While taking shots of Kendall's new tequila brand, 818, she revealed having the worst acne breakout when she entered 9th grade.
"I remember the summer before 9th grade is when all my acne went crazy, and I was like, 'I'm going into high school, and this one guy's really hot. I'm going to ruin all my chances.'"
She added that they ended up dating, and "it was the confidence that came from within that really probably turned him on to me."
Although she has always been candid about her acne journey, it was hard for her sister Kylie to hear her talk about her insecurities in the past.
She tearfully said: "I knew it was your biggest insecurity, and every time like clockwork we would get out of the car, you would pull me into the staircase and you would say, 'How do I look today?'"
Kylie added: "It always made me so sad to even hear you talk about it. I'd be like, 'You're so beautiful,' trying to help. But then I had to go away by myself. It makes me feel bad."
Kendall Jenner wears olive green Alo high-waist Airlift leggings leaving a workout session in Los Angeles on March 10, 2021
With her acne under control now, Kendall is able to leave her house without makeup on.
Last Wednesday, the 25-year-old model appeared bare-faced while leaving a workout session in Beverly Hills.
Showing off her enviably slender legs, Kendall wore a pair of olive green Alo high-waist Airlift leggings, which she teamed with a green tie-dye boyfriend sweatshirt from her sister Khloe Kardashian's Good American clothing label.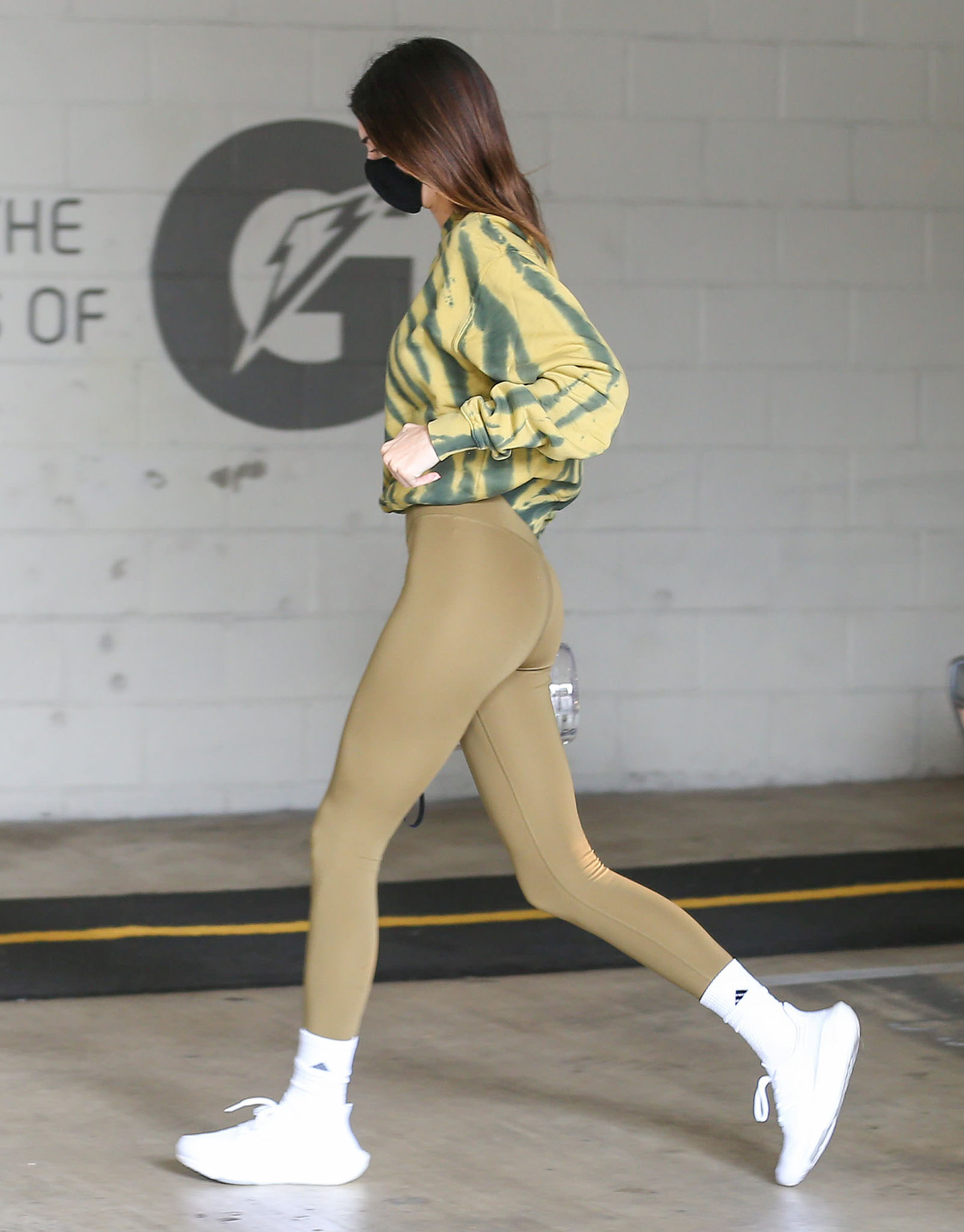 Kendall Jenner wears olive green Alo leggings and a Good American tie-dye sweatshirt to the gym
Wearing her brown tresses in a ponytail, Kendall covered her nose and mouth with a black Skims face mask, styled with a beaded mask strap.
She stayed hydrated during her workout with her Hydro Mate Gallon Motivational water jug.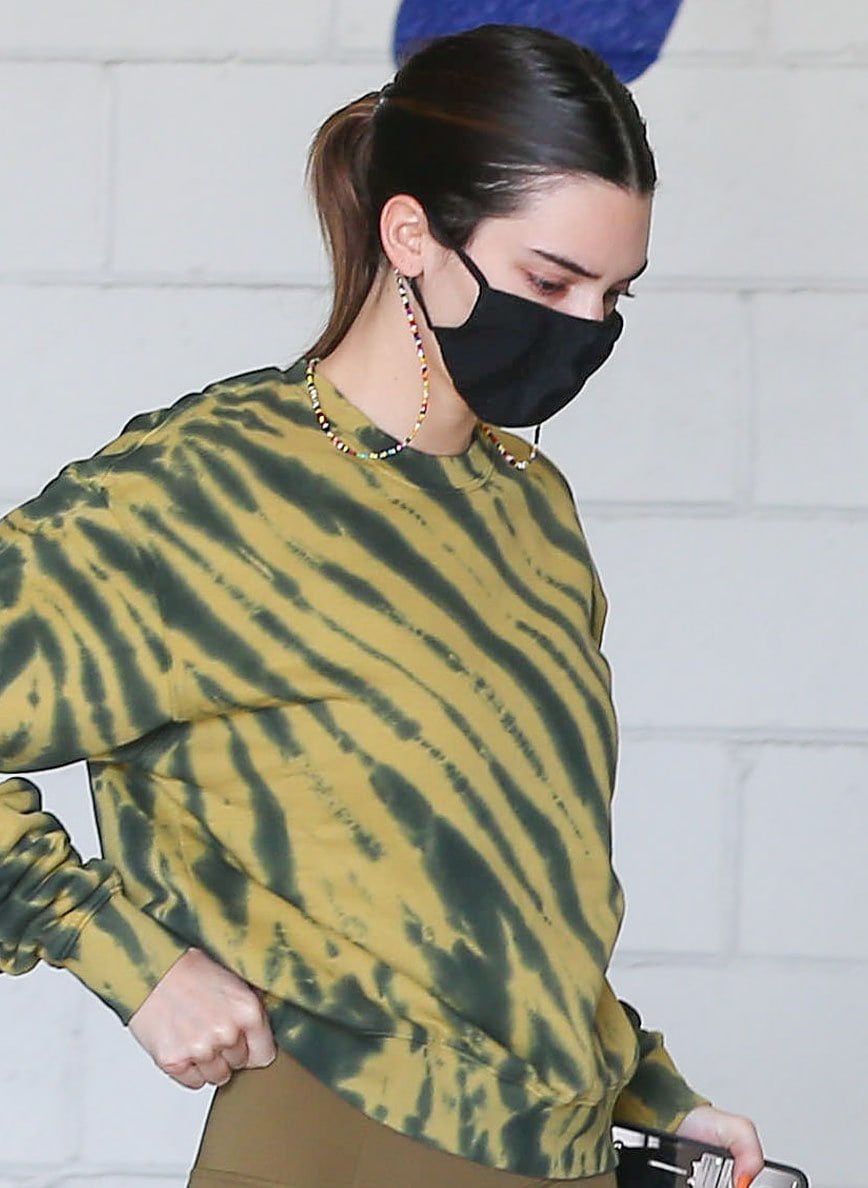 Bare-faced Kendall Jenner stays safe with a Skims face mask
A pair of white Adidas crew socks and Adidas Originals Zx 2K Boost sneakers completed her workout outfit.
Available at Asos, these '80s-inspired triple white running shoes feature welded overlays with breathable mesh, lightweight Boost midsoles, and rubber outsoles.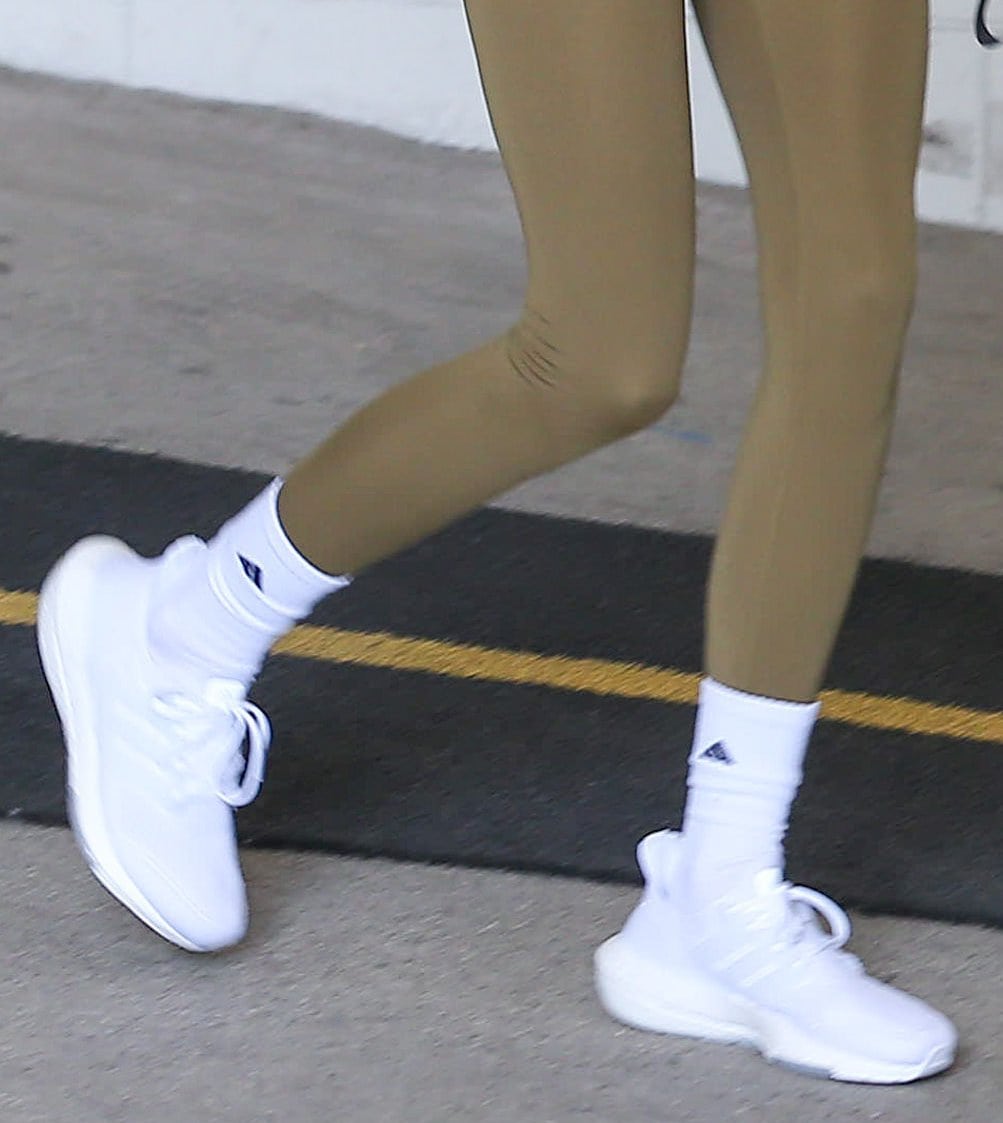 Kendall Jenner teams her workout outfit with Adidas Originals ZX 2K Flux Sneakers
Adidas Originals ZX 2K Flux Sneakers, $150
The Adidas Originals ZX 2K Flux is a sleek, '80s-style running-inspired shoe that's updated with Boost midsoles
Credit: Instar / WENN