We don't have the official photos of the Kimye wedding that took place over the weekend, nor were we able to score any great shots from the pre-wedding brunch and rehearsal dinner, but details of what the sisters wore for the parties held prior to the big day were shared almost immediately.
Kim Kardashian wore Balmain for her bachelorette bash, while Khloe borrowed mommy Kris' Valentino dress for the exclusive late-morning affair held at Château de Wideville.
Today, it's all about Kendall Jenner and her chosen outfits.
The fashion model sibling wore a sexy black jumpsuit with cutouts for the brunch that was hosted by Valentino. Below is a look at Kendall posing with Kourtney and the legendary designer, as well as a shot of Kendall enjoying the castle grounds.
Kendall Jenner posing with Valentino and Kourtney during the pre-wedding brunch held at the designer's estate west of Paris, France, on May 23, 2014
Kendall finished her outfit with pointy half d'Orsay "Yin & Yang" pumps from Sergio Rossi that are crafted from snakeskin and classic leather materials. They feature a half-d'Orsay silhouette, cutouts on the sides, contrast piping all around, and 4-inch-tall heels.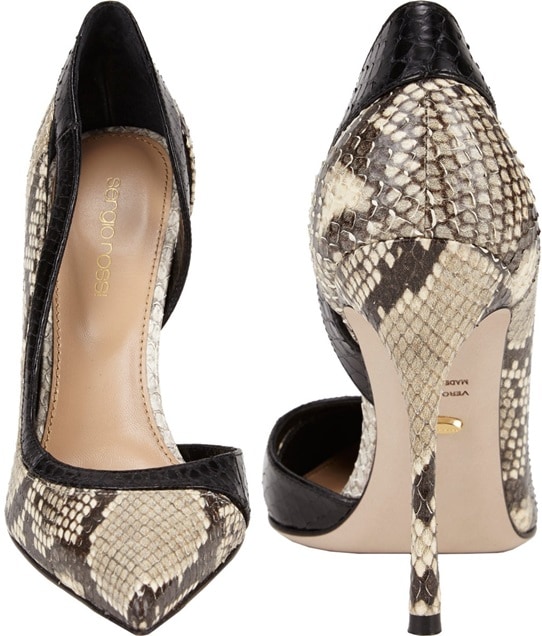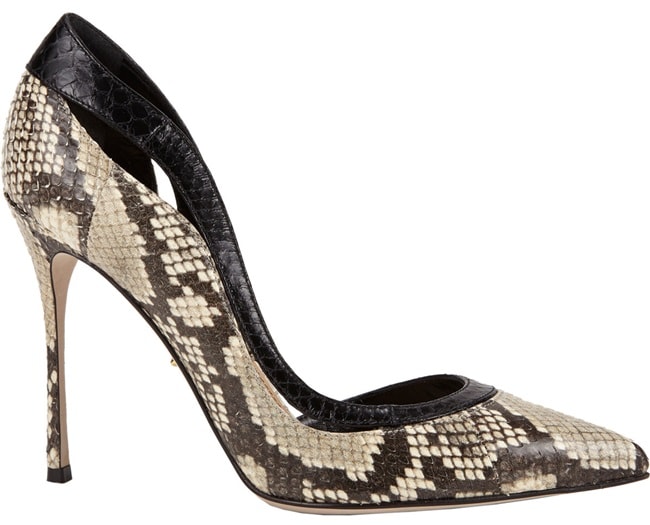 Sergio Rossi "Yin & Yang" D'Orsay Pumps in Black/White Snake, $970
These pumps are definitely not your typical d'Orsays, that much we can say. The Yin & Yang pumps are also available in classic black/gold leather and pink/brown snake at Amazon.
Sergio Rossi "Yin & Yang" D'Orsay Pumps in Black/Gold, $695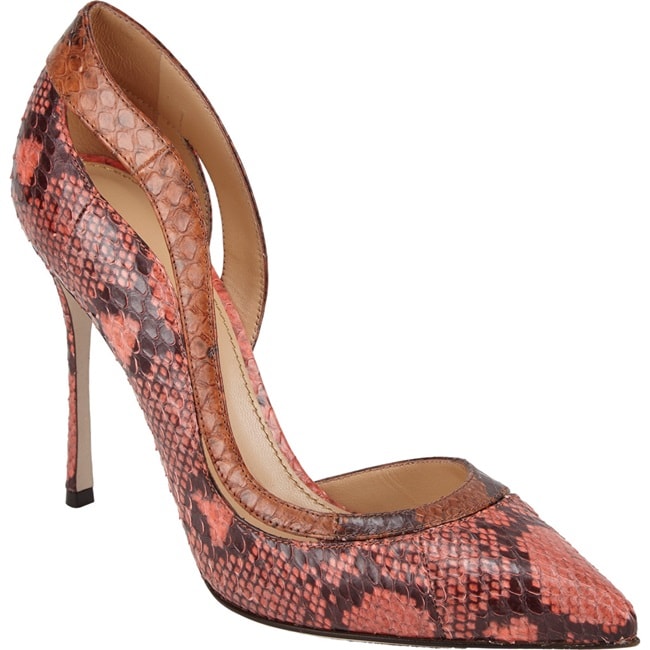 Sergio Rossi "Yin & Yang" D'Orsay Pumps in Pink/Brown Snake, $970
For the rehearsal dinner held at the Palace of Versailles, Kendall kept her look just as understated in a navy blue silk gown from Australian designer Johanna Johnson. She finished her frock with exquisite strappy sandals in black suede, also from Sergio Rossi.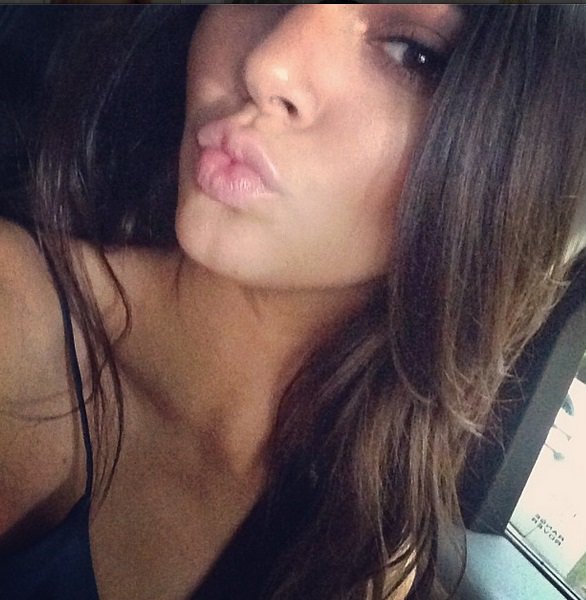 Kendall Jenner in a navy Johanna Johnson gown at the rehearsal dinner at the Palace of Versailles in France on May 23, 2014
Below are other versions of the black Sergio Rossi sandals that Kendall wore for the rehearsal dinner. Called the "Puzzle," they feature thin straps that follow a weblike silhouette and 4.25-inch-tall heels. These shoes come in many renditions at Amazon, from classic to metallic, printed to suede, as well as a more elaborate evening version bedecked with crystals: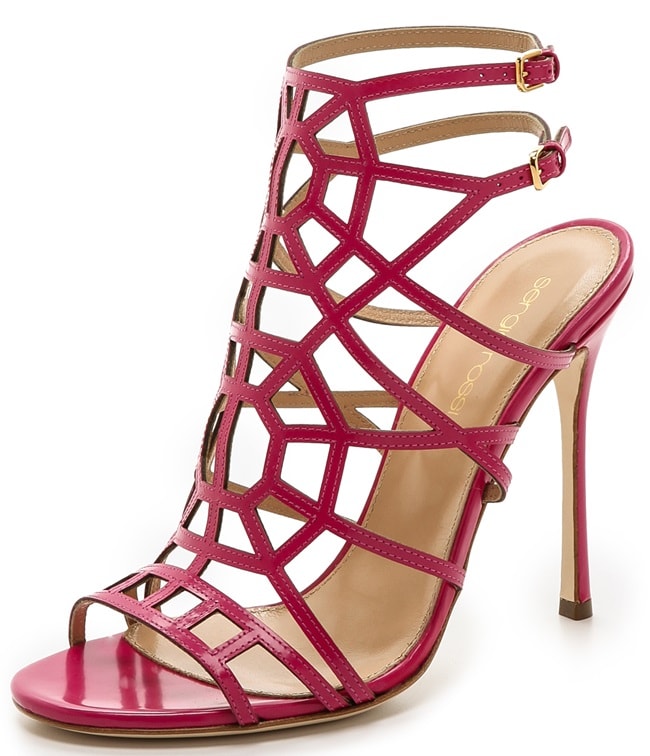 Sergio Rossi "Puzzle" Sandals in Fuchsia, $955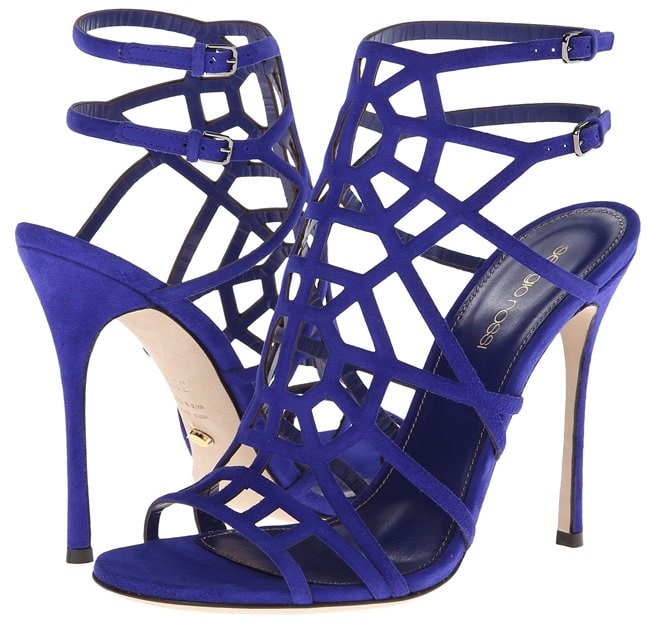 Sergio Rossi "Puzzle" Sandals in Electric Blue Suede, $1,050
Sergio Rossi "Puzzle" Sandals in Ebano, $955
Sergio Rossi "Puzzle" Evening Sandals in Nude, $1,655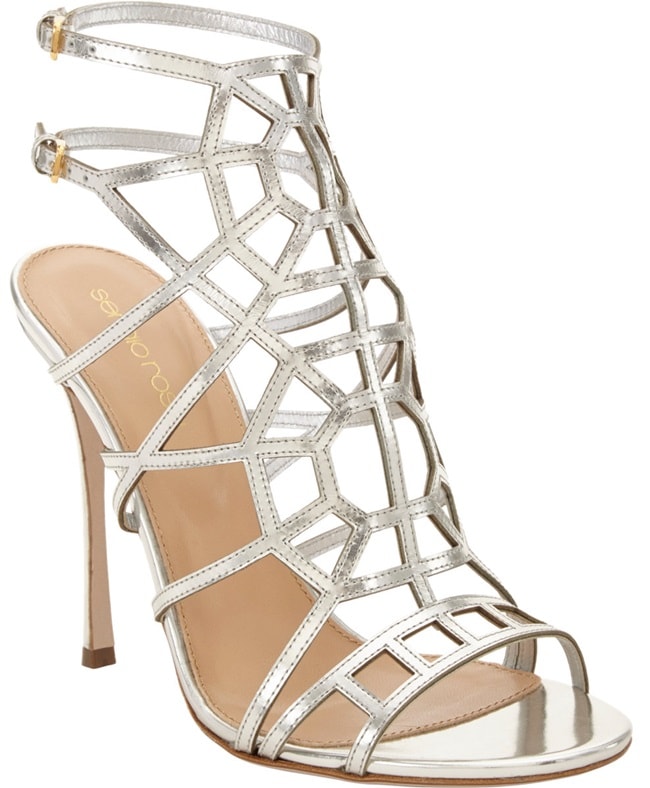 Sergio Rossi "Puzzle" Sandals in Silver, $995
Between Kendall's footwear choices, which Sergio Rossi style do you prefer, her snakeskin d'Orsay pumps or the strappy sandals? And between the two looks she put together, which do you like better? Or do you think she was underdressed for the two occasions?
Although her sartorial choices weren't as elaborate as, say, Khloe's, they were quite elegant in our opinion. Do you agree?
Credit: Kendall Jenner's Instagram / Kourtney Kardashian's Instagram / Khloe Kardashian's Instagram