They're living their lives like an open book. And just like their older sisters, Kendall and Kylie are never afraid to laugh at and make fun of themselves.
On Thanksgiving, the sisters teamed up for a new TikTok video, where they were seen mocking each other for their differences.
In the video, the duo strut towards the camera in their athleisure outfits as they pick which phrase that appears on either side of the screen applies to them.
At the start of the video, Kylie and Kendall must choose between "Supermodel" and "Instagram Model." Both sashayed towards the supermodel category but Kendall jokingly pushed Kylie to the opposite side.
Who have Kendall and Kylie Jenner dated?
With regards to their preference in men, Kendall opted for "Hoopers" while Kylie chose "Rappers," which we all know are both true.
Kendall has been rumored to have dated several NBA players, including Jordan Clarkson (2016), D'Angelo Russell (2015), Blake Griffin (2017-2018), and Ben Simmons (2018-2019). She has also dated Nick Jonas (2015), Harry Styles (2013-2016), ASAP Rocky (2016-2017), and Anwar Hadid (2018).
More recently, romance rumors between the supermodel and Phoenix Suns point guard Devin Booker have circulated since last summer after pictures of them sharing some PDA in Malibu circulated online.
Kylie, on the other hand, is known for dating musicians, including Cody Simpson, Tyga, Jaden Smith, Miles Richie, and Travis Scott—her daughter's dad.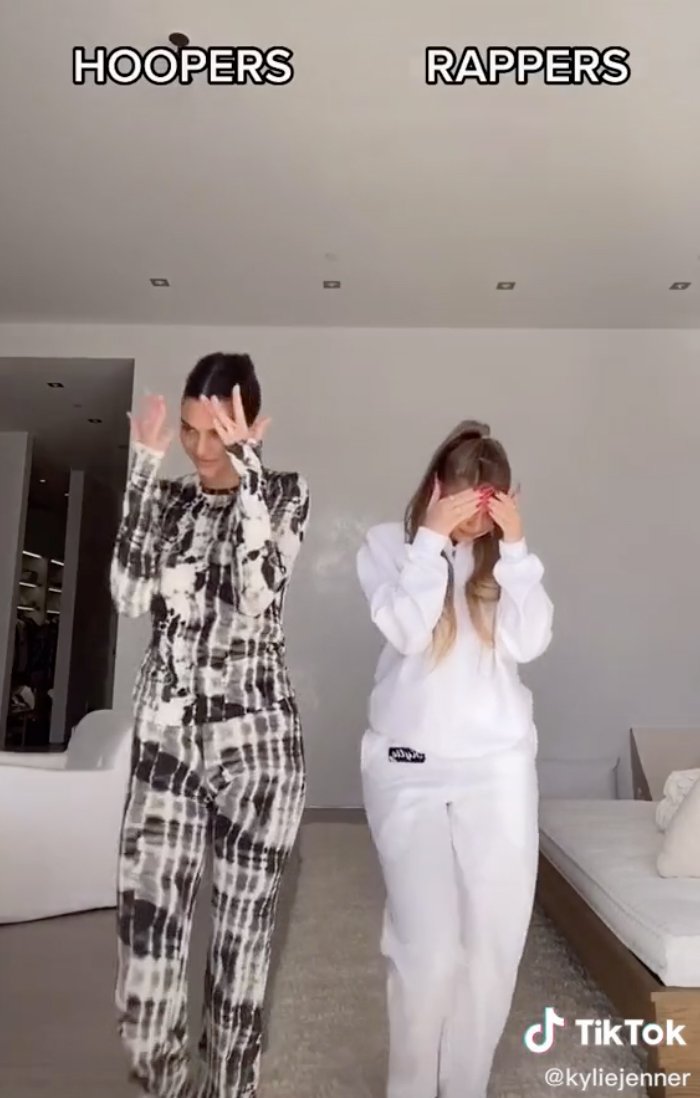 Kendall and Kylie Jenner cover their faces as they choose their preference in men in a TikTok video
For the TikTok challenge, Kendall and Kylie both opted for comfy loungewear.
The makeup mogul wore Sweats by Sam "Snow In LA" white sweatpants and a matching pullover.
Meanwhile, Kendall slipped her slim figure in a tie-dye co-ord from Beau Souci. She highlighted her long legs in a pair of Largo tie-dye leggings and teamed the look with a matching long-sleeved, crew-neck top.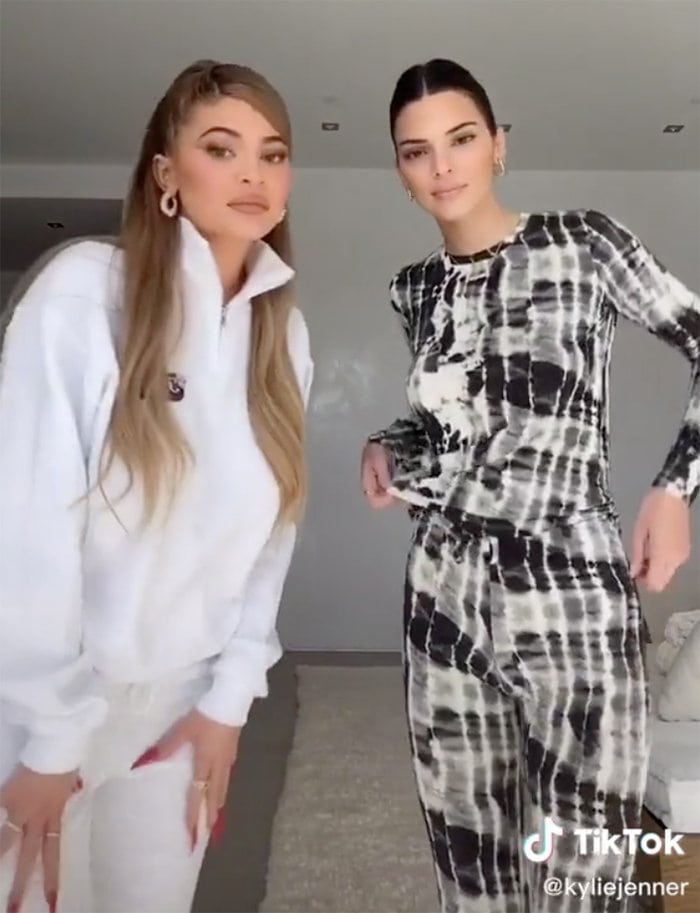 Kylie Jenner dresses in white Swears by Sam sweatpants and pullover while Kendall wears Beau Souci tie-dye co-ords
That same day, the 25-year-old model shared with her Instagram followers a series of photos from their Thanksgiving celebration.
Wearing the same athleisure outfit, she captioned the post: "turkey and tequila"
View this post on Instagram
Last Saturday, Kendall turned the New York City streets into her personal runway as she went out to have lunch in Manhattan.
Kendall Jenner leaving a restaurant in Downtown Manhattan on November 20, 2020
The socialite showed off her sartorial prowess in an all-white outfit while leaving a Downtown Manhattan restaurant.
She wore a crisp white Maison Margiela textured top teamed with high-waist straight-leg pants from French label, Musier Paris.
Known for her big feet, Kendall layered the look with a white open-front long-sleeved shirt for added style.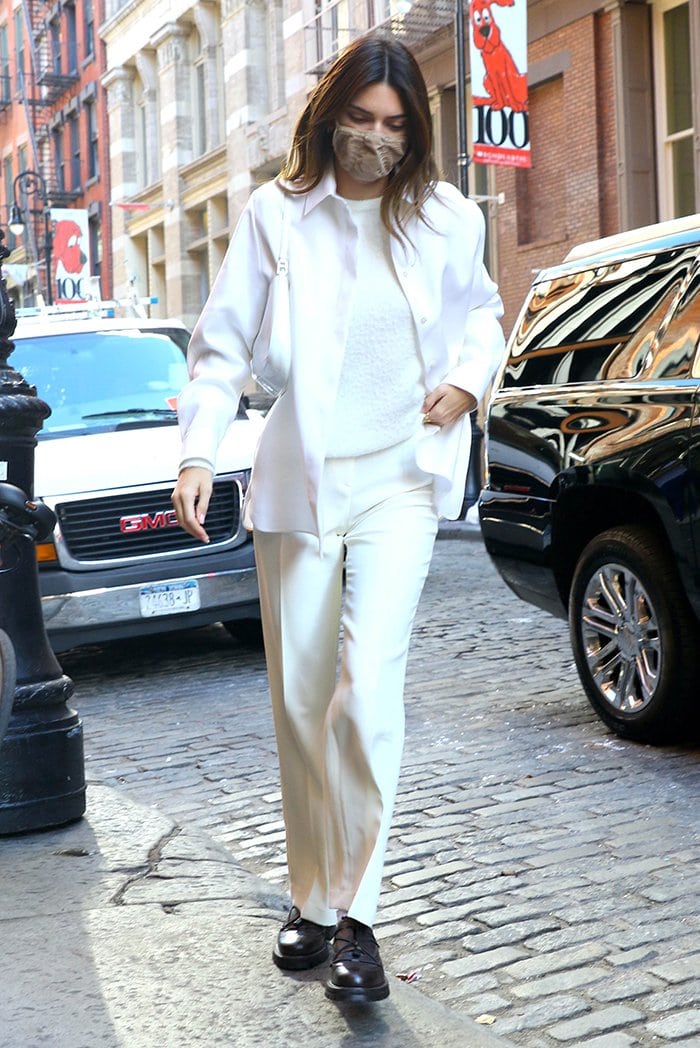 Kendall Jenner looks runway ready in white textured blouse, shirt, and Musier Paris pants
Wearing her brunette tresses down, Kendall stayed safe with a nude face mask from her sister Kim's Skims shapewear brand.
She skipped the jewelry and simply accessorized with a white Prada Cleo leather shoulder bag.
Kendall Jenner stays safe with nude Skims face mask
A pair of black leather brogue sneakers with lugged soles rounded out her chic runway-inspired look.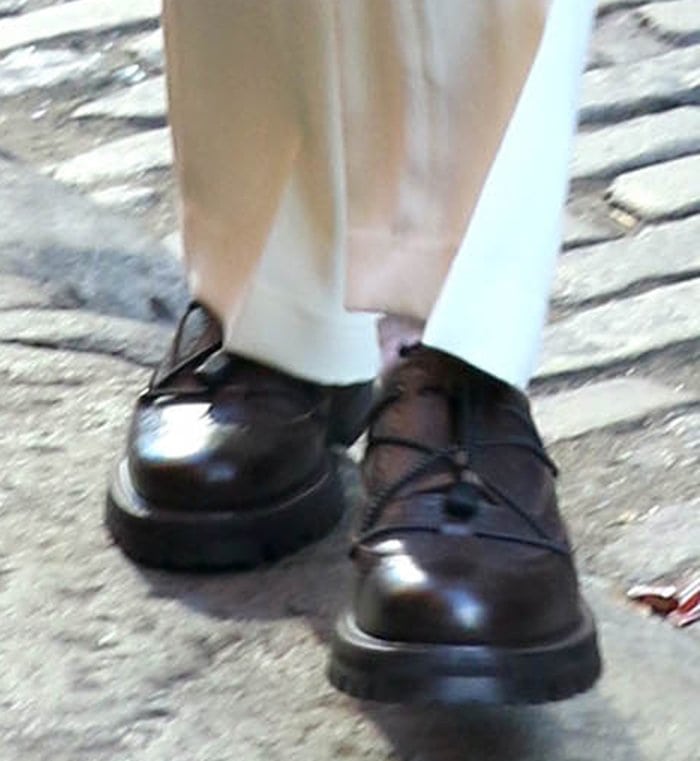 Kendall Jenner slips into a pair of leather brogue sneakers
Credit: Kylie Jenner's TikTok / Instar / WENN