After seemingly dissing Beyonce's song 2006 "Irreplaceable" in a remix of "Turnin' Me On" leaked in 2009, no one could understand why Keri Hilson was trying to throw shade at the former Destiny's Child member.
Singer Keri Hilson was accused of shading Beyonce's song 2006 "Irreplaceable" on a remix of her 2009 song "Turnin' Me On" (Credit: Aruna Gilbert / WENN)
"Your vision cloudy if you think that you da best, You can dance, she can sing, but need to move it to the left," Keri sang on the track.
"She need to go have some babies, she need to sit down, she fake, them other chicks ain't even worth talkin' bout."
In an April 2021 interview with radio host Persia Nicole, Keri revealed that she and Beyonce had a "healing" moment and that there's no drama between them.
Keri Hilson (L) says there is no drama between her and Beyonce and that she would love to possibly collaborate one day (Credit: Apega / WENN / Avalon)
"She actually has introduced herself. It was a gracious moment," Keri said. "I appreciated it."
"I feel like she understood what happened, what had transpired and there was a bit of healing in that moment when we met. I take her as a very intuitive kind of soul, as am I," Keri added.
"It would be a very fun experience to do that if she were open," Keri said about a possible collaboration happening in the future.
View this post on Instagram
"I do feel like she understood what that was all about. She's amazing. I've always felt that way. That's the truth of the matter, but no one will believe that."
At the time of the remix's release, Keri talked about the song during an interview with Atlanta radio station V103 in an attempt to clear the air.
"I'm not jealous of anybody's career," Keri said shortly after the release of her "Turnin' Me On" remix with Lil Wayne and T-Pain. "We are all like the same thing. Keyshia's on my album. I've worked with Ciara many times. I'm a fan of Beyoncé's."
"It's anybody that ever tried to take me down and didn't want to see me succeed," she said about the song, refusing to clarify who it is about. "I'm not gonna call their names because I feel I've addressed it."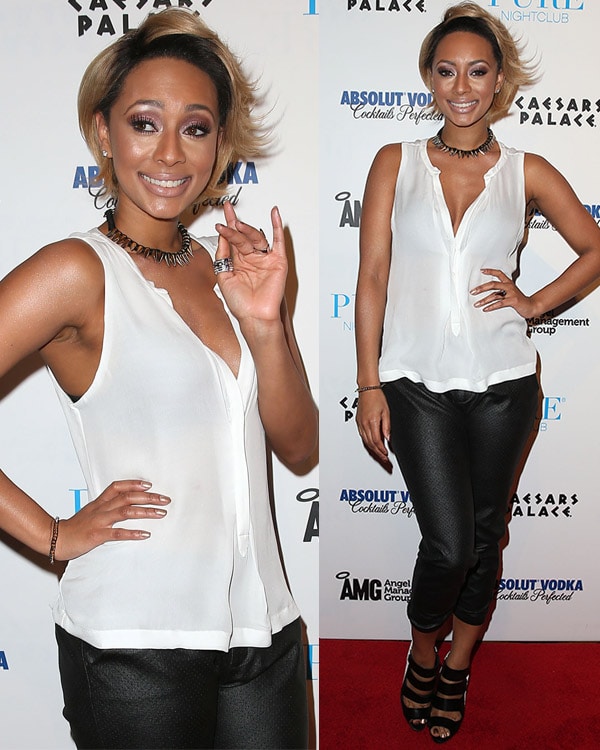 Keri Hilson wears her hair up at Caesars Palace Resort and Casino's Pure Nightclub in Las Vegas, Nevada on March 23, 2013 (Credit: Judy Eddy / WENN)
In January 2013, Keri Hilson attended Gillette's Kiss & Tell event in an edgy ensemble, which she finished with L.A.M.B. "Janetta" pump booties.
Two months later, the American singer, songwriter, actress, and record producer was spotted in a rather toned down — but still very edgy — monochrome look at Pure Nightclub inside Caesars Palace Resort and Casino in Las Vegas.
She hit the stage wearing a very relaxed white sleeveless top teamed with sleek black pants.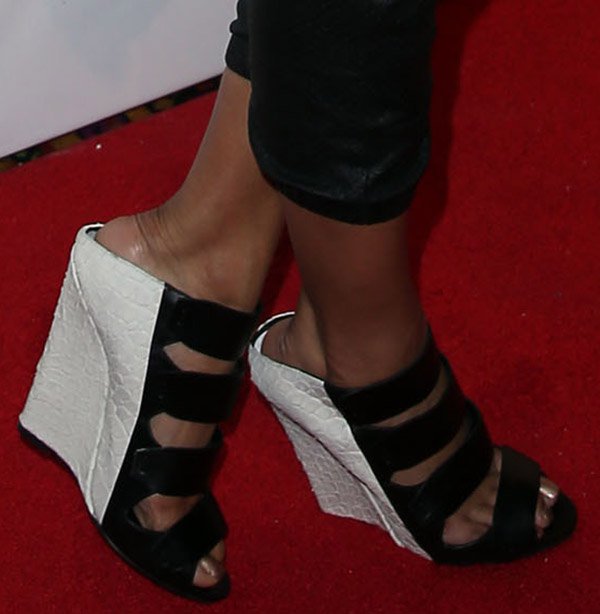 Keri Hilson's feet in Narciso Rodriquez booties (Credit: Judy Eddy / WENN)
Keri complemented her black-and-white outfit with a pair of black-and-white sandal booties from Narciso Rodriguez.
She accessorized with a spiked necklace and wore bronze eye shadow and light lipstick.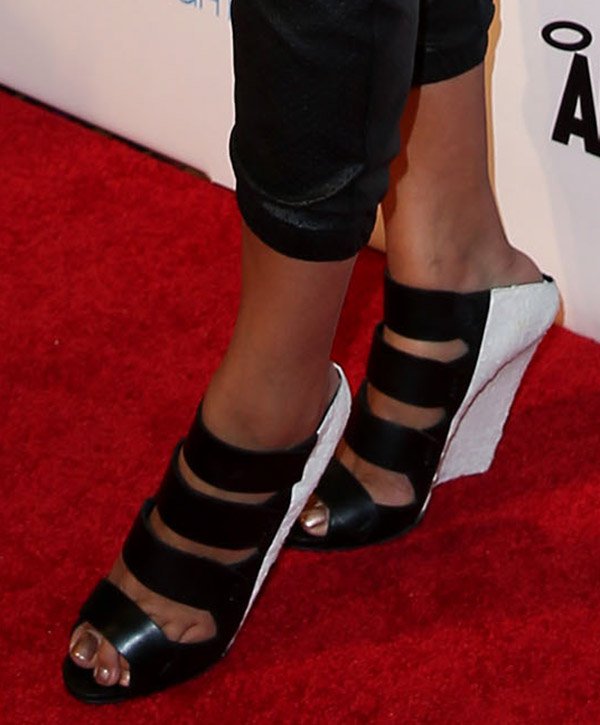 Keri Hilson's feet in black-and-white Narciso Rodriquez booties (Credit: Judy Eddy / WENN)
These Narciso Rodriguez peep-toe bootie-like sandals feature cutouts and four smooth leather bands individually stitched at the sides.
What really makes these sandals unique is the contrast white reptile-embossed detailing at the five-inch wedge heel.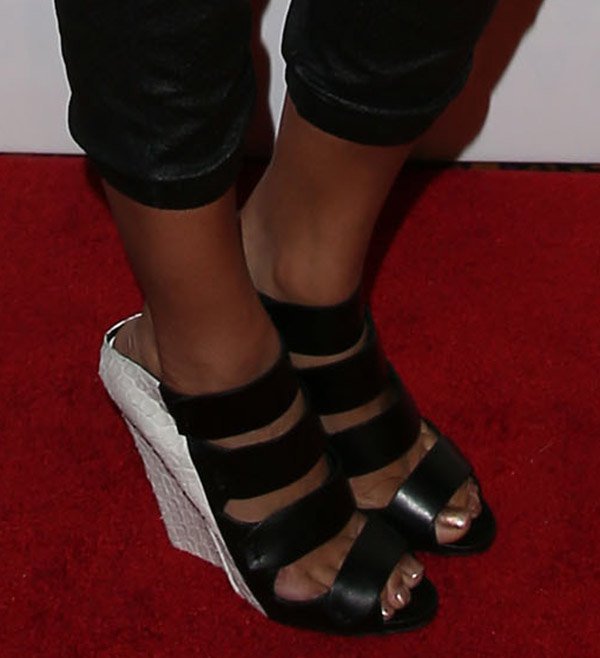 Keri Hilson's feet in strappy Narciso Rodriquez booties (Credit: Judy Eddy / WENN)
Do you love Keri's Narciso Rodriguez sandals? If you feel like splurging on a pair, then you're out of luck as they've completely sold out online.
Narciso Rodriguez Bi-Color Multi-Strap Wedge Sandals, $995