Sacha Baron Cohen and Isla Fisher are a symbol of a healthy, happy marriage in Hollywood. These two are both highly talented comedic actors and have made quite the name for themselves in Hollywood.
Sacha is known for his crazy characters and interviewing real people, and Isla is a stunning actress in many comedies.
Sacha Baron Cohen and Isla Fisher met in 2001 at a party in Sydney, Australia (Credit: Lia Toby / WENN)
These two choose to be very private about their personal lives, but they speak nothing but positive things about each other and their lives when they speak. Even when they speak of any troubles, it's followed by how they work hard to choose to be together.
The two met at a party in Sydney, Australia, in 2001 and instantly connected. The rest is history. They have been together ever since and show no signs of stopping anytime soon.
Here is a timeline of the couple's long and happy marriage over the last twenty years.
Previous relationships
Isla Fisher has had at least three previous relationships, although very little is known before her courtship with Sacha Baren Cohen. Isla Fisher has reportedly been in relationships with Darren Day (1998 – 2000) and Shane Ammann (1994 – 1995).
Sacha Baren Cohen's life before Isla is very well hidden, although it is rumored, he had at least one relationship before Isla.
How They Met
The couple first met in 2001 at what Sacha jokingly describes as a "very pretentious party" in Sydney Australia. 5 years younger than him, she turned 25 on February 3, 2001, and he turned 30 on October 13, 2001.
Sacha Baron Cohen knew Isla Fisher was the one after meeting her at a party in Sydney (Credit: Daniel Deme / WENN)
The pair joked around and hit it off by making fun of people at the party. He states it was love at first sight and jokes that it has taken her 20 years to figure out if it was the same for her.
"She was hilarious," he told the New York Times in October 2020. "We were at a very pretentious party, and me and her bonded overtaking the mick out of the other people in the party. I knew instantly. I don't know if she did. It's taken her about 20 years to know," he joked.
Under the Radar Engagement
Sasha and Isla dated for almost three years before they announced they were engaged in 2004. As with everything about their lives, they had kept their relationship under the radar, although not as private.
At the time of her engagement announcement, Fisher announced that she had enrolled in a three-year course to convert to Judaism. Their engagement lasted six years before they were finally married.
On the Conversion to Judaism
Isla Fisher was raised in Australia and grew up Methodist. After the proposal in 2002, to marry Cohen, an observant Jew, Fisher knew she had to convert to Judaism to wife.
She stated she never saw the situation as losing or gaining, and she just embraced the change. Dedicated to Cohen, Fisher officially converted to Judaism after spending three long years studying.
Actress Isla Fisher and her much taller boyfriend Sacha Baron Cohen arrive at the 57th Annual Primetime Emmy Awards held at the Shrine Auditorium in Los Angeles on September 18, 2005 (Credit: Nikki Nelson / WENN)
Fisher stated of the conversion in an interview with Evening Standard, "I will definitely have a Jewish wedding just to be with Sacha. I would do anything — move into any religion — to be united in marriage with him," She added, "I never saw it as a losing or gaining situation, just an embracing situation."
It is evident that Sacha and Isla are deeply devoted to each other and are willing to do what it takes to make it work.
Secret Ceremonies
Sacha and Isla were married in a secret traditional Jewish ceremony in 2010 in Paris with only six guests in attendance. The guests received little notice beforehand to keep it as private as possible.
Fisher wanted to have a private wedding. It was important to her to have a beautiful ritual celebrated with family and friends, and it's challenging when you are always in the public eye.
Sacha revealed that to keep the paparazzi away, he had his father pose as a famous chef celebrating his birthday. They had in-depth training with his father to keep him in character to keep photographers away.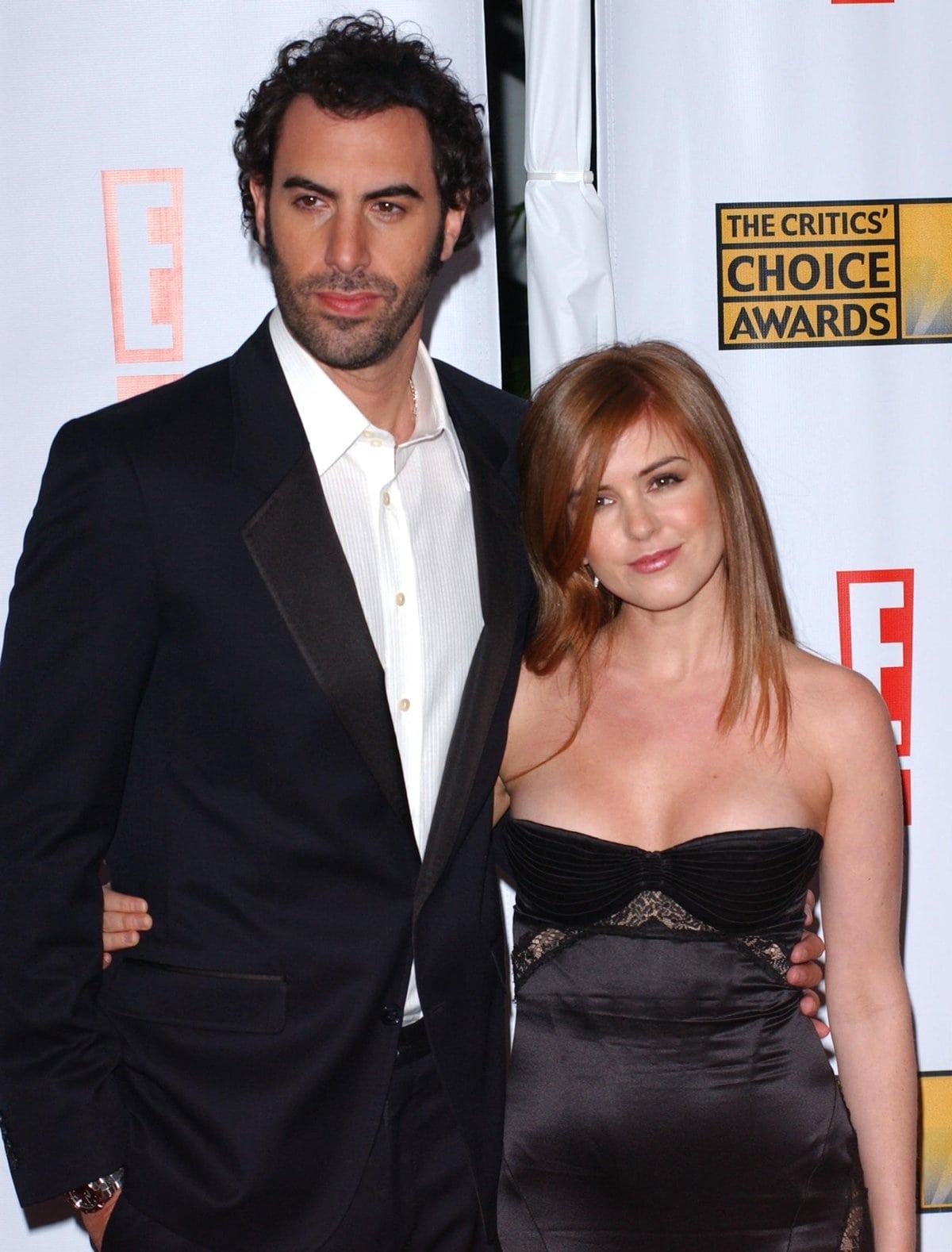 Sacha Baron Cohen got engaged to his much shorter girlfriend Isla Fisher in 2004 and married on 15 March 2010 (Credit: Fabrizio Picco / WENN)
Isla always comments on how her husband can be a bit embarrassing at times with his wacky antics, but she says she knew exactly what she was getting into when she decided to marry him.
The couple has no qualms about speaking about how happy they are together. Isla said in an interview with Sunday Telegraph in October 2012, "Choosing to be together every day is incredibly romantic. I love marriage. I think it's a wonderful institution and it's the most important decision you make. Life is filled with highs and lows, and you have a best friend to share it with you. It's amazing. It's like winning the lottery, having a good partner."
The Couple's Three Children
Isla and Sacha prefer to keep their lives and their children out of the public eye. They rarely speak about their children stating it's their responsibility to care for their children first, and you'll never catch a peak on their social media. It's very rare for you to catch them out in public with their children. She wanted to ensure they had their own rights to have anonymity.
Together the couple has three children. They welcomed their first daughter, Olivie, in 2007 before they were married.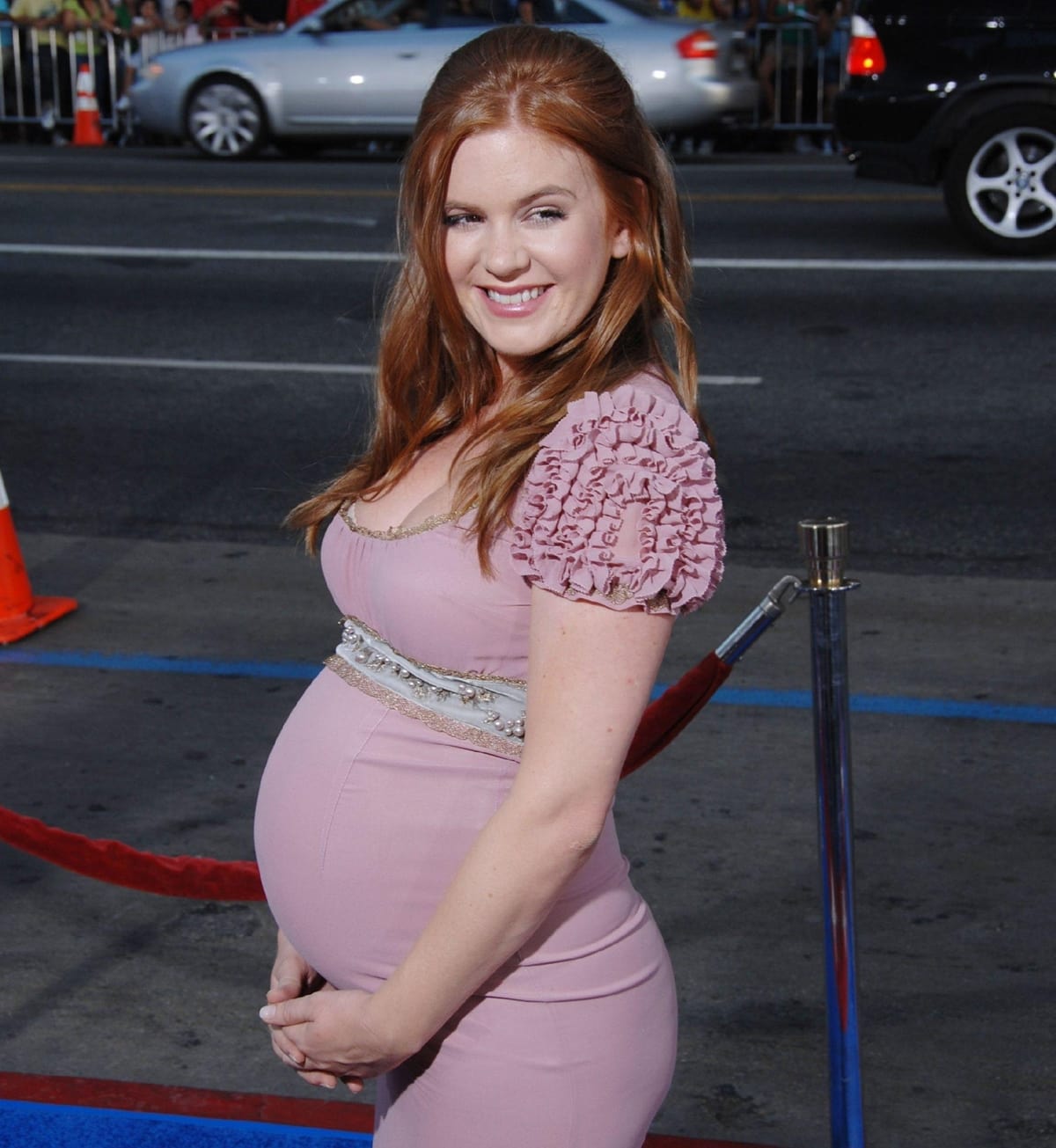 Not yet married, Isla Fisher was pregnant with her first daughter Olive Cohen in 2007 (Credit: Dimitri Halkidis / WENN)
Shortly after their marriage in 2010, they welcomed their second daughter, Elula in 2011. Meaning "August" in Hebrew, they kept her name private for weeks after Elula's birth.
In 2015, Sacha and Isla welcomed their third child and their first son, Montgomery. Months after Montgomery's birth, the couple finally revealed their son's gender and name to the public.
Isla and Sacha's careers over the years
Isla Fisher has starred in many minor roles since she started acting in 1993. Struggling to get her big break, she took Sacha's advice and tried auditioning for comedies. Isla decided to audition for The Wedding Crashers and finally got her big break.
Sacha always says that Isla is a funny person, and that push was the drive she needed. Isla has gone on to star in many lead roles in movies such as Confessions of a Shopaholic and Now You See Me.
Jane Seymour, Owen Wilson, and Isla Fisher during the premiere of "Wedding Crashers" in London at Odeon West End on July 4, 2005 (Credit: WENN / David Mepham)
Sacha Baron Cohen is known for his insane parodies and has been acting since 1995. Sacha has created many parody personas throughout his long-acting career and has turned his characters into hit movies such as Borat, Ali G., and Bruno. He also voices Julien in the Madagascar series.
Although both actors have been acting for over a decade, their only onscreen collaboration was the 2016 action comedy film The Brothers Grimsby.
Sacha played a dim man from a small English fishing town looking for his long-lost brother, who happened to be a secret agent. The Brothers Grimsby is so far the only movie they've both starred in.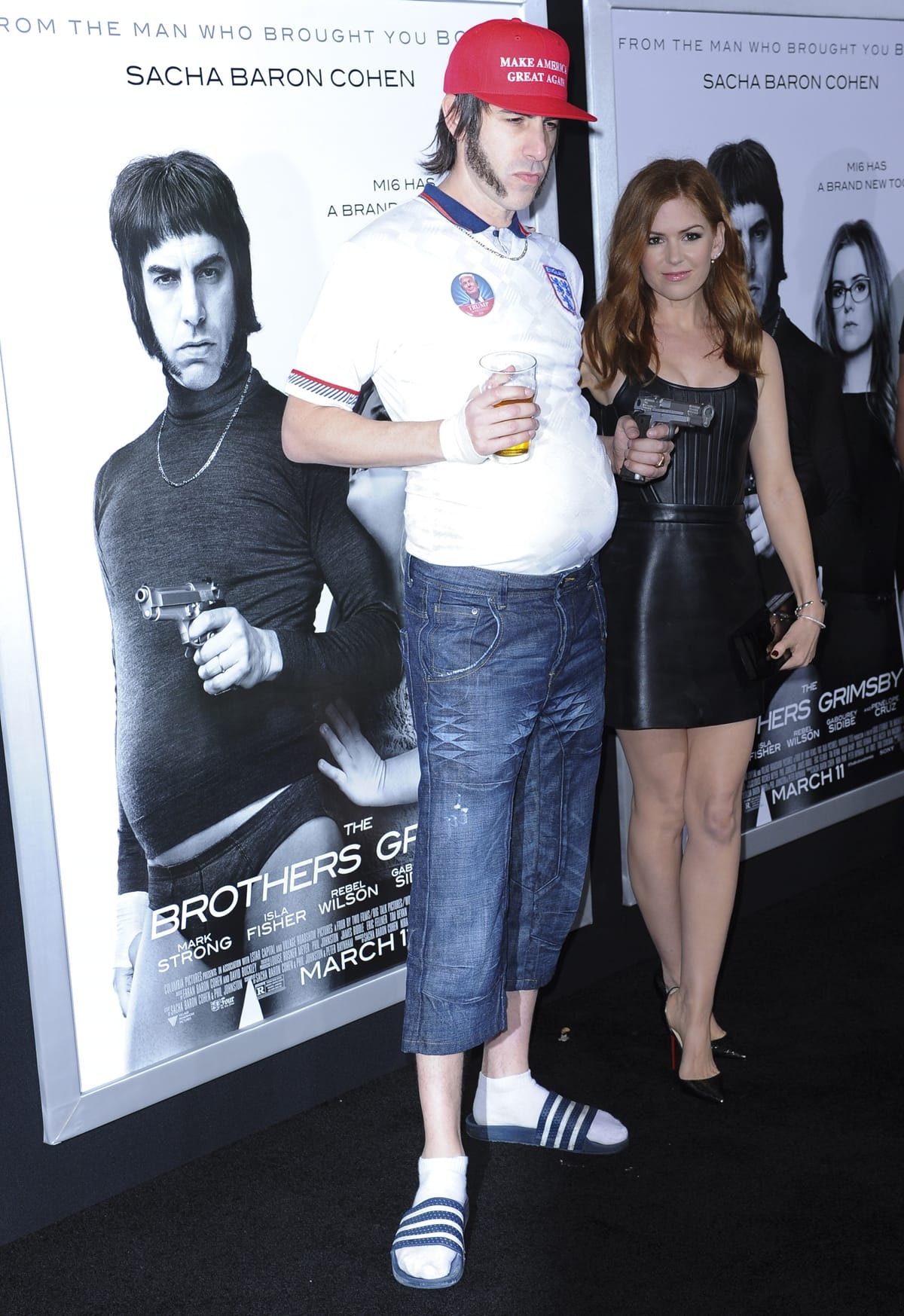 Producer/writer/actor Sacha Baron Cohen (L) and his wife Isla Fisher attend the premiere of Columbia Pictures and Village Roadshow Pictures "The Brothers Grimsby" at Regency Village Theatre on March 3, 2016, in Westwood, California (Credit: Apega / WENN)
Isla said of working with her husband while in an interview on Lorraine., "He's such a perfectionist. He'll do everything and anything to get the best joke possible into the movie, so it was definitely inspirational. He's so funny on set, and it was a lot of fun." They may work together in the future.
A Brief Bio on the Happy Couple
Isla Fisher was born on February 3, 1976, in Muscat, Oman, and moved to Australia at the age of 6. She attended Ecole Jacques Lecoq, a prestigious acting school in Paris.
Isla Fisher has written a collection of children's books about a character named Marge that you can buy on Amazon.
Both beautiful people, his height comes in at 6'3" and Isla at 5'3". Taller than the average male, Sacha towers over Isla, who is slightly shorter than average.
Isla Fisher in a black low-cut black Dior gown and her husband Sacha Baron Cohen attend a screening of the Oscars on April 26, 2021, in Sydney, Australia (Credit: WENN / Avalon)
Sacha Baron Cohen was born on October 13, 1971, in Hammersmith, London. Baron-Cohen was first educated at St Columba's College, St Albans, before attending The Haberdashers' Aske's Boys' School, an independent school in Elstree, Hertfordshire.
He then studied history focusing on anti-Semitism at Christ's College, Cambridge, and graduated in 1993 with upper-second-class honors.
7 Fun Facts
1. Sacha Baron Cohen started his career as a model for local agencies and regional TV shows in the early 1990s.
2. Sacha Baron Cohen studied under a clown, legendary Philippe Gaulier, in Paris. Gaulier once said of Sacha that he was so boring. As we know today, this is far from the case.
3. Sacha Baron Cohen has been sued many times for his antics in Kazakhstan.
4. Isla Fisher published two books by the time she was 18.
5. Isla Fisher's first acting job was in a lottery commercial.
6. Isla Fisher almost drowned while filming Now You See Me.
7. Sacha Baren Cohen stays in character even at home.
Classic Couple Made to Last
Sacha Baron Cohen and Isla Fisher, a Hollywood couple, a stranger to none, prefer to keep their personal lives behind closed doors and take care of family first. Perhaps that is why they have had such a long, healthy, successful run.
Though the pair have spoken over the years that it's never easy to make things work, they put in the effort because their children and their love for each other comes first.
"Choosing to be together every day is incredibly romantic. I love marriage. I think it's a wonderful institution, and it's the most important decision you make," she told Australia's Sunday Telegraph in October 2012.
Isla Fisher and her three children Olive, Elula, and Montgomery walk down the stars in Los Angeles on December 27, 2018 (Credit: WENN)
"Life is filled with highs and lows, and you have a best friend to share it with you. It's amazing. It's like winning the lottery, having a good partner."
These two are crazy for each other and recently moved with their three children to Australia. Isla spoke of her family's move to Australia to Stellar magazine "I'm the happiest when I'm home. I miss it when I'm not here. I don't feel any pressure when I'm in Australia. I don't have to say or do or be anything. I mean, I don't even have to wear shoes."
What happens when you marry one of the craziest actors in Hollywood? You live a life as his accomplice, of course.
Isla Fisher wears her red hair down as she arrives at ABC Studios for a taping of "Jimmy Kimmel Live!" on March 10, 2016, in Los Angeles (Credit: Michael Wright / WENN)
A self-confessed goody-two-shoes, in March 2016 Isla Fisher revealed new facts about her husband, Sacha Baron Cohen of "Borat" fame, during one of the biggest events in the world — the Oscars.
Isla shared the hilarious story during an appearance on "Jimmy Kimmel Live!"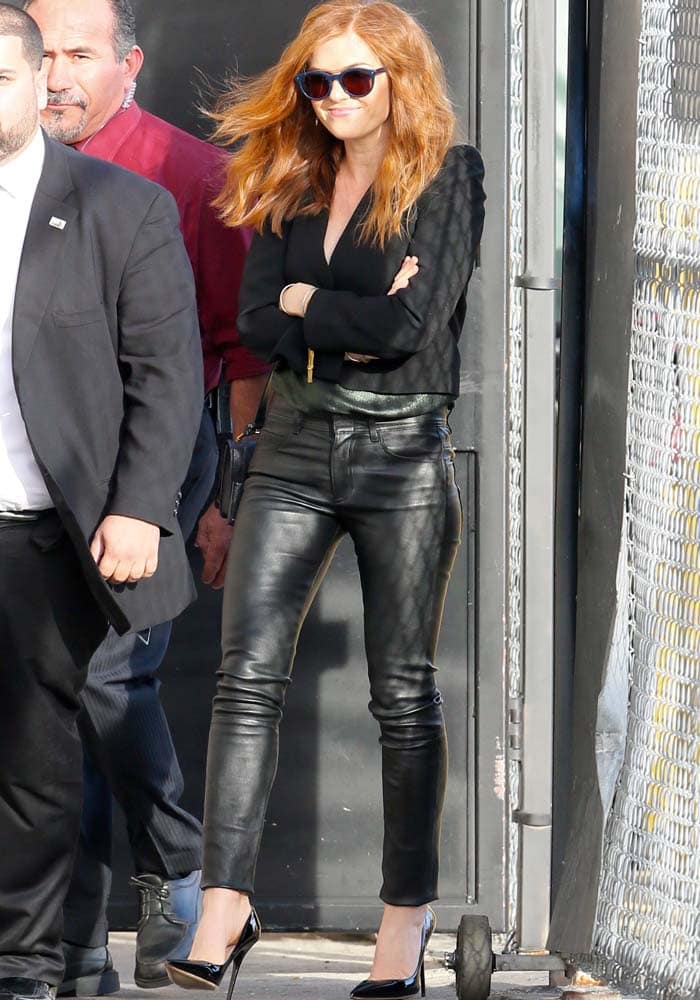 Isla Fisher wears black leather pants with a plunging metallic green top and puffed-sleeve blazer (Credit: Michael Wright / WENN)
Isla wore a plunging metallic green top under a puffed-sleeve blazer, which she coupled with a pair of "Le Skinny" leather pants from Frame Denim.
She wore her red hair down in tousled waves and covered her eyes with a pair of large sunglasses.
Isla Fisher explained how she helped her husband Sacha Baron Cohen sneak his Ali G costume into the Oscars and put it on in the bathroom (Credit: Michael Wright / WENN)
The actress paired her casual chic ensemble with "Abel" pumps in black patent leather from the popular women's shoe brand Jimmy Choo.
So, how exactly did Isla serve as Sacha's accomplice?
The actress revealed that Sacha wanted to attend the Oscars as his Ali G character, but didn't get approval. Sacha asked Isla to smuggle the costume, fake beard and all, in her Spandex.
"He said 'I want to sneak in and do Ali G but I can't fit it on my body because they're going to put me through metal detectors and be ultra-suspicious,'" she explained. "'Sweetie, will you fit giant yellow glasses, a hat, a glove, and a beard inside your Spanx?'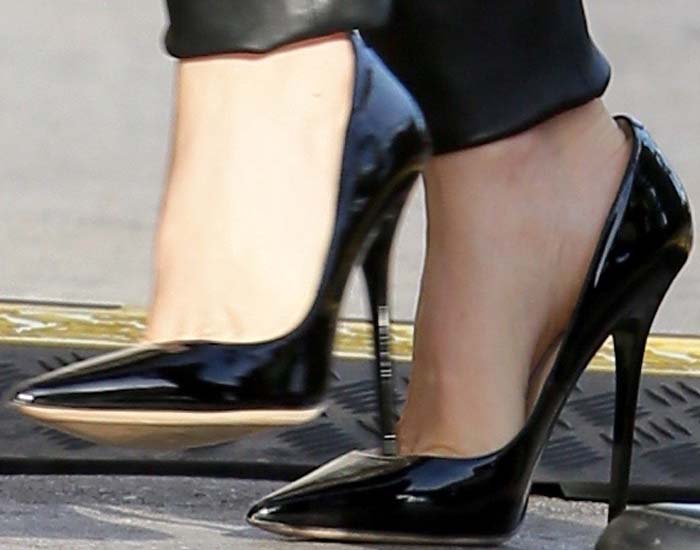 Isla Fisher's feet in black patent Jimmy Choo pumps (Credit: Michael Wright / WENN)
"I had to lie to everyone, which made me feel really guilty and then they gave me all these Tums, so I had to eat them so it wouldn't look suspicious," Isla added about how Sacha Baron Cohen sneaked his Ali G costume into the Oscars and put it on in the bathroom.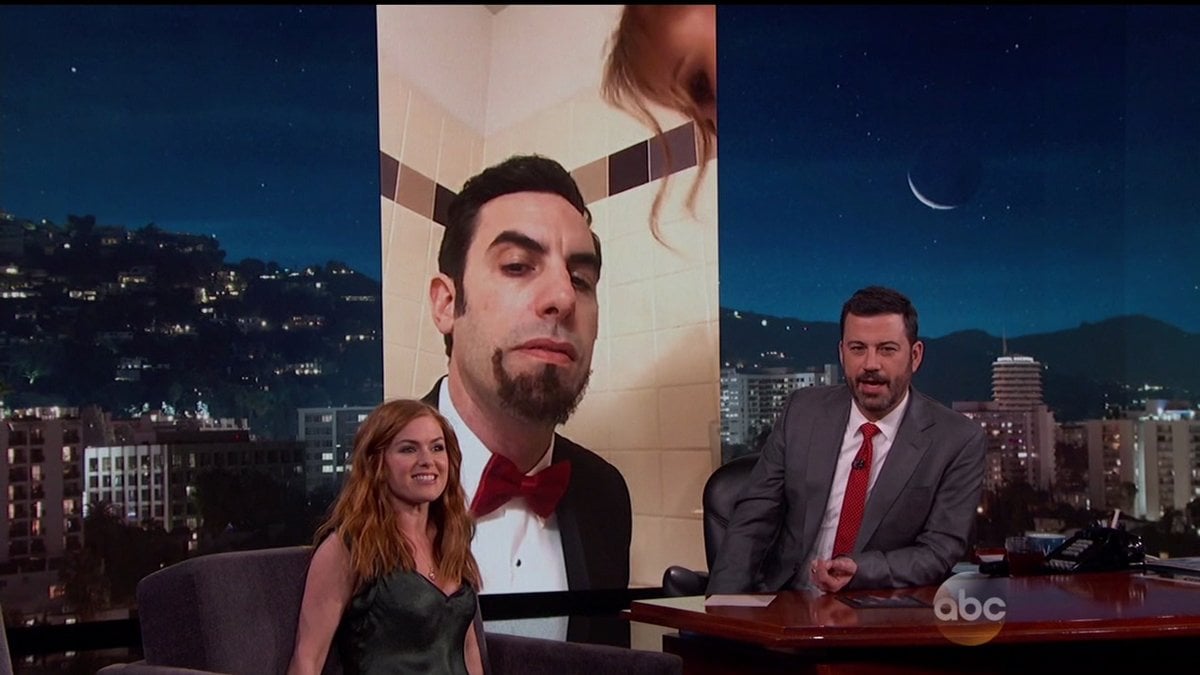 Isla Fisher told Jimmy Kimmel about sneaking Sacha Baron Cohen's Ali G costume into the Oscars (Credit: ABC / WENN)
"Then he popped out with full Ali G gear and bolted on stage with Olivia Wilde. I saw her face and she was like, 'oy vey.'"
"Am I never invited again?" she asked. However, she joked of a loophole: "Unless I pretend to be Amy Adams."
You can order Isla's Jimmy Choo "Abel" pumps in black patent leather at Nordstrom and Mytheresa. You may also check out other variations below.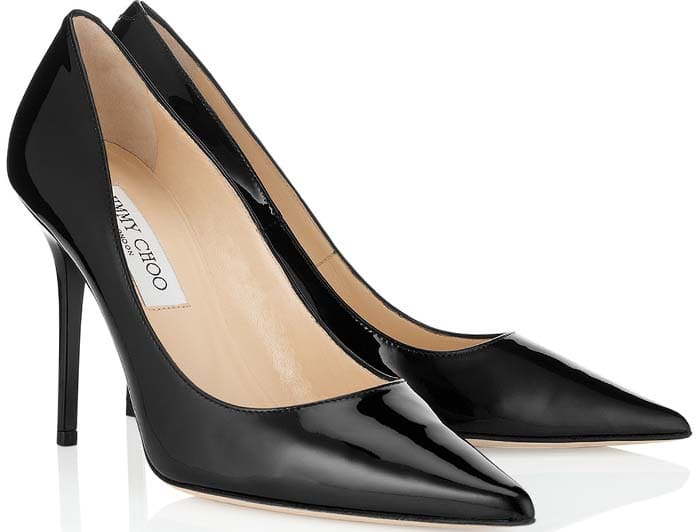 Black Jimmy Choo "Abel" Patent-Leather Pumps, $575 – $595
Coral Jimmy Choo "Abel" Patent-Leather Pumps, $595 – $750
Nude Jimmy Choo "Abel" Patent-Leather Pumps, $595