Khloé Kardashian's surrogacy journey differed from that of her sister, Kim Kardashian.
In the season 3 premiere of The Kardashians, Khloé, who had recently become a mother of two at 38, openly shared her struggle with relying on a surrogate to bring her son Tatum into the world.
Born on August 12, 2022, via surrogate, Tatum is the second child of Kardashian and her ex-boyfriend, Tristan Thompson. Khloé has a 5-year-old daughter named True with Thompson.
Kim Kardashian, Khloe Kardashian, Jonathan 'FoodGod' Cheban, and David Grutman at Swan Miami on Friday, December 2, 2022, for a Goodles brunch (Credit: Seth Browarnik / Startraksphoto / Cover Images)
"I felt really guilty that this woman just had my baby," she said during a conversation with Kim and Scott Disick. "I take the baby and I go to another room and you're sort of separated. It's such a transactional experience 'cause it's not about him."
View this post on Instagram
"I wish someone was honest about surrogacy and the difference of it," she added, making clear it's not all bad. "It's still great, it's just very different."
Kim, the co-founder of SKIMS, acknowledged that Khloé had difficulty accepting and embracing the surrogacy process.
Furthermore, Khloé admitted that she felt a lesser sense of connection to her newborn son compared to her bond with her daughter True, who is now five years old.
View this post on Instagram
"It's a mindf—. It's really the weirdest thing," Khloé candidly expressed, describing her complex emotions surrounding the experience.
Khloé Kardashian candidly shared her struggle to establish a connection with her newborn son, describing the surrogacy process as a profound "mind f–k."

In the Season 3 premiere of Hulu's "The Kardashians," the reality star opened up about her experience after welcoming her son,… https://t.co/BB1MHLWIGL

— Your Next Shoes (@yournextshoes) May 30, 2023
"I do think there is a difference when your baby is in your belly, the baby actually feels your real heart," Kim responded. "Think about it. There's no one else on this planet that will feel you from the inside like that, your heart."
Kim acknowledges that the ability to connect with babies after surrogacy varies among individuals, with Khloé openly sharing her personal struggle. She admits to finding it challenging and expresses, "Kim said hers was easy, but for me, it's not."
The cost of surrogacy in California can vary depending on several factors, including the agency you choose, the surrogate you select, and the medical costs associated with the pregnancy.
However, you can generally expect to pay anywhere from $100,000 to $200,000 for surrogacy in California. Surrogacy can be a very stressful experience for the surrogate mother.
The physical and emotional demands of carrying a child for another couple can be significant, and the stress of surrogacy can lead to serious health problems, such as postpartum depression.
According to a source who spoke with People, Kim Kardashian played a significant role in encouraging her sister, Khloé, to consider surrogacy as an option for expanding her family.
Kim herself had chosen surrogacy for the birth of her two younger children, Psalm and Chicago, due to complications in her previous pregnancies with Saint and North.
The source revealed that Khloé had been actively trying to conceive for a while, and when that didn't work out, they decided to explore alternative routes. Kim provided unwavering support and encouragement to Khloé throughout the process, advocating for her to find a surrogate.
Khloe Kardashian braids her beachy hair as she promotes the Kardashian Sun Kissed product on June 19, 2013, at Ulta Beauty in Burbank, California (Credit: FayesVision / WENN)
Khloe Kardashian may have her family's name to boost her, but she's been busy working for the Kardashian family name-turned-brand.
In June 2013, the youngest Kardashian sister stepped out to promote the Kardashian self-tanning product line titled Sun Kissed without her two older sisters. The Kardashian Sun Kissed self-tanning product line is available exclusively at Ulta Beauty.
Kim Kardashian West and Kourtney Kardashian were both busy moms. Kim gave birth to her first child, North West, on June 15, 2013, with husband Kanye West.
Kourtney was also a mom to two children, Mason Dash Disick (born December 14, 2009) and Penelope Scotland Disick (born July 8, 2012). Her third child, Reign Aston Disick, was born on December 5, 2014.
Khloe Kardashian wears a sheer Equipment blouse while promoting her Kardashian Sun Kissed product (Credit: FayesVision / WENN)
Luckily, Khloe didn't have a problem soloing to the event carpet. She looked summery in a sheer Equipment blouse paired with Intermix mint green leather shorts.
Tristan Thompson's ex furthered her chic beach look with a braided, wavy hairdo and aptly bronzed skin.
She accessorized with gold hoop earrings, a dainty gold necklace, and the famous engagement ring that can probably be seen from the moon.
The "Good American" founder completed her look with flirty blue Giuseppe Zanotti sandals.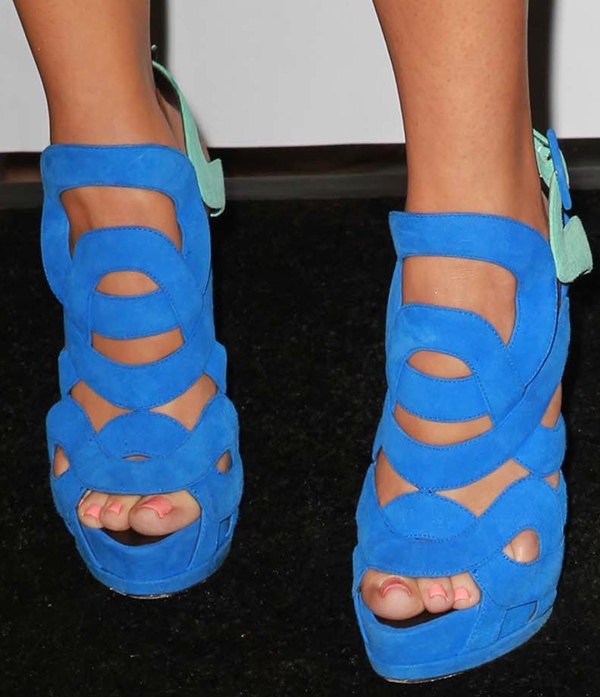 Khloe Kardashian's feet in cobalt blue Giuseppe Zanotti sandals (Credit: FayesVision / WENN)
Unfortunately, Khloe's funky heels, which we spotted on Nicki Minaj at the MAC Cosmetics Viva Glam Party one year earlier, are unavailable online.