Khloé Alexandra Kardashian and Tristan Thompson welcomed their second child together via surrogate at the beginning of August 2022.
The pair shares a four-year-old daughter, True, who is now the big sister of the newest addition to their family.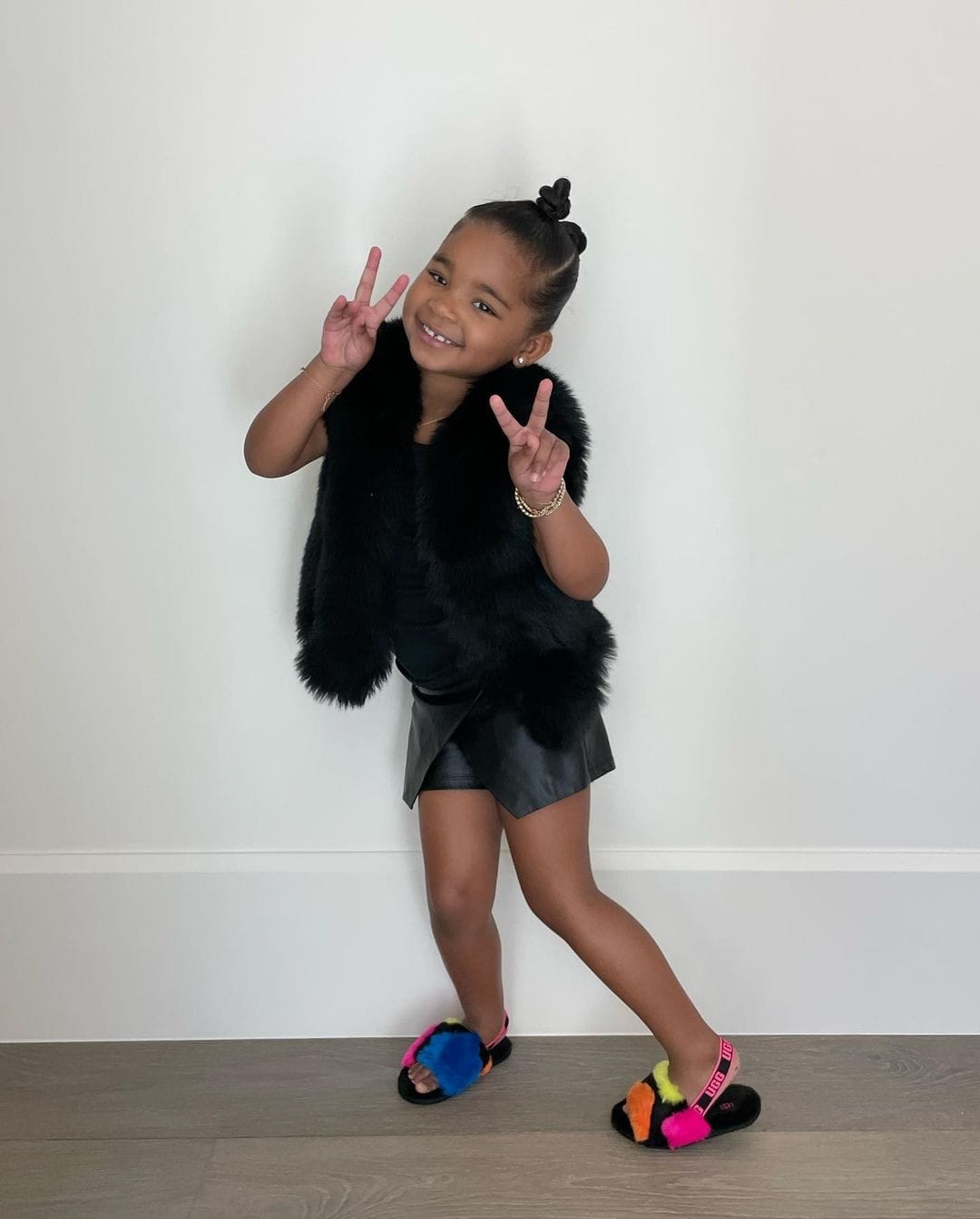 True Thompson striking an adorable pose as she prepares to be a big sister for the new baby in the family (Credit: Khloe Kardashian's Instagram)
E! News reported back in July that the ex-couple's baby boy was conceived in November via surrogate. According to Khloe's rep, she "is incredibly grateful to the extraordinary surrogate for such a beautiful blessing."
According to The Heritage Foundation, surrogacy is "fraught with ethical and moral considerations" and has been known to "exploit vulnerable women."
Khloe Kardashian and Tristan Thompson's Relationship Drama
Khloe and Tristan broke up in January 2022, but it wasn't for the first time. Their entire relationship had been a whirlwind from the very start, and there were a lot of cheating scandals and breakups in between.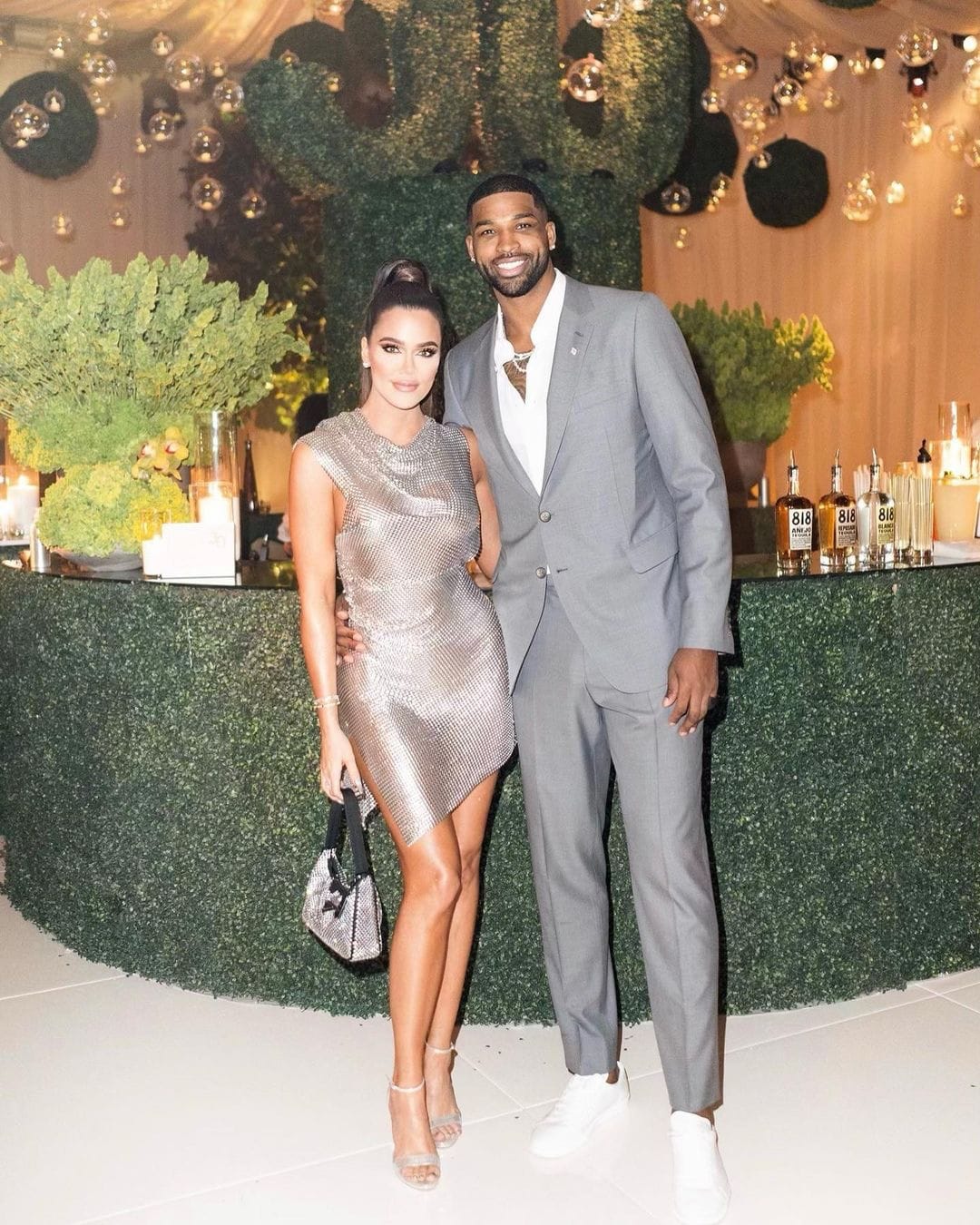 On-again, off-again couple Khloe Kardashian and Tristan Thompson had many ups and downs during the entirety of their relationship (Credit: Khloe Kardashian's Instagram)
The pair got together in 2016 after a blind date set up by basketball player Brandon Jennings, who is a friend of the Kardashians. By December 2017, Khloe was already pregnant with their first child.
In April 2018, while Khloe was nine months pregnant, Tristan Thompson allegedly kissed another woman at a club in New York City. TMZ released footage of Tristan kissing and inappropriately touching two women in October 2017 at a hookah lounge in Washington, D.C.
Despite the news, the pair decided to stay together.
In September 2018, Tristan was seen flirting with another girl in Los Angeles. Much later, in February 2019, the pair broke up. They were back together by August 2020, then broke up again in June 2021.
Tristan Thompson's Paternity Scandal
In January 2022, a paternity test confirmed that Tristan was the father of former personal trainer Maralee Nichols's child.
Khloe was already pregnant with their daughter True when news broke out that Tristan cheated on her with another woman.
The Canadian-American basketball player issued a public apology to Khloe on Instagram, but his last transgression was the last straw.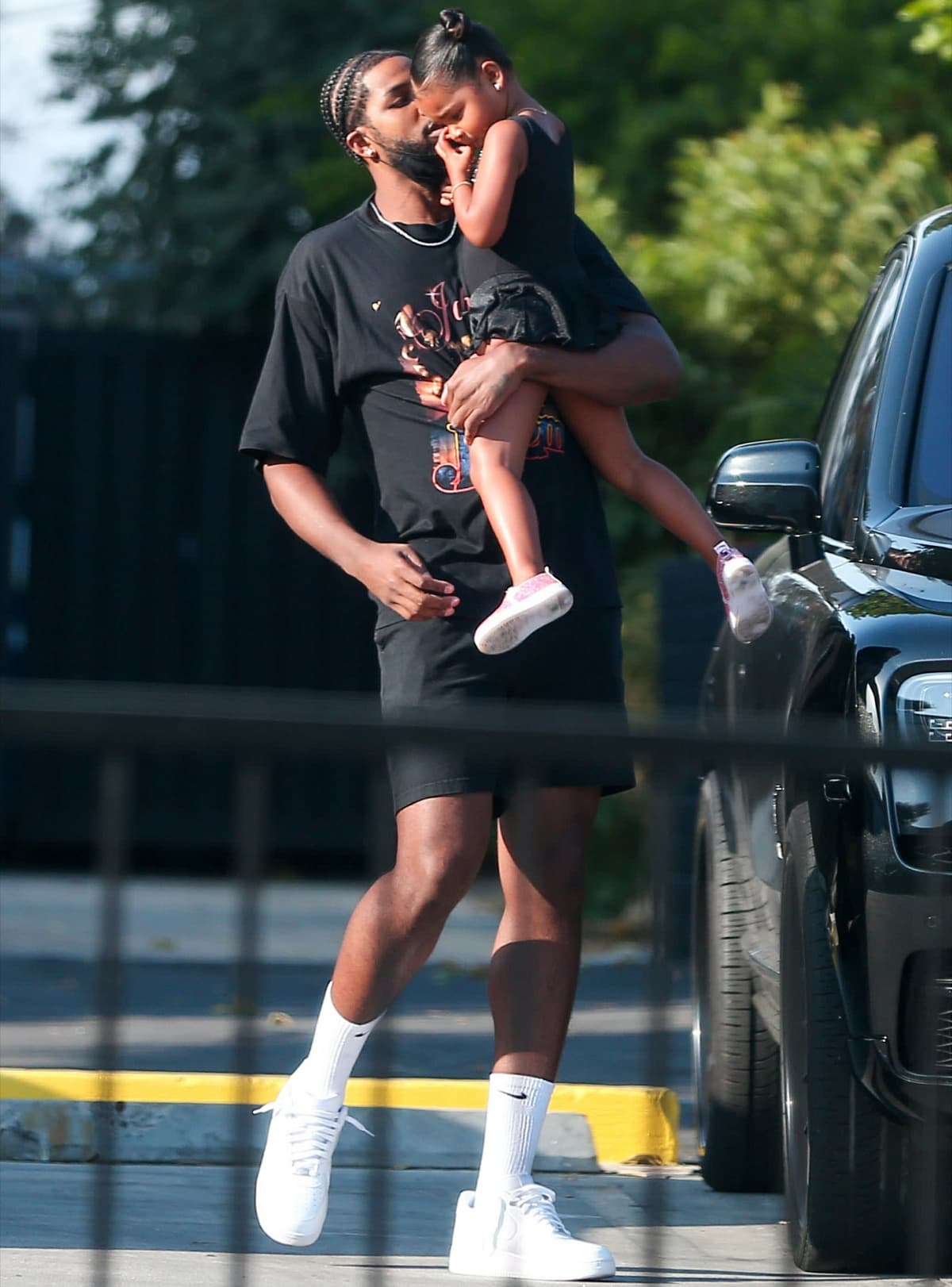 Tristan Thompson enjoying some quality time with daughter True in Los Angeles (Credit: BauerGriffin / INSTARimages / Cover Images)
Aside from True with Khloe and Theo with Maralee, Tristan is also the father of five-year-old Prince with model Jordan Craig.
Baby No. 2 for Khloe Kardashian and Tristan Thompson
It's no secret that Khloe and Tristan had been planning on giving daughter True a sibling.
On an episode of Keeping Up with the Kardashians in February 2021, Khloe mused that "True's getting older" and she felt like "it's now time to have another kid."
According to E! News, an insider shared that their son "was conceived via surrogate before it was revealed to Khloe and the public that Tristan was having a baby with someone else in December."
The pair had reportedly been working on their relationship before the news hit and had already decided to try for another baby through surrogacy. By the time Khloe found out, decisions had already been made and backing out was not an option.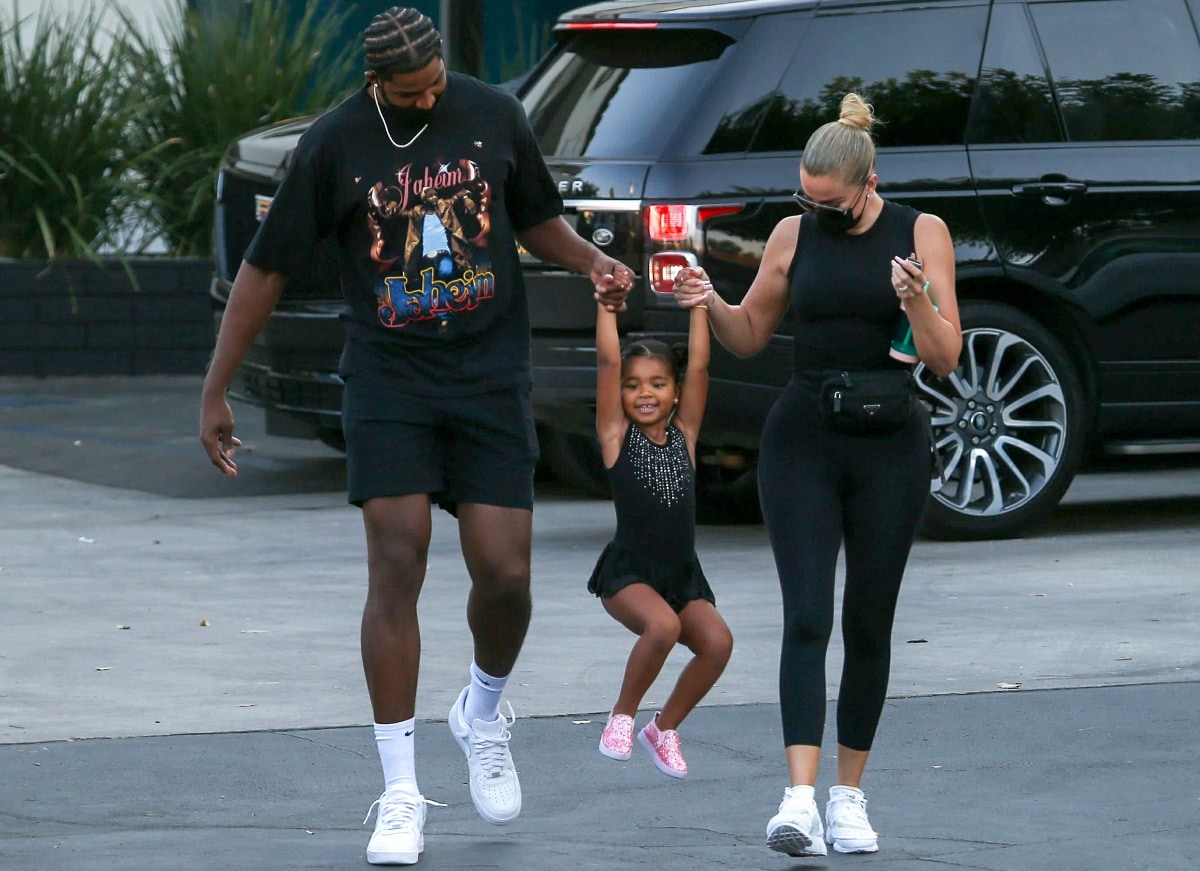 Despite showing no intention of getting back together, Tristan Thompson and Khloe Kardashian are serious about co-parenting their children (Credit: BauerGriffin / INSTARimages)
Initially, Khloe wanted to keep the news to herself for surrogate privacy and safety reasons. A source told E! News that she also wanted "to protect her mental health from judgement from the public as a result of Tristan's actions."
However, a different insider revealed that "Khloe's hand was forced to confirm the pregnancy before she was ready to announce" due to a leak of the story.
A Second Chance at Romance?
The on-again, off-again pair may be having a second child together, but that doesn't mean that they're rekindling their relationship.
A source revealed to E! News that Khloe and Tristan "have not spoken outside of co-parenting matters."
The tallest Kardashian sister seems to be doing pretty well for herself.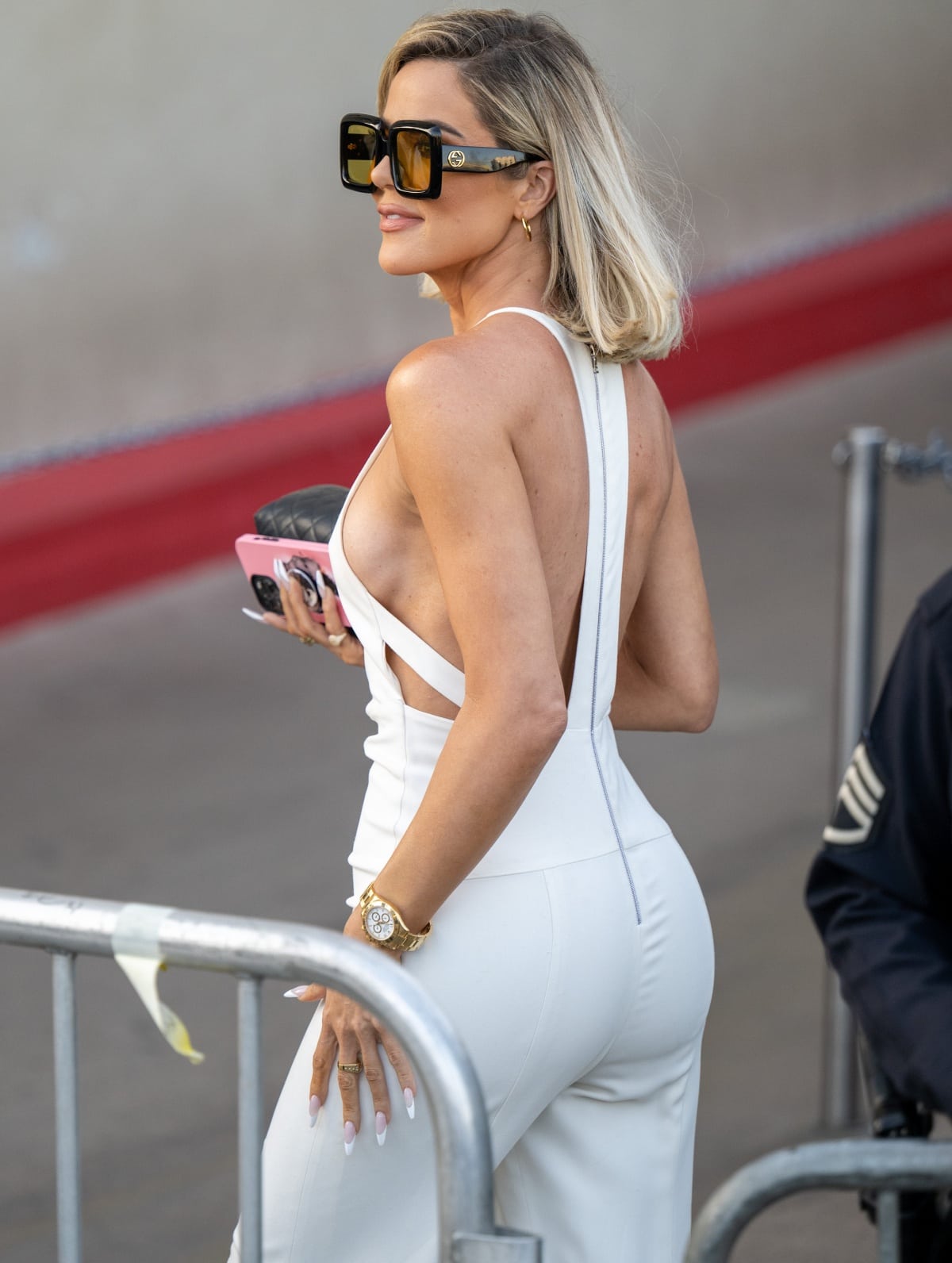 Khloe Kardashian flaunts her assets in a white Narciso Rodriguez jumpsuit at the 2022 Hulu FYC event (Credit: BauerGriffin / INSTARimages / Cover Images)
In fact, a few days after the pair welcomed their son into the world, Khloe was seen having the time of her life in L.A.
Khloe celebrated the launch of Natalie Halcro and Olivia Pierson's collaboration with jewelry brand 8 Other Reasons. She flaunted her figure in a tight-fitting LBD from Balenciaga styled with Christian Louboutin's "So Kate" black booties.
The 38-year-old socialite made sure to accessorize with pieces from 8 Other Reasons. She rounded out her look with Prada sunglasses and a blue Hermes pochette for a pop of color.
View this post on Instagram
Khloe Kardashian on Motherhood and Loving Every Part of It
Recently, Khloe sat down with Elle to talk about Good American's latest capsule collection.
The reality star and entrepreneur also expressed how grateful she is to be part of the Kardashian-Jenner clan.
"I'm super lucky that we have each other because we ask each other for advice or information." She added that they "get inspired and motivated by each other's success."
View this post on Instagram
In the middle of the interview, Khloe was asked about being a mother of two. "I know it's cliché, but I love everything, even the hard parts."
Khloe added that "being able to shape little people into really incredible big people is an honor and a gift."
She emphasized that she takes the job of being a mother "very seriously" and that she loves it "so much."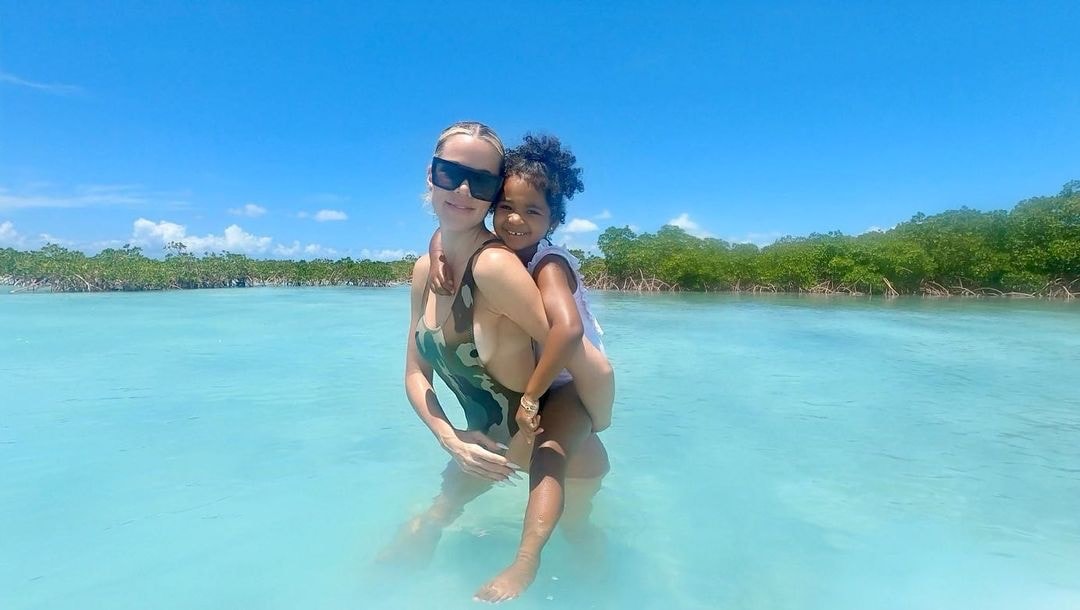 Khloe Kardashian with her "best girl" True Thompson (Credit: Khloe Kardashian's Instagram)
Previously, Khloe expressed how much having a second child would mean so much to her during an episode of Keeping Up with the Kardashians in March 2021. The Good American co-founder added that she's just trying to "bring more love into my life and into my family."