Kim Kardashian's last Vivienne Westwood gown was incredibly ill-fitting — though, to be fair, she did say on her Instagram that she ditched the smoothing Spanx underneath.
So when the reality star and ShoeDazzle founder stepped out in a corseted and much better tailored Vivienne Westwood creation at the "La Traviata" Opening Gala, the results were absolutely stunning. She redeemed herself well. The waist-whittling white gown with a sexy thigh-high split put her famous curves on display, and she highlighted her facial features with her signature spidery eyelashes and a severely center-parted hairdo.
Kim Kardashian arriving at the "La Traviata" Opening Gala held at Teatro Dell'Opera Di Roma in Rome, Italy, on May 22, 2016
Husband-and-wife Kim Kardashian West and Kanye West hitting the "La Traviata" Opening Gala red carpet
Kim Kardashian striking poses for the cameras in her Vivienne Westwood white corseted gown and gold-leaf platform sandals
Kim Kardashian sporting a slicked-down center-parted hairdo, heavy lashes, and dangling diamond earrings
Kim Kardashian also brought a couple surprises that night. The unfinished hem of her dress was unexpected on such an elegant-looking gown. And, while we would've expected Kim to wear her usual ankle-strap sandals, she instead surprised us with chunky-heeled gold-leaf platform sandals that were much more interesting.
Vivienne Westwood gold-leaf platform sandals with chunky, silver-lined heels
Do you think the shoes make or break Kim's look?
Vivienne Westwood Spring 2014 Gold-Leaf Platform Sandals at Amazon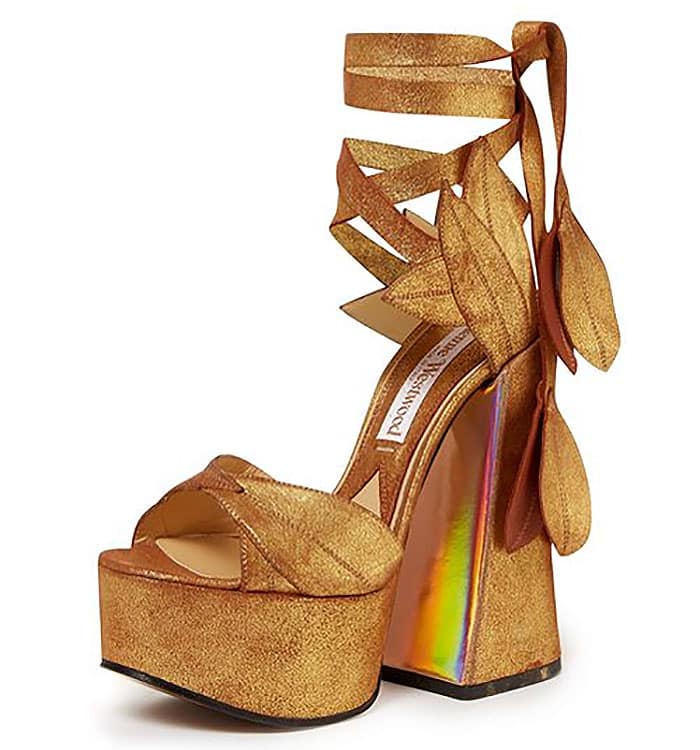 Credit: SHOTPRESS / WENN