Laura Whitemore hosted the Very.co.uk bash on Wednesday night, introducing the Definitions fashion brand at the Somerset House in London. Among the attendees was Kimberley Garner, who was literally dressed to impress in a cute black polka-dot ensemble paired with black-and-white peep-toe heels.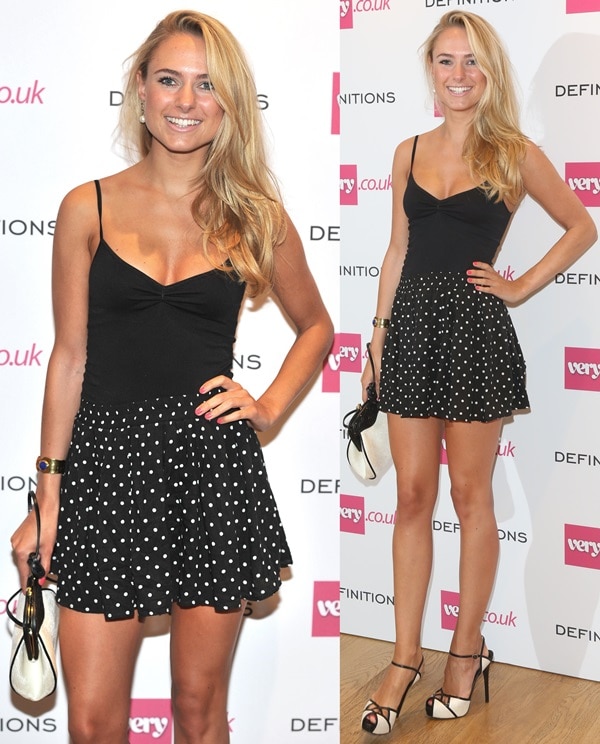 Kimberley Garner at the launch party for Very.co.uk introducing the new fashion brand Definitions at Somerset House in London on September 4, 2013
The former 'Made in Chelsea' star looked very stylish and showed a bit of cleavage in a fitted black vest top tucked into a cute polka-dot skirt. Her playful attire was perfectly complemented by a color-coordinated clutch and a pair of elegant black-and-white peep-toe heels that really elongated her legs.
The 23-year-old star seems to really love this combo since she was spotted wearing the same skirt and shoes on another occasion at the Arts Club in London.
These architectural peep toes in black and white with gorgeous stiletto heels are the perfect choice for an event like this since they are a must-have item for the season. Many designers are in love with this style, which can be easily adapted to any outfit and occasion — be it elegant, casual, or even sport. They reflect an elegant vibe with a touch of retro, and they really emphasize the legs' features.
Although we couldn't find the exact style Kimberley was wearing, we discovered a fancier version of the monochrome trend for peep-toe sandals — Giambattista Valli heels in embellished satin:
Giambattista Valli Embellished Satin Peep-Toe Sandals, $860
We have also featured Kimberley Garner at the European premiere of 'I Give It a Year' in a very sexy pair of Jimmy Choo sandals and a tiny LBD.
Credit: Daniel Deme / WENN