Game of Thrones fans rejoice!
Kit Harington and Rose Leslie, who famously portrayed on-screen lovers Jon Snow and Ygritte in the hit HBO series, are expecting their second child together.
The couple, who met on the set of Game of Thrones in 2012, has always been in the spotlight, and their love story is nothing short of a fairy tale.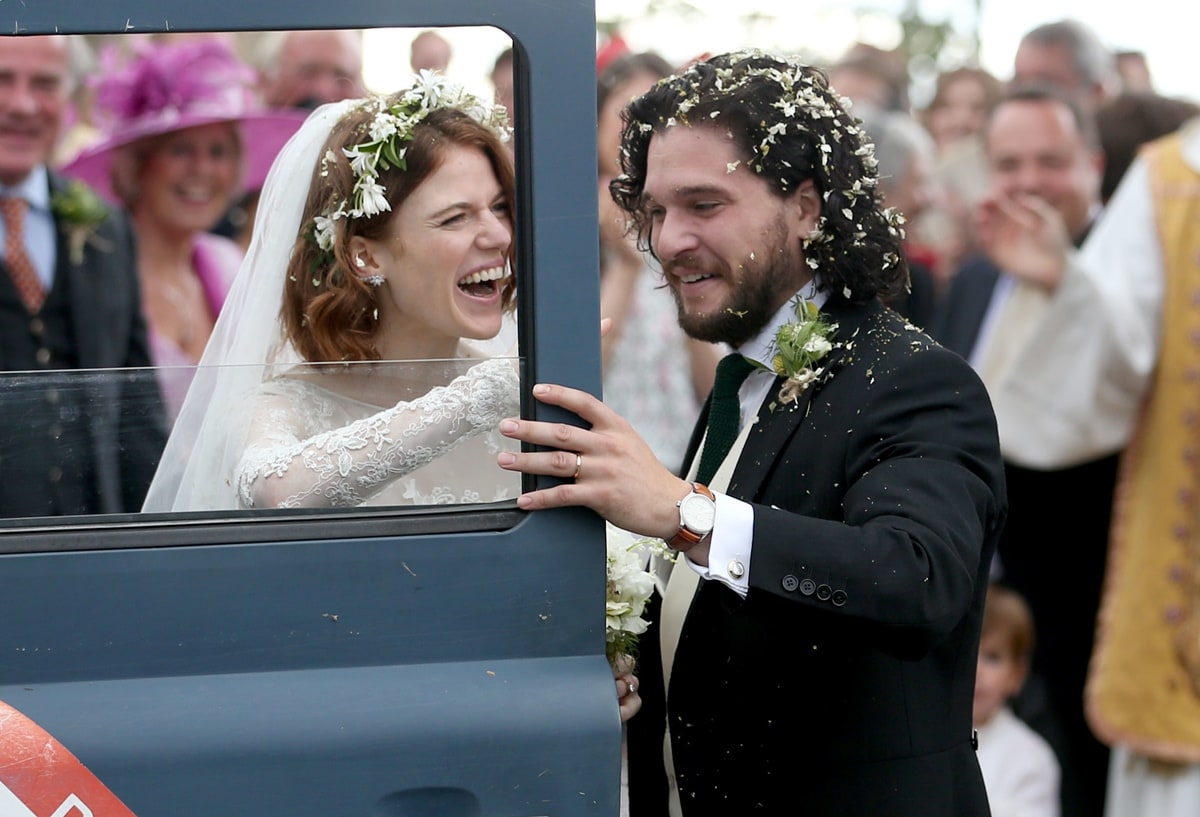 Kit Harrington and Rose Leslie departing Rayne Church in Kirkton on Rayne after their wedding on June 23, 2018, in Aberdeen, Scotland (Credit: Jane Barlow / PA Images / INSTARimages)
They tied the knot in 2018 and welcomed their first child, a boy, in 2021. And now, as they prepare to expand their family once again, fans are over the moon with excitement.
On Friday, February 3rd, the 36-year-old star showed up on NBC's The Tonight Show Starring Jimmy Fallon and spoke about his son and the upcoming shock he will soon get. He officially announced The Time Traveler's Wife actress Rose Leslie's second pregnancy.
Rose Leslie smiled brightly as she emerged from the car with her father, Sebastian Arbuthnot-Leslie, wearing a vintage-style Elie Saab lace dress featuring a classic fit-and-flare cut, a sweetheart neckline, and long sheer sleeves (Credit: Jane Barlow / PA Images / INSTARimages)
The Modern Love actor gave the host an update on his eldest kid's development, saying, "He's really good, but he's about to get the shock of his life, which is that he's about to get a brother or sister."
Harington said on the show that he doesn't think his oldest child has "quite conceptually understood it just yet," that a new baby is joining the family.
"We're trying to get him ready for it," he said. "We point to Rose's tummy, and we say, 'Mommy's baby, mommy's baby.' And he points to his tummy and goes, 'My baby.' I'm quite sure that's – yeah, you'll know soon enough."
Rose Leslie and her husband Kit Harington attend HBO's "The Time Traveler's Wife" New York Premiere at The Morgan Library on May 11, 2022, in New York City (Credit: Dave Allocca / StarPix)
A second time around, the actor admitted he was more terrified than before. He said about the first child, "You know, with the first baby, you're like walking on clouds and dancing through fields of daisies for nine months– well, the man is, anyway. But this time, the reality check comes much shorter. You get practical real quick [because you will have] two of them."
The Eternals actor and The Last Witch Hunter actress are delighted with their firstborn child, whose name has been kept under wraps.
Harington said about his young son, "He is good. He's two. We think he might be quite smart, which is surprising since we're both actors, like, we're not sure quite where that's come from."
He shared that his boy "loves applause." The proud dad shared, "Every time he does something good, we give him applause, and we've been worrying that's kind of been pushing him toward acting. We're a bit like, 'You might be too smart for this. Go save the world. We're sick; we had no choice.'"
Stylish Louis Vuitton Menswear Show Appearance
Rose Leslie and Kit Harington made a stylish duo as they attended the Louis Vuitton Menswear Show at Paris Fashion Week.
The 36-year-old Scottish actress caught everyone's attention with her chic black military jacket and harem trousers inspired by the iconic designer. He is just a few weeks older than his wife.
Her sophisticated style was on full display, with her jacket having multiple belt buckles, some of which were covered in Louis Vuitton's signature brown print, making it a unique piece.
Is Kit Harington taller than Rose Leslie?
Yes, he is. Kit Harington is 5ft 7 (170.2 cm) tall, and Rose Leslie is 5ft 4 ½ (163.8 cm) tall, which means there is a height difference of approximately 2.7 inches (6.9 cm) between them.
The average height for men in Britain is around 5ft 9 inches (175 cm), and for women, it is around 5ft 4 inches (162 cm). Kit Harington is slightly shorter than the average height for men in Britain, while Rose Leslie is a bit taller than the average height for women in Britain.
Rose Leslie and Kit Harington in coordinating outfits from the French designer at the Louis Vuitton Menswear Fall-Winter 2023-2024 show as part of Paris Fashion Week on January 19, 2023, in Paris, France (Credit: ABACA / INSTARimages / Cover Images)
She put the finishing touches on her outfit with a pair of identical loose trousers and Louis Vuitton patterned loafers, and her hair was done in a neat box bob with an elegant eyeliner flick.
While Leslie chose an all-black style, her English husband, Harington, opted for a brighter outfit.
He showed off his fashion savvy at the star-studded event concentrating his appearance around a bold mustard double-breasted blazer.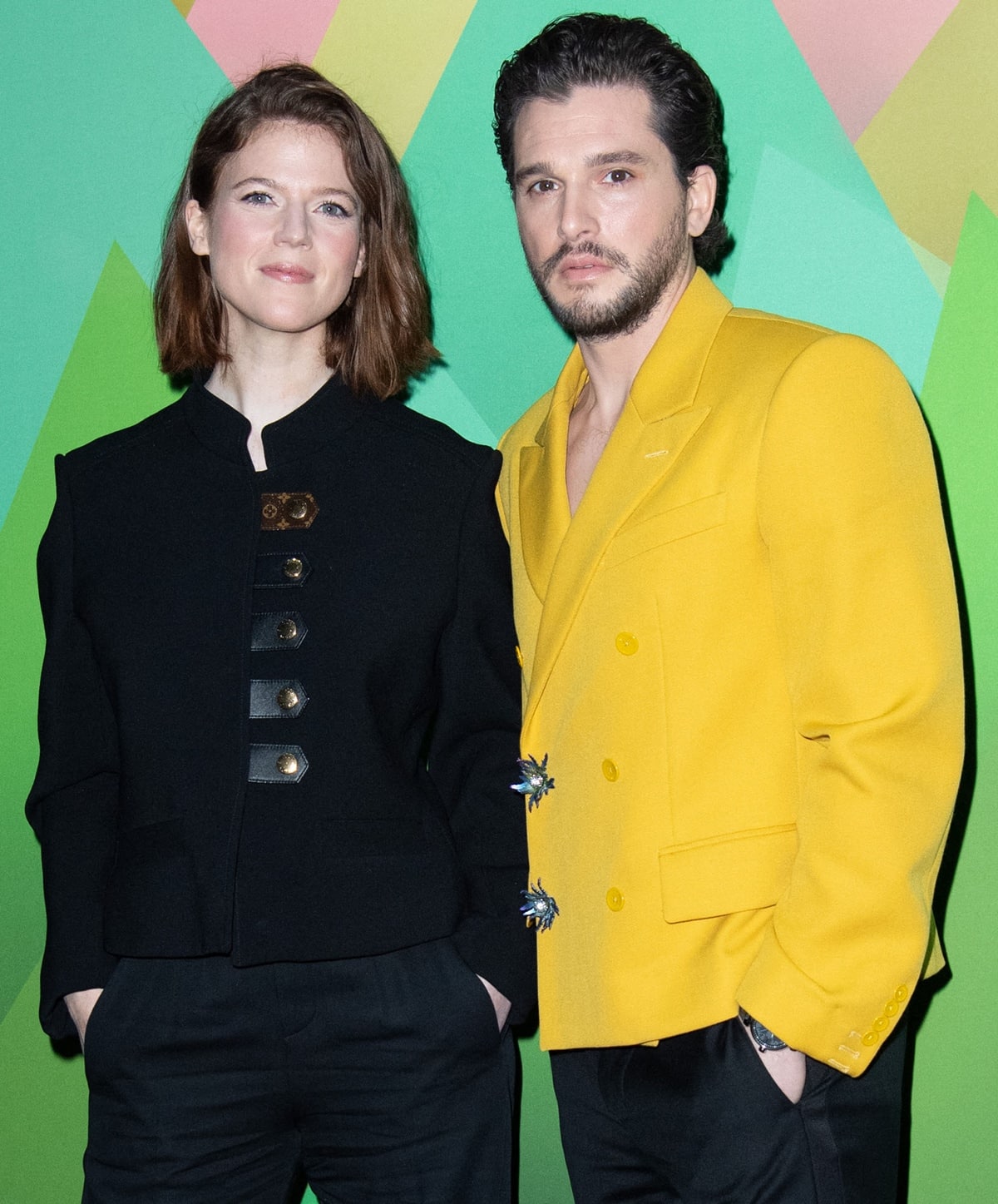 Kit Harington sported a bright yellow blazer with checkerboard-printed loafers, while Rose Leslie wore a black blazer with gold buttons and black pants and shoes (Credit: ABACA / INSTARimages / Cover Images)
The blazer had feather button details, and he paired it with straight-leg black trousers and loafers, creating a sophisticated yet playful outfit.
Leslie's chic military jacket and Harington's daring mustard blazer were standout pieces that highlighted their fashion credentials. This husband-and-wife duo truly knows how to make a fashion statement!