As much as you want to just stay home in your most comfortable fleece-lined pajamas and shut out the biting cold outside, you can't do that every day. You'll have to get out of your frozen but relatively cozy abode and brave the elements. Don't leave your style behind, though. 'Tis the season to look spectacularly layered!
Here's the key to looking undeniably chic: a pair of knee-high boots. Take a cue from the celebrities below who made their knee-high boots look so easy to wear.
1. Skinny jeans with a turtleneck sweater and cape
Stressed, depressed, but well-dressed. Myleene Klass definitely looked stressed, maybe a bit depressed (this weather is a definite mood-killer), but she looked so put together that we don't mind overlooking her tired expression.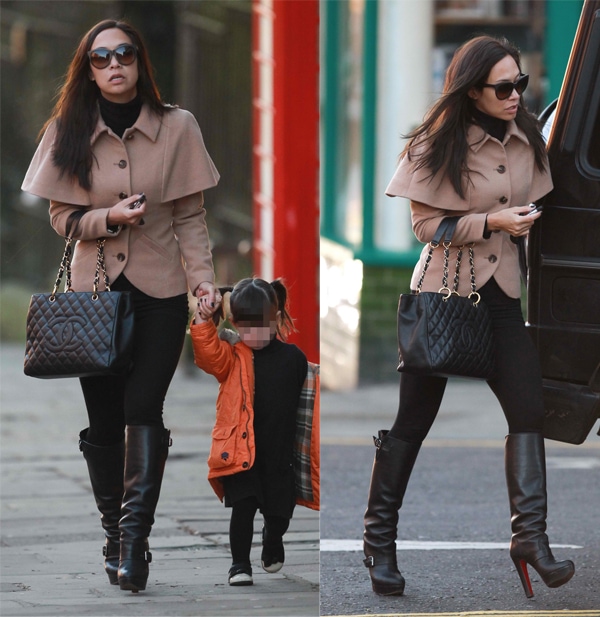 Myleene Klass looking tired while out and about with her daughter, Hero, near her home in Basildon, United Kingdom, on January 10, 2014
The British singer, pianist, and model wore her boots with a pair of black skinny pants and a turtleneck sweater. Like what she did here, you can break the monochromatic look with a colored cape or a pea coat.
Get these: Elizabeth and James Heidi Tall Boots, $297.50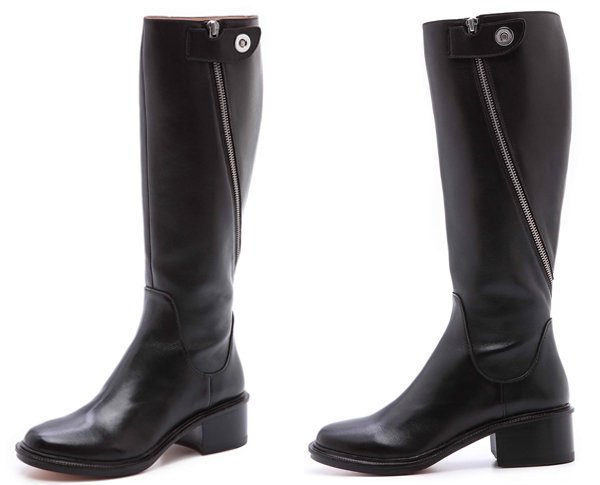 Wear with: Dolce & Gabbana Skinny Jeans, $525 / Helmut Lang Flyknit Jumper, $416.97 / Marc by Marc Jacobs Too Hot to Handle Tote, $528 / Carven Belted Leather Coat, $1,758.37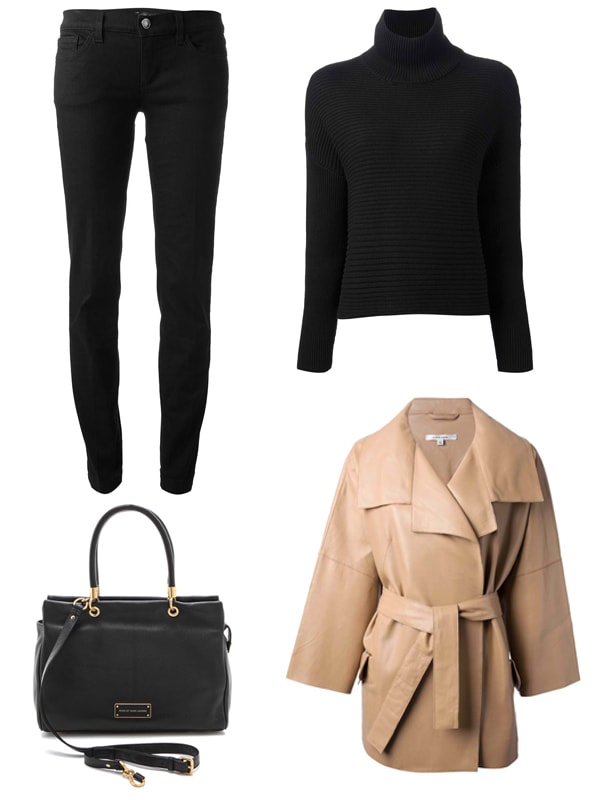 2. Boots with a body-fitting dress and tights
Gwen Stefani wasn't daunted by form-fitting dresses even during the advanced stage of her pregnancy.
Pregnant Gwen Stefani out on a Christmas shopping spree buying toys and wearing all-black with a black leather waistcoat, knee-length boots, sunglasses, and an animal-print hat in Los Angeles on December 17, 2013
Pair yours with boots and make it work by wearing a pair of thick tights and by layering a leather vest over your dress.
Get these: Frye Melissa Over-the-Knee Boots, $518
Wear with: Spanx Uptown Tight End Blackout Tights, $42 / Lanvin Panama Hat, $590 / Jay Ahr Embellished Dress, $1,556.02 / Piece D Anarchive Matelasse Overlay Vest, $2,756
3. Take advantage of the flounce skirt trend
Ali Larter definitely knew what she was doing when she donned this cute pair of thigh-high boots (knee-high boots would've fine as well) with a pleated skirt.
Ali Larter rocks thigh-high boots while shopping at The Grove in Los Angeles on December 19, 2013
As if that wasn't enough, she also wore an edgy zipper-adorned jacket over a sequined sweater.
Get these: Stuart Weitzman 5050 Stretch Suede Boots, $598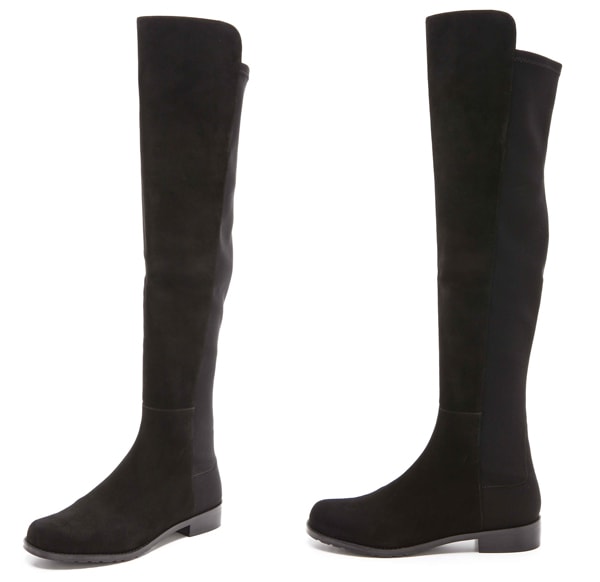 Wear with: Alexander Wang Cropped Loose Knit Sweater, $699.03 / DSQUARED2 Biker Jacket, $1,927.71 / Yigal Azrouel Compact Jersey Skirt, $660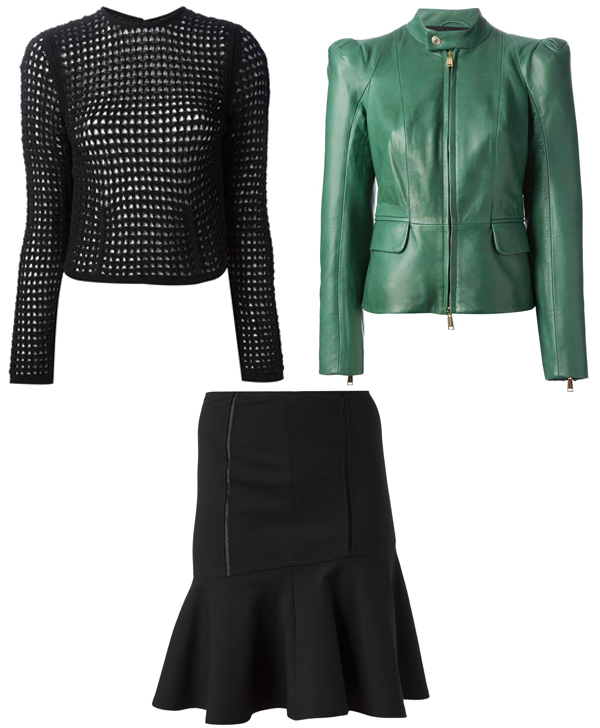 4. Fitted pants and a trench coat
If Jessica Alba's look doesn't inspire you to dress up fabulously this season, we don't know what will. It's the perfect winter ensemble, utilizing cold season essentials to perfection.
Jessica Alba bundled up as she walked alone on a cold day in Manhattan, New York City, on January 20, 2014
She wore her boots over a pair of studded pants and capped off the look with a cute peplum trench coat. Accessorize with a beanie and a sleek shoulder bag, and you are good to go!
Get these: Marc by Marc Jacobs Tall Boots, $498
Wear with: Tom Ford Skinny Fit Jeans, $817.71 / Lanvin Single-Breasted Coat, $2,600 / Rebecca Minkoff Flirty Studded Bag, $225 / Eugenia Kim Gina Beanie, $115.50
5. Preppy outfit with a pleated skirt, a button-down shirt, and a knitted sweater
It's official. We just crowned Jessica Alba the queen of knee-high boots.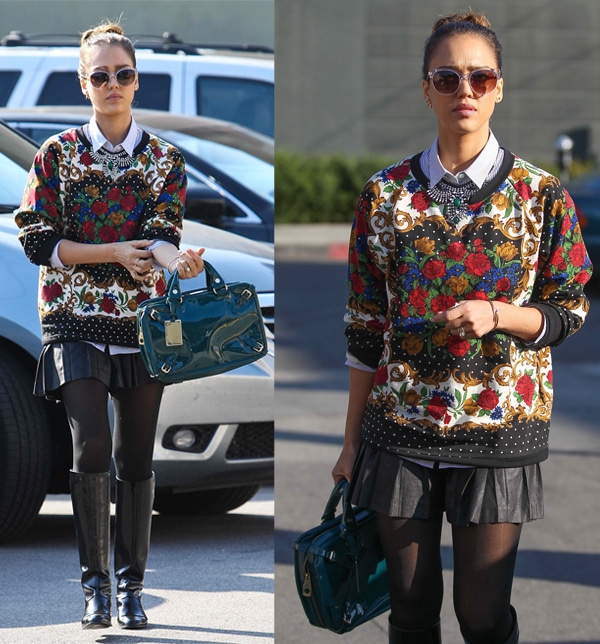 Jessica Alba wears knee-high boots for a meeting in Brentwood, Los Angeles, on December 13, 2013
This ensemble screamed preppy — from the button-down shirt down to the pleated skirt. The rain boots gave it an edgier vibe.
Get these: Salvatore Ferragamo Ruben Rain Boots, $450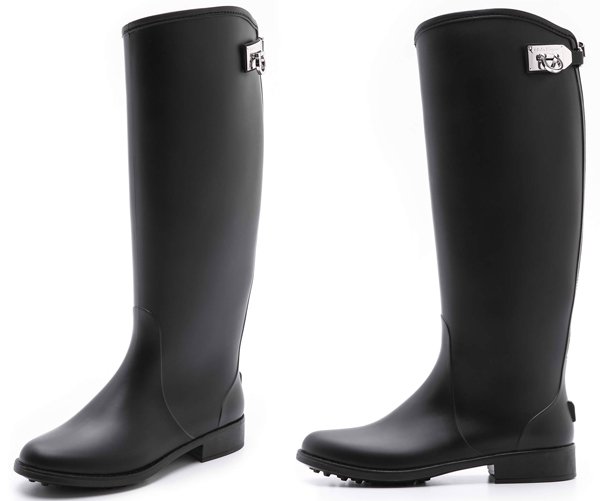 Wear with: Plush Knit Fleece Lined Footless Tights, $25.20 / Richard Nicoll Python Sheer Shirt, $416.97 / Olympia Le-Tan Pleated Skirt, $1,690 / Prabal Gurung Multiple-Print Sweater, $850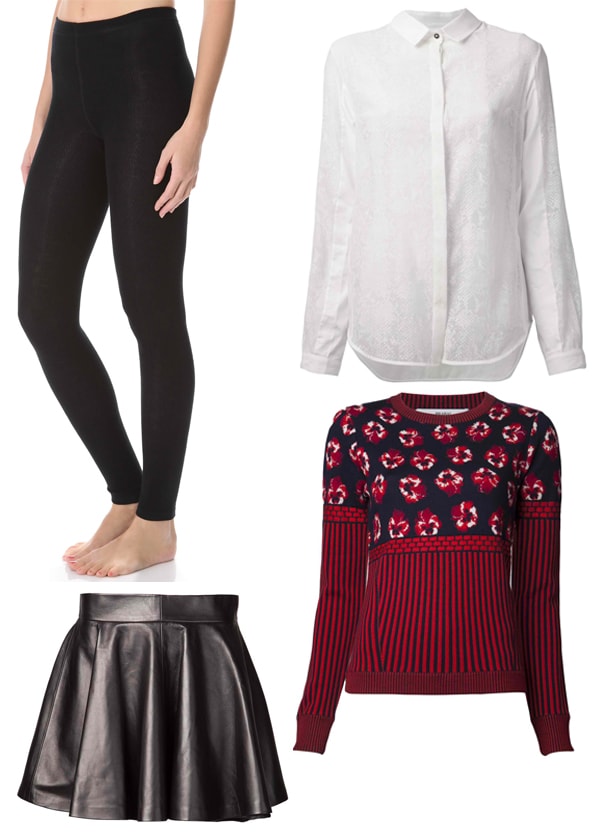 Copy these outfits, and you'll never go wrong when wearing knee-high boots.
Credit: WENN / Owen Beiny / TNYF