Kris Jenner is taking the "momager" title to heart. Last weekend, the Kardashian matriarch flew into the United Kingdom with her daughter, Kendall Jenner.
Kris Jenner leaves a studio in North London, England, on July 13, 2015, wearing an all-black look
On July 13, she accompanied the young model to a fashion shoot in London. Kris was seen wearing her signature all-black palette while leaving a studio in North London.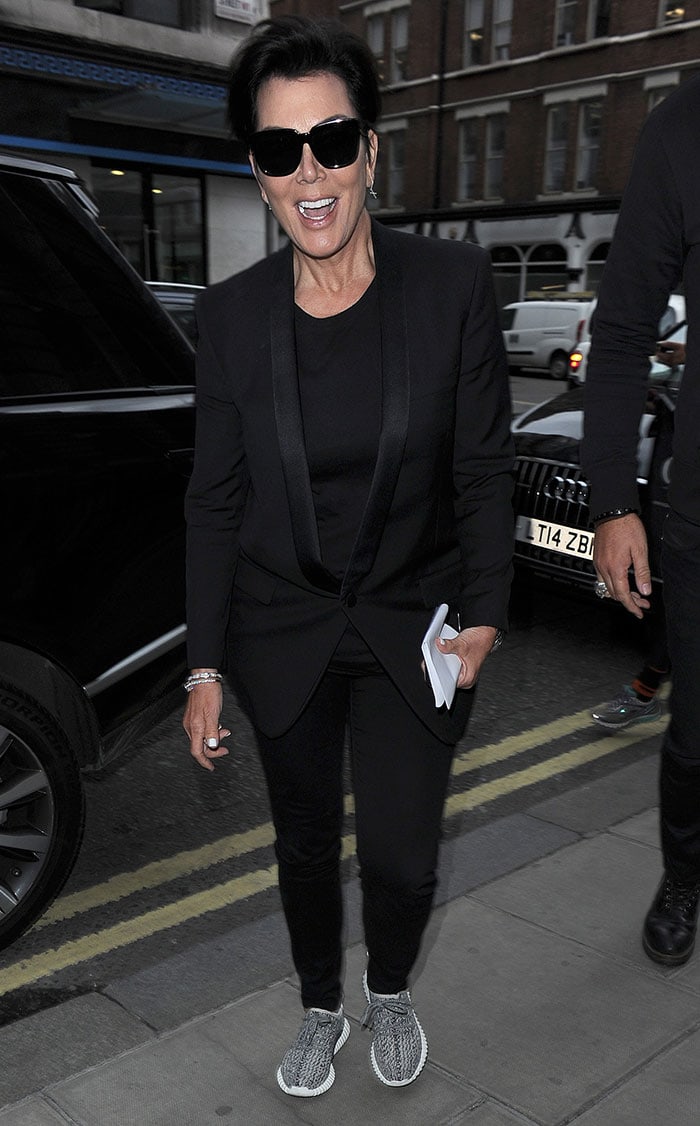 Kris Jenner rocks an all-black look comprised of slim-fit pants, a tuxedo blazer and a pair of Yeezy Boost 350 sneakers
Kris, who turns 60 this year, also wore a pair of Yeezy Boost 350 sneakers, designed by her son-in-law Kanye West.
She paired the shoes with a black top and a pair of slim-fit pants and glammed up the rather casual getup with a tuxedo-style jacket and a few pieces of jewelry.
Kris sported her signature pixie cut. A pair of dark sunglasses hid her barely-there eye makeup.
Reality star Kris Jenner hides her eyes behind a pair of dark shades as she leaves a London fashion shoot
After enjoying a whirlwind trip to London, Kris and Kendall Jenner were spotted jetting out of Heathrow Airport the next day.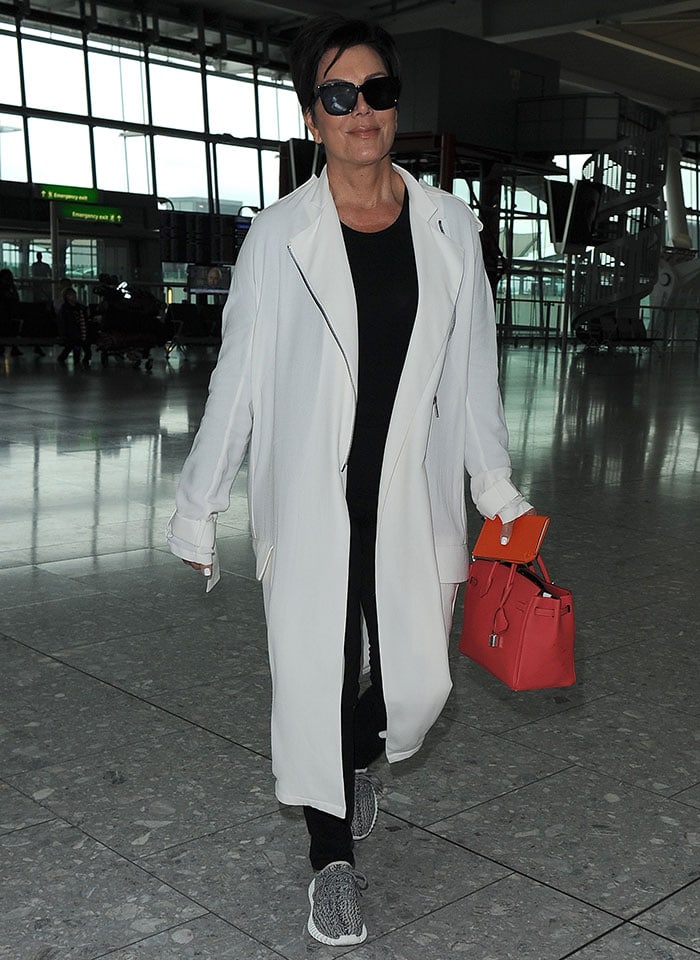 Kris Jenner rocks a neutral-and-red look as she arrives at Heathrow Airport in London, England, on July 14, 2015
Caitlyn Jenner's ex-wife flashed her pearly whites, which matched a long white coat layered over her trademark all-black look.
She wore a black top with black jeans and added a pop of color to the look with a coral Hermes bag.
Kris wore her Yeezy Boost 350 sneakers again on the flight to Los Angeles.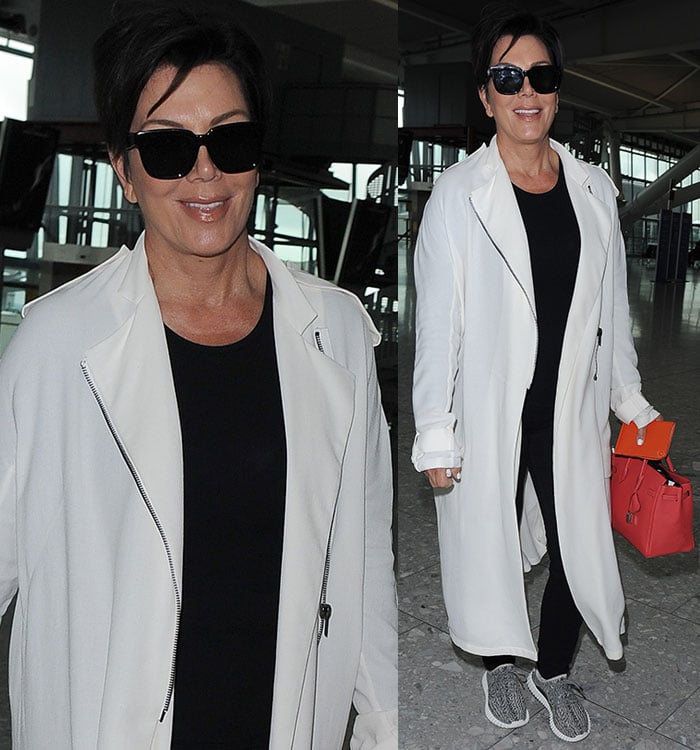 Kris Jenner was all smiles as she casually strolled through the airport, rocking her signature black look with her dark pixie cut
The Yeezy Boost 350 is Kanye West's second pair of sneakers developed with adidas Originals.
The Boost 350 sneakers boast adidas' Primeknit Tech combined with premium suede. They feature breathable uppers, full-length internal Boost's energy-returning properties, and Boost soles, which are a combination of West's style and adidas' latest technologies.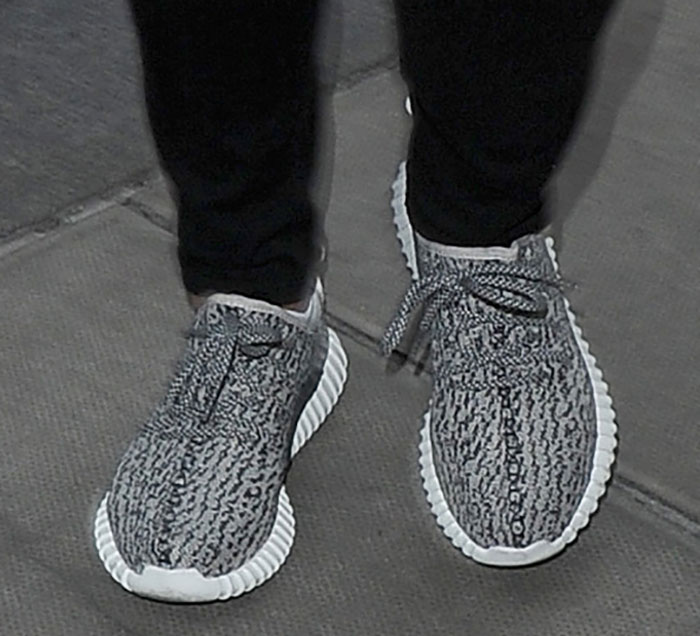 Kris Jenner in Yeezy Boost 350 by Kanye West
Unfortunately, these limited-edition sneakers sold out within an hour at Farfetch after they were released last June.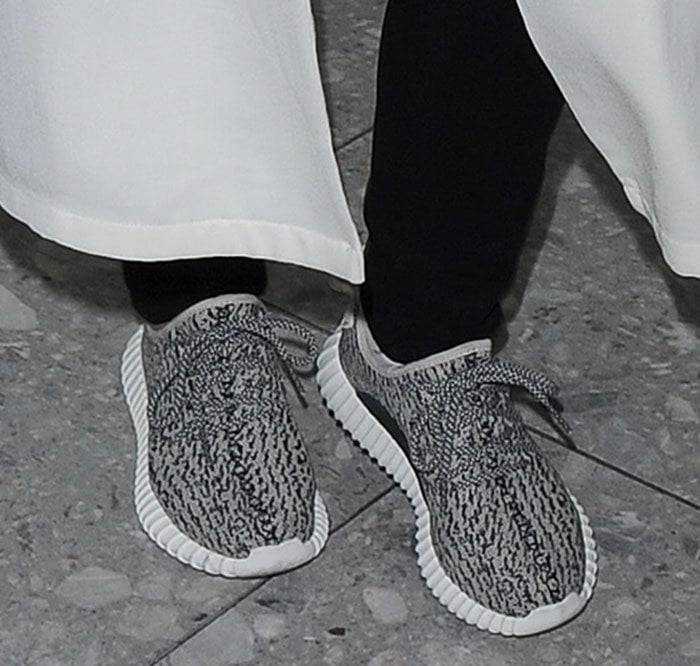 Kris Jenner shows off the detail of the Yeezy Boost 350 sneakers by Kanye West
Credit: Will Alexander / WENN