Doing a complete 180 from her goth-inspired head-to-toe black ensemble at the Veronica Mars New York premiere, Kristen Bell went for a girly pink look at the film's most recent premiere in LA on Wednesday.
However, a girly outfit didn't translate into an all-delicate-and-dainty image for the actress. In fact, the 33-year-old got a little cheeky when a gust of wind picked up her dress' skirt and flashed her underwear to the photographers. Oops!
Kristen Bell moments before and after flashing her underwear to the cameras at the Veronica Mars LA premiere at the TCL Chinese Theatre in Hollywood, California, on March 12, 2014.
In fairness to Kristen, her pink J. Mendel strapless gown does have a dangerously high slit. It barely covered her legs even when she was holding it down and trying to do her red carpet poses.
All Kristen could do was look embarrassed and laugh at herself. And she still looked cute while doing so — only someone like Kristen can be adorable even after a potentially scandalous wardrobe malfunction.
Kristen Bell's various embarrassed expressions after a gust of wind accidentally exposed her underwear to the photographers
Kristen Bell might be cursing the slit on her dress now, but one good thing that came out of it was that we were able to get good views of her sexy, leg-lengthening Jimmy Choo "Tiga" sandals.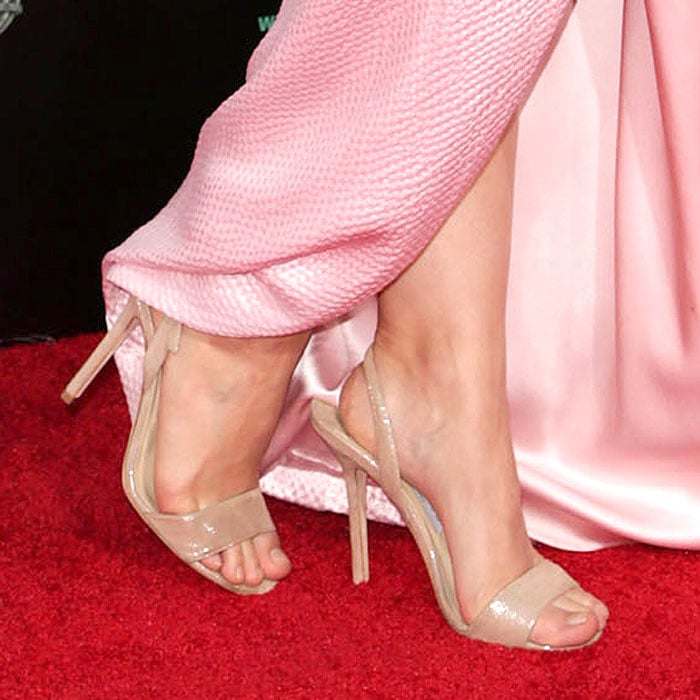 Kristen Bell's sexy feet in nude Jimmy Choo "Tiga" slingback sandals
Check out the following lookalike of these shoes by Charles David. The middle crossover strap is a deviation, but we think it adds to the shoe's sexiness.
Best of all, you can buy a pair of Charles David "Karis" sandals from just $12.99 at Zappos and Amazon.
Charles David "Karis" Sandals, $12.99 – $21.99
Credit: revolutionpix / Brian To / FayesVision / WENN