Kylie Jenner was born on August 10, 1997, making her just 24 years old. It also makes her a Leo zodiac sign, which fits perfectly with her career in the public eye.
Like most of her family, she first rose to fame on the hit reality TV series Keeping Up with the Kardashians. Kylie and Kendall Jenner were mere children when the show began, and neither of them has ever grown-up or experienced adult life out of the spotlight.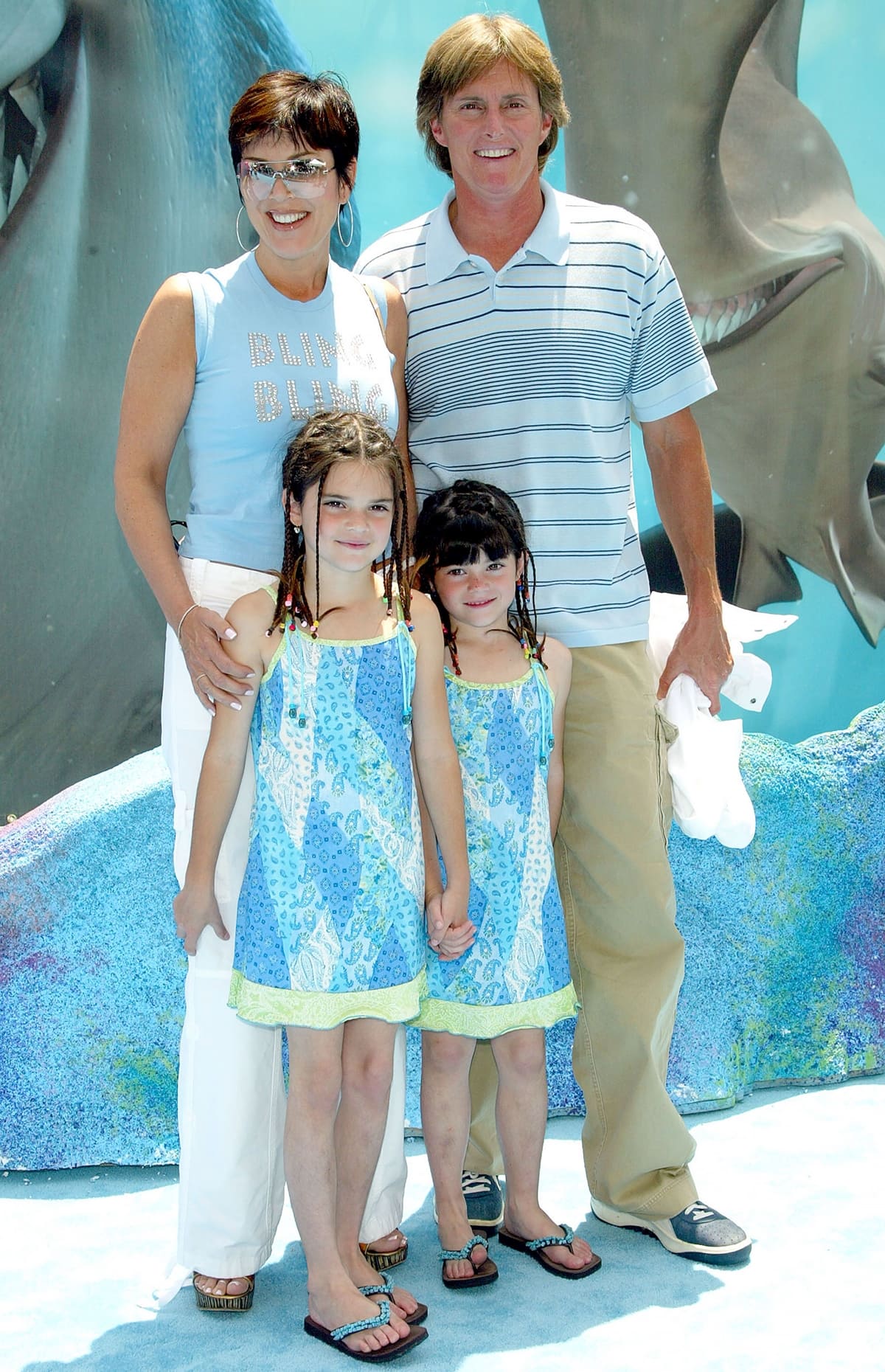 Kris Jenner, Bruce Jenner, Kendall Jenner, and Kylie Jenner attend the "Finding Nemo" Los Angeles Premiere at El Capitan Theater in Los Angeles on May 18, 2003 (Credit: DFree / Shutterstock)
When she was just 18 years old, Kylie went into business for herself and launched Kylie Cosmetics. The company has been hugely successful and has made Kylie Jenner an almost-billionaire.
She also had a gigantic social media following, particularly on Instagram, where she currently boasts 319 million followers.
How Often Does Kylie Jenner Get Her Nails Done?
As a full-time celebrity, Kylie Jenner's look is widely influential, and she likes to stay in tip-top shape at all times. She is known to get her nails done on a weekly basis.
Rumored to have had plastic surgery, Kylie doesn't settle for any regular style, either. She has publicly stated that she can spend up to 4 or 5 hours in the salon for some of the crazier styles that she's had.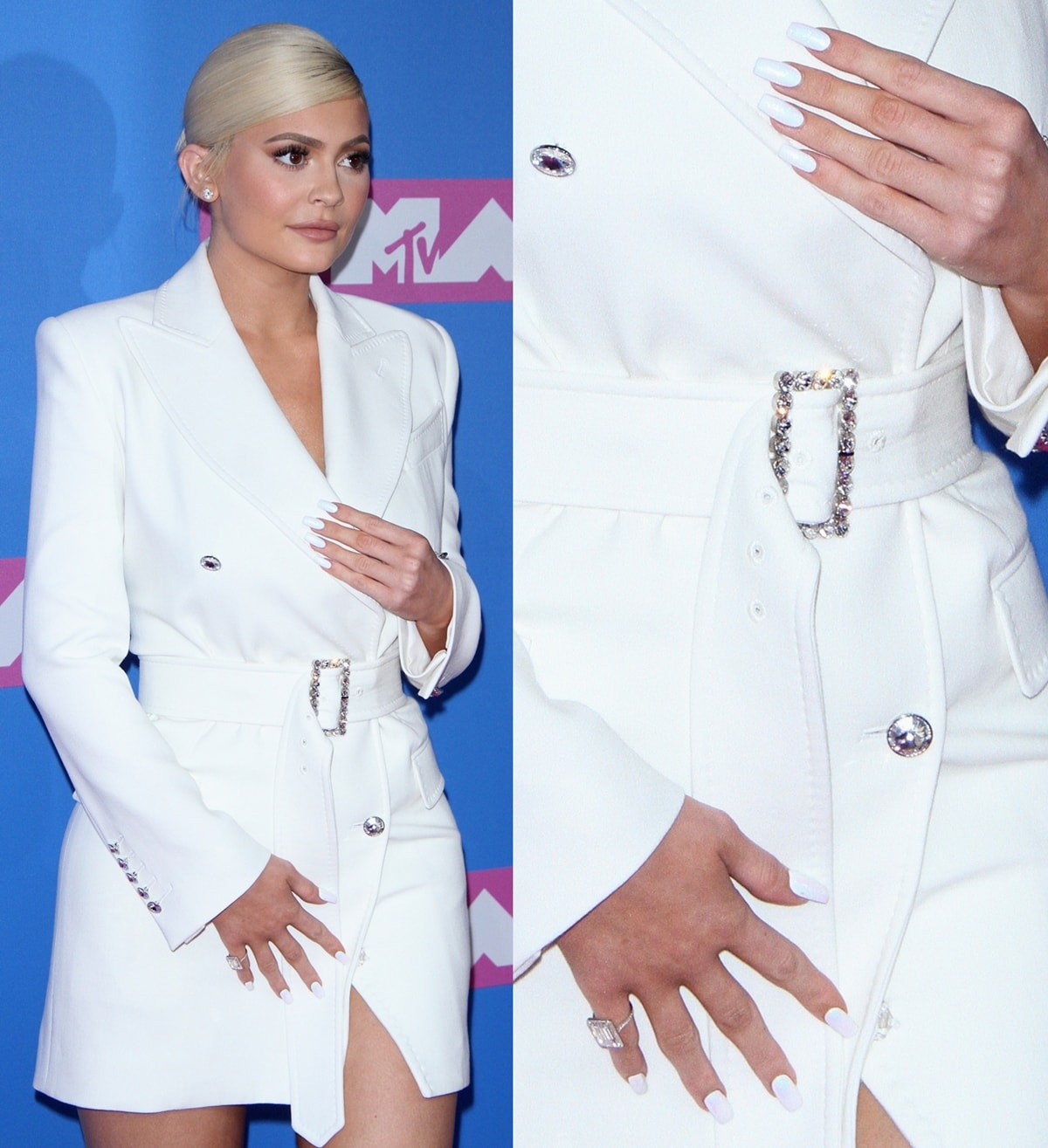 Kylie Jenner shows off her expensive nails at the 2018 MTV Video Music Awards (Credit: Tinseltown / Shutterstock)
Kylie Jenner has had nail designs from pearl-encrusted tips, all kinds of geometric and trippy patterns, and fashion-forward "dripping nails".
Where Does She Get Her Nails Done?
Kylie Jenner often gets her nails done by the one and only Chaun Legend, who has corroborated Kylie's story regarding the length of her nail appointments.
He also does a number of house calls, so at least Kylie can spend the hours in the comfort of her own home.
Kylie Jenner's nails at the 2017 Metropolitan Museum of Art Costume Institute Gala (Credit: Sky Cinema / Shutterstock)
Chaun Legend often charges celebrity clients at least $500 for the extravagant designs they choose. Beyond Kylie Jenner, Chaun Legend has done nails for Cardi B, Khloe Kardashian (Kylie's half-sister), and Zendaya.
How Much Does Kylie Jenner Spend on Her Nails?
With the upkeep required for her unique designs and Chaun Legend's high prices, Kylie Jenner is likely paying at least $2,000 a month for her nails.
View this post on Instagram
Basically, she could afford a studio (or even one-bedroom) apartment in almost any big city for the same price she spends on her nails.
However, that number doesn't seem so big when compared to her total spending- it is estimated that Kylie Jenner spends over $140,000 a month on various beauty treatments and products.
View this post on Instagram
"My mom always drilled it in my head to have nice, pretty nails," she told People in March 2016. "It's just really important to her. Anytime she meets someone, she'll look at your fingernails. I never cared when I was younger and I hated getting my nails done. It just took up my playtime. But she likes pretty nails, so that's where I got my nail obsession."
"I get my nails done every week," added Jenner. "I've sat literally for four to five hours doing them. I used to spend so much time doing the craziest artwork."
View this post on Instagram
But no matter how much she spends, Kylie Jenner makes more than enough to account for it. Given the fact that the young celebrity makes over $450,000 every single day, she won't be needing to pinch her pennies anytime soon.
Kylie Jenner wears her hair down as she leaves the Restoration Hardware Contemporary Art Gallery on April 13, 2016, in Los Angeles (Credit: WENN)
In April 2016, the youngest Jenner took a cue from her older sister Kendall Jenner and hit up Restoration Hardware Modern in Los Angeles to do some furniture shopping with her friend Hailey Baldwin.
Kylie went full-out with her makeup, but she uncharacteristically chose to dress down for the day.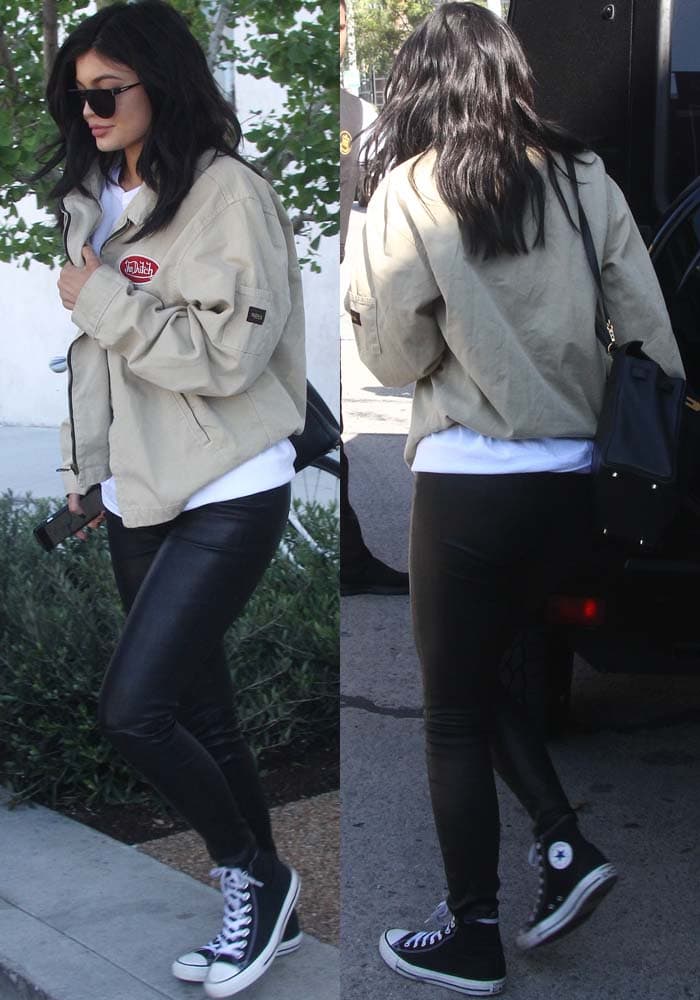 Kylie Jenner furniture shops in J Brand jeans and a Von Dutch jacket (Credit: WENN)
She wore a pair of skinny leather jeans by J Brand and a plain white tee hidden under a shapeless Von Dutch jacket.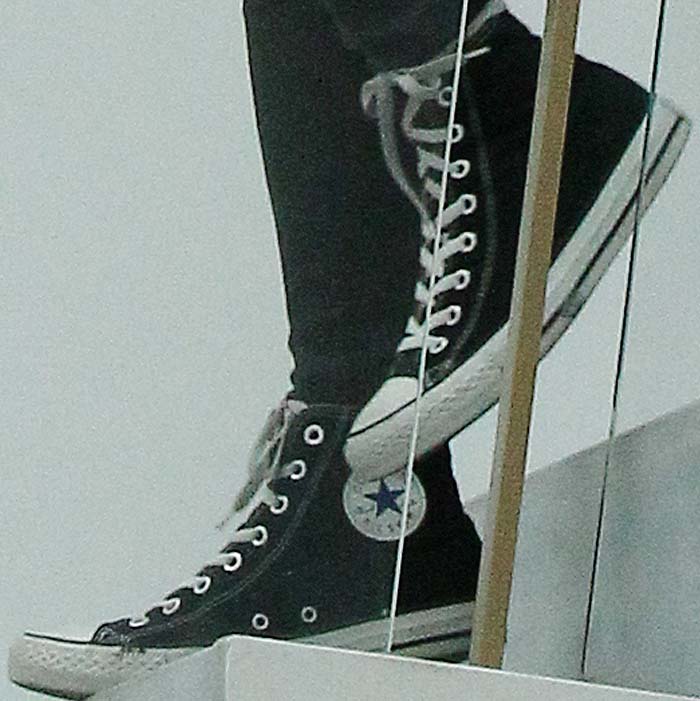 Kylie Jenner wears a pair of Chuck Taylor Converse sneakers while furniture shopping (Credit: WENN)
The then 18-year-old styled her casual outfit with a pair of Chuck Taylor Converse "All-Star" high-top sneakers and inserted a little luxury into her look with an Hermés tote.
Kylie Jenner takes a bathroom selfie inside Restoration Hardware Modern, captioning it "girls room" (Credit: Kylie Jenner's Instagram)
Kylie ignored a paparazzo's question about wedding plans with Tyga as she entered the building.
Kylie Jenner leaves Restoration Hardware Modern following a furniture shopping trip (Credit: WENN)
You can order these no-fail iconic Chuck Taylor Converse "All-Star" shoes at Zappos, Shopbop, and Net-A-Porter.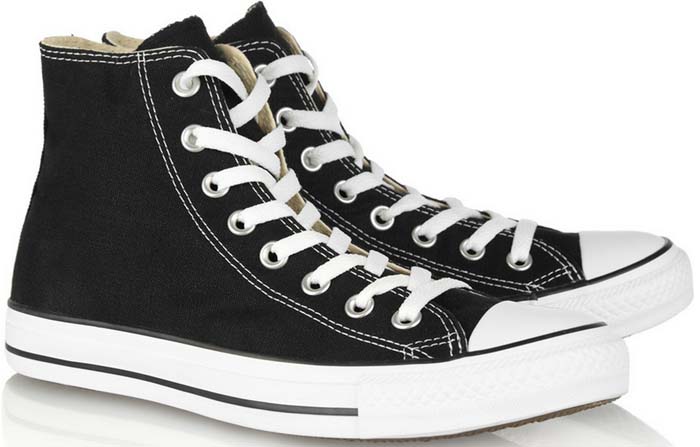 Created in 1917, the Chuck Taylor All Star sneaker was the original basketball shoe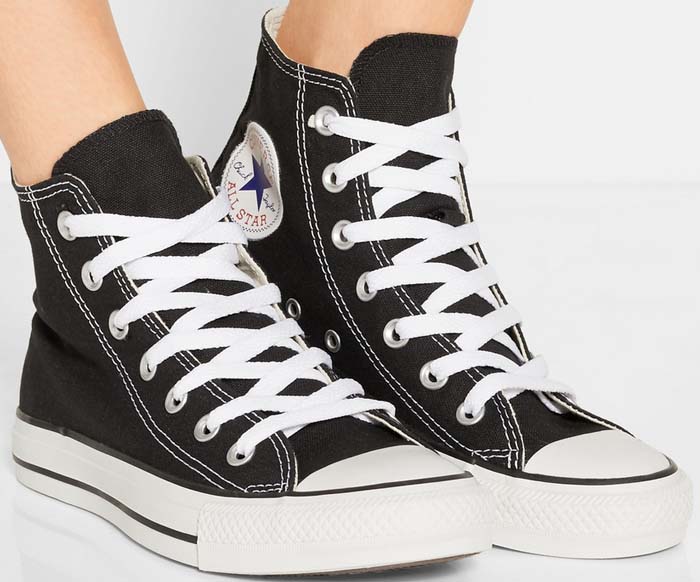 Chuck Taylor Converse "All-Star" High Top Sneakers, $60 – $85