Oscar-winning actress Sandra Bullock makes her craft look easy. Known for her films like Miss Congeniality, Practical Magic, and The Blind Side, the actress is about to step out of the spotlight for a bit.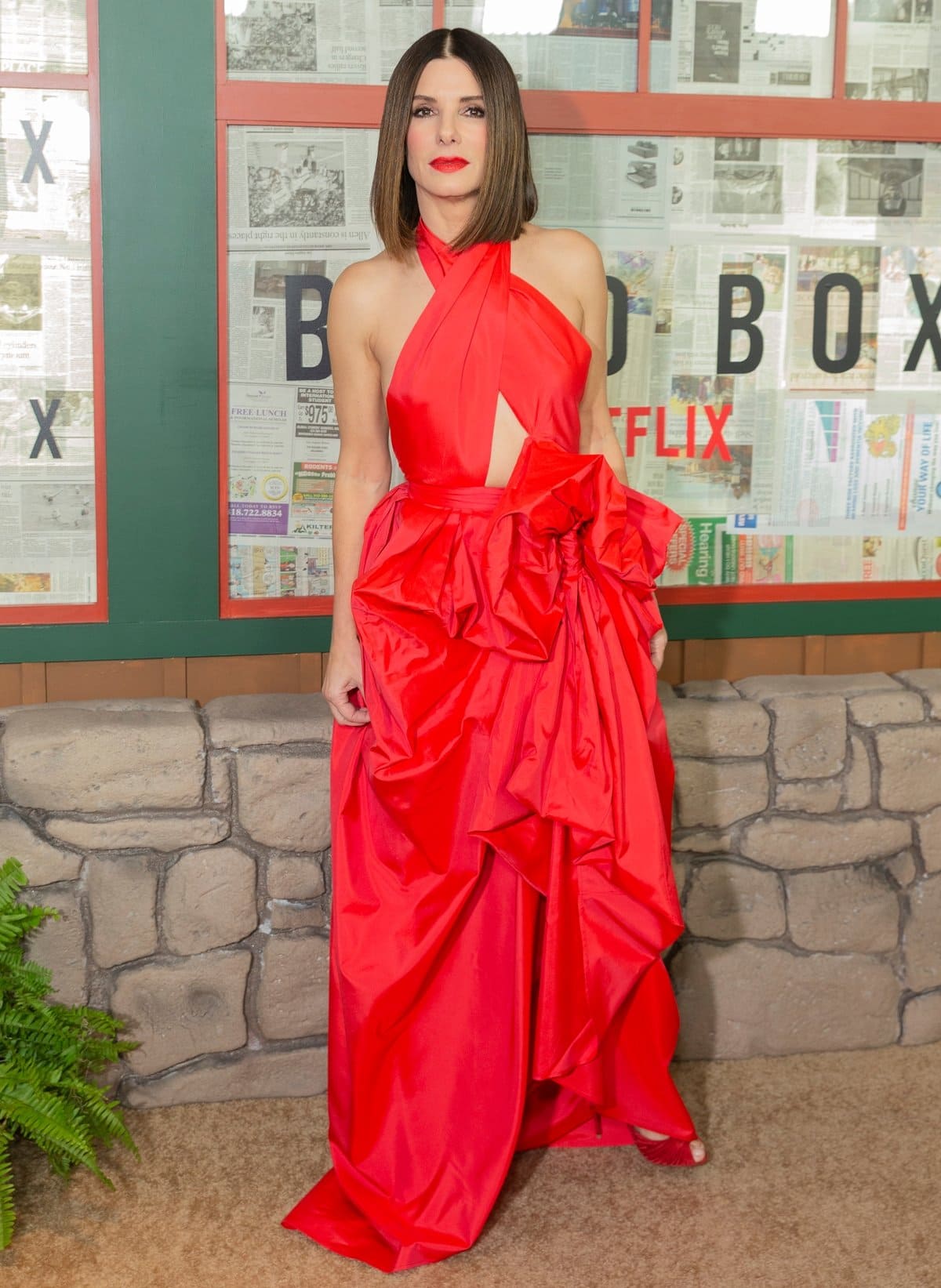 Sandra Bullock wearing a red cutout dress by Martin Grant attends the New York screening of 'Bird Box' at Alice Tully Hall Lincoln Center on December 17, 2018 (Credit: Lev Radin / Shutterstock)
Keep reading to learn why, as well as more about her storied career.
Sandra Bullock's Background
Performance is in Sandra Bullock's DNA. Her mother was a German opera singer, and Bullock performed in choirs as a child. Her father was a German chef, and much of her childhood was spent in Germany.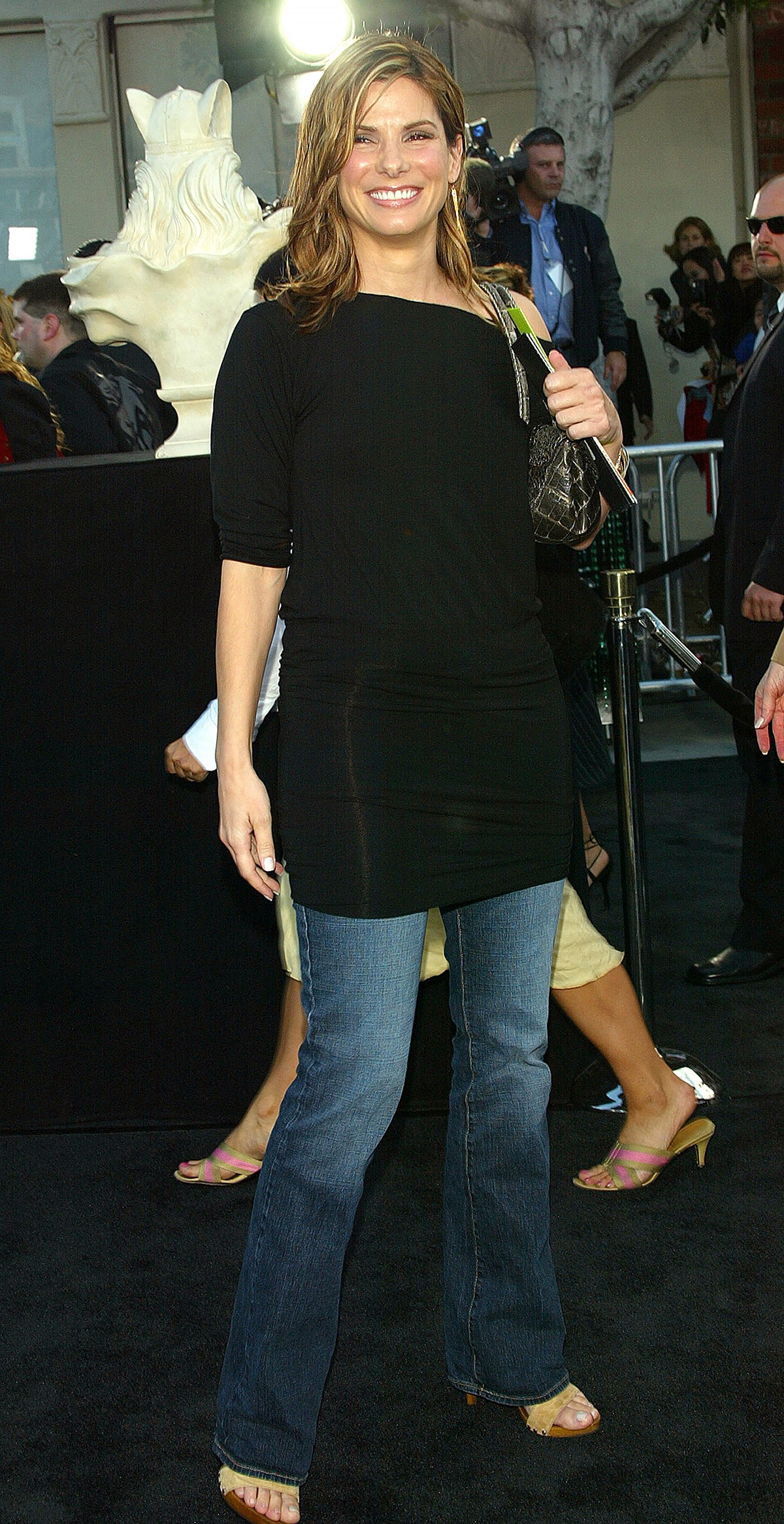 Sandra Bullock arriving in jeans to 'The Matrix Reloaded' Hollywood premiere on May 7, 2003, in Westwood, California (Credit: DFree / Shutterstock)
Bullock studied acting at East Carolina University, and after starting her career on the stage in New York, she began her film career.
4 Career Highlights
Most of Bullock's career has been in movies. Some of her career highlights include:
1. Practical Magic
This film of Bullock's became a cult classic that is still watched often around Halloween.
2. Miss Congeniality
Bullock starred in and produced this beloved comedy film near the beginning of her career.
Sandra Bullock as FBI Special Agent Gracie Hart in the 2000 American comedy film Miss Congeniality (Credit: Warner Bros. Pictures)
3. The Blind Side
This film was released in 2009, along with other popular films of hers, including The Proposal, and won Bullock her first Oscar. Her performance was widely celebrated by critics and fans alike.
4. Gravity
Bullock starred in this galactic movie with George Clooney and was nominated for a second Oscar.
Inside Her Hiatus
After decades in the spotlight, the actress is taking some time away from her career. Sandra Bullock recently shared that, though her acting career has been her focus for most of her life, she's ready to take time off to spend with her family.
Bullock gives her all to everything she does. Whether she's preparing for the role of a lifetime of caring for her children, she does so with pride.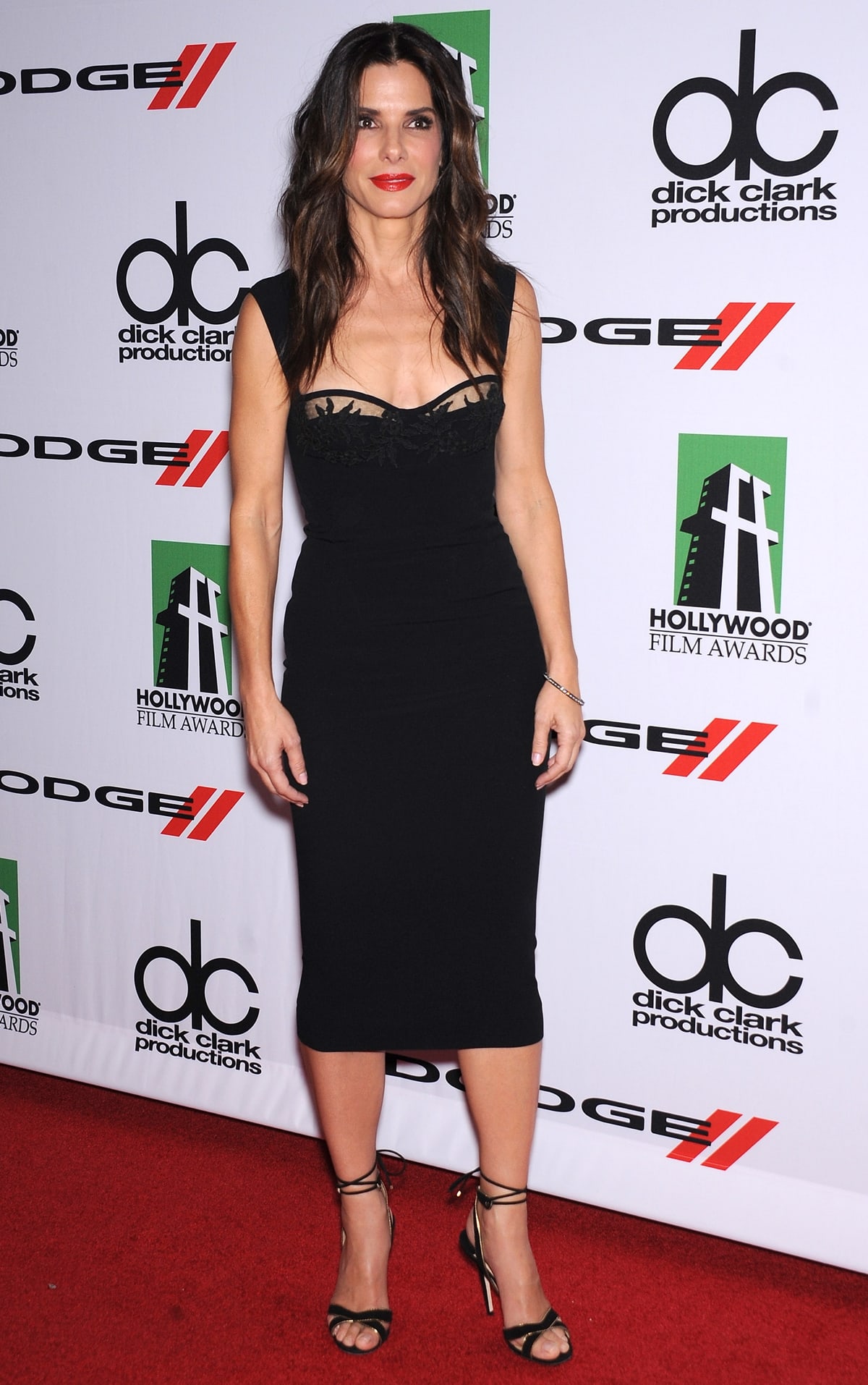 Actress Sandra Bullock in a black Dsquared² dress with Martin Katz jewelry and strappy Jimmy Choo 'Denar' sandals at the 17th annual Hollywood Film Awards at The Beverly Hilton Hotel on October 21, 2013, in Beverly Hills, California (Credit: DFree / Shutterstock)
But because of the intensity she puts toward her job, she's unable to give her all to parenting and work at the same time.
Bullock found a solution, though. She's going to take a break from acting to spend more time with her family, noting that she wants to be available for her children at all times for the foreseeable future.
Bullock recently filmed The Lost City with Channing Tatum, Brad Pitt, and Daniel Radcliffe. Now that filming and press have both ended, she has the perfect opportunity to fully step into motherhood.
"I take my job very seriously when I'm at work," she told Entertainment Tonight. "And I just want to be 24/7 with my babies and my family."
"That's where I'm gonna be for a while," she said. "Servicing their every need," Sandra added. "Their social calendar."
"All the parents know me as the crazy lady with the pandemic," the actress revealed. "They know their children will return without COVID when they've come to our house."
Sandra Bullock's Family Life
Sandra Bullock has always wanted to be a mother, but she didn't always know when it would happen for her, since she spent the typical child-bearing years laser-focused on acting.
View this post on Instagram
But in 2010, motherhood began for Bullock when she adopted her son Louis, and she expanded her family in 2015 when she adopted her daughter Laila.
Bullock is in a relationship with Bryan Randall, a photographer, and the two have been together since 2015. The couple parent together, and Bullock has noted that he's a great partner to her and a wonderful example for their children.
"[Randall]'s the example I would want my children to have," Bullock told Jada Pinkett Smith in a December 2021 episode of Red Table Talk.
"I don't always agree with him and he doesn't always agree with me, but he is an example even when I don't agree with him. … He's the exact right parent to be in this position."
Sandra Bullock in a Lanvin Spring 2009 cocktail dress at the premiere of All About Steve held at Mann's Chinese Theater on August 26, 2009, in Los Angeles (Credit: Tinseltown / Shutterstock)
For Sandra Bullock's entire career, she's been nothing but talented and sought-after.
Thanks to her hard work, she's built a reputation that will carry her even during her hiatus. If and when she decides to return to the spotlight, we'll happily support her.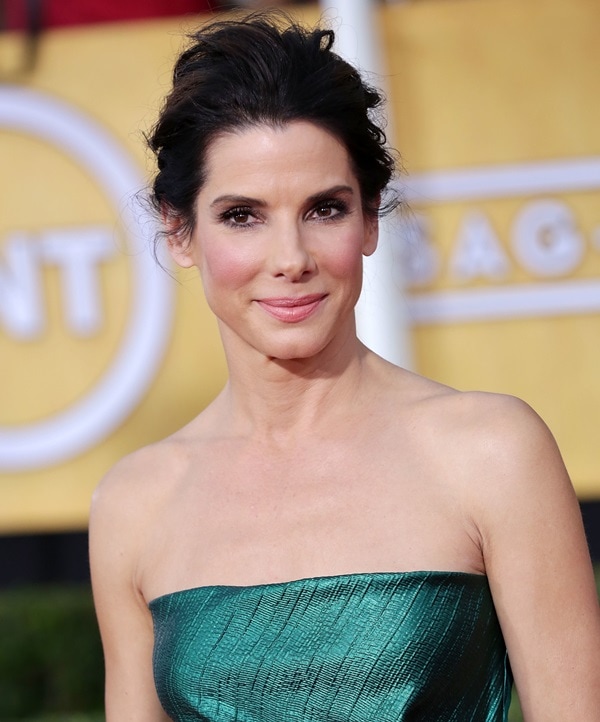 Sandra Bullock without earrings in an emerald green Lanvin gown (Credit: WENN)
In early 2014, Sandra Bullock showed off her feet in Casadei pumps at the 2014 BAFTA Awards.
Later the same month, the Speed actress once again made her entrance on the red carpet in Los Angeles at the 2014 Screen Actors Guild Awards.
Sandra Bullock flaunts her legs at the 20th Annual Screen Actors Guild (SAG) Awards held at the Shrine Auditorium in Los Angeles on January 18, 2014 (Credit: Bridow / WENN / Brian To / FayesVision)
The then 49-year-old styled a strapless emerald green gown by Lanvin with a metallic Roger Vivier 'Boite de Nuit' clutch and a simple gold bangle by Fred Leighton.
The American actress and producer completed the outfit with Jimmy Choo's "Valetta" sandals, which are strappy and in mirrored leather.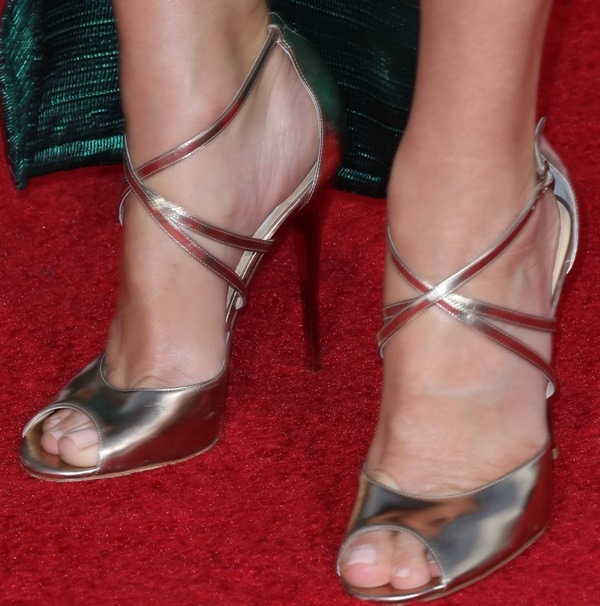 Sandra Bullock shows off her feet in Jimmy Choo "Valetta" sandals (Credit: WENN)
Do you think she looked good in the custom Lanvin dress? The Jimmy Choo 'Valetta' sandals are from the Cruise Collection that quickly sold out at Farfetch and Mytheresa.