Ever since her big break into Hollywood back in the late-1990s, Sandra Bullock has been turning heads and wowing audiences with her talented performances and charismatic flair.
Although she was born in Arlington, Virginia in 1964, Sandra grew up in Nuremberg, Germany, before moving back to the United States for high school.
Sandra Bullock made her first television appearance co-starring with Lindsay Wagner in the made-for-television science fiction action film Bionic Showdown: The Six Million Dollar Man and the Bionic Woman (often simply Bionic Showdown) that was released on April 30, 1989, when she was 24 years old (Credit: NBC)
With a knack for drama and the performing arts, Sandra pursued a career in acting, and after completing college in 1987, she moved to New York City.
Now, over 30 years later, Sandra Bullock is one of the most successful actresses in the movie business, with a long list of fantastic movies.
Showing flexibility in character portrayal, professionalism, and a powerful work ethic, she's pulled off some amazing roles. Let's take a look at some of her best, as we count down Sandra Bullock's top 10 movies, ranked in order of their Rotten Tomatoes critics score!
1. Gravity (2013) – 96% Score
If there was any doubt about Sandra Bullock's talent, her role in Gravity put all the naysayers to rest.
In this nail-biting sci-fi thriller, directed by Alfonso Cuaron, Sandra Bullock co-stars alongside George Clooney as a pair of astronauts who become stranded in space after a terrible accident.
Through a gripping and emotional performance, Sandra puts on a stunning show, proving that her career was far from over at age 48.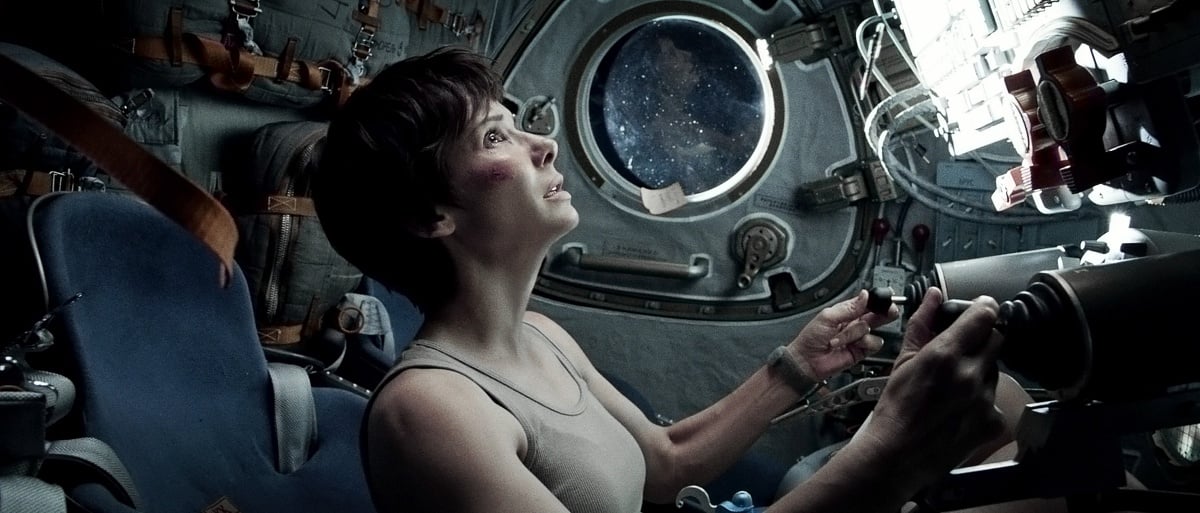 Sandra Bullock in her Oscar-nominated role as Dr. Ryan Stone in the critically-acclaimed sci-fi thriller Gravity (Credit: Warner Bros. Pictures)
In this challenging role, Sandra depicted her character with great strength and emotion, earning her several award nominations in the process.
In total, Gravity won over 200 individual film awards, while Sandra was nominated for the Academy Award for Best Supporting Actress.
Filming the movie was no small feat either, as the actress was mostly confined to a large, mechanical "cage" for up to 10 hours a day. It's no wonder why Gravity gets the top spot on our list of Sandra Bullock's top 10 movies!
2. Speed (1994) – 94% Score
At 29 years old, Sandra Bullock had acted in a few feature-length films, but it was 1994's Speed that truly put her on the map.
Directed by Jan de Bont and widely considered one of the best action films of the 1990s, Speed follows police officer Jack Traven (Keanu Reeves) as he attempts to outwit a terrorist who has rigged an occupied public bus to explode if it slows down.
Sandra Bullock plays Annie Porter, a passenger who steps up to the plate and helps Jack in more ways than one, eventually leading her and the rest of the caravan to safety.
Keanu Reeves as Jack Traven and Sandra Bullock as Annie Porter showing off their chemistry in the 1994 action movie Speed (Credit: 20th Century Fox)
Sandra had to put in some extra work to nail her role in Speed, as the production required her to learn how to drive a bus for real, which the actress surprisingly picked up with ease.
She also brought some improvisation and plot ideas to the set, which were eventually incorporated into the film.
It's easy to see why a year later, Bullock would go on to create her very own production company, Fortis Films. Overall, Speed is easily one of Sandra Bullock's top 10 movies and one of the most ridiculously entertaining action movies ever made.
Unfortunately, the movie was followed by an absolutely awful sequel.
3. While You Were Sleeping (1995) – 81% Score
Hot off her role in Speed, Sandra veered into the world of romance at age 30 as she further established herself as an actress, starting with 1995's While You Were Sleeping.
In this offbeat rom-com, Sandra plays the role of Lucy Moderatz, a lonely fare collector working in Chicago.
When she saves the life of a handsome passenger named Peter Callaghan (Peter Gallagher) whom she's recently become smitten with, she is mistaken for his fiancée, putting her in an awkward predicament as the man rests in a coma.
Sandra Bullock charming audiences as Lucy Eleanor Moderatz in the 1995 rom-com While You Were Sleeping (Credit: Walt Disney Studios Motion Pictures)
Interestingly, Sandra Bullock almost missed out on this massive role that further propelled her stardom. At first, Lucy's part was written specifically for actress Demi Moore, but Sandra grabbed the role after Demi was unable to commit.
For her layered and humorous performance, Sandra Bullock was nominated for the Funniest Leading Actress from the American Comedy Awards, while receiving loads of critical acclaim.
4. The Lost City (2022) – 79% Score
This hilarious entry on our list of Sandra Bullock's top 10 movies is also one of her most recent films, which was produced by her own studio, Fortis Films.
This adventurous romantic comedy was directed by Aaron and Adam Nee, and focuses on novelist Loretta Sage (Sandra Bullock) as she and male model Alan Caprison (Channing Tatum) go on an exotic book tour. When Loretta is kidnapped by a manic billionaire, Alan must save the day while she withstands interrogation.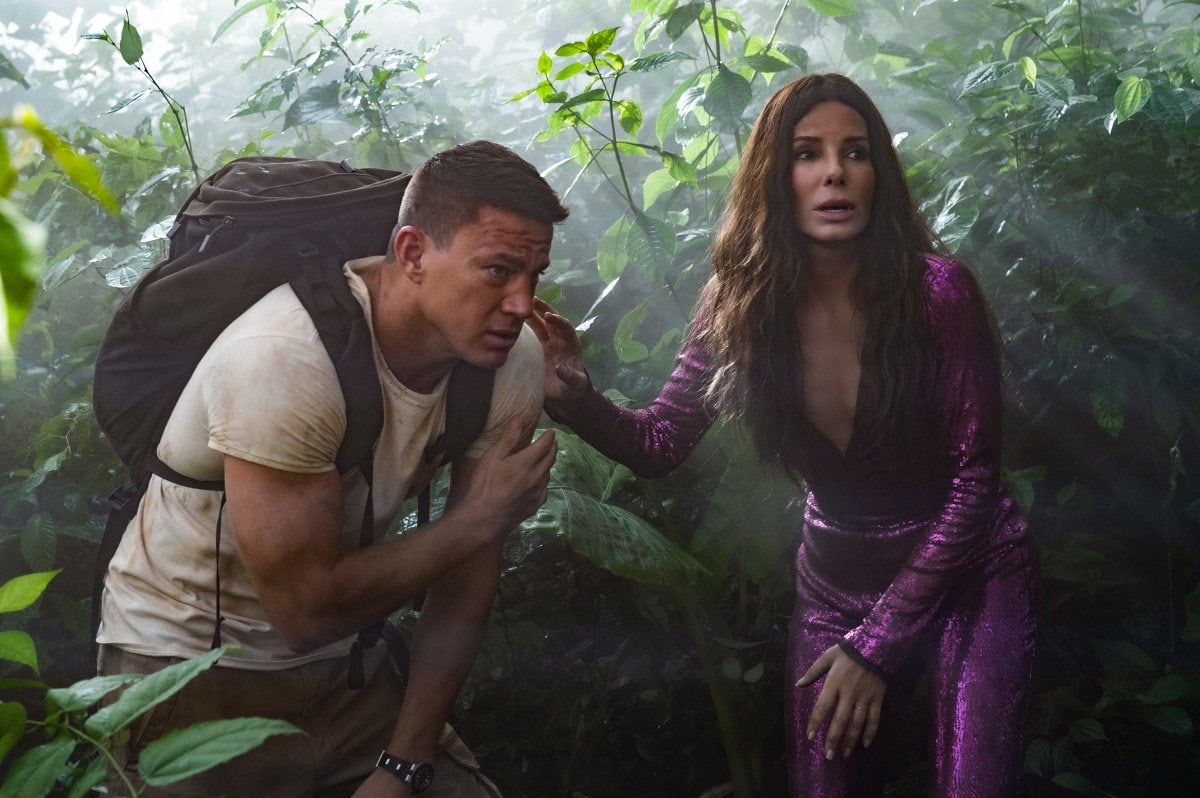 Sandra Bullock with co-star Channing Tatum in The Lost City, which was said to be her last movie for a while as she takes an acting break (Credit: Paramount Pictures)
At age 56, Sandra is nearly sixteen years older than her co-star Channing Tatum, but that didn't stop things from getting hilariously steamy on set.
Both performers recall some funny moments while filming Channing's nude scene, which Sandra said was awkward at first, but made easier by the actor's laid-back nature.
Overall, The Lost City is one of Sandra Bullock's best and most successful films, as it grossed a total of $177 million dollars during its theatrical run.
5. Crash (2004) – 74% Score
In 2004, at 39 years old, Sandra Bullock's career was bolstered even more by her performance in the award-winning drama, Crash.
This riveting film features an ensemble cast including the likes of Don Cheadle, Matt Dillon, and Keith David, and details the troubled lives of various characters living in Los Angeles, California.
In the film, Sandra plays Jean Cabot, the wife of District Attorney Rick Cabot (Brendan Fraser), and the couple is carjacked, leading to problems with Rick's political campaign.
Sandra Bullock captivated audiences with her performance as Jean Cabot in the Oscar-winning 2004 drama Crash (Credit: Lionsgate Films)
Crash is easily one of the most popular dramas of all time, as it won the Academy Award for Best Picture, while Sandra Bullock's performance was universally praised.
Funnily enough, while she receives top billing for her role, Sandra is only in the movie for a total of five minutes.
It goes to show that you don't need a ton of screen time to make an impression, as Crash is clearly considered one of Sandra Bullock's top 10 movies.
6. Infamous (2006) – 74% Score
Based on a book by author George Plimpton, Infamous is a drama film that recounts a decade of the career of esteemed literary genius Truman Capote (Toby Jones), as he researches his novel, In Cold Blood.
Sandra Bullock at the premiere of Infamous during the 31st Annual Toronto International Film Festival held at Roy Thompson Hall in Toronto, Ontario, Canada, on September 14, 2006 (Everett Collection / Shutterstock)
In the movie, Sandra Bullock plays Nelle Harper Lee, the famous author of To Kill a Mockingbird, and a close friend of Capote.
At 41 years old, Sandra plays the refined and intelligent author with finesse and confidence, adding plenty of star power to the project.
While many movie-goers argue that the 2005 film Capote is a better representation of the author, it's hard to deny the energy that Sandra adds to the story in her limited but important role.
Sandra Bullock as Harper Lee and Toby Jones as Truman Capote in the 2006 American drama film Infamous (Credit: Warner Independent Pictures)
Originally, Julia Roberts and Samantha Morton were in the running for the role of Harper Lee, but luckily, Sandra Bullock ended up nabbing the part. We're glad she did, as Infamous further proved her acting prowess and is definitely one of the actress' top 10 movies.
7. A Time to Kill (1996) – 68% Score
During her rise to stardom, Sandra Bullock nabbed a starring role in the legal thriller, A Time To Kill, based on the 1989 novel by John Grisham.
This intense story follows a controversial murder case led by lawyer Jake Brigance (Matthew McConaughey), which becomes more dangerous than he anticipated.
Sandra Bullock won the Blockbuster Entertainment Award for Favorite Actress in a Suspense Film at the 3rd Blockbuster Entertainment Awards held on March 11, 1997, at the Pantages Theatre in Los Angeles (Credit: Featureflash Photo Agency / Shutterstock)
At age 31, Sandra Bullock plays the young, aspiring law student Ellen Roark, who helps Jake with the case as it receives national attention.
Like with her role in Infamous, Sandra's performance was well regarded, despite her somewhat limited time in the movie.
Matthew McConaughey was 26 years old and Sandra Bullock was 31 years old when the 1996 American legal drama film A Time to Kill was released on July 24, 1996 (Credit: Warner Bros.)
In fact, the actress only appears in one scene for the first hour of the movie, but that didn't stop critics from showering her with praise. Sandra received two award nominations for her role, further strengthening her reputation in the industry.
8. Ocean's 8 (2018) – 68% Score
In recent years, Sandra Bullock has been expanding her repertoire even further, with Ocean's 8 seeing the actress in one of her first heist films.
As a spin-off of the popular Ocean's 11 franchise, Ocean's 8 was directed by Gary Ross and stars an all-female cast of crooks and thieves who attempt a daring robbery at the Met Gala fashion show.
Sandra Bullock plays the role of Debbie Ocean, a con artist who organizes and leads the crew in their endeavor.
Sandra Bullock leads the all-star ensemble cast of the 2018 spin-off heist movie Ocean's 8 (Credit: Warner Bros. Pictures)
Ocean's 8 featured an all-star cast with some of the best actresses in the business, including Anne Hathaway, Cate Blanchett, and Mindy Kaling, but Sandra Bullock still stands out among the talent.
At 53 years old, Sandra still has the smooth moves to pull off exciting scenes, while also showcasing her linguistic skills.
Fun fact: Ocean's 8 is one of the only movies where the actress speaks German (which she is fluent in), making it a fun and unique entry on our list of Sandra Bullock's top 10 movies.
9. The Blind Side (2009) – 66% Score
At age 44, Sandra Bullock received the biggest boost in her career since the 1990s, when she took on a role in this incredibly popular biographical sports film.
The movie, which is based on the book by John Lee Hancock, details the career of American football player Michael Oher (Quinton Aaron), who beats the odds and rises to stardom.
Sandra plays the role of Leigh Anne Tuohy, a woman in the community who helps Michael through early hardship and eventually adopts him as her own son.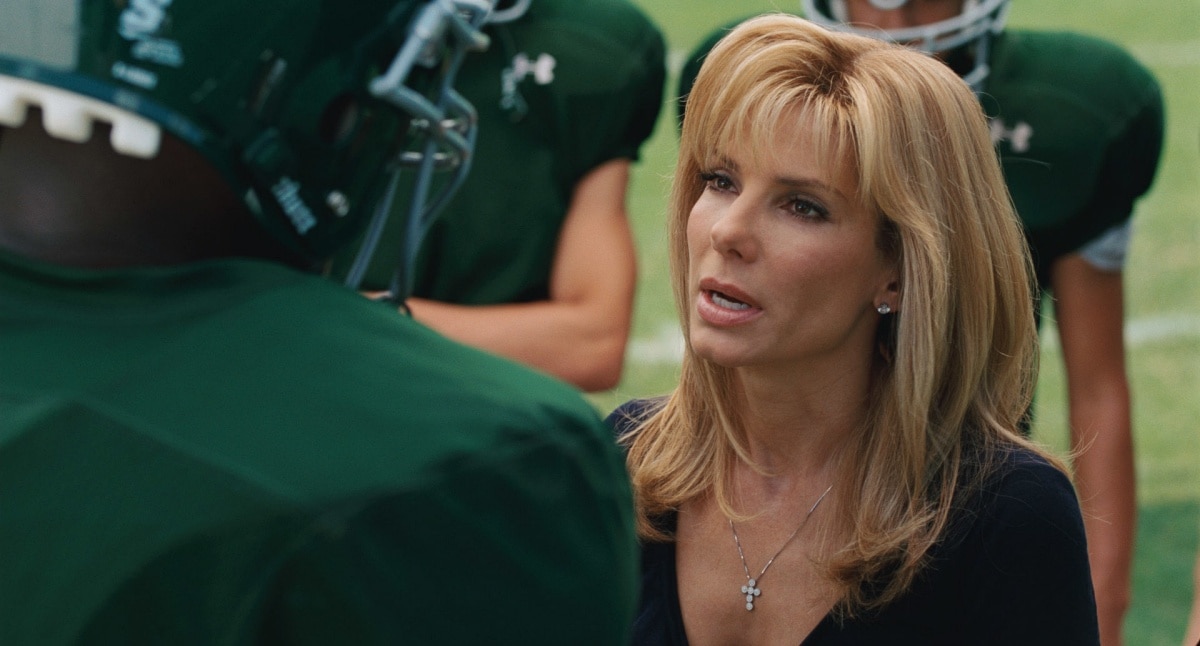 Sandra Bullock as Leigh Anne Tuohy in the 2009 biographical sports drama The Blind Side (Credit: Warner Bros. Pictures)
Initially, Sandra refused to star in the movie as she doubted her abilities to portray a character who was a member of the Christian religion.
Eventually, she took the part, but only after rejecting it on three separate occasions.
Despite the mixed critical response (which places it lower on our list), The Blind Side was one of the biggest movies of Sandra's career, as it granted her universal acclaim and her first Academy Award.
10. The Heat (2013) – 66% Score
Just when you thought she couldn't be any more versatile as an actress, Sandra Bullock breaks expectations, as she did with the 2013 buddy cop comedy, The Heat.
Directed by Paul Feig, the movie follows the uptight FBI agent Sarah Ashburn (Sandra Bullock) who must team up with obnoxious Boston police officer Shannon Mullins (Melissa McCarthy) to take down a deadly drug kingpin.
Despite the middling reaction from critics, it was a hit at the box office, pulling in over $220 million total.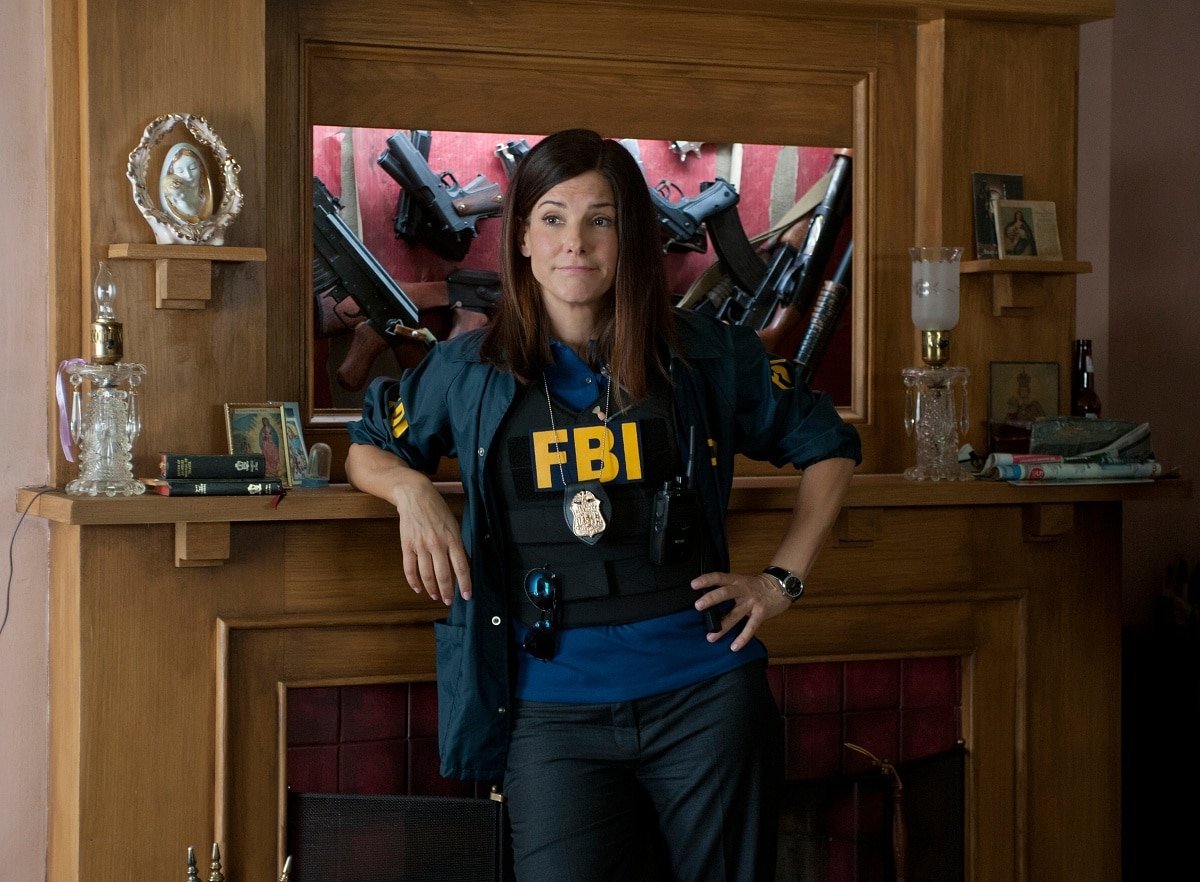 Sandra Bullock as FBI agent Sarah Ashburn in the 2013 buddy cop movie The Heat (Credit: 20th Century Fox)
Like in the case of Ocean's 8, Sandra continues to take on exciting, physical roles later in her career, as she was 48 when The Heat came out.
Interestingly, the actress has carved out a bit of a niche for herself, as she has been in almost every major modern movie about female law enforcement, including the Miss Congeniality series.
Due to her energetic performance and chemistry with Melissa McCarthy, The Heat is a great last entry on our list of Sandra Bullock's top 10 movies.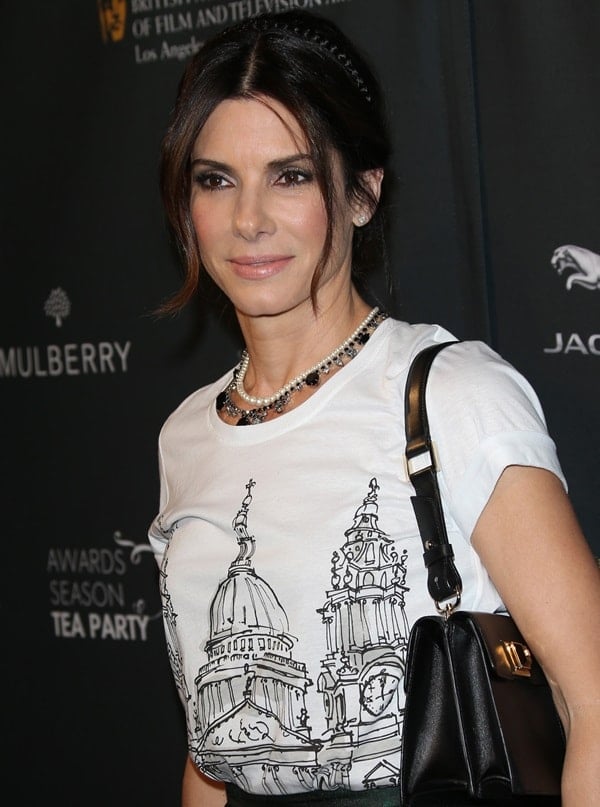 Sandra Bullock clips her hair back at the 2014 BAFTA Awards Season Tea Party held on January 12, 2014, at the Four Seasons Hotel in Beverly Hills
Just days after wearing exotic snake-print pumps from Kurt Geiger at the 2014 People's Choice Awards, Sandra Bullock once again hit the red carpet at the 2014 BAFTA LA Awards Season Tea Party with Aaron Paul, Alfonso Cuaron, Dan Stevens, Benedict Cumberbatch, and numerous other celebrities.
The then-49-year-old actress and producer opted for a Pre-Fall 2014 printed t-shirt and a pleated green jacquard pencil skirt from Burberry Prorsum.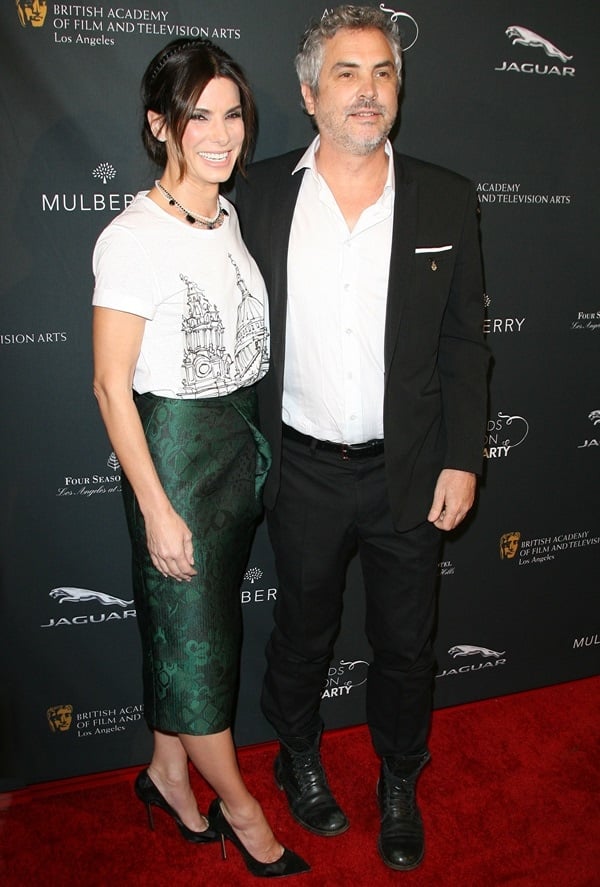 Director Alfonso Cuaron and Sandra Bullock pose for photos at the 2014 BAFTA Awards Season Tea Party
We love the graphic printed St Paul's Cathedral t-shirt, though it is rumored to cost at least $500.
Sandra styled the outfit with a black pair of mesh-and-suede pointy-toe Casadei Rodio Steelix pumps.
Sandra Bullock wears a Burberry Prorsum top-and-skirt combo with Casadei pumps (Credit: Adriana M. Barraza / WENN / FayesVision / SIPA)
Sandra completed the outfit with a black crystal necklace by Tom Binns, though some fashion critics thought that the necklace was entirely superfluous and ruined the outfit. What do you think?
How about her pumps? They are available in a couple of colors on Casadei: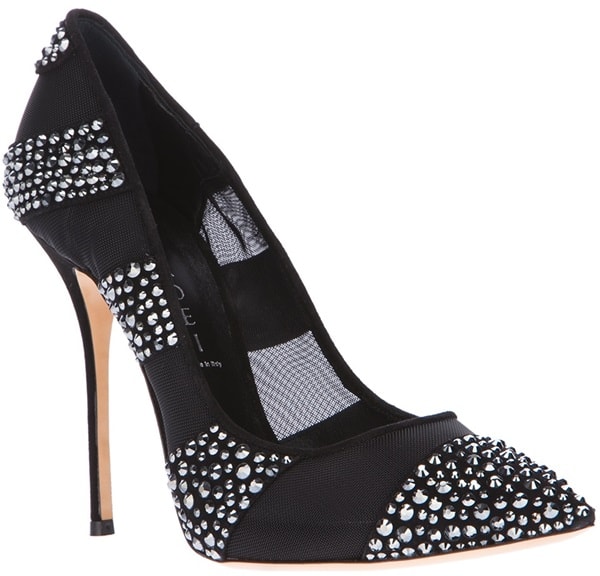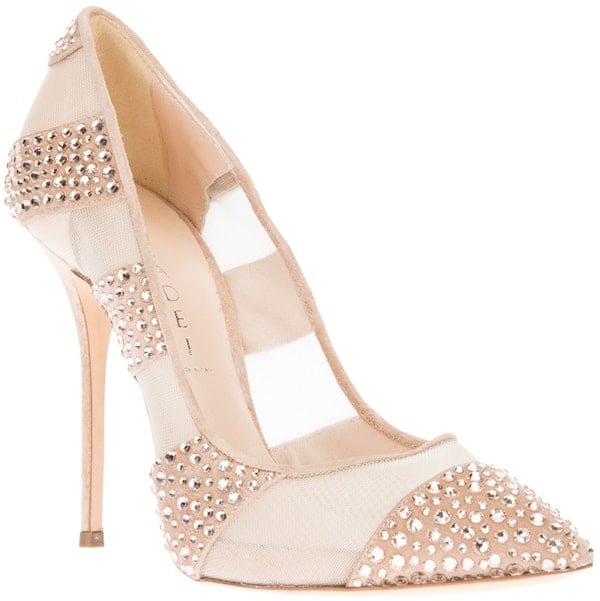 Casadei Rodio Steelix Pumps, $935