She has been serving us look after look while on the promotional tour for her latest movie, The Lost City.
The film is inspired by the 1984 action-adventure romantic comedy film Romancing the Stone and its 1985 sequel The Jewel of the Nile.
Sandra Bullock portrays a frustrated yet depressed best-selling romance novelist and Channing Tatum plays a dimwitted cover model in The Lost City, which is inspired by Romancing the Stone and The Jewel of the Nile (Credit: Paramount Pictures)
On Thursday, Sandra Bullock continued her sartorial winning streak at the UK premiere of the action-comedy film in London's Leicester Square.
Posing alongside her co-stars, the 57-year-old actress ditched the usual red-carpet dresses for a black suit with a twist.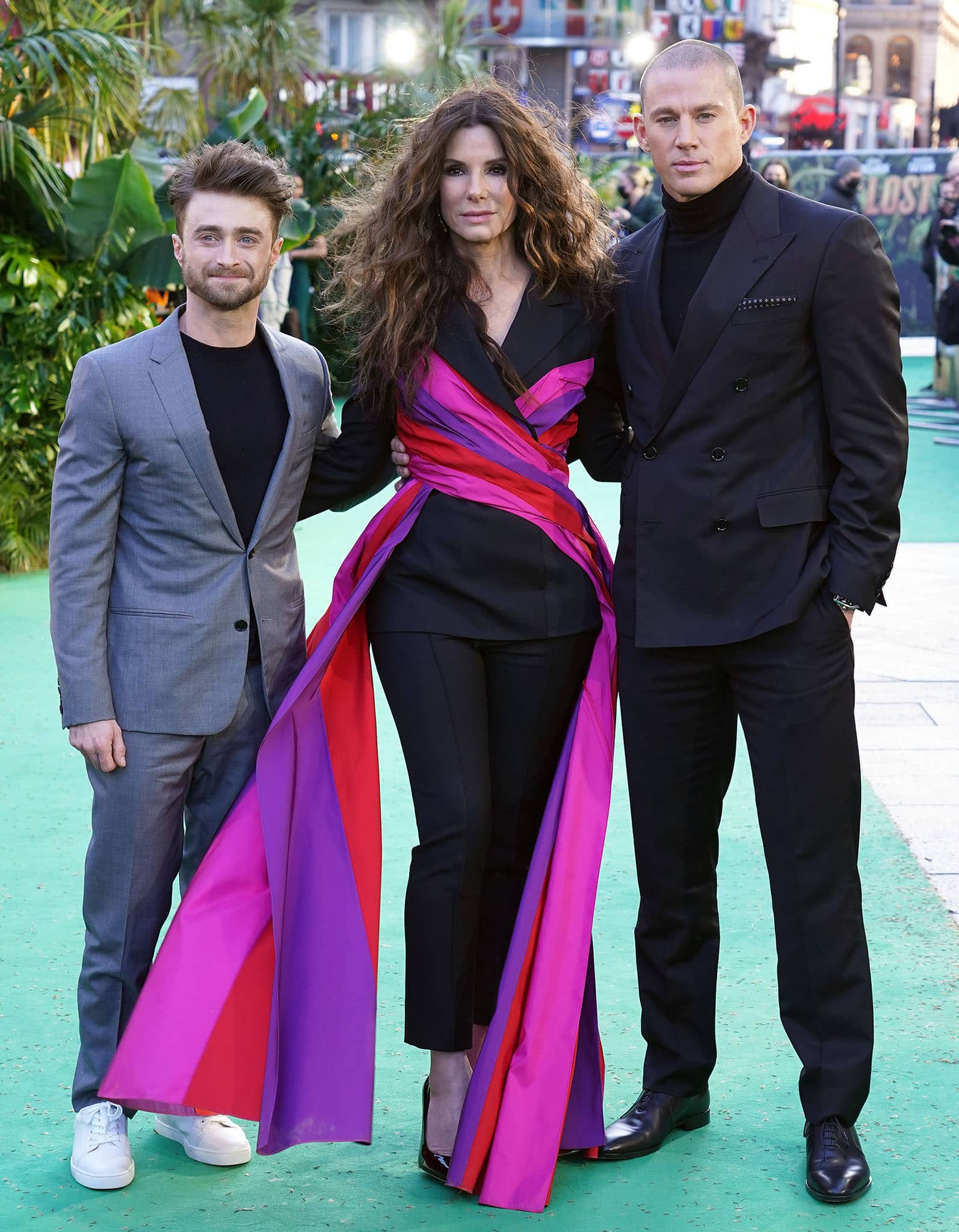 Daniel Radcliffe, Sandra Bullock, and Channing Tatum at the UK premiere of The Lost City on March 31, 2022 (Credit: PA Images / INSTARimages)
Sandra looked sharp in a $3,990 Carolina Herrera Fall/Winter 2022 black pantsuit that included a double-breasted jacket with peaked lapels and a pair of cigarette trousers.
The fashion-forward number also has a draped multicolored pink and purple ruched paneling at the bust that leads to a dramatic short train, providing an elevated twist to the classic suit trend.
Her train-detailed double-breasted jacket is available for pre-order on Moda Operandi.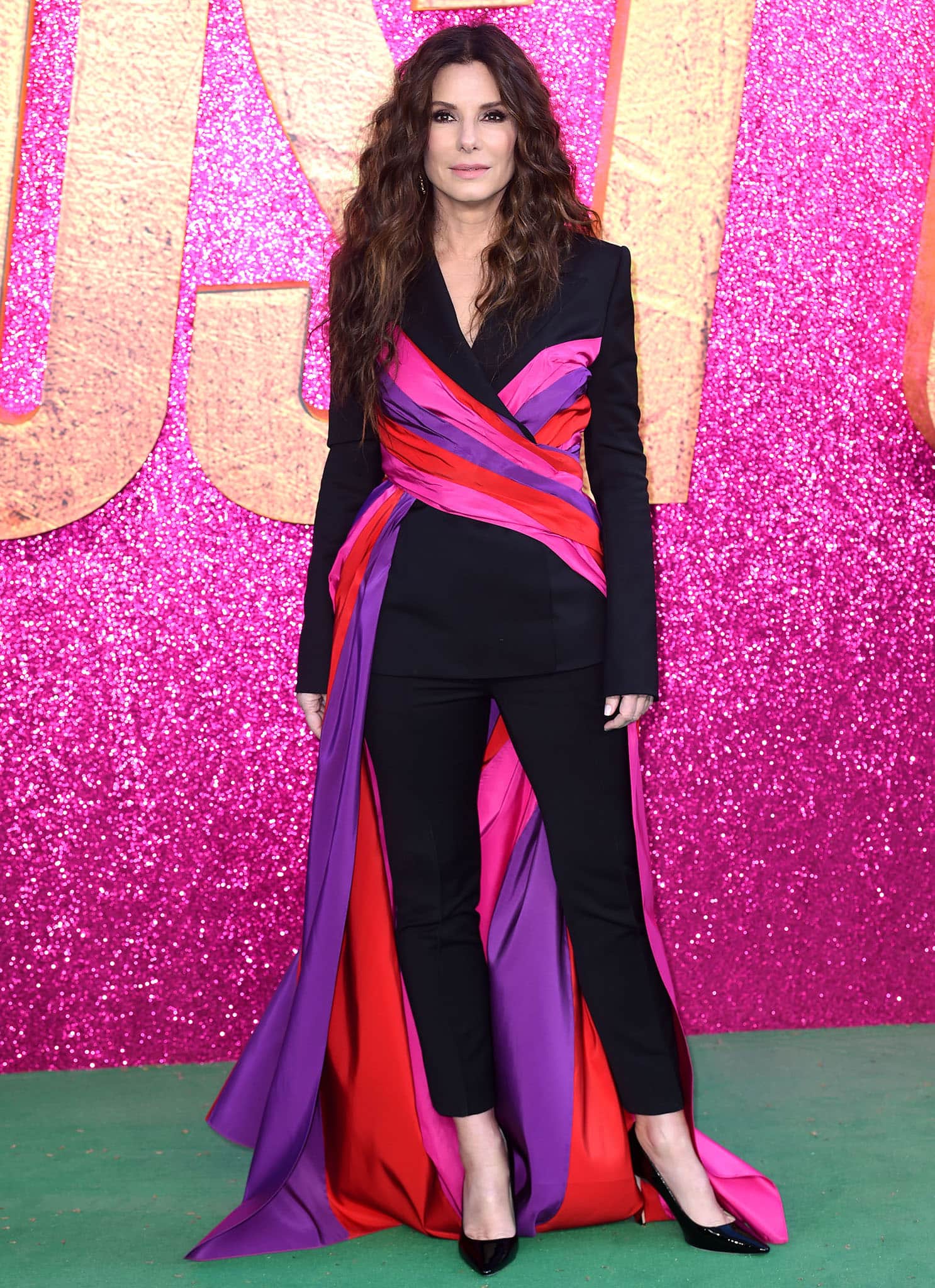 Sandra Bullock continues her sartorial winning streak in Carolina Herrera train-detailed suit (Credit: PA Images / INSTARimages)
The Speed 2 actress kept the rest of her look simple, accessorizing with just a pair of earrings and classic black patent leather pumps for a streamlined look.
She then wore her brunette hair in voluminous curls and went for neutral makeup with subtle smokey eyeshadow and matte pink lipstick.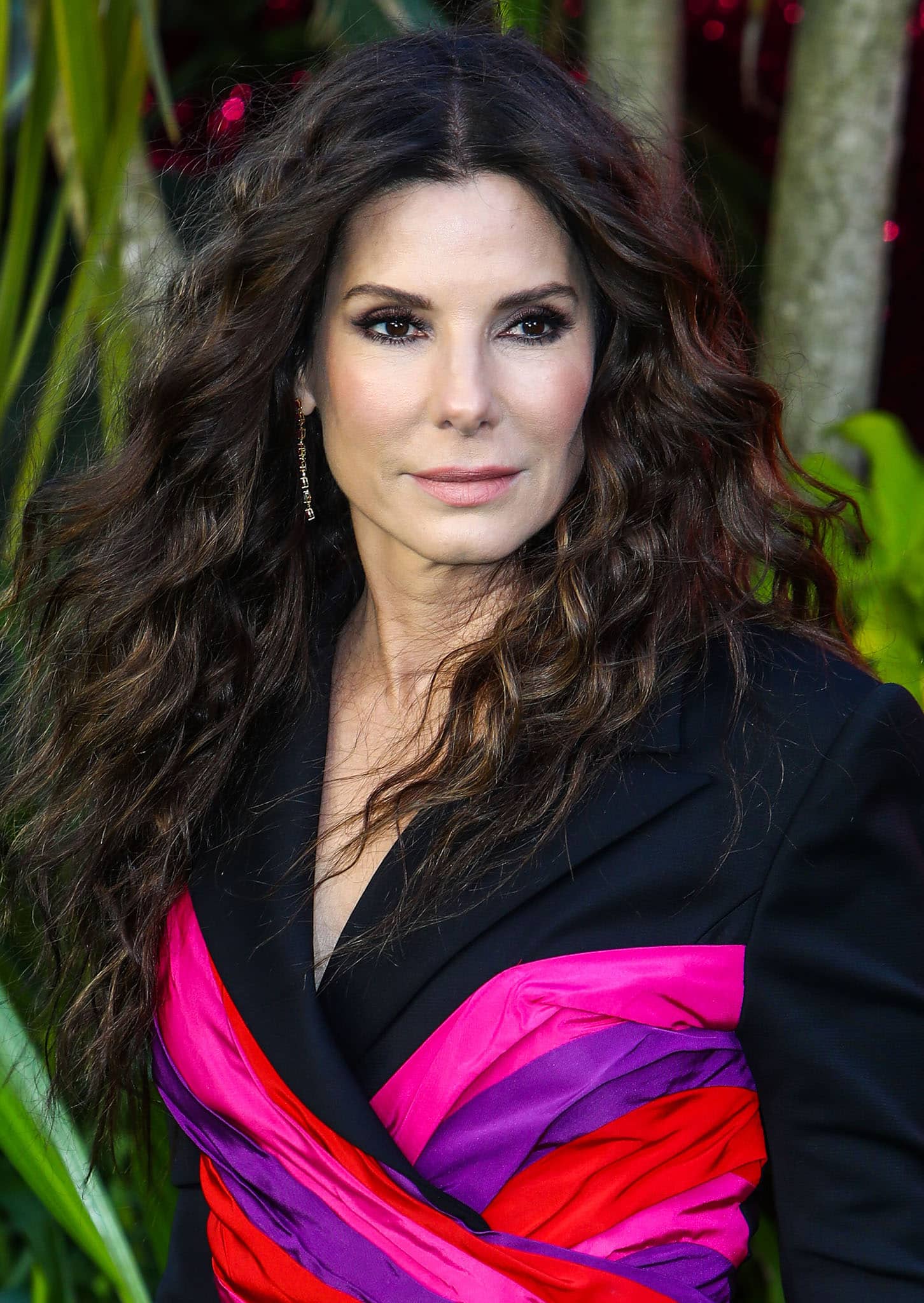 Sandra Bullock styles her hair in voluminous curls and wears neutral makeup with smokey eyeshadow and matte pink lipstick (Credit: John Rainford / Cover Images / INSTARimages)
Meanwhile, Channing Tatum, who was MIA at the New York and Los Angeles premieres of their movie, looked handsome in head-to-toe black. He wore a high-neck sweater with a double-breasted jacket, black slacks, and dress shoes.
"I can't believe I got to work with either one of them," Channing said on The Ellen Show of working with Sandra Bullock and Brad Pitt in The Lost City.
"I met [Brad] once. I've ridden motorcycles with him. And again, it's the same situation, he's everything you want him to be."
"I think people just don't know how funny he is. I think he's done comedies but nothing this broad," he added.
"This movie, I love it so much because they don't make movies like this anymore. It's Romancing the Stone, it's more broad. I'm probably more broad in this movie than maybe even in [21] Jump Street."
Brad Pitt as human tracker and action man Jack Trainer in The Lost City (Credit: Paramount Pictures)
"We had so much fun on it. I hope people like it so we can hopefully make another one," he continued.
"I gave a note. I have to wear a wig for my cover model sort of look, Dash's look, and I said 'I just want to look like Legends of the Fall Brad Pitt. 'Could you please just make me that? Make me as close to that as you can possibly make me,'" he added of Brad's iconic long-haired look in the 1994 American epic Western film Legends of the Fall.
The 41-year-old actor, who is not related to Hollywood legend Stockard Channing, has been busy working on the third and final installment of the Magic Mike franchise, Magic Mike's Last Dance, which is now in production in London.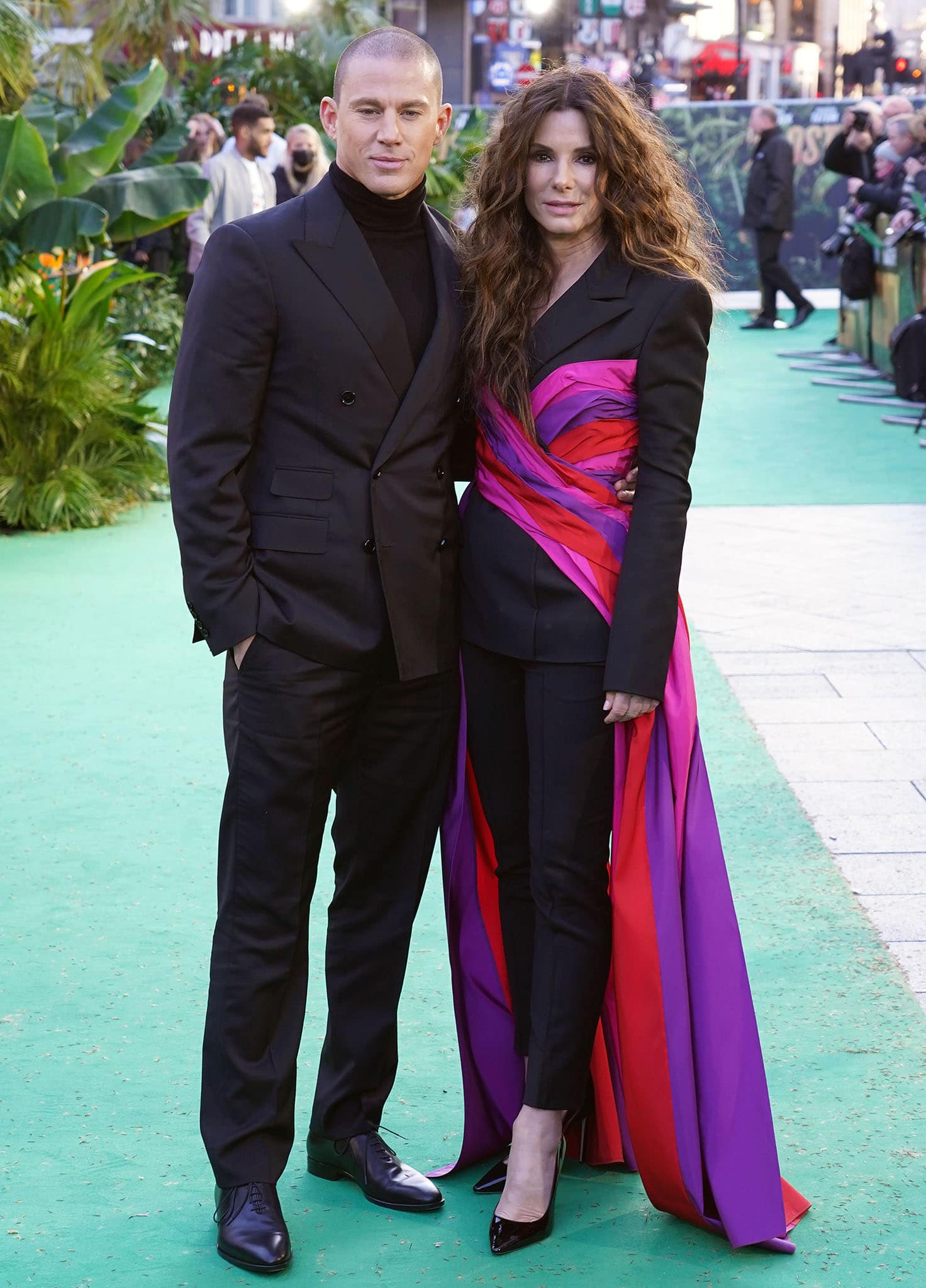 Channing Tatum looks handsome in a black suit with a turtleneck sweater (Credit: PA Images / INSTARimages)
Daniel, on the other hand, chose a gray suit with a knit black sweater and a pair of white sneakers.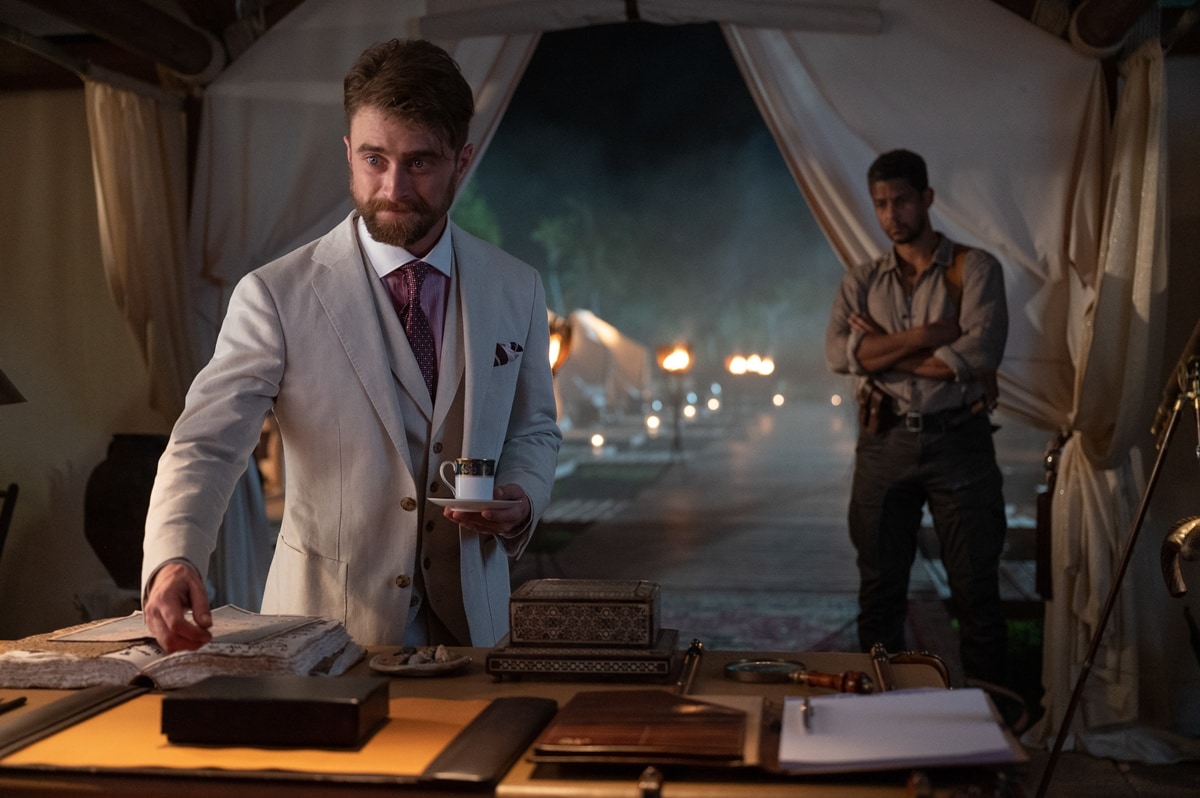 Daniel Radcliffe plays eccentric billionaire Abigail Fairfax in the 2022 American action-adventure comedy film The Lost City (Credit: Paramount Pictures)
His latest red-carpet appearance came after he declined to comment on Will Smith-Chris Rock's slapping incident at the 2022 Oscars.
"I'm just so already dramatically bored of hearing people's opinions about it that I just don't want to be another opinion adding to it," he told Good Morning Britain hosts Susanna Reid and Ben Shephard.
Sandra Bullock towers over Daniel Radcliffe who was clad in a gray suit and a black knit sweater (Credit: PA Images / INSTARimages)