After months and months of speculation, in a clip from 'Keeping Up with the Kardashians' released in 2015, it was revealed that Kylie Jenner's lips are indeed fake.
Her older half-sister, Khloé Kardashian Odom, admitted that Kylie has plumped up her lips. In another clip, Kylie also confirmed that she had temporary fillers put in.
After being encouraged by Khloé, Kylie told the film crew: "I have temporary lip fillers, it's just an insecurity of mine and it's what I wanted to do".
It did not really come as much of a surprise. Just compare a photo shared by Kylie on Instagram to another taken just two years earlier.
Fans of Kylie's pillow-like lips have been trying to emulate the look on social media in what's being called the "Kylie Jenner Lip Challenge".
Her young followers suck a shot glass to temporarily boost their pout. Many doctors in the field of lip fillers are warning that 17 is far too young for this sort of plastic surgery procedure.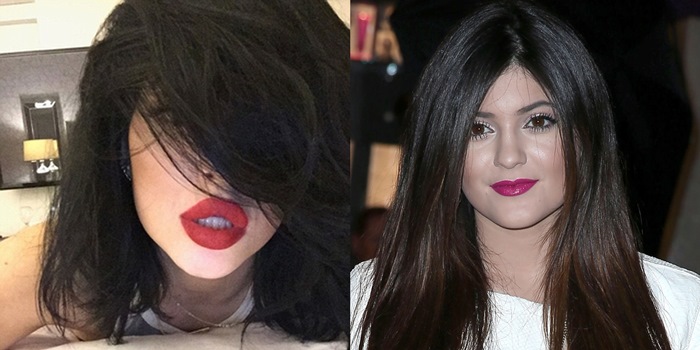 Photo shared by Kylie Jenner of her lips on Instagram in May 2015 / Kylie Jenner with smaller lips appears at Kardashian Khaos inside The Mirage Hotel & Casino in Las Vegas on December 15, 2012
"I definitely made my lips a little too big at one point," Kylie told Allure about her fillers in 2017.
"I got excited and felt like I needed to do a lot. And then you guys were like, 'Kylie, you need to chill.' And then I had to go back and have it fixed, and it was a crazy process. Thank God I didn't end up on Botched.'"
Kylie Jenner shows off her big lips while shopping at Barneys New York with friends in Los Angeles on February 19, 2016
"I was 15 and I was insecure about my lips… I [had] really small lips," the youngest of the Kardashian-Jenner sisters revealed in 2017 on her reality show Life of Kylie.
Speaking to her therapist, she continued: "It was like one of my first kisses and a guy was like, 'I didn't think you would be a good kisser because you have such small lips' "I took that really hard."
Kylie Jenner has admitted her lips got too big after undergoing plastic surgery
In May 2015, Kylie shared this photo of herself enjoying some decadent treats.
The then 17-year-old American reality television personality and model sported a gorgeous pair of sold-out metallic gold "Air Max 90 SP" sneakers from Nike.
Shared by Kylie Jenner on May 3, 2015, with the caption "I'm always eating ugh!"
Would you allow your 17-year-old daughter to get lip fillings?
Credit: Judy Eddy / WENN