No one can deny that Kylie Minogue is the celebrity to follow on Instagram if what you're after are stunning, scene-stealing footwear. Her collection of decadent jeweled sandals, fancy pointy stilettos, and sexy sky-high boots are all quite envy-worthy and fascinating to look at. The Aussie pop star's got all of them, and she flaunts them oh-so proudly via social media.
The singer was spotted showing off a fresh pair of knee-high boots when she was at Radio 1 studios in London the other day to promote her new single. The tall kicks were quite hard to ignore because they were elaborately decorated with gold buttons from side to side. She used the boots to cap off a gold-on-black ensemble. Not content with the combination she put together, she threw on a sparkly black scarf to add more drama to her look.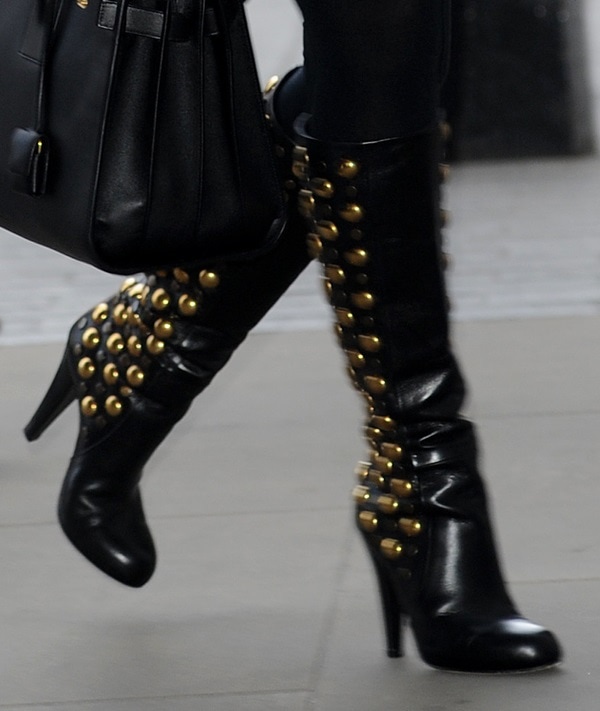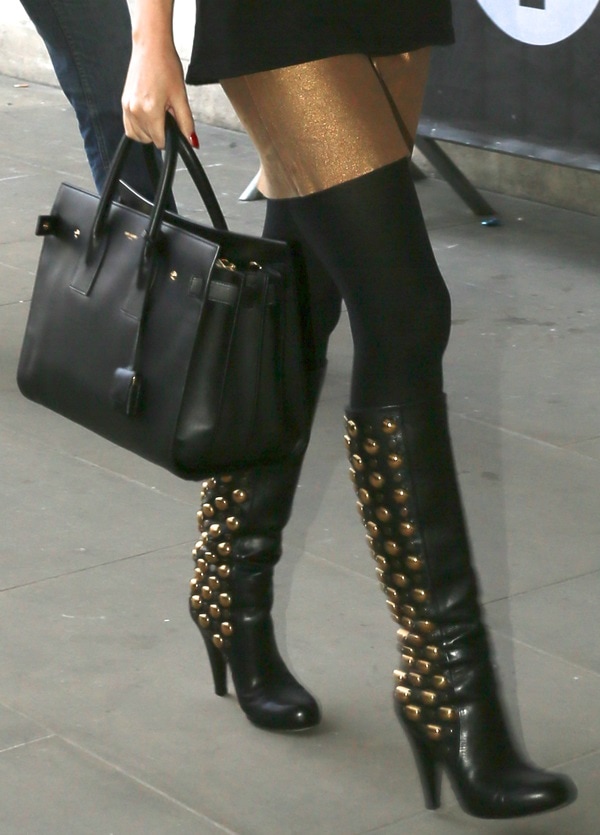 Kylie Minogue at Radio 1 studios in London, England, on March 18, 2014
Kylie Minogue amping up her style with a sparkly scarf
Wow. Talk about statement footwear. Do you like her shoes, or do you find them overdone?
As much as we tried, we could not find any details on Kylie's boots. Perhaps you can help us ID them instead? Any ideas? Judging from the colorless soles, they're not from Christian Louboutin. But we're pretty sure they're from another high-fashion label (read: they're expensive).
While we continue digging, allow us to leave you with a few pocket-friendly alternatives that are worth considering if you're looking to steal her style. Up for your consideration are these tall buttoned boots from Vince Camuto and Funtasma. One is a little more costume-ish than the other, so choose depending on your preference.
If you're after comfort, mileage, and versatility, we recommend the "Vacilla" from Vince Camuto. They're crafted from suede leather and strategically decorated with gold buttons on the outer shafts. The sparse design gives these boots a sleek and classy appearance, while the short block heels make them the perfect go-to pair for errands and more.
Vince Camuto "Vacilla" Boots, $198
If you like making a statement or getting people's attention through your wardrobe, you can try these buttoned boots from Funtasma instead. They feature gold buttons on the outer shafts with elastic loops as fasteners. They are also crafted from man-made materials, which contributes a lot to their affordability.
Funtasma by Pleaser Ringmaster Buttoned Boots, $80
Credit: WENN