Lady Gaga was seen wearing a sheer pink bra peeking out from a black unitard and her current favorite Azzedine Alaïa lace-up leather platform boots in black. She was in London to promote her latest single, "Swine," from her highly anticipated studio album, 'Artpop', and was seen leaving her hotel room and greeting her adoring fans.
Lady Gaga eating out late as she arrives at about 10 p.m. at The Sea Shell of Lisson Grove fish and chip restaurant in London on August 27, 2013
In true Gaga fashion, her hair was adorned with a sea shell, a starfish, and a sea lion, and she was seen carrying a plastic pink bottle with the words ART and POP scribbled in pink letters on each of her hands.
Lady Gaga promoting her latest album, 'Artpop', in London
It seems that Lady Gaga has a newfound love affair with Azzedine Alaïa lace-up platform boots since she's been spotted wearing these shoes on several occasions.
Who can blame her? These boots are gorgeous, and they complement any ensemble perfectly. With a double-buckle strap, stiletto heels and platforms covered in leather, black rubber soles, and a lace-up front, these boots are every bit as cool and edgy as the star wearing them.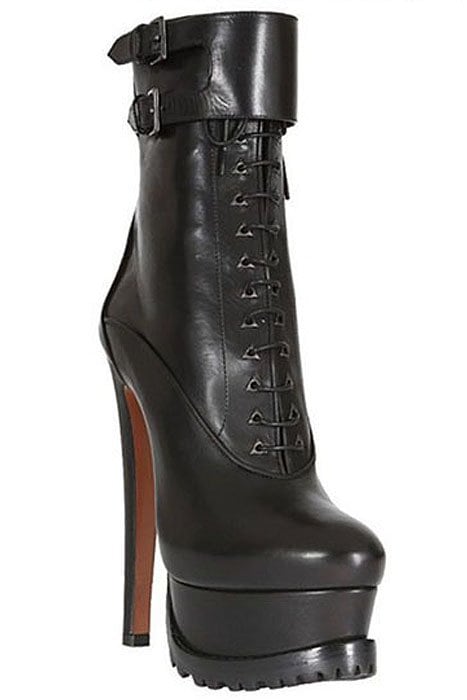 Azzedine Alaïa Lace-Up Leather Platform Boots in Black
Credit: WENN