Lady Gaga got the paparazzi all snap-happy when she stepped out in London yesterday wearing a sheer-lace gown that showed her nipples. Public nudity is nothing new for Gaga, and neither is the image of her naked body to us.
Lady Gaga arriving at The Box nightclub for an after-party after her performance at the O2 in London, England, on October 23, 2014
But considering how covered up she has been dressing lately, this well-ventilated black-and-white dress is the most scandalous outfit she's worn in a while.
Lady Gaga's braless state is visible through her lacy gown
Her see-through top completely exposed her naked breasts.
Lady Gaga baring her breasts while striking a pose for the cameras
As if the breast-baring, the nose ring, and the questionable eyebrows weren't enough, Lady Gaga paired her mad-yet-matronly look with these silver ankle-strap sandals:
Lady Gaga's feet in silver sandals
Very basic choice of shoes for someone like Lady Gaga to wear, don't you think? We kind of miss seeing mile-high platforms, heel-less styles, and other crazy designs from up-and-coming shoe designers on Lady Gaga.
We haven't gotten an ID confirmation on the silver sandals yet, but they appear to be the Manolo Blahnik "Chaos" sandals. These sandals have been spotted on Miley Cyrus and Jennifer Lawrence, and are the absolute favorites of Rihanna.
Manolo Blahnik Chaos Sandals, $725
Manolo Blahnik Chaos Ankle-Chain Sandals, $845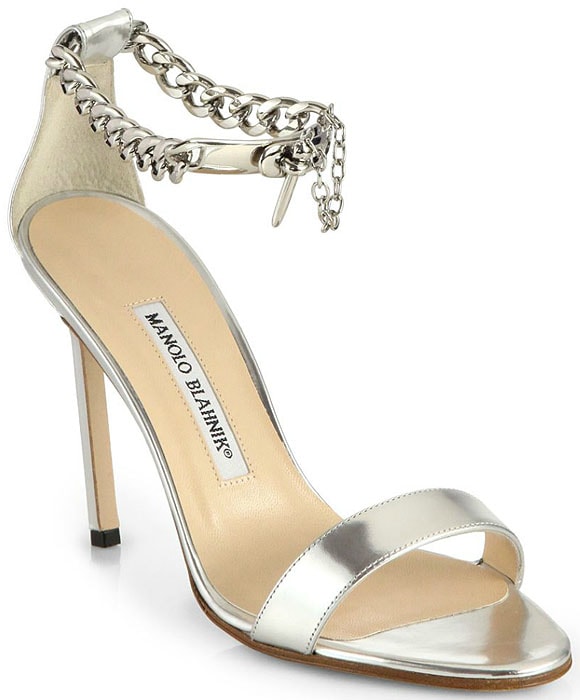 Manolo Blahnik Chaos Holo Sandals, $725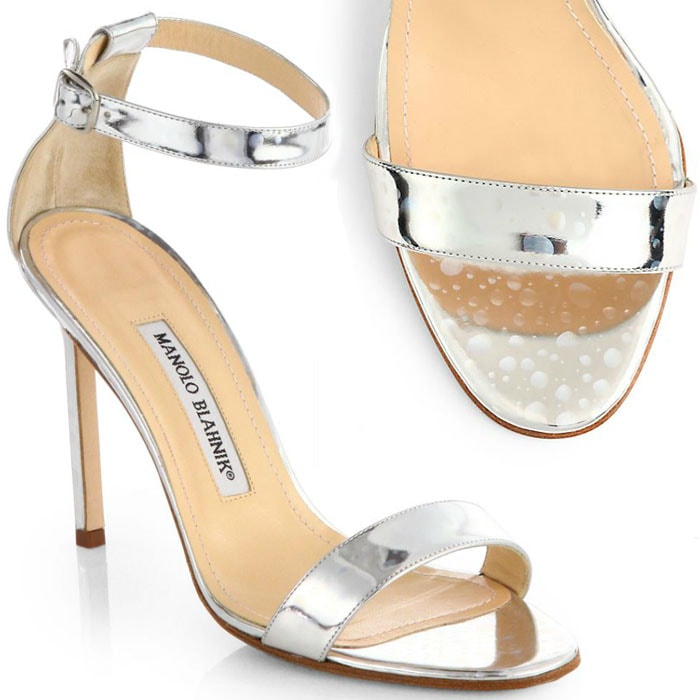 Credit: WENN