Both in attendance at Elton John AIDS Foundation's 30th Annual Academy Awards Viewing Party on Sunday, an awkward video has emerged of Caitlyn Jenner trying to engage Lady Gaga in conversation.
"Are you spending time around Malibu anymore," Caitlyn asked the evening's host, to which Gaga replied, "yes."
View this post on Instagram
Caitlyn continued, "I haven't seen you at the Starbucks in a while." Clearly not interested in conversing with the 72-year-old reality star, Gaga quickly responded, "I've switched baristas."
We aren't sure that Caitlyn understood the assignment when it came to picking her outfit for this glamorous event. Her outfit managed to dramatically underwhelm and we are sure the fashion police will be all over this one.
Sadly, there just isn't much to say about this frumpy ensemble but we'll do our best to liven it up. Her long-sleeved v-neck black top was paired with a form-fitting red skirt with a design reminiscent of a couch from the '60s.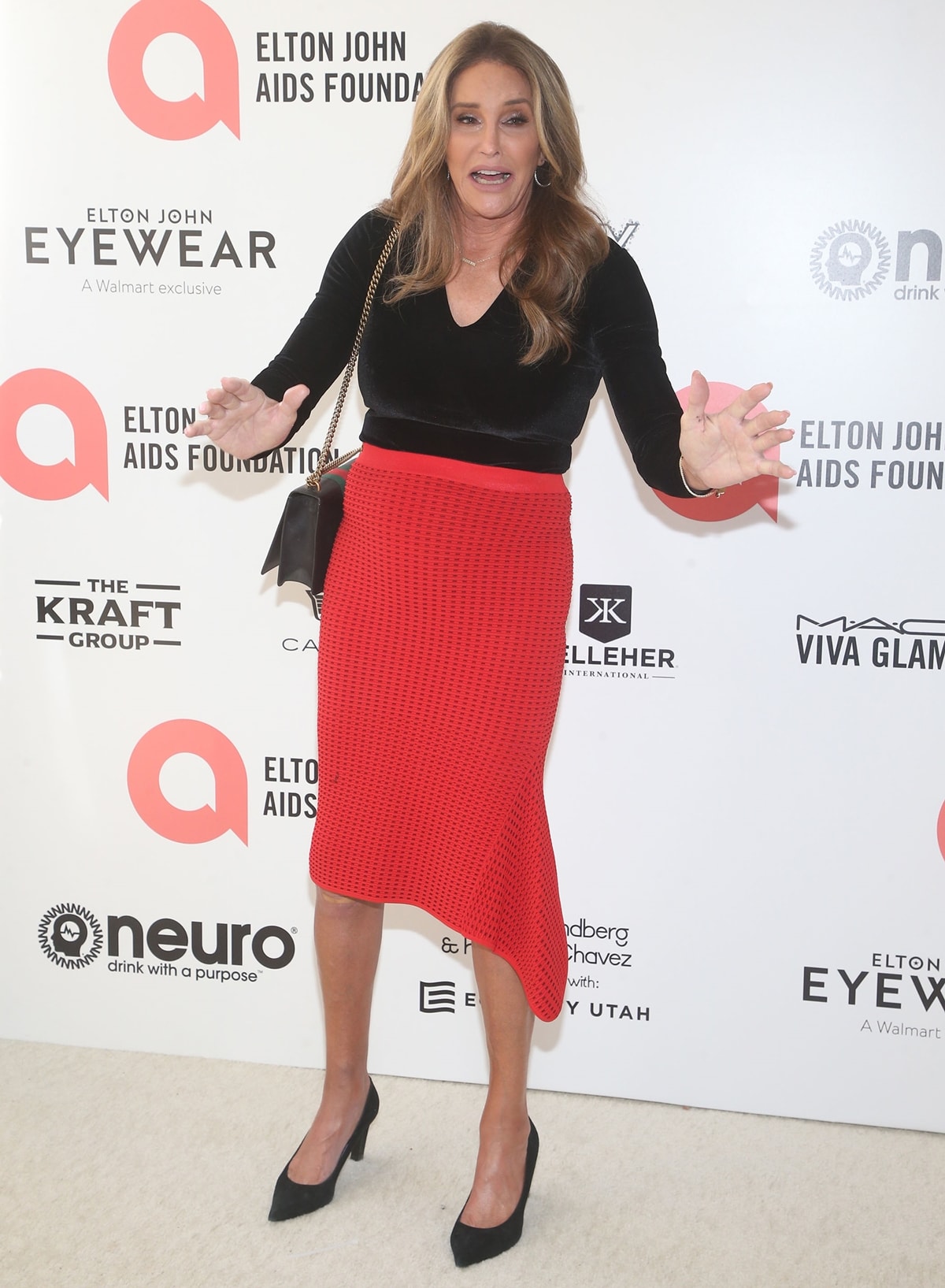 Caitlyn Jenner arrives at the Elton John AIDS Foundation's 30th Annual Academy Awards Viewing Party on March 27, 2022, in West Hollywood, California (Credit: Fayes Vision / Startraksphoto)
The look was finished off with a pair of black court heels making us wonder what on earth has happened? Has the matronly look returned? We sure hope not.
On the upside, her hair and makeup were immaculate and we did love the tennis bracelet. Okay, we're dragging the bottom of the barrel so on that note, we will wish you well until next time.
In July 2016, Caitlyn Jenner opted for an all-black look as she stepped out to attend a birthday party at the Les Ambassadeurs Casino in London.
Caitlyn Jenner heads out for a night of fun at The Les Ambassadeurs Club (popularly known as "Les A"), a club and casino located at 5 Hamilton Place in Mayfair, London (Credit: WENN)
The then 66-year-old reality TV personality dressed up and looked elegant in a black ruffled gown with sheer detailing.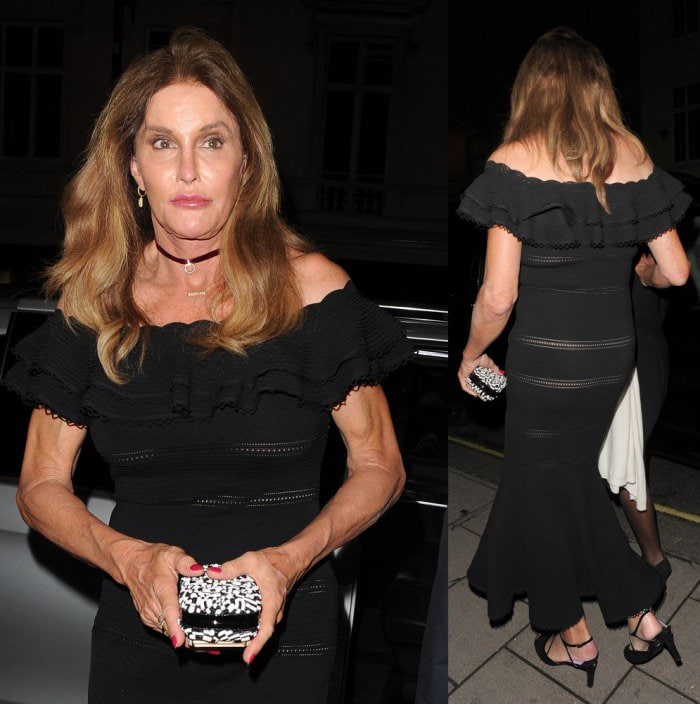 Caitlyn Jenner in a black dress at a birthday party at Les Ambassadeurs Casino on July 29, 2016, in London (Credit: Will Alexander / RV / WENN)
Her gown's off-the-shoulder design and ruffled hemline gave the former decathlete a hint of playfulness, and the stripes of sheer fabric accentuated this fun and flirty vibe.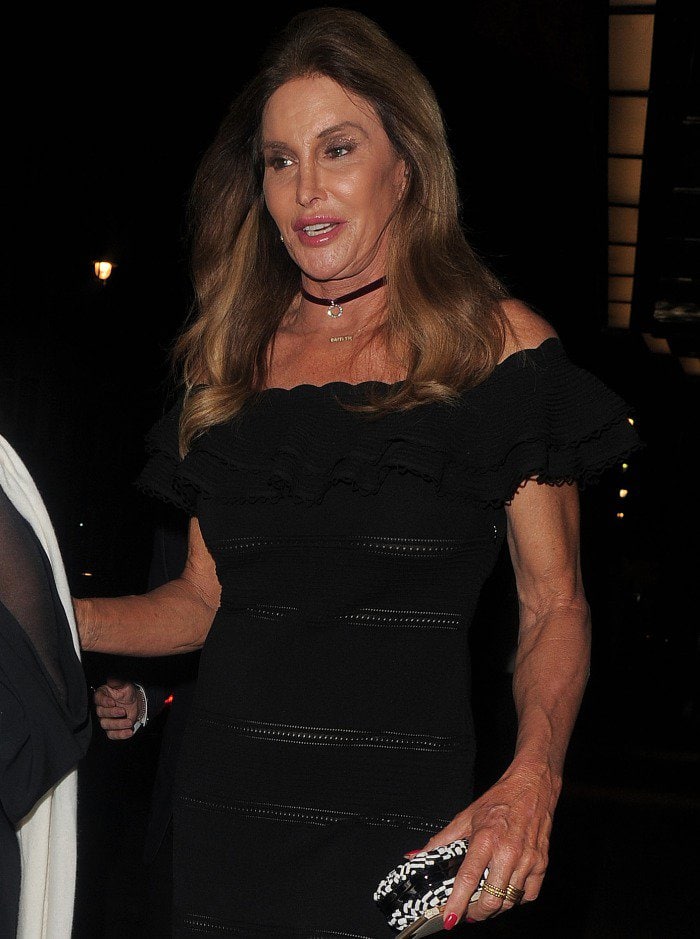 Caitlyn Jenner styled her off-the-shoulder dress with a geometric patterned clutch (Credit: WENN)

Caitlyn accessorized with a black choker necklace, drop earrings, and carried a geometric patterned clutch to increase the glamour.
Her hair was left wavy and down and her makeup was kept on the lighter side with a softening bronzer, pink glossy lips, and some smoky eyeshadow.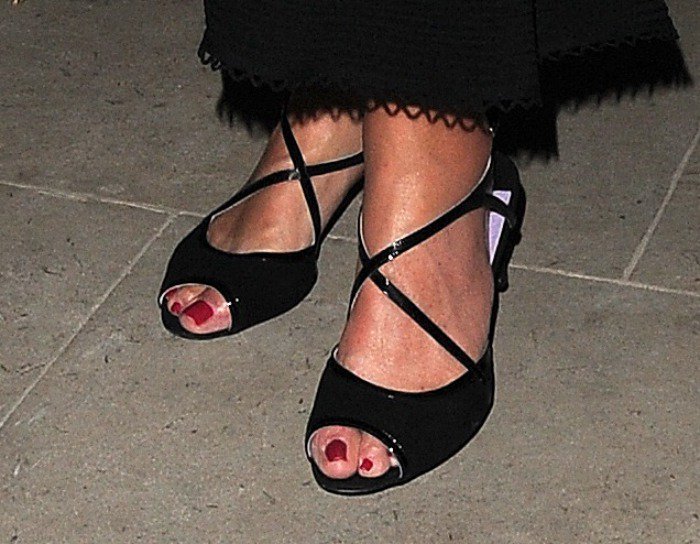 Caitlyn Jenner shows off her feet in black kitten heels (Credit: WENN)
She topped off the look with another pair of what seems like her favorite style of shoe: kitten heels.
These black cross-strapped kitten heels mixed cute with feminine style and the comfort necessary for Caitlyn's big night out.
Her shoes are made of patent black leather and feature peep toes, cross straps, and an adjustable ankle strap. They made for a great elegant touch to the star's ensemble.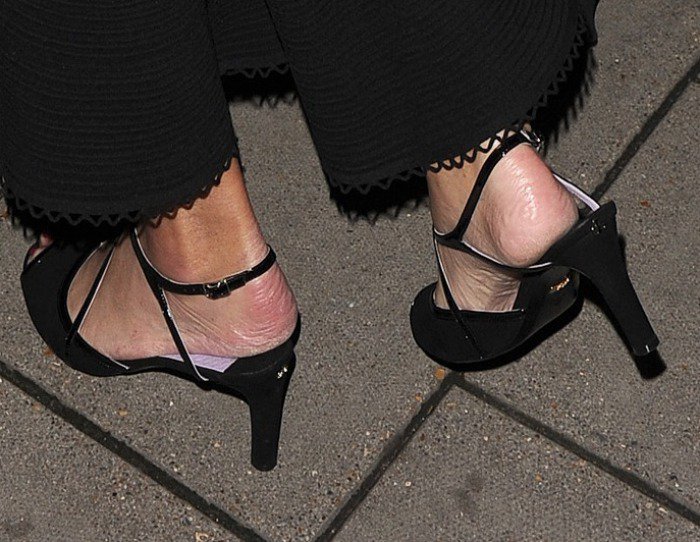 Caitlyn Jenner paired her dress with matching cross-strapped kitten heels (Credit: WENN)