Did you catch Lady Gaga on Saturday Night Live on November 16, 2013?
She made quite a scene when she performed (or should we say, twerked?) her hit song "Do What U Want" with R. Kelly on the show. But generally, people really found her funny and entertaining.
The then 27-year-old entertainer was also the evening's guest host and dressed up as a washed-up singer in a skit titled "Old Lady Gaga." In addition to singing "Do What U Want" with guest vocals from R. Kelly, she performed "Gypsy," a song from her third studio album Artpop.
Lady Gaga wears a sparkly jumpsuit for her performance on Saturday Night Live on November 16, 2013
However, our focus was entirely on the dazzling pumps she wore to the show's after-party. You can see the pictures on Just Jared.
It definitely looked like the singer had a fleeting love affair with sexy pointy stilettos last week. For two consecutive days, we found her rocking classic and elegant jeweled pumps, which is quite the deviation from her trademark monstrous platform heels.
We first saw Gaga wearing some simple black pumps while sporting a sheer-paneled LBD.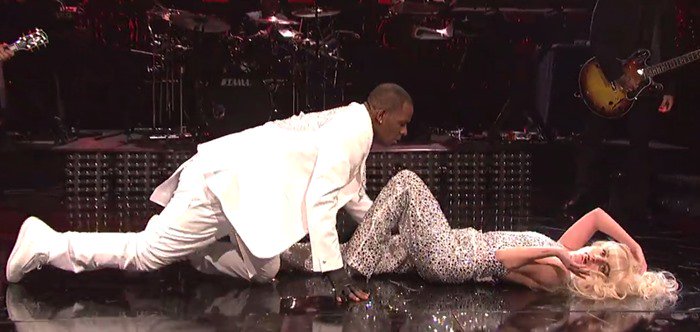 Lady Gaga performs "Do What U Want" with R. Kelly during her appearance on Saturday Night Live in New York City on November 16, 2013
Shortly afterward, we spotted her wearing a pair of pointy crystal-coated head-turning heels. Sadly, her dress did not give the shoes enough justice.
Nonetheless, the pumps were too pretty to ignore so we went ahead and checked them out. They're reportedly from Giuseppe Zanotti. Apparently, Gaga modeled the same pair with a furry outfit for one of SNL's promotional stickers.
While we can't officially confirm the information, it's highly likely that the shoes are indeed from Giuseppe Zanotti. Similar styles are actually being offered by the label both online and in stores.
Lady Gaga promotes her appearance on Saturday Night Live in this promotion bumper sticker
If you can't find this exact pair anywhere, we've actually found a few similar pairs of designer shoes at Zappos and Nordstrom.
The first pair is from Sergio Rossi. These platform pumps are covered in Swarovski crystals, from the heels down to the tips of the toes.
The second pair is the Jimmy Choo "Trina." These babies are bedecked with mixed-facet crystals and feature 4.25-inch tall heels — more than enough sparkles to turn heads the minute you walk into a room.
Giuseppe Zanotti Crystal Coated Suede Platform Pumps, $1,695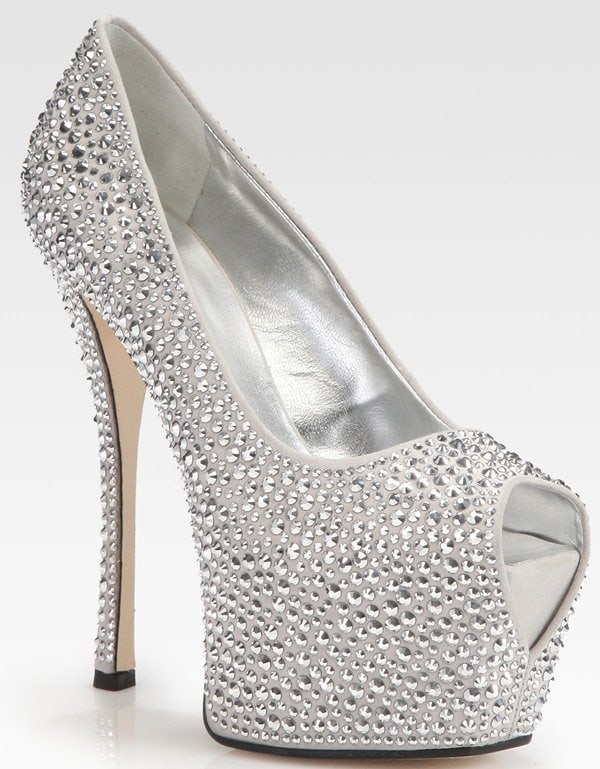 Giuseppe Zanotti Rhinestone Metallic Leather Peep Toe Pumps, $1,745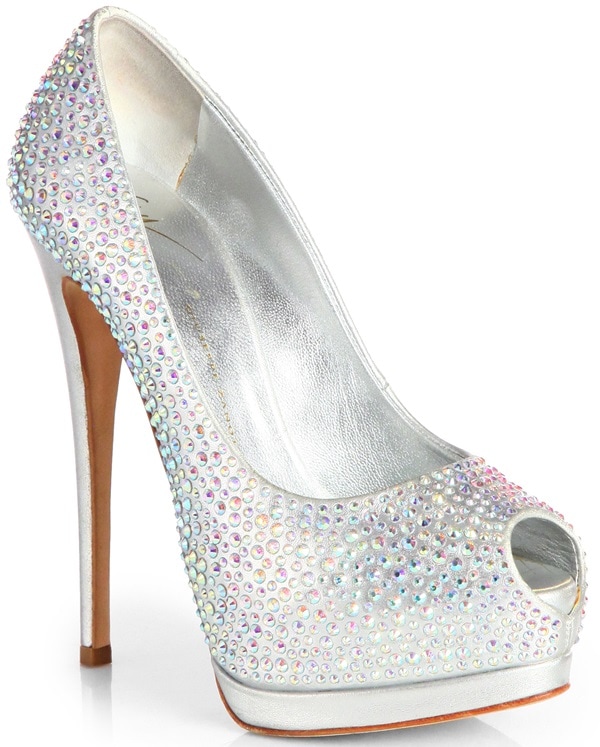 Giuseppe Zanotti Crystallized Esther Pumps, $1,495
Sergio Rossi Crystal Covered Pumps, $2,500
Jimmy Choo Trina Jeweled Pumps, $3,250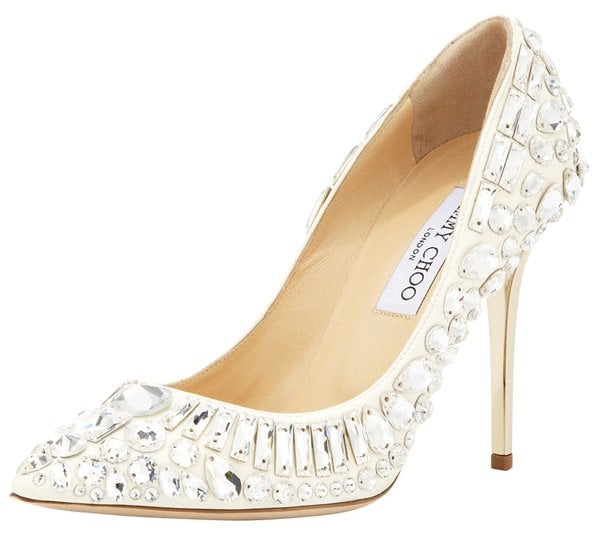 6 years later, Lady Gaga issued a statement apologizing for her collaboration with R. Kelly, who has been the subject of numerous allegations of sexual abuse and misconduct.
"I stand by anyone who has ever been the victim of sexual assault," she said in a statement on Twitter published on January 10, 2019.
"I stand behind these women 1000%, believe them, know they are suffering and in pain, and feel strongly that their voices should be heard and taken seriously," Gaga wrote and promised to remove "Do What U Want (With My Body)" from iTunes and other streaming platforms.
"I'm sorry, both for my poor judgment when I was young, and for not speaking out sooner."
"As a victim of sexual assault myself, I made both the song and the video at a dark time in my life, my intention was to create something extremely defiant and provocative because I was angry and still hadn't processed the trauma that had occurred in my own life," Gaga emphasized in her apology.
"The song is called 'Do What U Want (With My Body),' I think it's clear how explicitly twisted my thinking was at the time. If I could go back and have a talk with my younger self I'd tell her to go through the therapy I have since then, so that I could understand the confused post-traumatic state that I was in—or if therapy was not available to me or anyone in my situation—to seek help, and speak as openly and honestly as possible about what we've been through."