Did you catch Lady Gaga on Saturday Night Live? She was spectacular, wasn't she?
Yes, she certainly made quite a scene when she performed (or should we say, twerked?) with R.Kelly on the show. But generally, people really found her funny and entertaining.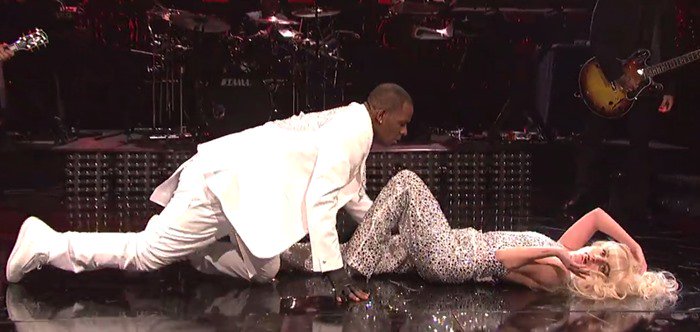 Lady Gagal goes glitzy in a sparkly jumpsuit paired with sparkly stilettoes for her performance on Saturday Night Live on November 16, 2013
We, on the other hand, can't seem to forget the dazzling pumps she wore to the show's after-party.  It definitely looked like the singer had a fleeting love affair with sexy pointy stilettos last week. For two consecutive days, we found her rocking classic and elegant jeweled pumps. It was quite surprising, and even felt weird not seeing her in monstrous heels.
As you may have already read, the first time we found Gaga in some stunning footwear was when she slipped into a black pair while sporting a sheer-paneled LBD.
Soon after, however, we found her in an even more impressive pair. They were crystal-coated, pointy, and very head-turning.  Sadly, her dress did not give the shoes  enough justice.
Nonetheless, the pumps were too pretty to ignore so we went ahead and checked them out. They're reportedly from Giuseppe Zanotti. Apparently, she  modeled the same pair with a furry outfit for one of SNL's promotional stickers.
Lady Gaga promotes her appearance on Saturday Night Live in this promotion bumper sticker
While we can't officially confirm the information, it's highly likely that the shoes are indeed from Zanotti. Other styles crafted with the same treatment are actually being offered by the label both online and in stores.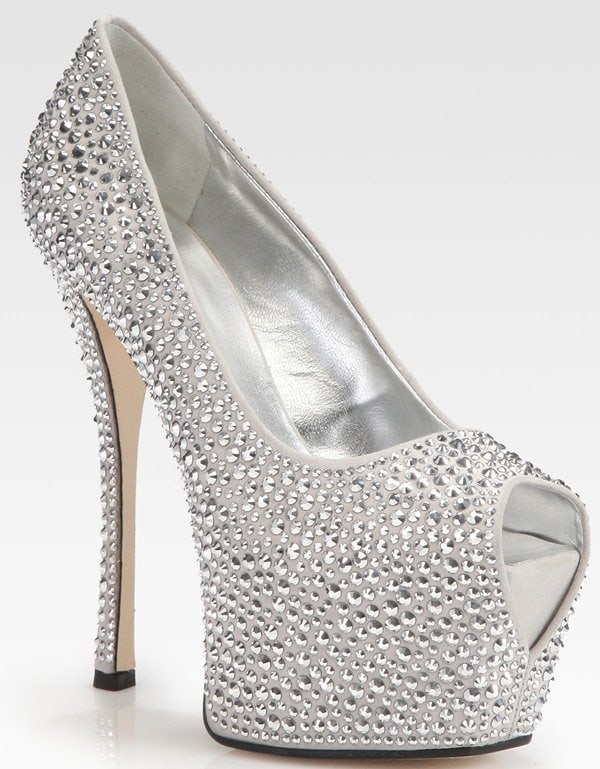 Giuseppe Zanotti Crystal Coated Suede Platform Pumps, $1695 at Saks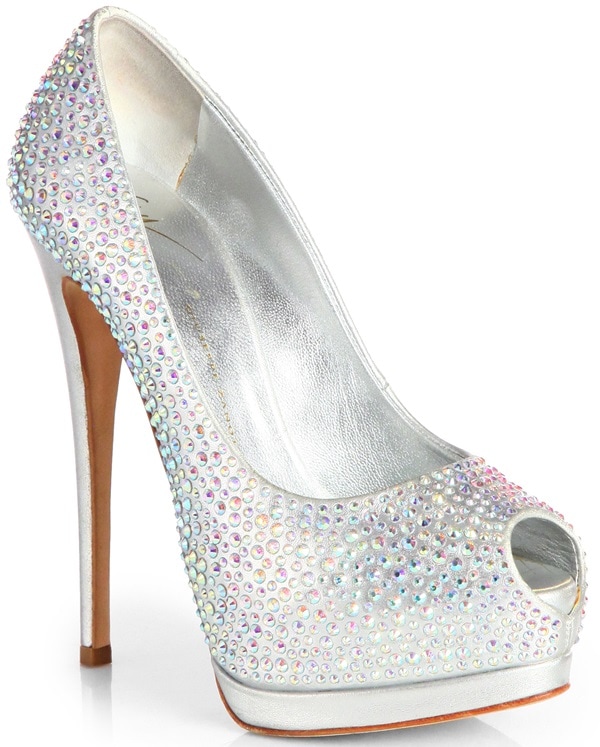 Giuseppe Zanotti Rhinestone Metallice Leather Peep Toe Pumps, $1745 at Saks
Giuseppe Zanotti Crystallized Esther Pumps, $1495 at Neiman Marcus
That said, allow us to show you an impeccable substitute in case you can't find Gaga's pumps. These are just as beautiful, and perhaps even a lot more mesmerizing. They're from Sergio Rossi and they come covered with Swarovski crystals all over, from the heels down to the tips of the toes.
Sergio Rossi Crystal Covered Pumps, $2500 at Zappos
Wow. Simply magnificent. Would you agree?
If that's not enough bling for you, might we suggest another pair of jeweled pumps that are even more luxe? Check out the Jimmy Choo "Trina". These babies are bedecked with mixed-facet crystals and feature 4.25-inch tall heels — more than enough sparkles to turn heads the minute you walk into a room: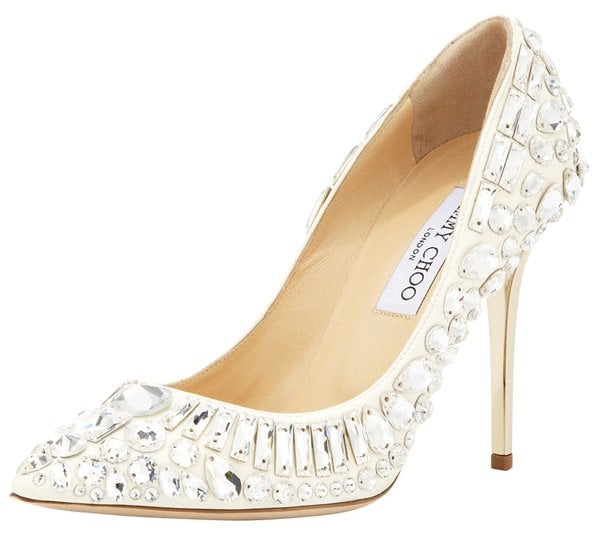 Jimmy Choo Trina Jeweled Pumps, $3250 at Neiman Marcus and Saks