Lady Gaga is obviously prepped and ready for the Virgin Galactic flight to space set in 2015.
She made that clear in her ensemble at her "ArtRave" event, where she performed and launched her latest album "ArtPop."
When it comes to innovation, Lady Gaga really takes it to another level. For the performance, the pop star wore a flying dress, called the "Volantis."
Lady Gaga stuns her audience at "ArtRave" on November 10, 2013, in Brooklyn, New York as she flies in her "Volantis" dress
In true Gaga style, the "Volantis" is like nothing we've ever seen before. It's made of a tough bodice attached to a helicopter-looking base that makes the whole creation fly.
Lady Gaga places a helmet on her head as she prepares to fly her "Volantis" dress
No, we are not kidding. And yes, the dress does fly while you wear it.
Still don't believe us? Watch The Fame Monster demonstrate it herself.
Lady Gaga goes soaring in her all-white "Volantis" dress
TechHaus, part of Lady G's very own fashion organization Haus of Gaga, created the outrageous dress, which has been in development by her team for more than two years now.
The remote-piloted hover vehicle was designed by London-based Studio Studio XO in consultation with drone designer and pilot Gus Calderon.
Lady Gaga goes soaring in her all-white "Volantis" dress
Of course, the singer didn't wear just any old shoe to show the world her latest accomplishment. She wore custom Giuseppe Zanotti white crystal boots for the occasion.
But even these gorgeous boots are nothing compared to her out of this world outfit.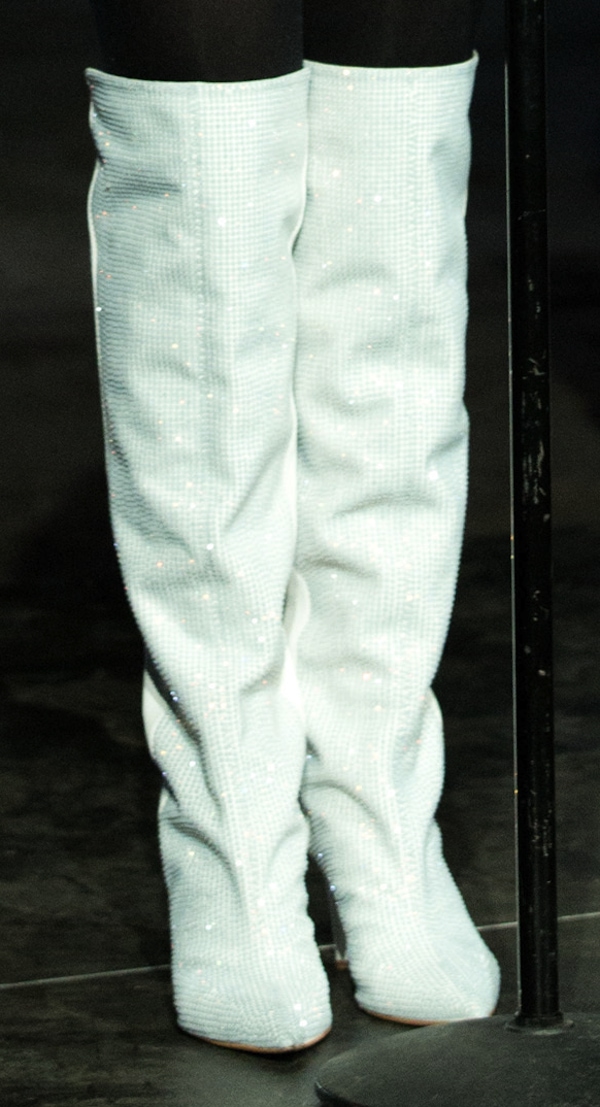 Lady Gaga finishes her flight ensemble with a pair of Giuseppe Zanotti crystal boots
We can't wait to see what Lady Gaga and "Haus of Gaga" come up with next!
Credit: Michael Carpenter / WENN