Lady Gaga is reportedly set to conduct a live performance in space in 2015 as part of Zero G Colony, which is a three-day hi-tech festival in New Mexico.
The pop star will attempt to live up to her self-proclaimed title as the "Queen of the Universe" as the first musician in history to perform live in outer space.
She is currently undergoing rigorous vocal training to prepare her singing voice to cope with the atmosphere in space.
The Grammy Award winner's out-of-this-world performance is slated to take place at dawn on the third day of the festival at the Spaceport America in New Mexico.
She is set to make history by blasting off into outer space by way of the Virgin Galactic SpaceShipTwo and has already taken all of the necessary measures to ensure her safety and protection in case anything goes wrong.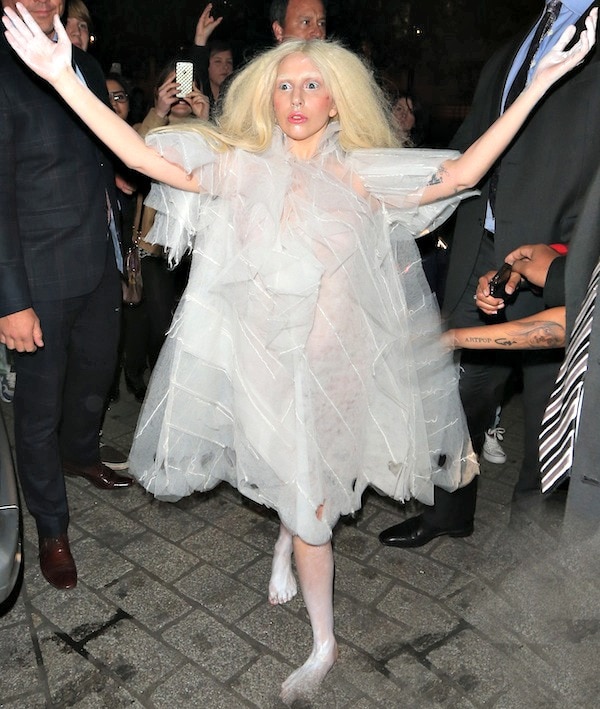 Lady Gaga arrives at her hotel in London, England, wearing a sheer white dress and no shoes on October 26, 2013
Lady Gaga is known for going to extreme lengths for her artistic pursuits, and we have always admired her bold fashion choices and unapologetic attitude.
We saw her rock an ensemble made entirely of real meat, teeter in the highest heels, and leave a trail of bubbles while wearing a bubble machine dress without even batting an eyelash or offering any explanation.
Lady Gaga leaves her hotel in London, England, while wearing an elaborate costume on October 28, 2013
Her eccentricities and bold sartorial ways were on full blast in October when we saw her in one outlandish outfit after another as she promoted her new album, ARTPOP.
She caused quite a stir as she continued the promotional tour of her album in Berlin and London.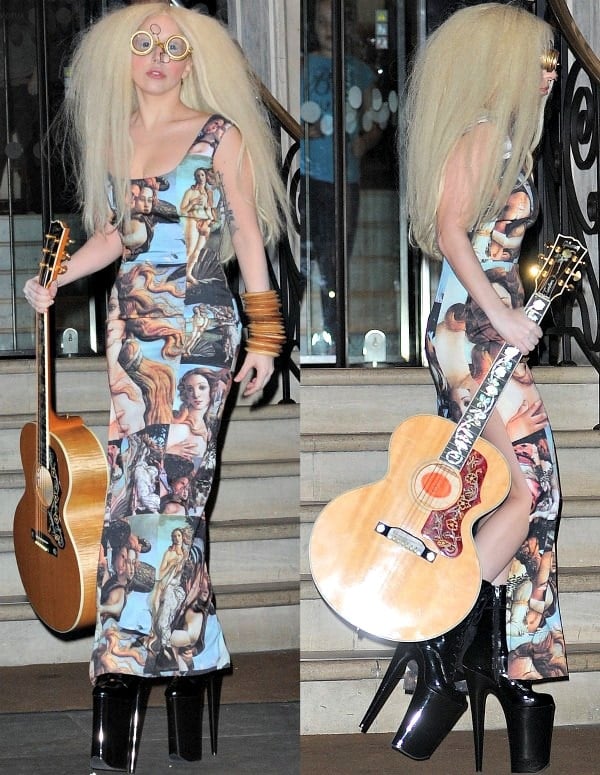 Lady Gaga leaves her hotel to head to a recording studio in London, England, on October 26, 2013
The chart-topper treated everyone to a flurry of costume changes, which included a Victorian-style dress, a triangular mask, a woven hat, and white lego shoes.
Lady Gaga was also spotted wearing steampunk glasses and a vintage Venus dress from Dolce & Gabbana as she headed to a recording studio in London.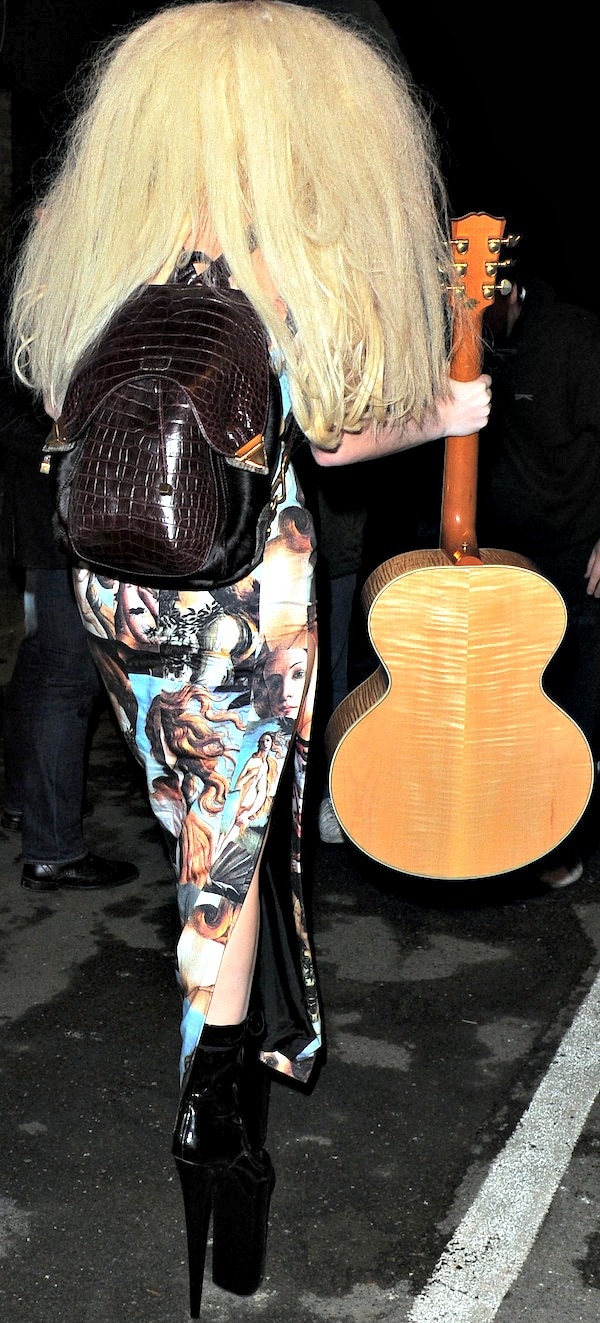 Lady Gaga wears her hair long and big as she holds a guitar and balances in a pair of enormous platform stilettos
The eccentric singer wore a Dolce & Gabbana spring 1993 dress that featured a print of "The Birth of Venus" painting by Sandro Botticelli.
She held a guitar in one hand, wore wooden bracelets and steampunk glasses, and carried a leather rucksack designed especially for her by fellow artist Will.i.am.
Her shoes were the same towering platform boots from Pleaser that she wore at the ITV Studios in London.
Pleaser Beyond 1020 Lace-Up Ankle Boots, $135.95 – $136.95 at Amazon
There is something otherworldly about the pop superstar, and it seems only fitting that she is about to board a spaceship for an entirely new adventure in outer space.
Lady Gaga is scheduled to leave in 2015, and she will be making history as the first artist to perform live among the stars.
Credit: WENN / Craig Harris