Ever since Nike signed Michael Jordan, athletic brands have been hunting for the next sneaker collaboration with an athlete that can match the 'Air Jordan' craze.
Puma may have found its answer with LaMelo Ball, one of the top talents in the NBA with over 10 million followers on Instagram.
Pursuing the next sneaker collaboration that can rival the iconic 'Air Jordan' craze, Puma may have found their answer in LaMelo Ball, a prominent NBA talent boasting over 10 million followers on Instagram (Credit: LaMelo Ball's Instagram)
LaMelo Ball was the third pick of the NBA 2021 draft and signed a deal with Puma, reportedly worth $100 million, in 2020 to become one of its lead collaborators. While Ball has released several lifestyle products, the best seller is the LaMelo Ball shoes.
We're deep diving into the LaMelo Ball x Puma collaboration to tell you everything you need to know about how to get your hands on the latest LaMelo Ball shoes.
LaMelo Ball: A Rising Star With Size and Skill
LaMelo Ball is a professional American basketball player in the National Basketball Association (NBA), playing with the Charlotte Hornets.
He was the third overall pick of the 2020 NBA draft and voted the NBA Rookie of the Year for 2021 and the NBA All-Star in 2022. He's reportedly wearing a size 14 US and stands at 6ft 5 ¾ (197.5 cm).
LaMelo Ball's height of 6ft 5 ¾ (197.5 cm) places him well above the average height of an American male. According to the National Center for Health Statistics, the average height for adult males in the United States is around 5ft 9 inches (175.3 cm).
LaMelo Ball, the standout American basketball player representing the Charlotte Hornets in the NBA, has made a remarkable impact since being selected as the third overall pick in the 2020 NBA draft (Credit: LaMelo Ball's Instagram)
He's also played professionally in Australia and Lithuania, gaining an international following for his streetwear and dynamic playing style on the basketball court.
His African-American father, LaVar Ball, owns the 'Big Baller Brand' that launched in 2016. It became famous for producing the signature shoes of all three Ball brothers, who are basketball players, Lonzo, LaMelo, and LiAngelo.
The Ball brothers are biracial, with their father African-American and their mother of Czech descent (Credit: Hahn Lionel / ABACA / INSTARimages.)
The mother of the three mothers, Tina Ball, is of Czech descent.
Lonzo Ball, the oldest brother, measures 6ft 4 ¾ (194.9 cm). LaMelo Ball, the youngest brother, stands tall at 6ft 5 ¾ (197.5 cm), slightly taller than Lonzo. LiAngelo Ball, the middle brother, stands at 6ft 3 ¾ (192.4 cm), making him the shortest among the Ball brothers.
LaMelo Ball's Puma MB.01 Queen City: A Tribute to His Team and His Home
The first LaMelo Ball shoe released from the Puma collaboration was the MB.01. One of its latest iterations, the Queen City colorway, is a nod to LaMelo's team, the Charlotte Hornets.
The majestic purple is designed to give the shoes a space-age element with the PUMA Hoops tech, including the brand's signature Nitro foam and specially engineered knitted uppers.
The MB.01 was the first LaMelo Ball shoe launched by Puma, with the latest Queen City colorway released as a nod to his team Charlotte Hornets
The LaMelo Ball x Puma collaboration isn't just sneakers for wearing on the court. These sneakers are some of the most versatile – and sought-after – for collectors and streetwear fanatics alike.
The original PUMA X LaMelo Ball collaboration launched in November 2020 with a t-shirt and hoodie to line up with the NBA Draft. LaMelo describes himself as having a "one-of-one" attitude that he seeks to bring to life through the collaboration.
The partnership also includes PUMA backing Ball in supporting several grassroots and giveback projects supporting young people.
View this post on Instagram
LaMelo Ball's $100 Million Puma Deal: What We Know So Far
LaMelo Ball's deal with Puma is reportedly worth a whopping $100 million. However, details of the deal have been kept firmly under wraps since it was announced in 2020.
The deal reportedly includes Ball being given access to the Puma private jet, a perk that is offered to many of the Puma-affiliated players. No exact duration was announced for the $100-million collaboration, only that it was a multi-year deal.
Why Did LaMelo Ball Sign With Puma and Not Big Baller Brand?
While the LaMelo Ball x Puma deal made headlines for its eye-watering figure, it also drew the press' attention for family reasons. Ball's statement when the deal was announced included the fact that wanted to "just be myself."
It was an interesting comment considering Big Baller Brand, the company owned by his father, LaVar, that had produced his signature shoe before the Puma deal was signed.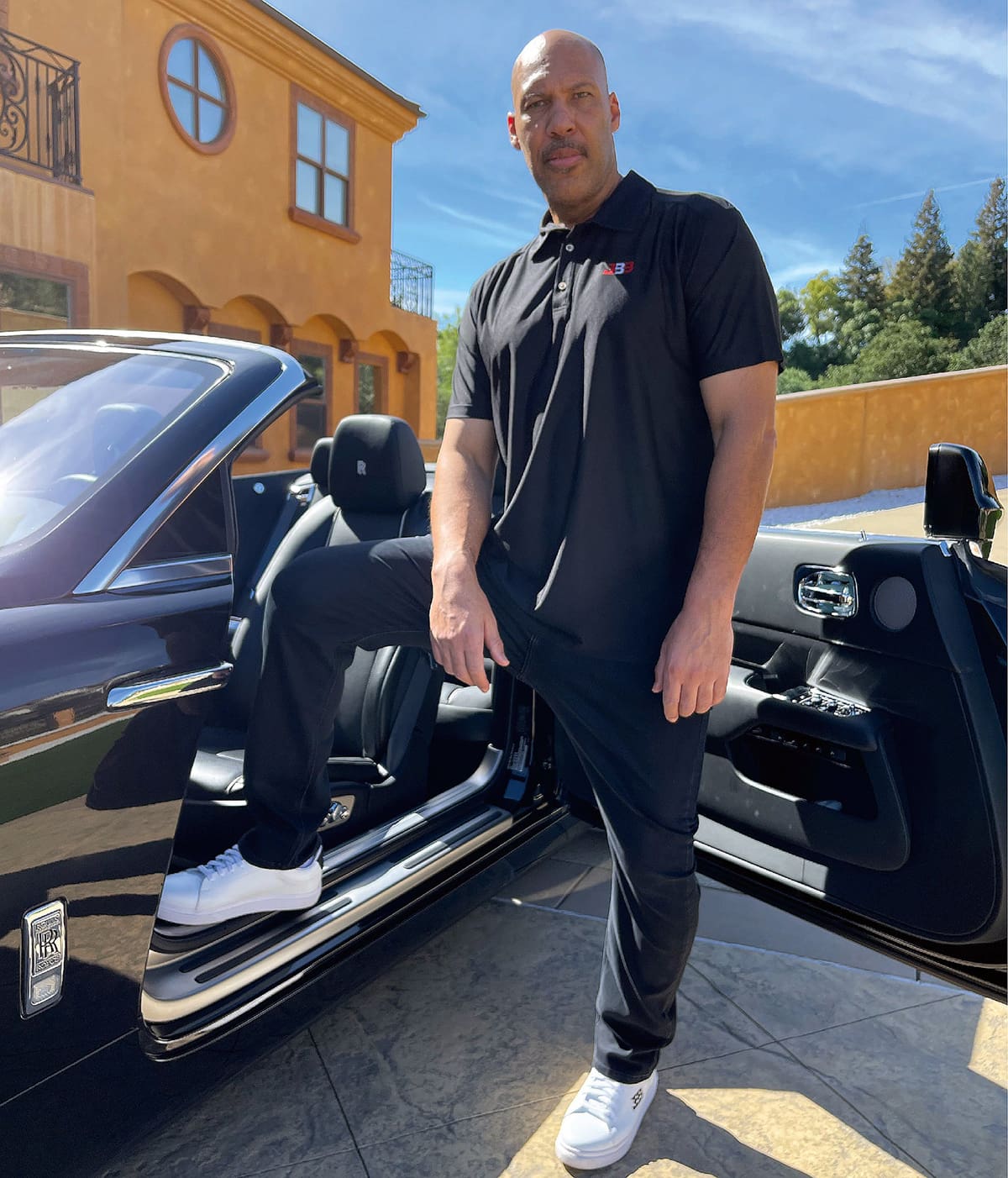 LaMelo Ball's father, LaVar Ball, is the founder and CEO of the clothing and shoe company Big Baller Brand (Credit: Big Baller Brand Inc.)
The deal with Puma was a smart move for LaMelo. Puma is increasingly making its mark in the basketball niche, signing deals with several other players, including R.J Barrett, Michael Porter Jr., and Kyle Kuzma.
Ball had previously had his signature shoe sold through Big Baller Brand since he was 16 – the MB1 worn when Ball played in New Zealand and Lithuania.
Signing with Puma means that Ball is unlikely to be able to produce anything with his father's footwear company until his contract with the athleisure brand is complete.
With his Puma contract, LaMelo Ball is unlikely to be able to produce anything with his father's footwear company (Credit: Big Baller Brand Inc.)
How Much Are LaMelo Ball Shoes?
Most LaMelo Ball x Puma shoes retail from $130 to $150 but have some of the highest resale values of any new sneaker.
You can expect to see some of the most popular LaMelo Ball shoes – such as the Rick and Morty LaMelo Ball MB.01 retailing for up to $500 or more on the second-hand market.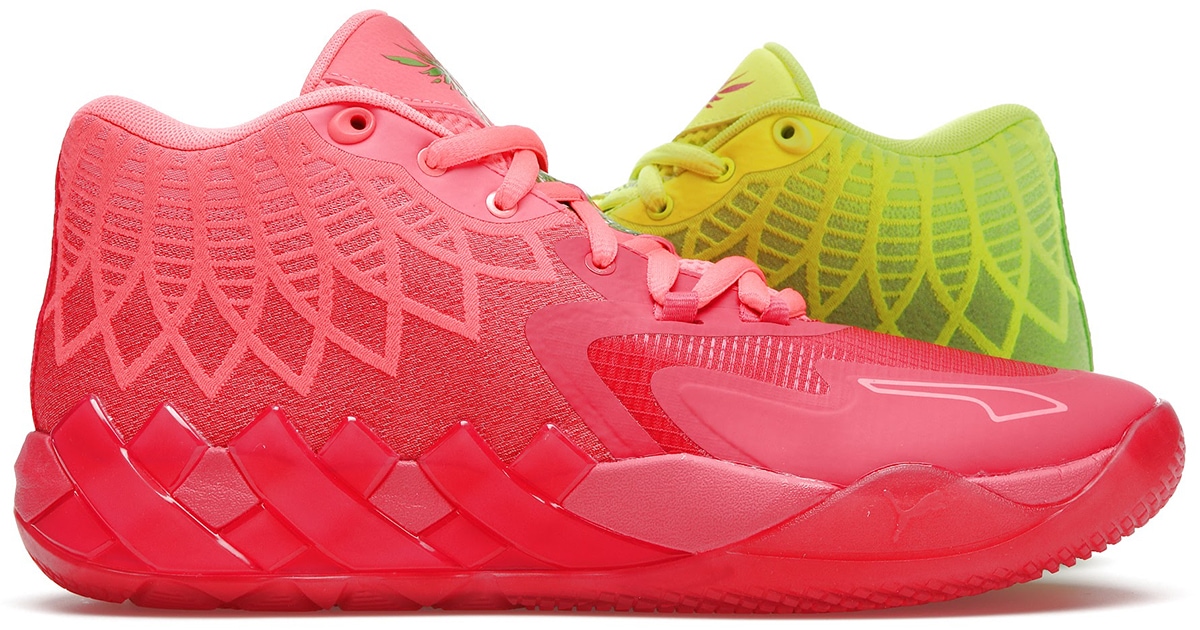 The Puma x LaMelo Ball Rick and Morty MB.01 shoes released in February 2022 originally retailed for $135
What LaMelo Ball Shoes Are Releasing Soon?
If you're looking for LaMelo Ball shoes, you're in luck! They're some of the most frequently released styles from Puma, with two styles about to hit the market for Summer 2023.
1. LaMelo Ball x Puma MB.02 'Fade' Sneaker
The latest Charlotte Hornets shoe from the LaMelo Ball x Puma collaboration is coming in the form of the MB.02 'Fade' sneaker. It follows the recent release of the cereal-inspired MB.02 Lo 'LaMel-O's' sneaker.
The LaMelo Ball x Puma MB.02 Fade Sneaker is done in a Hornets-inspired colorway and features a Nitro-infused midsole
These LaMelo Ball shoes will drop in July 2023 with a Hornets-inspired color scheme of two-tone teal and purple.
The heel features a comb-inspired graphic with a silver panel. It also features the Nitro foam midsole in a teal and purple color scheme with a white rubber outsole.
The MB.02 'Fade' sneakers will be released on Puma's official website and at select retailers on July 7th with a $130 price tag.
2. LaMelo Ball x Puma MB.03 'GutterMelo' Sneaker
Puma is trialing something new with its upcoming LaMelo Ball x Puma MB.03 release for the so-called 'GutterMelo' shoes.
These sneakers have a teal mesh base with red, blue, and green paneling and a light blue rubber outsole. The style also has a red collar with matching laces and a Nitro foam midsole.
The LaMelo Ball x Puma MB.03 GutterMelo Sneaker is LaMelo's third signature sneaker with Puma and rendered as an NFT collectible by Gutter Cat Gang
The GutterMelo sneakers are being rendered as an NFT collectible by Gutter Cat Gang. OpenSea is offered the MB.03 for purchase with a credit card, debit card, or ETH.
Buyers will pay $175 for the NFT that serves as a ticket to allow them to claim the physical pair in-store between July 18th and August 20th. The GutterMelo sneakers will only be able to buy in person during this period.
Are you looking to expand your sneaker collection? The LaMelo Ball shoes might just be the next generation's Air Jordans.