Liev Schreiber and Naomi Watts, who split in 2016 after 11 years together, do their best to remain friends while raising their two sons, Samuel Kai Schreiber (2008) and Alexander "Sasha" Pete Schreiber (2007).
Naomi Watts and Liev Schreiber with their boys Samuel Kai Schreiber and Alexander Pete Schreiber in Malibu, California, on June 22, 2015
In a January 2018 interview during Sunday TODAY with Willie Geist, Liev opened up about his split from Naomi.
"It's always hard, you know? You build a life with someone and things change," he said. "And I think the way that we've looked at it is that we'll always be partners with these kids."
"It's important to support each other," he emphasized. "I was making some jokes at breakfast about Mommy with the boys and their eyes light up when I talk about her. You can see how important it is to them that their parents care about each other."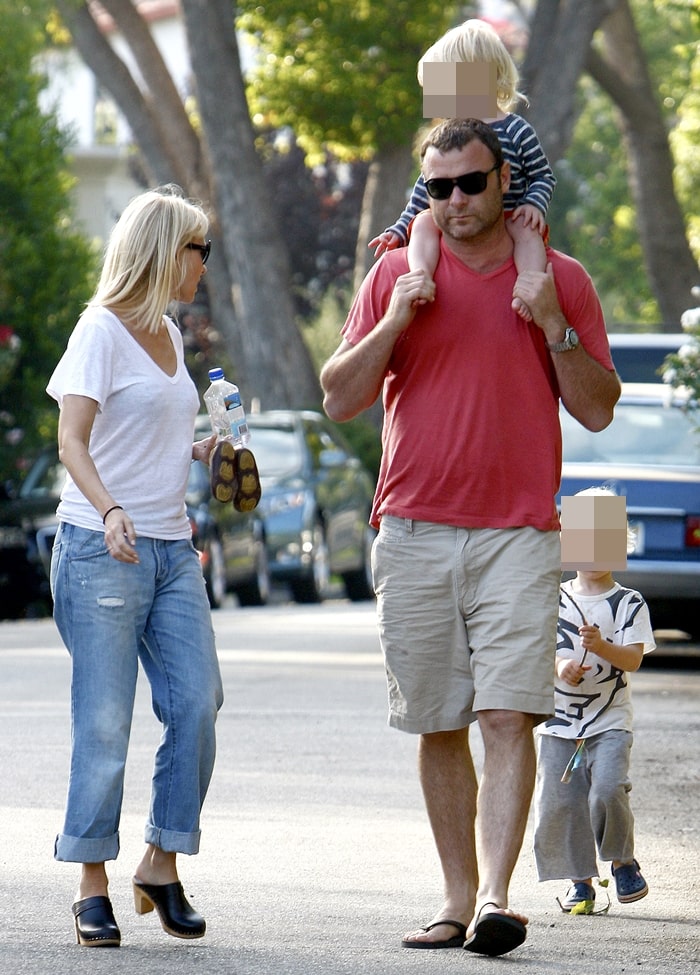 Naomi Watts, Liev Schreiber, Samuel 'Sammy' Kai Schreiber and Alexander 'Sasha' Pete Schreiber in Los Angeles, California, on July 22, 2010
"We're parents together so we'll be together for the rest of our lives no matter what and we're very close," Schreiber said on CBS This Morning in December 2016. "Hopefully, that never changes and I don't think it will."
In an August 2019 interview with Net-a-Porter, Watts said that their amicable relationship post-split is no coincidence.
"We're doing things very differently. I'm pretty proud of us, corny as that may sound," Watts said. "We've made it our absolute priority to be good and kind to each other and we're absolutely committed to that."
In September 2015, Naomi Watts attended the 67th Primetime Emmy Awards as a plus-one for her man Liev Schreiber, but she stole the show anyway.
Naomi Watts attends the 67th Annual Emmy Awards held at the Microsoft Theatre in Los Angeles on September 20, 2015
Naomi, who was introduced to the future father of her children in May 2005 at the Metropolitan Museum of Art's Costume Institute Gala, supported Liev, who was nominated for the Outstanding Lead Actor in a Drama Series for his work as the leading man in "Ray Donovan."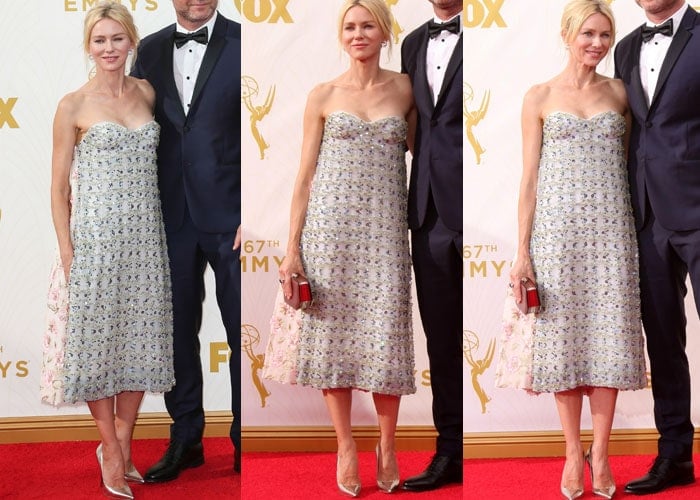 Naomi Watts wears a gorgeous jewel-embellished dress from Christian Dior on the red carpet
Naomi didn't hold back at the Emmys — both in terms of supporting Liev — with whom she shares two children — and in terms of her outfit.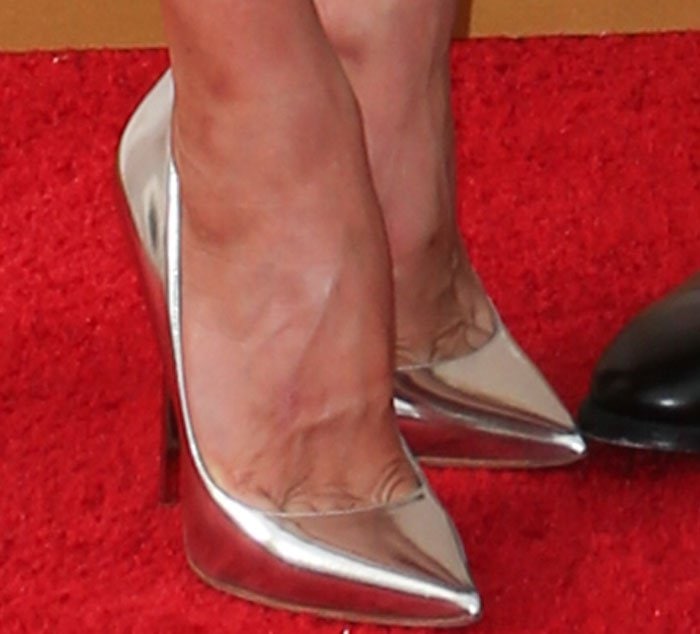 Naomi Watts finishes her shimmery look with a pair of silver Jimmy Choo pumps
The actress opted to wear a gorgeous jewel-embellished empire dress by Christian Dior, which she paired with silver "Abel" pumps by Jimmy Choo.
We're not quite sold on the clutch, but since the rest of her outfit looks incredible, we'll let it slide.
Naomi Watts and Liev Schreiber met for the first time in May 2005 at the Metropolitan Museum of Art's Costume Institute Gala
Via Naomi Watt on Instagram: "About to hit the #Emmys2015 red carpet on the arm of @RayDonovan himself! #talentcrush #mybabydaddy"
If nudes are a must for every day, silver heels are definitely a staple for formal events. Grab a pair of shiny Jimmy Choo pumps for yourself at Net-A-Porter, Farfetch, Mytheresa, Nordstrom, and Saks.
Jimmy Choo Abel Mirrored-Leather Pumps, $675
Credit: Apega / Nicky Nelson / FayesVision / WENN