Remember white eyeshadow? If you lived in the '90s, you definitely remember pop stars such as Britney Spears creating an army of frosty-eyed girls. The era ushered in a frenzy of ice-colored makeup which stood its ground for a couple of years.
Now that the makeup world is obsessed with nudes, Chanel darling Lily-Rose Depp dared to bring back light-colored eyelids.
Lily was spotted with chalk-white eyelids at the Chanel Métiers d'Art Fashion Show in Tokyo, Japan.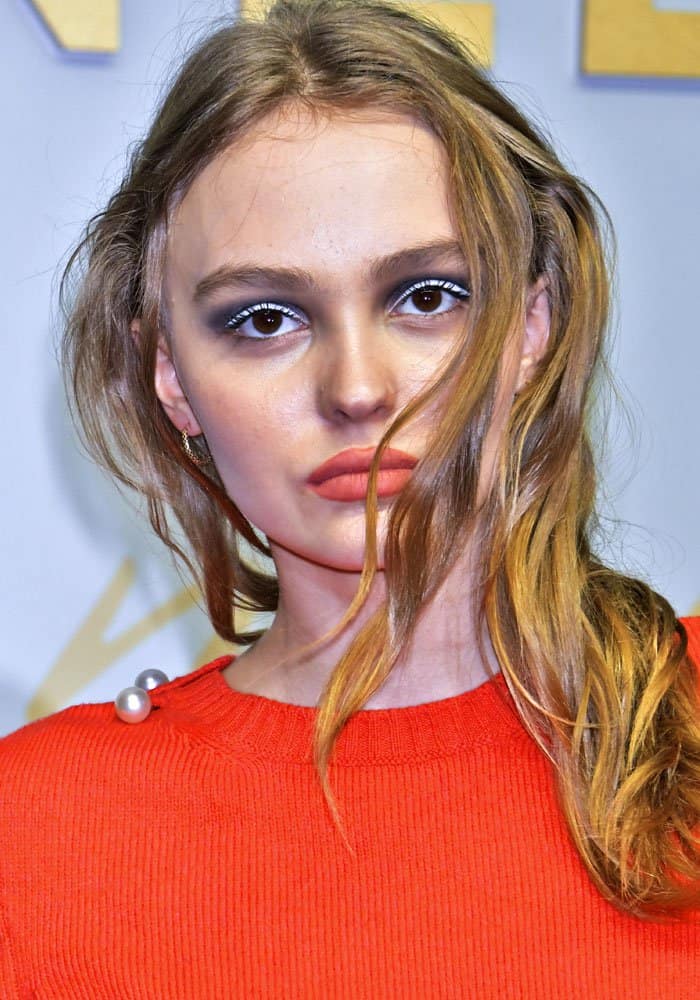 Lily-Rose Depp at the Chanel Métiers d'Art Fashion Show in Tokyo, Japan on May 31, 2017.
Lily-Rose steps out in a casual Chanel outfit.
The young model stepped onto the blue carpet in a surprisingly casual outfit, pairing an orange top with pearl details together with a pair of skinny jeans.
Lily-Rose finished her look with a pair of patent sandals that had the Chanel logo embossed on the instep strap.
The actress paired her striking makeup with unruly hair.
Lily-Rose wears a pair of patent mary jane sandals with the Chanel logo embossed on it.
Messy hair, don't care: Lily-Rose poses with her unstyled do.
As it turns out, there was an explanation for the makeup and rolled-out-of-bed look: she was opening for the Chanel show.
The white eyeshadow was part of the show's look and the actress had yet to sit in the hair chair. Lily-Rose put on casual Chanel clothes for a quick photo session on the carpet.
Shop sandals similar to Lily-Rose's at Farfetch.
Marc Ellis patent stiletto sandals, $192 at Farfetch
Credit: Kento Nara / Future Image / WENN