Linda Thompson, a 69-year-old American actress/songwriter with a net worth of $25 million dollars, joined her ex-husband Caitlyn Jenner for the 2020 Open Hearts Foundation Gala on Saturday evening in Los Angeles.
The couple married on January 5, 1981, in Oahu, Hawaii. They have two sons together, Brandon Jenner and Sam Brody Jenner. The couple separated in 1986 after Bruce Jenner (later known as Caitlyn Jenner) told Linda Thompson that she/he is transgender.
That didn't stop Bruce Jenner from marrying Kristen Mary Jenner (née Houghton, formerly Kardashian) in 1991.
"In my naivety and my ignorance, I didn't know that she was still repressing who she was," Thompson, told ET's Nancy O'Dell in August 2016.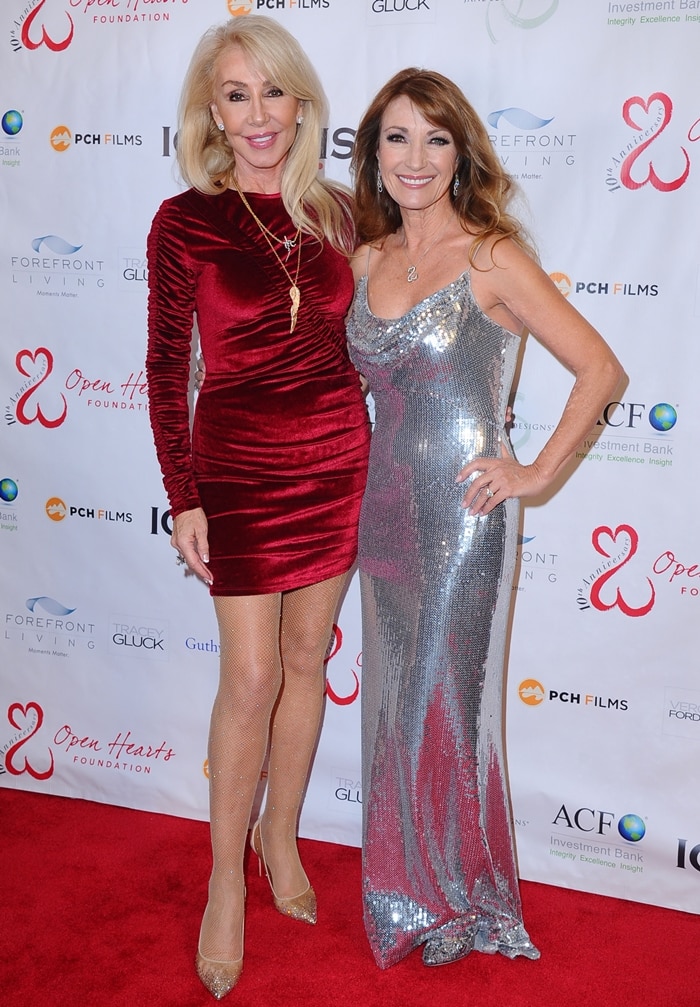 Songwriter Linda Thompson (L) and actress Jane Seymour (R) attend the Open Hearts Foundation 10th Anniversary Gala at SLS Hotel at Beverly Hills on February 15, 2020, in Los Angeles, California
"I thought, 'Well, maybe she's found a way to live with this and to move on.' And again I'm thinking, in those days, I'm thinking 'he.' I was thinking maybe he has found a way to repress this further and to move on with his life and to find a partner in a new life."
"Honestly, I was so happy for Bruce because I loved Bruce … and Bruce felt like my brother," she added.
"You know, I wanted him to be OK and I was just thrilled he'd found someone who had four children, and someone who understood what it was like to be a parent — you know, just to have that great family life again. … I thought he had found his forever and he pretty much had."
TV personality Caitlyn Jenner attends the Open Hearts Foundation 10th Anniversary Gala at SLS Hotel at Beverly Hills on February 15, 2020, in Los Angeles, California
In April 1991, just one month after her divorce from Robert Kardashian, Kris Jenner married her second spouse, retired Olympian Bruce Jenner. They ended up staying married for 23 years.
"I questioned everything about myself," Thompson shared about her ex-husband's third marriage.
"I questioned everything about life and what I knew of life. I questioned my own femininity, my own sexuality, my own intelligence, where I was going to go in the future with my life, and what would happen to my children. I questioned everything."
Sophia Hutchins and Caitlyn Jenner attend the 2020 Vanity Fair Oscar Party at Wallis Annenberg Center for the Performing Arts on February 09, 2020, in Beverly Hills, California
"It was devastating," she emphasized. "I was unearthed. It was a crazy time."
"I had this normal, wonderful, athletic, down to earth, free and easygoing guy, that I fell in love with, and who fathered two children, two sons with me," Thompson revealed about her romantic relationship with Jenner. "So, I really felt I had found my normal, until my world collapsed."
When she discovered Bruce Jenner was transgender, her son Brody was just 18 months old and Brandon had turned 3. The couple went to therapy and Thompson did her best to educate herself on transgender issues.
"In my naivety and my ignorance, I thought it was something that possibly we could fix, and if we couldn't fix it and stay together, at least I could educate myself and understand better what was happening in my life for my family," she said.
Prior to marrying Bruce Jenner in 1981, Linda Thompson dated Elvis Presley for more than four years.
Linda Thompson was married to Bruce Jenner (now known as Caitlyn Jenner) from January 5, 1981 – February 10, 1986
Not surprisingly, Linda was devastated when seeing her husband dress as a woman for the first time.
"I was invited by my then-husband to come to New York to be with him on a weekend trip — and this was in the midst of all the turmoil in my mind and in her mind," she recalled.
Brody Jenner and mom Linda Thompson arrive at the 17th Annual Race to Erase MS event at the Hyatt Regency Century Plaza Hotel on May 7, 2010, in Century City, California
"So, I thought she asked me — or I didn't think 'she' at the time, I thought 'he' — asked me to come to New York. I thought maybe we can get past this. Maybe, you know, he can kind of subjugate those feelings and put everything aside and move on. So that's the spirit in which I went to New York to be with my husband, and when I knocked on the hotel door, she opened the door as Caitlyn as we now know her — full makeup and fully dressed as a woman. So it was devastating to me to see because I had envisioned Bruce opening the door, but it was helpful in my process."
Caitlyn Jenner's ex-wives Kris Jenner, Chrystie Crownover, and Linda Thompson featured on Bruce Jenner's 20/20 exclusive interview with Diane Sawyer at ABC News
"I crumbled," she admitted. "I think I just fell down in the hall of the hotel. I crumbled and she was very apologetic. She said, 'I'm very sorry, but I just think you need to see who I truly am.' … So then I finally got it. But it took a while for me to fully grasp and to assimilate it into my consciousness that that's who she really was."
Credit: Sheri Determan / WENN / Instar / Nikki Nelson