In a classic Saturday Night Live sketch from 2014, Lindsay Lohan plays Emma Watson's Harry Potter character Hermione Jean Granger, who returns from summer vacation with much bigger breasts.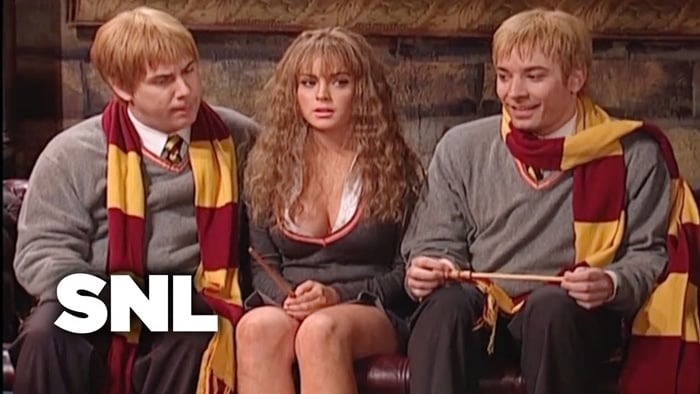 Lindsay Lohan plays Harry Potter's suddenly well endowed Hermione Jean Granger
While Hermione herself doesn't seem to notice the difference, the students and teachers of Hogwarts certainly can. When the episode aired on May 1, 2014, Jimmy Fallon and Seth Meyers were still on SNL and Lindsay looked better than ever.

The former wild child of Hollywood has been showing tremendous progress with piecing her life back into place despite a series of arrests, alleged stealing, endless nights of drunkenness and drug use, court orders, and family controversies.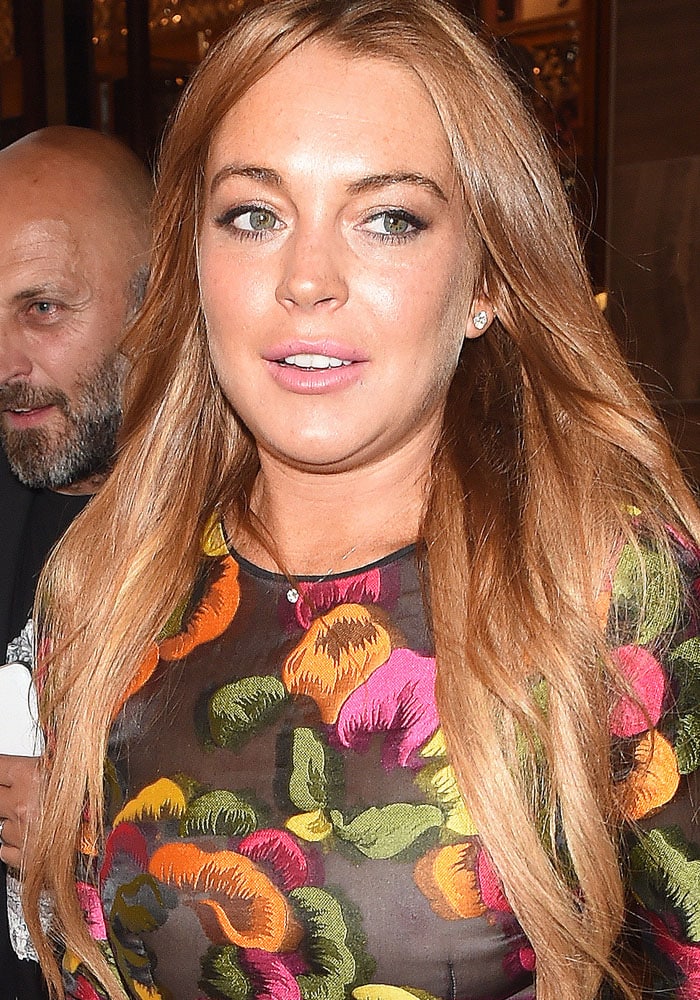 Lindsay Lohan with her lightened red hair
Following the wrap up of her latest play, as well as the launch of her latest collaboration with Lavish Alice, the 28-year-old proves that London has indeed been good to her, perhaps due to being physically away from her controversial momager Dina Lohan, as well as from the crazy party culture of Los Angeles.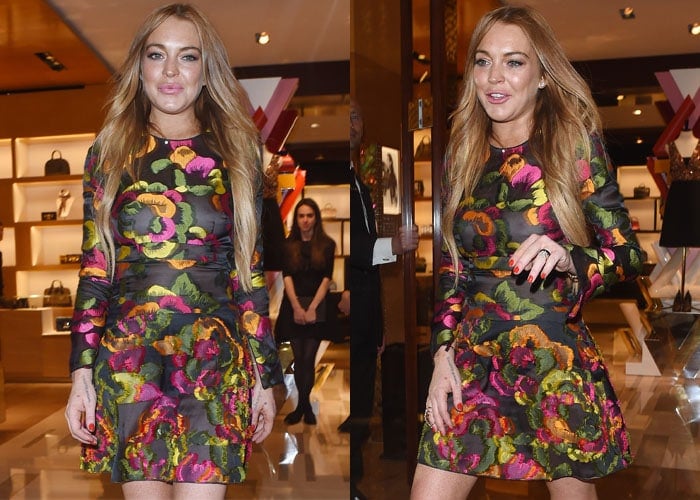 Lindsay Lohan is the former wild child of Hollywood
Not to mention, the former child star is now restored to good health after being stricken with Chikungunya disease following a recent vacation, even documenting her Cryotherapy adventures on Instagram. Ah, we always love a good from-riches-to-rags-to-riches story (Britney Spears, are you reading this?).
Lindsay Lohan seems to have recovered from Chikungunya disease
Speaking of progress, Lindsay has also expressed her intent to settle down, stating that she loved taking care of people and that wished someone would take care of her for a change.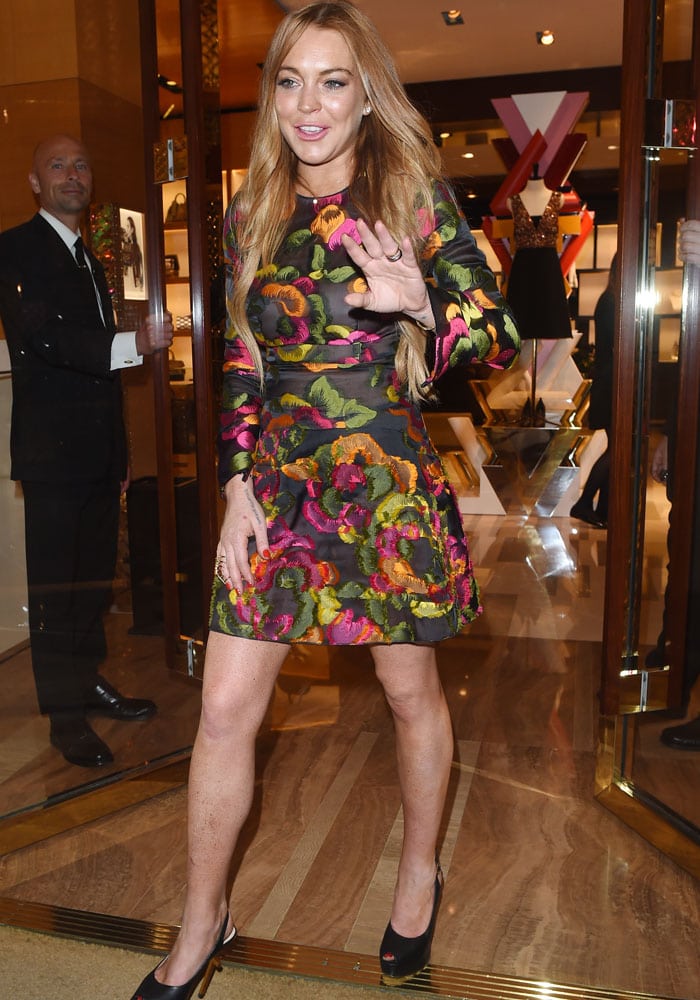 Lindsay Lohan flaunts her legs in a Blumarine dress
The actress was photographed at the Louis Vuitton Summer Launch Party in London wearing a Blumarine dress, Privileged cross heels, and a ring with the letter M on it.
Lindsay Lohan attends the Louis Vuitton Summer Launch Party in London
Last we checked, the letter M did not appear even once in her name – could Lindsay be nurturing a budding London romance? Stay tuned.
Lindsay Lohan completed her look with Privileged cross heels
According to The World Health Organization, Chikungunya is an extremely rare viral disease transmitted to humans by infected mosquitoes.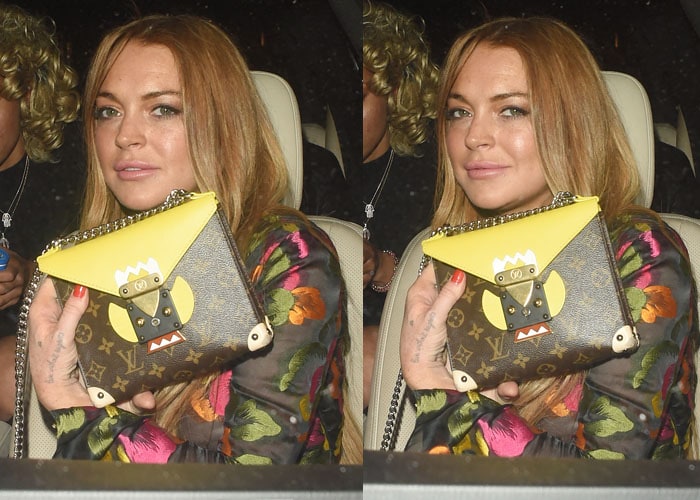 Lindsay Lohan shows off her Louis Vuitton purse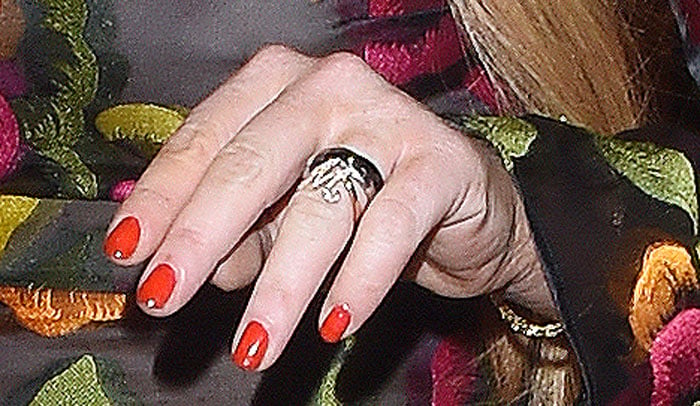 Lindsay Lohan wears a ring with the letter M on it
Lindsay Lohan smiles and blows a kiss to the cameras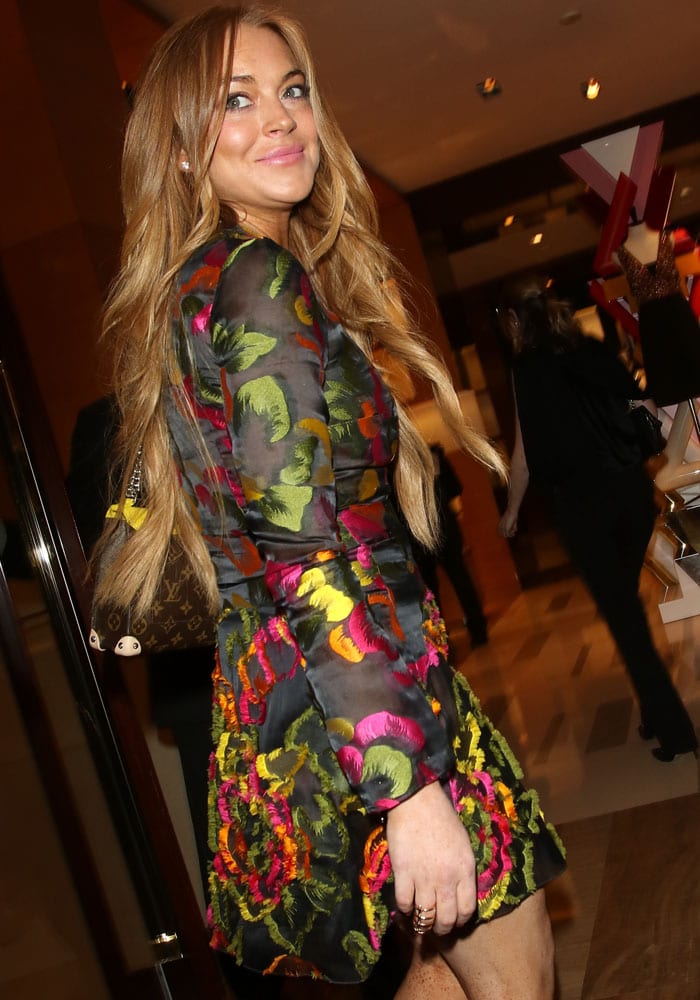 Lindsay Lohan looked better than in a long time in a Blumarine printed dress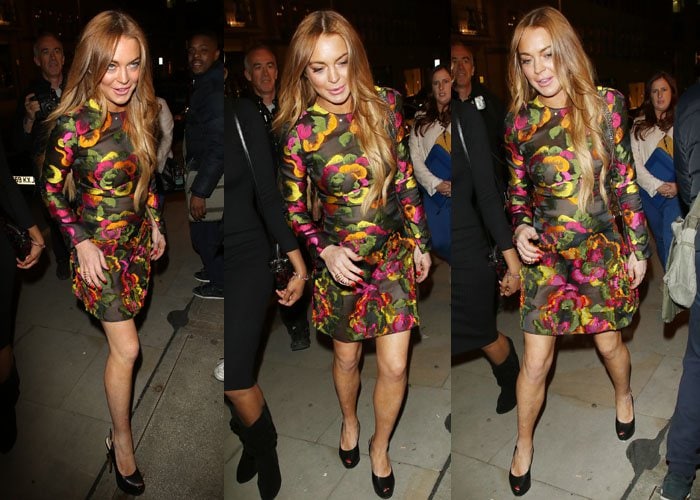 Lindsay Lohan paraded her legs in black peep-toe pumps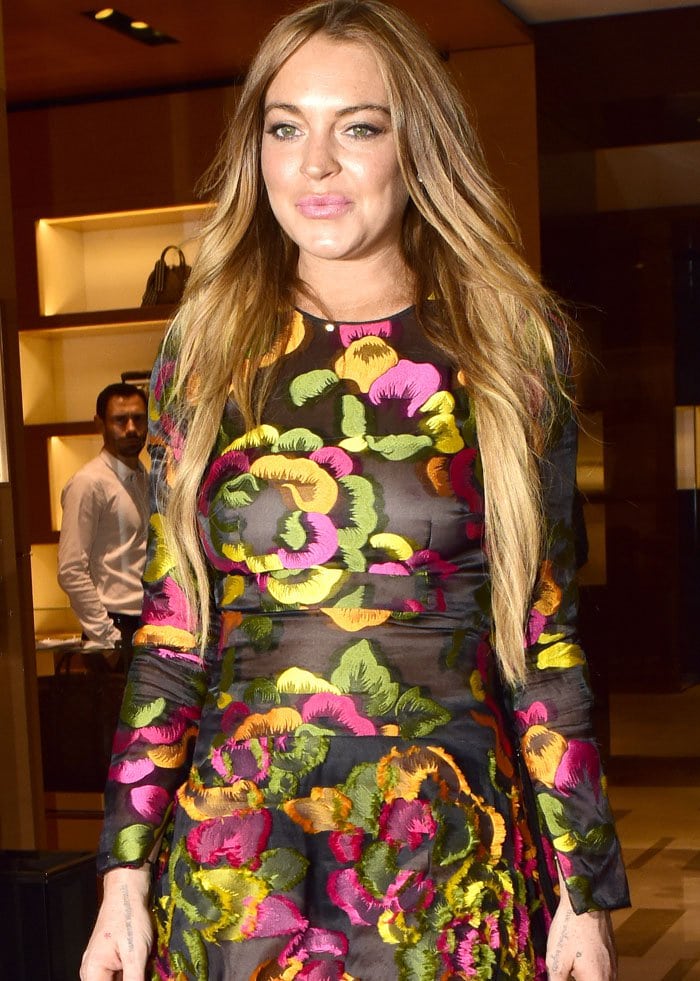 Lindsay Lohan at the Louis Vuitton Summer Launch Party in London along with other celebrity guests on June 11, 2015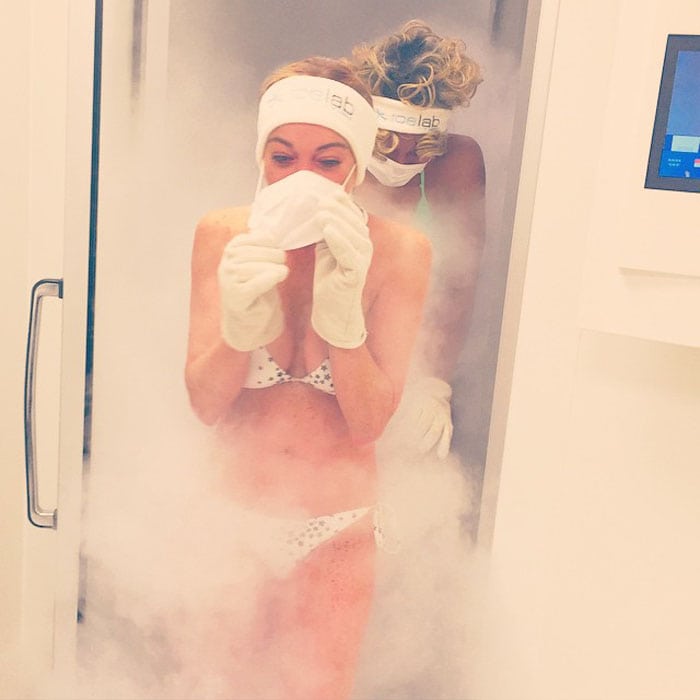 Lindsay Lohan stripped down for cryotherapy treatment
Lindsay Lohan contracted the mosquito-borne Chikungunya virus while on vacation in French Polynesia.
Lindsay Lohan seemingly enjoying a freezing cold chamber meant to reduce inflammation and pain
While there is inconclusive or little evidence that it actually works, cryotherapy is a pain treatment that uses a method of localized freezing temperatures to deaden an irritated nerve.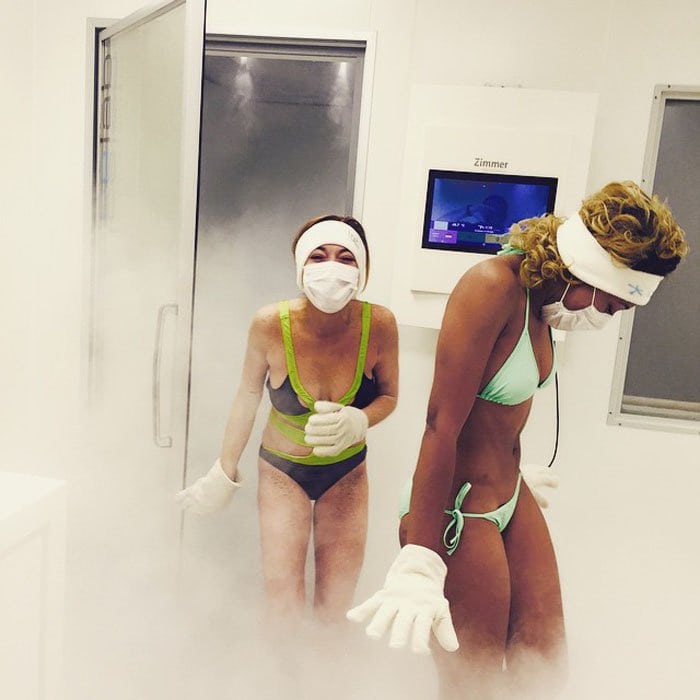 Lindsay Lohan documents her cryotherapy session on Instagram
Lindsay Lohan has been known to insert her own flavor into her outfits, being one of the pioneers of Hollywood celebrity paparazzi fashion.
This time, Lindsay wore her floral dress with quirky cross slingbacks to give her look a good mix of femininity and masculinity. Check out the other cross heels below from Privileged at Amazon:
Harty Cross-Platform Heels in Black, $119.95 at Amazon
Mystery Pumps in Black, $125 at Amazon
Credit: Lindsay Lohan's Instagram / WENN