In a generation that increasingly prides itself in "less is more", it comes as no surprise that lingerie is becoming an acceptable part of everyday fashion.
Fathers of every household have pretty much given up on the line "Is that what you're wearing?" when their daughters kiss them goodbye before strolling out the door. However, we find that there is still much room for compromise between blatant underwear and chicness.
Here are five ways to show off your lingerie outside the bedroom without crossing the public decency line.
1. Romantic Casuals
Like Kasia of Jestem Kasia, add a dash of delicacy to your casual outfit by wearing a lace bra underneath a tank top that cuts low at the sides.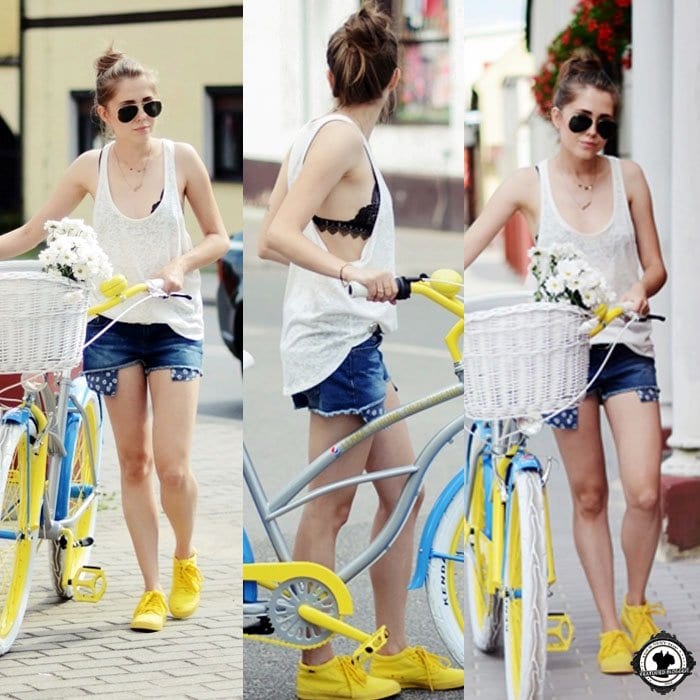 Kasia wearing a lace bra underneath a tank top that cuts low at the sides
A little pairing tip: don't just settle for the first lace bra you find in your closet or on the racks. Instead, pick out a pair with a nice scalloped band (or any interesting lace pattern, at that) in order to emphasize the focal point in this look. Never overdo it though – always cover up where it is needed.
2. High Street
If left in the wrong styling hands, lingerie can easily go from sophisticated and chic to downright trashy.
Sonya of Class is Internal
Like Sonya of Class is Internal, get the uptown girl look by pairing a delicate lace slip top with high-waisted trousers and your ever-trustworthy pair of pointed toe heels.
If you want to play around with the look, slip on a pair of acrylic cat eye sunglasses and upgrade your heels to metallic or reptile ones.
3. Fiery Florals
This is the stuff that third dates are made of – balance out sexy lingerie by pairing it with a gorgeous floral pencil skirt to create a dressed up look that doubles as a bit of a tease.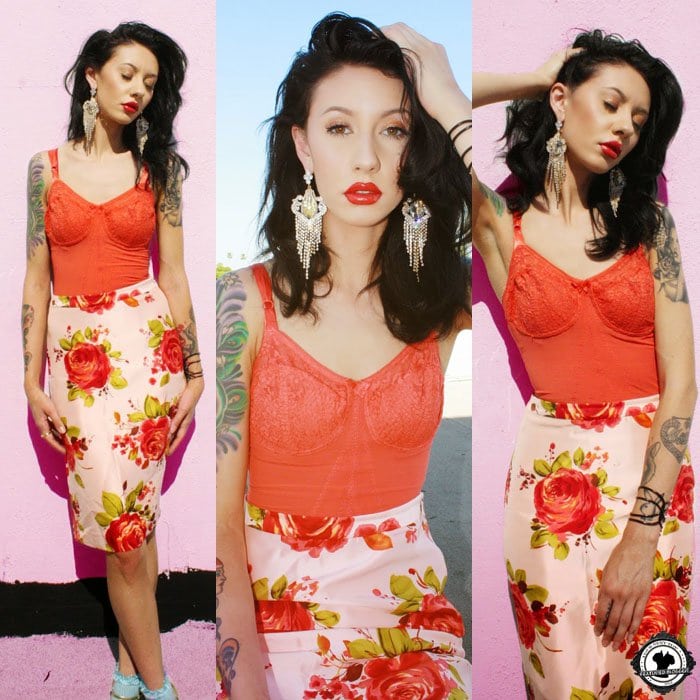 Natasha in sexy lingerie paired with a floral pencil skirt 
Dress the look down with a warm cardigan for an afternoon stroll or slip on some chandelier earrings and heels for a night out. Like Natasha Lillipore, pull off the look in fuchsia or orange tones to stay on-trend.
4. Feminine & Fresh Lace Corset
From the pages of bridal magazines to this fashion blogger's gorgeous outfit post, who knew that a white lace corset could look so chic?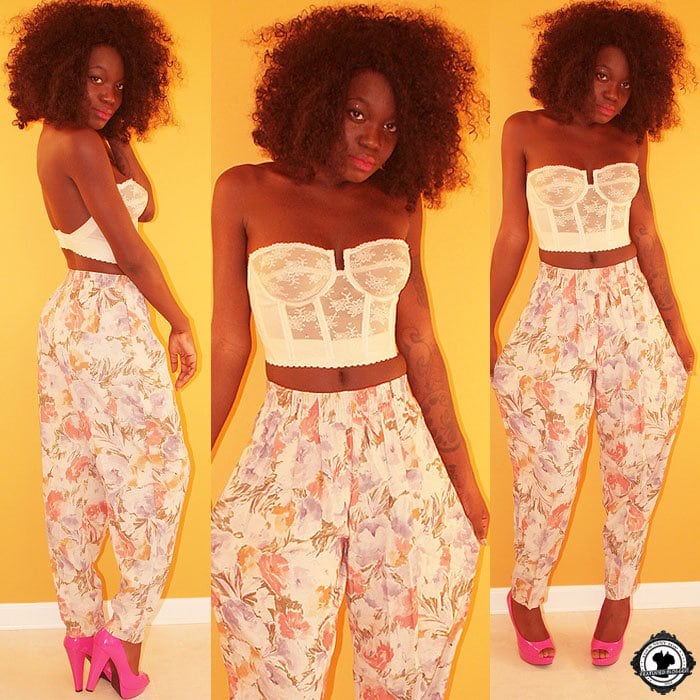 Lindsey wearing a white lace corset and floral pants
It is such a breath of fresh air to see the classic white lace corset worn with loose floral trousers and a pair of colored heels. Styling tip: try the dark floral trend by pairing a black lace corset top with floral pants and bright heels. Lindsey's blog, Lindsey Mermaid, is unfortunately no longer available online.
5. Classic Silk Lace Slip Top
Are you a fan of the tried-and-tested? Don't worry, we love our classics as well. Style a silk lace slip top with a pair of skinny jeans, T-strap heels, clutch, and classic jewelry such as silver and diamonds.
Sedef wearing a silk lace slip top with skinny jeans
Like Sedef of Want the Fashion, Keep your hair neat and your make up simple yet fresh. You can hardly go wrong with this outfit.
Shop the look: 1. Jean Paul Gaultier Vintage Cropped Bustier, $405 / 2. Gold Hawk Floral Natural White Silk Slip Dress with Lace, €130 / 3. American Eagle Outfitters Aerie Softest Lace Racerback Bralette, $19.95 / 4. Cami NYC The Sweetheart Blush, $158 / 5. Agent Provocateur Mercy Corset, £345