American actress Lisa Bonet is perhaps best known for her role as Denise Huxtable in NBC's The Cosby Show. She landed the role at just seventeen and starred in the hit family sitcom from 1984-1991, before eventually being written out completely.
Bonet's character Denise was so popular with their audience that the whole spin-off series A Different World revolved around her college experience.
Lisa Bonet portrayed Denise Huxtable Kendall, a fictional character who appears on the American sitcom The Cosby Show (1984–1991) (Credit: NBC)
But she only lasted one season, and fans were left confused at her unexpected departure. Why would such a popular character leave so suddenly? Was the studio trying to cover something up?
Possible Reasons for Lisa Bonet's Exit
Years after Bonet left the show, it was revealed that there was tension between Bonet and her onscreen father and star of the show Bill Cosby.
More than 50 different women have made allegations about the sexual misconduct of Cosby, but he denies all of it.
In 2018, Bonet told Net-a-Porter that although she had no knowledge of his cruel advances, she had always felt a "sinister, shadow energy" from him. She has not said so, but this could be one of the reasons that she departed from The Cosby Show.
"Always. And if I had anything more to reveal then it would have happened a long time ago," she responded when asked if she felt a darkness about him. "That's my nature. The truth will set you free."
Bill Cosby as Heathcliff Huxtable, Phylicia Rashād as Clair Huxtable, Keshia Knight Pulliam as Rudy Huxtable, Malcolm-Jamal Warner as Theo Huxtable, Tempestt Bledsoe as Vanessa Huxtable, and Lisa Bonet as Denise Huxtable (Credit: NBC)
Another reason could have been the controversy of her topless pictures for Interview Magazine in 1987. It marked a clear break from her "Cosby Show" days.
Against Bill Cosby's wishes, Bonet also chose to star in the risqué 1987 film Angel Heart which contained nude scenes. This definitely rubbed Cosby the wrong way.
Mickey Rourke as Harry Angel and Lisa Bonet as Epiphany Proudfoot in the 1987 American neo-noir psychological horror film Angel Heart (Credit: Tri-Star Pictures)
Soon after this, she also announced her marriage to musician Lenny Kravitz and announced her pregnancy. She gave birth to her first child at age 21, a daughter Zoë Kravitz (aka Zoë Isabella Kravitz) on December 1, 1988.
Debbie Allen, a producer of the show, suggested that the pregnancy could be incorporated into the show, to which Cosby responded, "Lisa Bonet is pregnant, but Denise Huxtable is not."
It was clear that Cosby didn't want the controversy of her pregnancy to take away from the family show. Soon after this, Bonet was written out of the show. She reappeared in the original The Cosby Show but was soon fired from this show too.
Lisa Bonet as Denise Huxtable, Marisa Tomei as Maggie Lauten, and Dawnn Lewis as Jaleesa Vinson-Taylor in the American sitcom (and a spin-off of The Cosby Show) television series A Different World (Credit: NBC)
It was initially reported that she was asked to move on because she had outgrown her role as Denise.
However, in his memoir "Let Love Rule" that you can buy on Amazon, ex-husband Lenny Kravitz announced that Bonet's relationship with Cosby was "tense and eventually untenable." The tension between the two had ultimately reached its breaking point.
Final Thoughts
While there seem to be multiple reasons that Lisa Bonet was written out, it seems that the actress's natural, free-spirited energy didn't merge well with the conservative show she was involved with.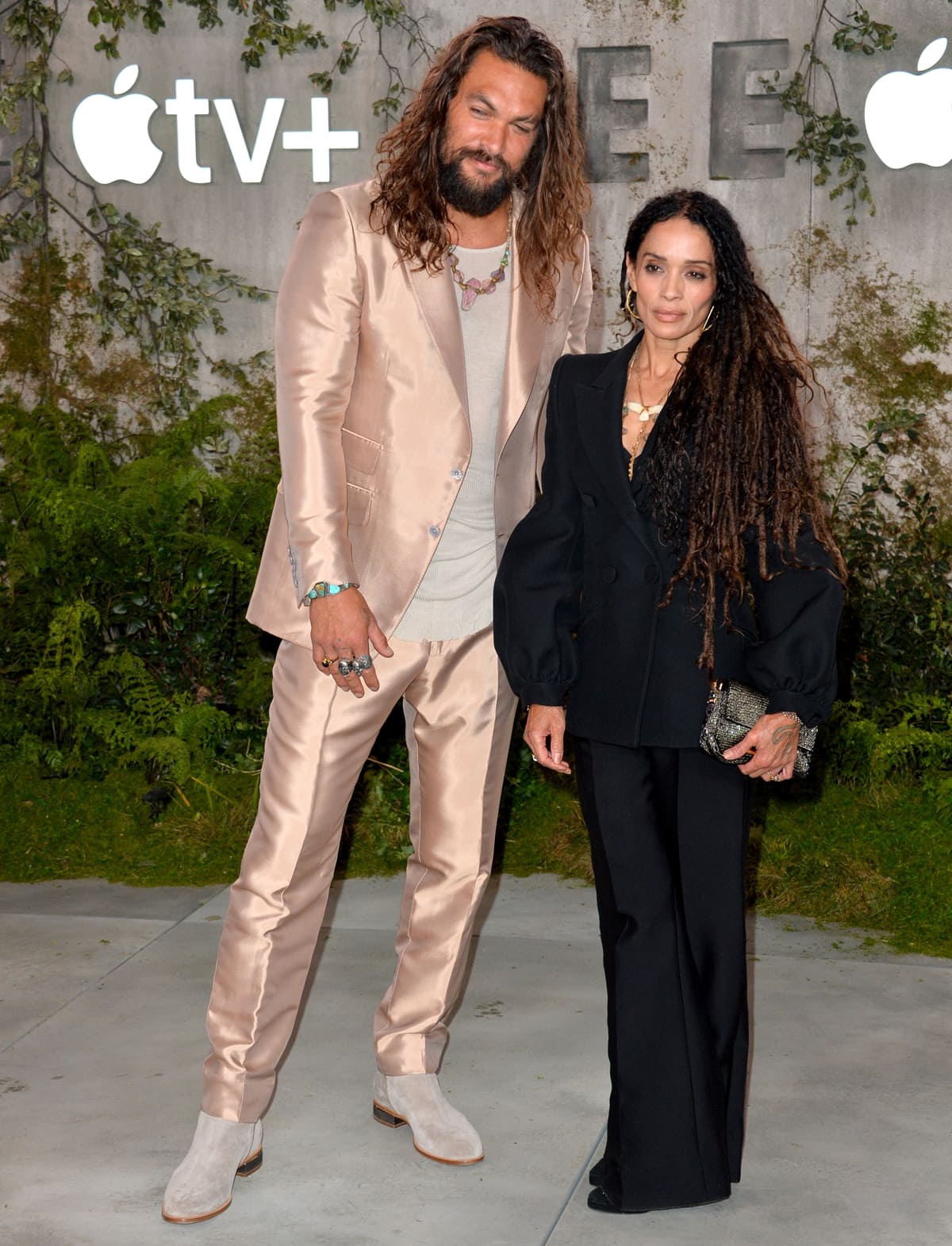 Jason Momoa and Lisa Bonet arrive for the World Premiere Of Apple TV+'s "See" held at Fox Village Theater on October 21, 2019, in Los Angeles, California (Credit: Featureflash Photo Agency / Shutterstock)
Bonet had a very different personality to Bill Cosby, and it seemed their relationship was doomed as soon as she decided to pave her own path.
Zoë Isabella Kravitz portrays Bonnie Carlson in the HBO series Big Little Lies (Credit: WENN)
In February 2017, Zoë Isabella Kravitz glammed up while attending the premiere of her new series 'Big Little Lies' at the TCL Chinese Theatre in Hollywood.
The American comedy-drama miniseries series from HBO premiered on February 19, 2017. The show concluded on July 21, 2019.
Zoë Isabella Kravitz shows off her Ana Khouri "Mia" diamond earrings (Credit: WENN)
The then 28-year-old American actress, singer, and model donned a black mini dress from the Vera Wang Spring 2017 collection featuring long puffy off-the-shoulder sleeves.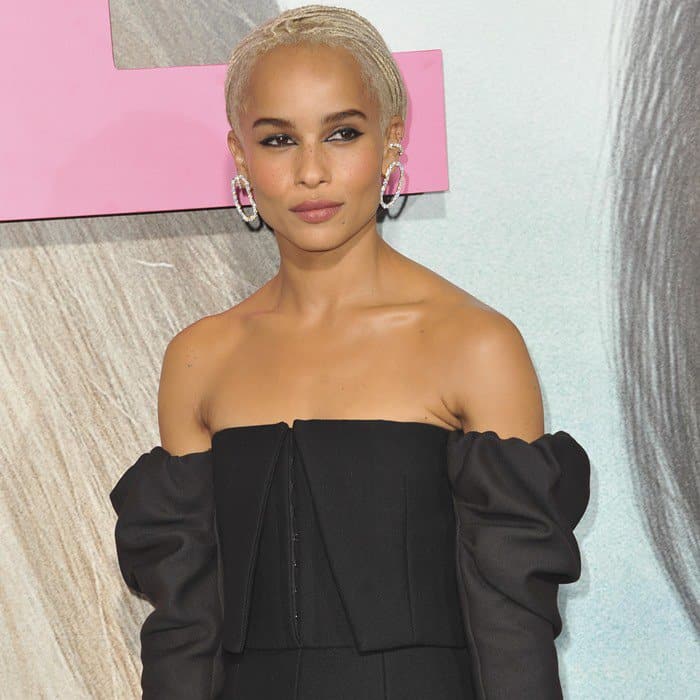 The daughter of musician Lenny Kravitz and actress Lisa Bonet in a black Vera Wang off-the-shoulder mini dress (Credit: WENN)
She styled the edgy yet youthful LBD with a Moynat clutch, Ana Khouri 'Mia' diamond earrings, and crystal-embellished satin 'Rosalind' sandals from Sophia Webster that you can purchase at Ssense.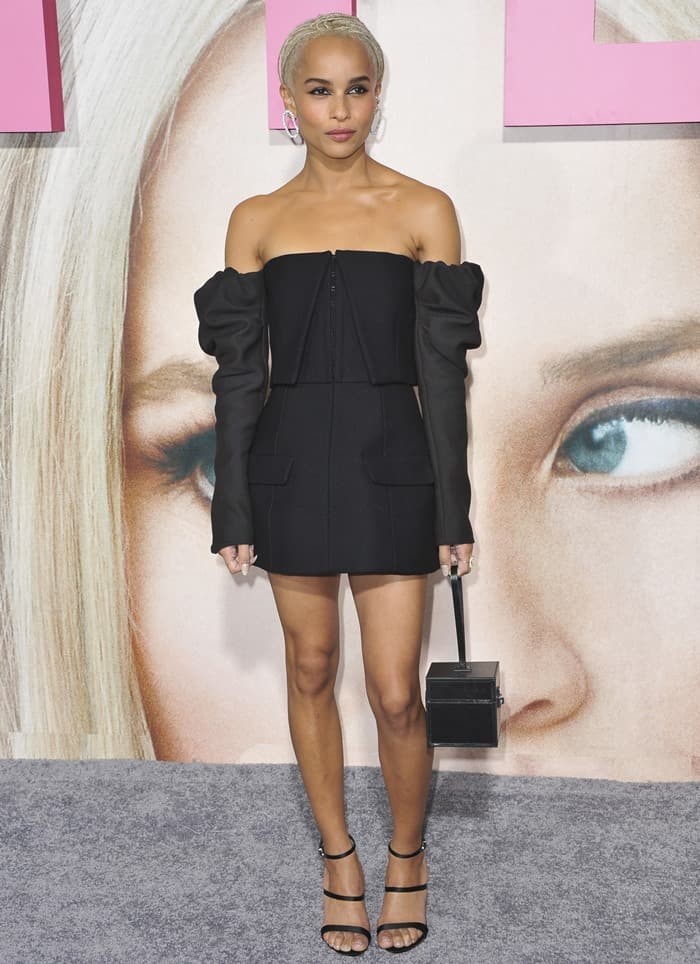 Zoë Isabella Kravitz flaunts her legs at the premiere of her new series 'Big Little Lies' at the TCL Chinese Theatre in Hollywood on February 7, 2017 (Credit: WENN / Apega / FayesVision)
We've spotted the 'Rosalind' sandals numerous times before on celebrities such as Kerry Washington, Peyton List, Blake Lively, and Jennifer Hudson.
Zoë Isabella Kravitz carries a Moynat Mini-Vanity bag (Credit: WENN)
She has compass arrows tattooed on the insides of both of her feet. One arrow is facing north and the other one is facing south.
Zoë Isabella Kravitz shows off her feet in Sophia Webster sandals (Credit: WENN)
Available at Net-a-Porter, these heels are defined by a hand-embellished crystal stiletto heel – its sculptural silhouette is true to the label's eclectic spirit.
Sophia Webster Rosalind Crystal Heel Sandals, $495